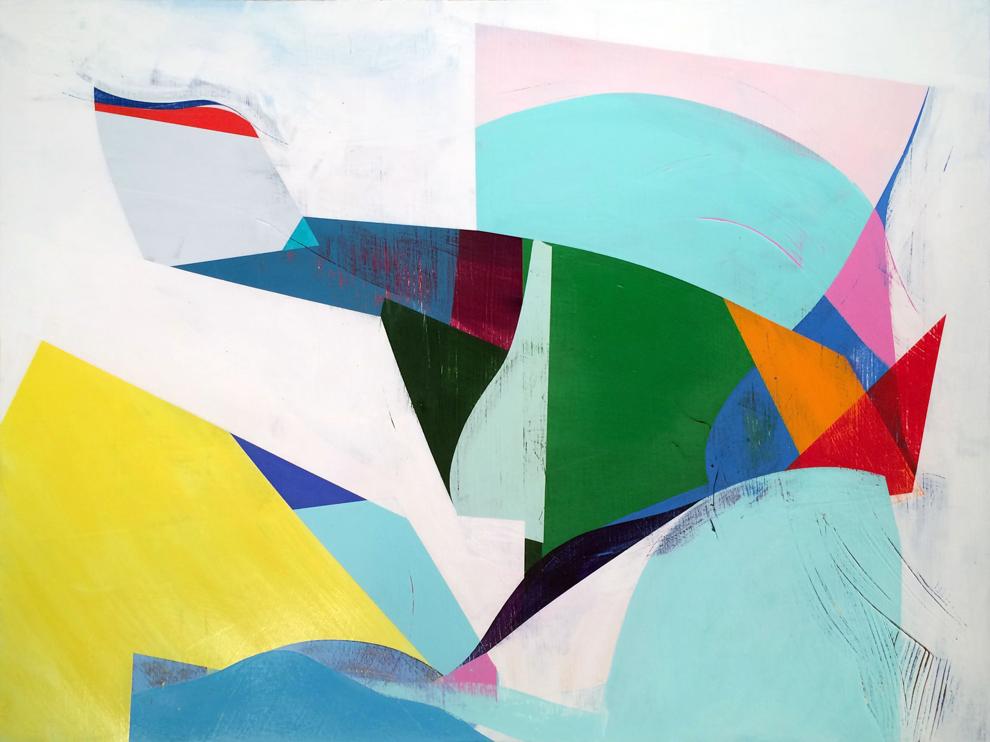 Aptly enough, heavenly hues ranging from indigo through cerulean to teal and baby blue predominate in Jeremy Rabus' 36- by 48-inch mixed-media acrylic on panel shown here.
"The color scheme, its sense of aerial space and some of the abstract elements evoke youthful memories of watching the airliners land at Lambert, which inspired the title, Livery," explains the St. Louis-based abstract painter (who shows paintings at Hoffman LaChance Contemporary locally but exhibits nationwide) of that 2016 painting.
"In my most recent work, I apply a hue, often chosen arbitrarily, as an organic shape or taped off geometrically, and then play other colors against it – layering, concealing, accumulating passages and adjusting various combinations until I achieve the 'yes' moment," Rabus, who earned a Bachelor of Fine Arts degree with a specialization in painting and graphic design from Southern Illinois University Edwardsville in 2004, relates.
"Every successful painting evokes an immediate, visceral reaction. The finished piece must possess a concrete sense of reality, not as a faithful representation of any object, scene or notion, but within the context of a well-contained optical experience, framed by the four edges of the rectangular picture plane. A painting should be tangible and feel real and present."
He briefly expounds on the specific creation of Livery: "This painting was based on a small digital sketch made in Photoshop and completed by layering passages of acrylic paint and then sanding into the layers of paint to reveal the painting's history, the texture and the underlying brushwork."
Rabus further details the joyful boyhood background of the painting.
"The brightly colored designs of TWA, Ozark, American Airlines, Delta and other logos that emblazoned the tails of those magnificent flying machines were among the first things that had ever fascinated me as a child," he relates.
"I drew airplanes constantly and would cut their images out of magazine ads and paste them to cardboard and would play with them. My grandpa's backyard was not too far from the airport, treating me to a perpetual aerial parade of planes, all sizes, all shapes, which would appear on the horizon with a low rumble. Then they became bigger and closer, and every window on these planes would clearly be visible, and the air rang with the roar and whistle of a 747 or a DC-10 or whichever.
"Livery is the first artwork in a long time that depicted this ecstatic sense of something aerial, to me."
To learn more about our featured artist, visit jeremyrabus.com.
St. Louis-area artists who wish to be considered for future installments of this monthly department of Ladue News should email inquiries to bhollerbach@laduenews.com with "Art and Soul" in the subject line.