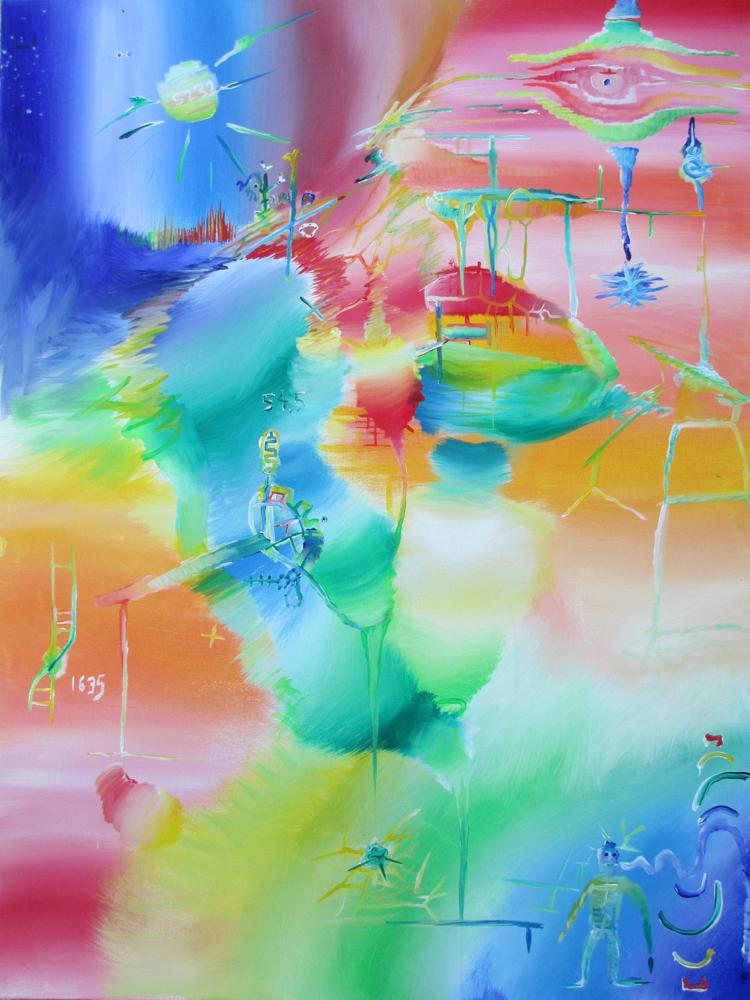 Richard M. Powers. At first glance, rightly or otherwise, Jasmine Raskas' Powered by Light calls to mind the works of that Chicago-born neo-surrealist.
To be sure, many of Powers' revered and groundbreaking paintings appeared in the often deranged and sometimes downright dreadful context of genre science fiction, so Raskas might quibble with the offhand comparison.
Inviting that comparison, though, are various Powersesque features of the work under question, a 30- by 40-inch acrylic on stretched canvas created this year: the spectrographic exuberance of her palette; suggestive figuration like a solar/stellar device in the upper left corner and an ocular one in the upper right, as well as what resembles a central three-quarters human profile rendered in azure and teal; and such various other drippy/trippy features as a chromosomal or DNA-helical twist enigmatically juxtaposed with "1635," which might or mightn't be a date.
Still, if not Powers, then certainly powerful.
Moreover, synchronistically, Raskas sketches a background that bridges British physical chemist and novelist C.P. Snow's famous "two cultures," the sciences and the humanities.
Those fields, she says, "each look at the world through their own lens but don't offer a way to synthesize a broader view of this existence. I believe art can be thought of as the master of all science. I use art to study and explore relationships between multiple fields of study."
Despite being only 23, the St. Louis artist also confesses to "a considerable science background. I've made microchips that regulate the electrical conductance of muscles, used lasers to measure bond lengths between individual atoms and listened for weeks to the sound of a monkey's neuron. My art is a part of my quest for knowledge."
In specific, she details how the painting under consideration developed from that quest.
"Powered by Light was inspired by following the pathway of a photon of light," says Raskas. "Photons are generated inside the sun and then used to provide energy for photosynthesis inside of plants. This is how plants create the oxygen and carbohydrates which animals need to survive.
"This painting is a way to look at the cycle of life as being 'powered by light.' The greatest challenge was choosing which aspects of this endlessly complex cycle to focus on."
In general, conceptually, she notes that any given work begins by comparing and contrasting, by unifying and simplifying, exploring existential mysteries and patterns both microscopic and macroscopic.
"I enjoy studying the nature of matter, light and sound," says Raskas. "Much of my work is inspired by modern physics and encompasses an artist's view of string theory and a holographic reality. To understand the transfer of energy, I turn to philosophical questions that explore the relationship between thought and action. … I speak in paint to escape ideology. I wish to create outside of time, culture and size."
Her paintings, Raskas continues, strive to avoid and even void dichotomies real or merely perceived. Physical limitations, she adds, have led her "to embrace a style that encourages randomness and makes use of shaky lines and awkward curves. My brushstrokes are in constant motion to create a rhythm out of my weak and fatigued joints."
Raskas' ultimate painting goal embraces evolution and communication philosophical, inquisitive and sometimes just jocular, using art "to acknowledge our limitations of reason and to rethink our current understanding of reality.
"My art is inspired by the colors and shapes found in nature, the philosophy of a collective consciousness and the theories of reality that unite science and soul. To be certain is not to know. … I invite you to slow down and think. Take a moment to wonder why.
"Remember how tiny we are compared to the stars, and yet how big can be a single heart. Feel that we are all in this together, and believe that every moment is as beautiful as you make it."
To learn more about our featured artist, visit unusmundusart.com.
St. Louis-area artists who wish to be considered for future installments of this monthly department of Ladue News should email inquiries to bhollerbach@laduenews.com with "Art and Soul" in the subject line.