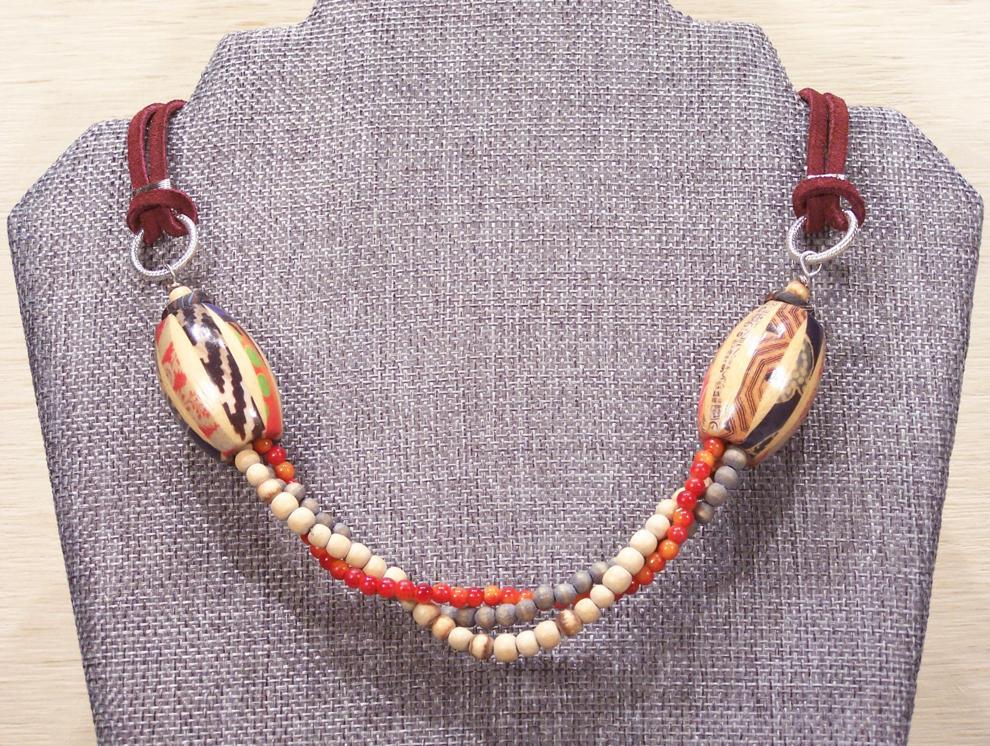 Perhaps exceeded only by tattoo, jewelry arguably constitutes humanity's most intimate physical embrace of art, as suggested by this month's work from Carolyn Hasenfratz of Brentwood's eponymous Carolyn Hasenfratz Design.
"It's 21 inches long, including the clasp," she says of that work, which bears the title Necklace With Large Striped Image Transfer Beads. "I used silver-colored chain and jewelry findings, suede lacing, small beads recycled from thrift store necklaces and two large wooden beads that I decorated with found images in a striped pattern, applied using image transfer medium."
Her informal résumé might tempt one to suspect Hasenfratz of secretly being triplets. After earning a Bachelor of Fine Arts degree from Southern Illinois University Edwardsville, she worked as a graphic designer and website designer while taking part in numerous art shows.
She also (a) operates an online shop, Carolyn's Stamp Store, which sells rubber art stamps of her own design and other items, (b) teaches crafts at the Jo-Ann Fabric and Craft in Maplewood and (c) works at Schnarr's Hardware in Ladue, which sells handmade greeting cards also of her own design.
"I like to work with a lot of different media, including jewelry, collage, paper crafts, rubber art stamping, mixed media, sewing, upcycling reclaimed wood and other materials, clay and more," Hasenfratz relates. "I enjoy experimenting and coming up with original project tutorials, templates and lesson plans, which I sometimes publish on my blog or in craft magazines or craft product manufacturer websites."
Regarding the specific creation of Necklace With Large Striped Image Transfer Beads, she recollects considerable and intriguing detail.
"I made a series of beads and pendants decorated with image transfers in preparation for a class I taught on image transfer jewelry," says Hasenfratz. "While working on my project prototypes and lesson plan, I made a lot of extra experimental beads, some of which I designed jewelry around. This necklace is one example.
"I get a lot of satisfaction from upcycling materials, and in this project, I was able to combine 'used' beads with cutouts from discarded catalogs and magazines to make the image transfers. The most difficult part about making this necklace was deciding how many strands of small beads to string between the two large ones and how to get the ends of the strands to fit neatly into the large beads for a finished look. …
"It was also a challenge to find the staplelike silver crimps that hold the suede lacing together right above the metal rings – I'm not sure where to get more. I had to look through box after box of recycled thrift store jewelry and parts to find something that fit in those spots, functionally and visually. If I can find more of those crimps or something similar, I may return to this design, even though I usually prefer to make new designs than repeat old ones.
"Because I used a lot of wood beads as well as lightweight plastic, even though the necklace looks chunky, it's lightweight and comfortable to wear."
To learn more about our featured artist, visit chasenfratz.com.
St. Louis-area artists who wish to be considered for future installments of this monthly department of Ladue News should email inquiries to bhollerbach@laduenews.com with "Art and Soul" in the subject line.