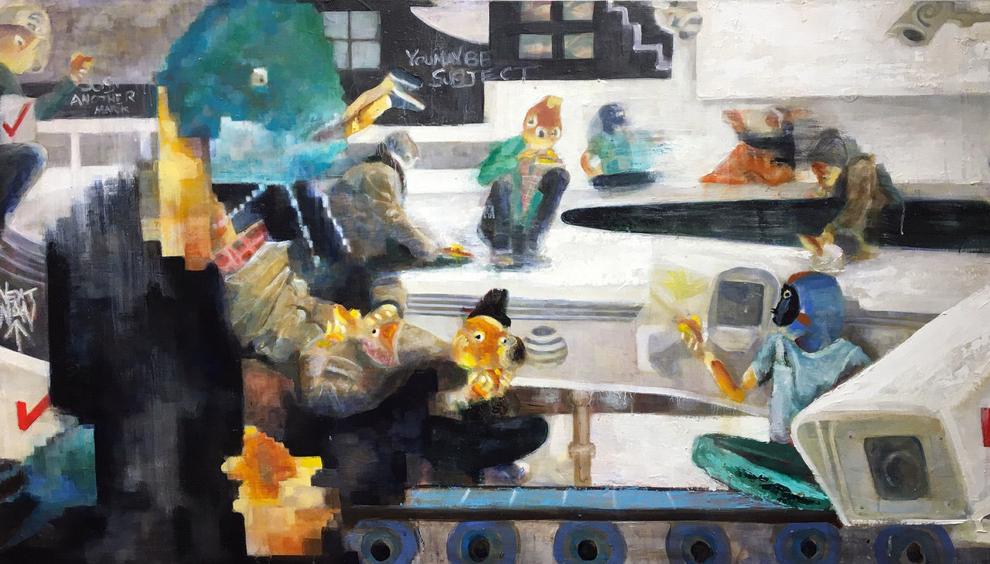 The unspeakably languorous arrival of spring coupled with the submission of St. Louisan Bryan Robertson's food-chain promotes the brain-thawed notion of C.P. Snow as a bit of a chowderhead.
Snow, a British scientist and novelist dead now nearly half a century, famously promulgated the conception of "two cultures," wherein lab rats and liberal artists view one another as ambulatory black boxes. Unfortunately for Snow, it takes scientific acumen nowhere near that of, say, Czech-American mathematician Kurt Gödel to recognize that the transmission of any given signal through any given medium introduces distortion – loosely, abstraction.
In that respect, to return in a roundabout fashion to Robertson's 55- by 31-inch canvas created last year in oil emulsions with pigments, all artwork, no matter how militantly "figurative" per se, ranks as abstract – probably to the consternation of viewers inclined to scratch their heads, glower and grumble, "Well, what's it mean, though?"
The answer in the current case tends to be a bit … well … slippery. Of food-chain, Robertson harks back to the 16th century, incongruously enough, and cites the painting's inspiration by the proverbially titled work Big Fish Eat Little Fish from the Netherlander Pieter Bruegel the Elder. That borderline ghastly 1556 work depicts a beached fish the size of an orca, disgorging lesser sea creatures both through its gaping maw and through a slice in its side being made by a man with an impossibly large knife.
Bruegel, Robertson says, "creates an ecosystem where one species only has itself to eat. For me, this is a timeless analogy that can relate to multiple systems of power. In the bigger picture of today's world, all of humanity acts as the big fish, a species in control of the fate of all species. In the smaller view, we tend to see the world in absolutes, with clear winners and losers – big fish and little fish."
Characterizing the creation of food-chain as "challenging," Robertson confesses that "it forced me to research an artist that I admire. I had the chance to visit the Study Room for Prints, Drawings and Photographs at the Saint Louis Art Museum and see a copy of Bruegel's engraving in person.
"Seeing it in person helped me understand the intricacy of the ecosystem Bruegel was creating. In his work, not only are little fish pouring out of the stomach of bigger fish, but the figures themselves are anthropomorphic fish dissecting the situation.
"Once I identified that Bruegel was creating an alternate universe where the only species that existed was fish, I began to understand how that relates to contemporary society and could begin to find contemporary imagery to bring into my painting."
Admittedly, Robertson's painting exudes a greater degree of playfulness than the fishily pedigreed Bruegel image. Also, if Robertson's meditation on both Big Fish Eat Little Fish and food-chain sounds scholastic, that's apt, in light of the fact that he currently serves as an adjunct professor of art and design at Jefferson College in Hillsboro, approximately 40 miles south of Ladue.
So, figurative and abstract, fish big and little – in the end, both to revisit Snow and his tandem cultures and to embrace those cultures with equal ardor in the form of conjoined gravity and grace, what does a springtime sunset mean?
To learn more about our featured artist, visit bryan-robertson.com.
St. Louis-area artists who wish to be considered for future installments of this monthly department of Ladue News should email inquiries to bhollerbach@laduenews.com with "Art and Soul" in the subject line.