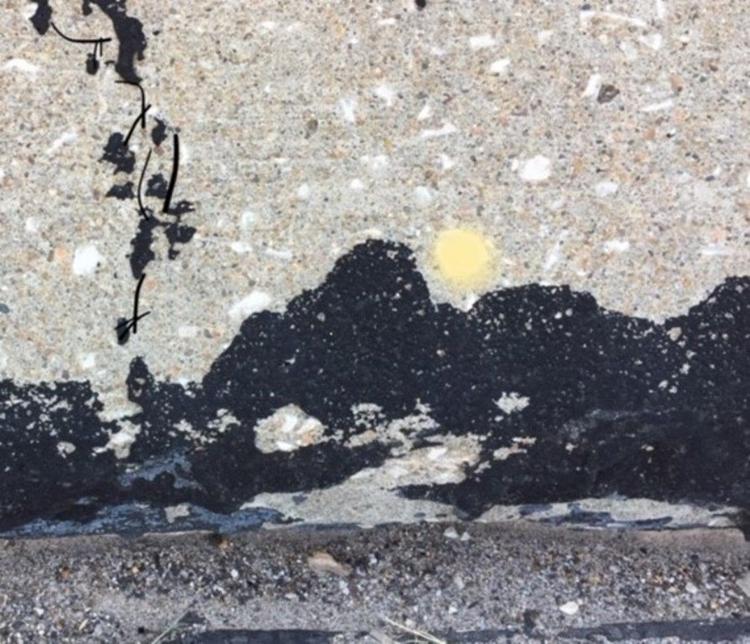 When thinking of landscape painting per se, many folks likely contemplate, say, a pastoral vista by English Romantic painter and printmaker J.M.W. Turner from the Georgian and early Victorian eras or perhaps a plein-air pleasantry brushed in some contemporary pasture, field or copse.
In that light, Chesterfield resident Barbara Marshall may well tinker delightfully with the general perceptual set via what she's categorized under the portmanteau "TarArt," like the piece shown here, entitled Serene Sunset in Tar.
"I've always looked for images in the clouds, but love finding faces in tree bark and tile floors," Marshall, a retired U.S. Air Force master sergeant, relates. "Ever since my photography classes in college, I've been fascinated by finding images in unlikely places.
"About 10 years ago, I began photographing images that I see in tar on streets, sidewalks and parking lots. My very first TarArt photo was taken while on a daily walk. I looked down and saw what clearly looked to me like [the Peanuts comic strip characters] Snoopy and Woodstock in tar. I remember thinking, 'If Snoopy is out here, what else will I find?' – and my TarArt photography was started.
"Since then, I've discovered and photographed hundreds of images of dogs, trees, buffalo, people, fish, cars, birds, a dinosaur, a goose, and was thrilled to even discover a perfect St. Louis Arch and skyline. Now, wherever I go, my head is down searching for the next image. Often, the exposed aggregate is as interesting as any image I may see."
In relating the history of the specific piece of TarArt shown, Serene Sunset in Tar, Marshall says, "caught my attention while on a daily walk on June 16, 2017, by myself, since my partner will no longer walk with me, as he hates the stopping and starting required to check out interesting tar. I saw this image on a street while visiting family in Florida. …
"I raced back to my sister's condo to look at [the photographed image] on my laptop, and it was then that I realized I'd found something special. The blue water, and the dark mountains were perfect. I debated about and then decided to add a touch of color to the moon – something I generally don't do, but in this situation, I felt it was a nice addition."
Ironically enough, Serene Sunset in Tar – with its forms pleasingly granularized and rather abstracted by sand and pebbles and grit in general, besides Marshall's signature tar – ultimately may call to mind not so much British landscapists like Turner or their American cousins but classic Japanese ukiyo-e landscapes dating from the 18th century onward by giants like Katsushika Hokusai and Utagawa Hiroshige. Moreover, the tarry stray vine or tree limb in the top left corner may recall nothing so much as the supernally deft and lush brushwork of Oriental calligraphy.
In that respect, art devotees may well hope that Marshall continues, to quote an impish phrase she drops into an email, "walking the streets (so to speak)." 
To learn more about our featured artist, visit barbaramarshall.weebly.com.
St. Louis-area artists who wish to be considered for future installments of this monthly department of Ladue News should email inquiries to bhollerbach@laduenews.com with "Art and Soul" in the subject line.