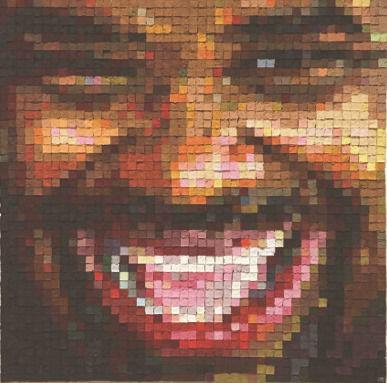 All innocently, through no fault of its own, St. Louisan Alex Paradowski's Happy Man may inspire a degree of disquiet, even borderline distress.
At base, of course, that 36-inch-square portrait created earlier this year oughtn't prompt such a response, given its origin in a precedent photograph by Paradowski. "A couple years ago, my church was providing family photos at a Mother's Day brunch," he notes. "I was the photographer. Derrick, the man in the photo, has a terrific smile, so I cropped him out of the family photo and used him as the subject for a process I call 'paper mosaics.'"
And therein lies the rub – or, as the case may be, lurks the aesthetic hubbub.
The mosaic, as a technique and tool of the visual artist, reportedly dates "merely" from the third millennium B.C., making it something of a whippersnapper beside geezers like painting and sculpture. Nonetheless, today's HD-crazed zeitgeist – wherein technological pixelation has pixilated far too many folks – has all but obliterated the recollection of how much the art and craft of an old-school mosaic puts the pain in painstaking.
Paradowski's own painstaking process on Happy Man and similar works involves five steps, as he relates in detail.
"I cast the paper cubes by first shredding all the wastepaper from my laser printer, as well as other wastepaper, soak it in water, and take it back to a pulp consistency in a blender," he says of the first step. "After squeezing the excess water out of the pulp, I mold individual cubes in a plastic grid from an old fluorescent ceiling fixture. After drying the cubes overnight with a fan, I release the cubes from the grid. Each of these cubes will eventually be painted one by one based on the subject I'm working on.
"For white cubes, I apply the same process to clean paper, and once dried, they don't require painting. As in the case of Happy Man, I usually produce these mosaics from photographic reference. I love combining the old art forms of papermaking and mosaic with today's digital photography technology."
Then begins the second step. "Once I have a sufficient quantity of paper cubes – Happy Man was made with 2,025 cubes – I can concentrate on the subject," Paradowski says. "My subjects have ranged from figure studies to portraits and classic toys like teddy bears and beach balls to botanicals and geometrics. I work in Photoshop to achieve the desired image, which is a matter of balancing detail, color and artistic license. I create a 'map' in Photoshop which guides how I paint the individual cubes."
By comparison, Paradowski's third step seems almost too easy: "I mix paint to match the pixels I've settled on in Photoshop, which can be 30 to 50 colors, and begin painting the cubes accordingly."
That illusion of easiness vanishes with the fourth step. "Once I have most of the cubes painted, I begin hot gluing them one by one into a grid that will eventually become the finished piece," Paradowski relates. "The intrinsic beauty of each cube, with its own rough texture, combines with all the other cubes to create a surface texture that I find very appealing. I believe my mosaics have two realities – an abstract panel of color and texture when viewed up close and a more photographic reality when viewed from a distance."
Paradowski's process concludes with a fifth step, he says: "After touching up any cubes that have been scratched or damaged during the gluing process, I attach the assembled art to a final substrate and frame it behind acrylic to keep it safe and clean."
The artist's name, incidentally, may ring the proverbial bell with certain area residents. After earning a bachelor's degree in fine arts from Springfield's Missouri State University and conducting graduate studies at New York's famed Syracuse University, in 1977, he "started Alex Paradowski Graphic Design, a graphic design firm which later became Paradowski Creative, a full-service creative agency with a diverse range of clients.
"In the 35 years that I operated the company, it grew from a sole proprietorship to a formidable agency employing 50 people and garnering hundreds of awards for a variety of work. The company was sold in 2012, allowing me to pursue other interests, including my personal art."
Otherwise, Paradowski provides intriguing insights into the history of his mosaic process.
"I was doing something similar with fabric but it required getting much farther away to see the image, and I was limited to the available colors of fabric," he says. "I was looking for a way to solve both issues.
"I've always been a bit of a hoarder, having saved pieces of a broken fluorescent grid for years just knowing I would 'need' them someday. … I came across the grid again while searching for an answer to my fabric problems. After doing a couple tests of casting paper cubes and experimenting with paint, the process began to take shape. The challenges of keeping the assembly square and achieving a balance of rough edge versus finished edge all presented themselves along the way.
"The process of making thousands of cubes and sometimes painting hundreds of the same color while needing only three of another color is admittedly tedious, but the personal satisfaction when all the pieces come together is the reward. As I've become more and more comfortable with the process, I've been less intimidated by the scope of the numbers. Pieces with 3,000 and 4,000 cubes are no longer uncommon, and I'm getting ready to begin two that will require over 5,000 cubes."
To learn more about our featured artist, visit alexparadowski.com.
St. Louis-area artists who wish to be considered for future installments of this monthly department of Ladue News should email inquiries to bhollerbach@laduenews.com with "Art and Soul" in the subject line.