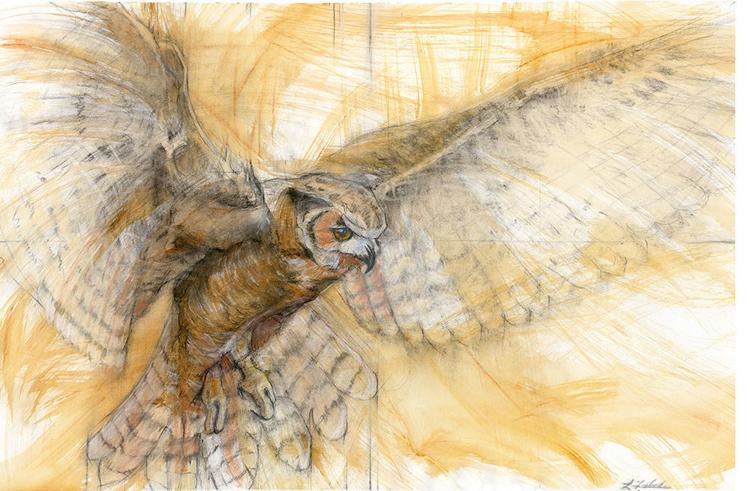 Laura Lebeda's Golden Owl may well prompt a frisson of kineticism in many viewers. That 40- by 30-inch work, created with charcoal and acrylic wash on paper of an unspecified type, seemingly takes the two-dimensional into three dimensions in a pleasantly compelling way.
To be sure, it conveys motion in a fashion altogether independent of Cubism – to this day, a favorite bête noire of individuals who sneer about "art for art's sake" – by continuing to embrace representationalism. Then again, one can't help suspecting that few artists nowadays would assay the sang-froid (if not the out-and-out hauteur) of, say, Pablo Picasso, arguably the leading light of that early 20th-century movement, if only by default.
Rather, Lebeda's aureate avian may recall a motion-blurred sepia snapshot – perhaps a nondigital photograph purposely altered in the emulsive stage of darkroom development – or, even more oddly, an older example of the Japanese art form called manga, with its self-explanatory speed lines.
"As of 2019, I am an adjunct faculty member at Fontbonne University," Lebeda, a practicing artist located in Manchester, notes. "This is a career change from a corporate career as a graphic designer [for AT&T] – it's been an exciting time!"
Lebeda continues by relating that she holds a Master of Fine Arts degree in studio art from Fontbonne, saying: "I work in drawing and clay mixed-media pieces. Although these are two very different media, together they create a cohesive whole.
"The themes and emphasis are on 'mark-making' on the page or in clay and nature and travel/wanderlust."
As something of a supplementary testamonial to Golden Owl, a visit to Lebeda's website suggests a strong personal affinity for creatures with wings: butterflies, hummingbirds, other owls, a woodpecker, a stray hawk. That website states: "My intention is to invite viewers to look closer and see the sacred in our everyday lives.
"The purpose of my artwork is to encourage further exploration and contemplation of the strength, fragility and beauty of the natural world, and our human relationship within it."
Recently, Lebeda notes a marked increase in artistic public displays. "As of fall 2018, I began exhibiting in solo shows – three – with both drawings and mixed-media clay works being well received," she says. "Also, I applied and juried into the fall Art Fair at Queeny Park, [where I] received an award, and the Historic Shaw Art Fair."
She continues by mentioning once more the latest installment of an area artistic gala sponsored by the Greater St. Louis Art Association. "The spring Art Fair at Queeny Park was a huge surprise, as I won 'Best in Show' in both categories, 2D and 3D," Lebeda says. "One artist [capturing both categories] has never happened in the art fair's 42-year history! I'm humbled and encouraged by the path this is taking."
Also, this past April, the Messing Gallery at Ladue's acclaimed Mary Institute and Country Day School hosted "Divine Nature," a solo exhibition of Lebeda's work, from which she relates with pardonable pride, "The head of the school purchased a drawing, and another couple purchased a mixed-media piece."
To learn more about our featured artist, visit lauralebeda.com.
St. Louis-area artists who wish to be considered for future installments of this monthly department of Ladue News should email inquiries to bhollerbach@laduenews.com with "Art and Soul" in the subject line.