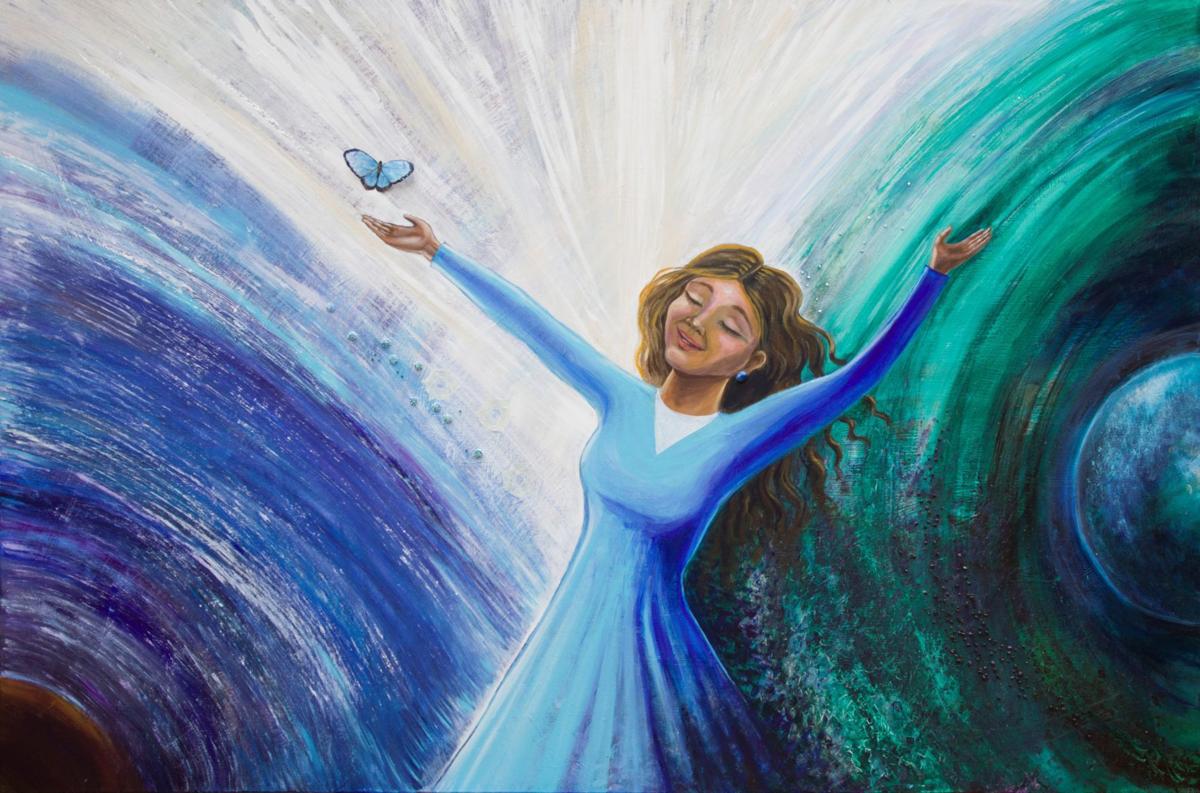 Given events of the past few days, weeks and – heaven help us – months, one perhaps can't help feeling more than a little thankful for encountering Angela L. Chostner's Loving Kindness, reproduced here.
That 2019 acrylic on canvas incorporates lapis lazuli, garnets and vellum and measures 48 by 72 inches, according to the artist, a Creve Coeur resident.
Visually, Loving Kindness comes as a tonic; spiritually, as a benison. In a variegated palette resident in the ocular wavelengths between rough 450 and 495 nanometers, it delights in presenting a profusion of blues: baby blue, ice blue, light blue, medium blue, morning blue, powder blue, Uranian blue, enough other blues (in one measure or another) to give one the blues in trying to enumerate them.
All of those blues erupt upward and inward toward a central expanse of alabaster that neatly frames the sweet, simplified representational image at the painting's heart: a young brunette, gowned (of course!) in blue, apparently dancing with an azure butterfly just above her outflung right hand.
In a devilish era, in short, Loving Kindness spotlights an image altogether seraphic.
Through April 23, the original, the artist notes, is gracing an exhibition titled "The Art of Kindness" at Kansas City, Missouri's Buttonwood Art Space – alas, predictably "closed to the general public until further notice," according to a note on its website at press time.
Chostner, whose curriculum vitae states that she served as an illustrator specializing in the children's market from 1998 to 2005, identifies Loving Kindness as "part of series that also explored hope and acceptance. All my paintings have virtue themes, which I explore deeply. My artistic process evolves as my understanding does.
"'Loving kindness' was not an easy theme. I started with what I knew: the image of a blue morpho butterfly. It spoke to me of transformation, but also reminded me of how, when his wings are closed, you don't see the brilliant blue, just the humility of brown. It made me think of how true intentions of kindness are not boastful, but quiet in nature.
"Eventually, I came to understand that loving kindness is everywhere, from macrocosm to microcosm. Humanity isn't the source of it. We're simply vessels for loving kindness to flow through and transform our world."
Amen to that, Ms. Chostner. Now more than ever, amen to that. 
To learn more about our featured artist, visit angelalchostnerart.com.
Metro area artists who wish to be considered for future installments of this monthly department of Ladue News should email inquiries to bhollerbach@laduenews.com with "Art and Soul" in the subject line.