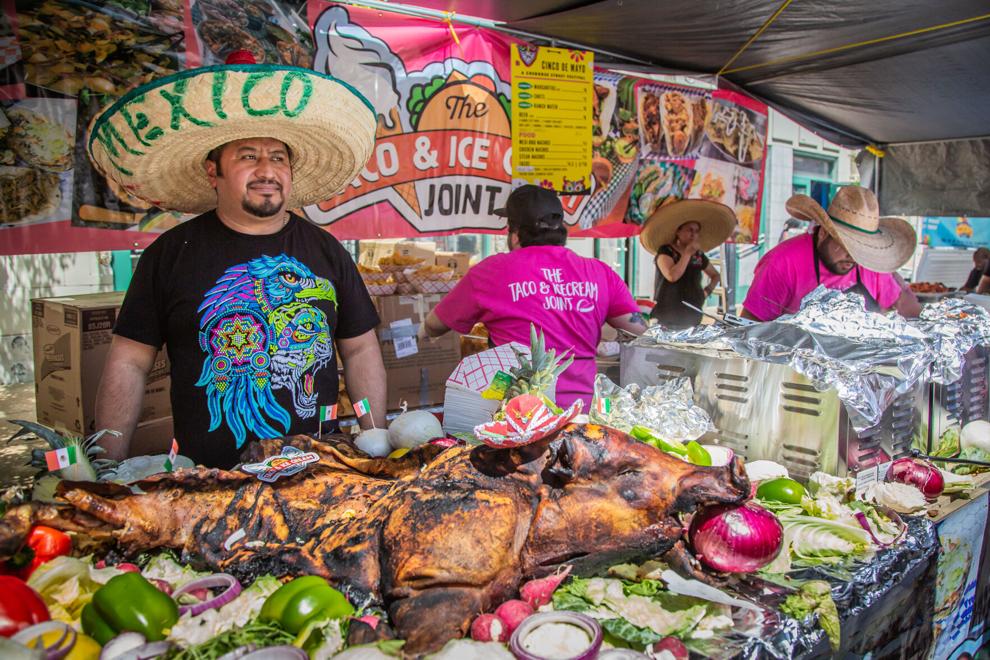 Vendors line Cherokee Street, serving up savory bites of authentically prepared snacks. Patrons pass one another by with margaritas in hand, taking in traditional dance performances and live music shows. And if you're there at the right time, you can even catch a Lucha Libre wrestling match.
For more than 15 years, the Cherokee Street community has hosted one of the most vibrant Cinco de Mayo festivals in St. Louis. Cinco de Mayo: A Cherokee Street Festival returns on Saturday, May 6, for a (slightly) belated celebration of Mexican heritage and culture that promises to be well worth the wait.
"Cherokee Street's Cinco de Mayo festival was born from the street's Mexican entrepreneurs, who began throwing an annual Cinco de Mayo celebration more than 15 years ago," executive director of the Cherokee Street Community Improvement District and director of the Cherokee Street Foundation Emily Thenhaus says. "Today, the festival has grown largely due to the strength of those businesses and the creative energy that makes Cherokee Street unique."
Produced through the Cherokee Street Foundation (a nonprofit wing of the Cherokee Street CID Community Improvement District), Cinco de Mayo: A Cherokee Street Festival welcomes more than 50,000 attendees each year to share in the spirit of the holiday. It's free to attend and takes place on Cherokee Street between Nebraska and Jefferson from 11 a.m. to 8:00 p.m. on Saturday, May 6.
This year, attendees can expect great food and drink plus an expanded lineup of Latinx music and dance performances. Thenhaus says the 2023 festival will also see the return of "a lot of beloved favorites," including a Lucha Libre wrestling ring on Iowa and a mechanical bull. Each of these elements adds a decidedly homegrown feel to the festival – one that fits right in on Cherokee Street.
"Most of the vendors for Cinco de Mayo on Cherokee Street are either Cherokee Street small businesses or Latinx entrepreneurs from throughout the region," Thenhaus says.
Another key component of the festival is authenticity. Like many holidays in the U.S., Cinco de Mayo has a commercialized element that can obscure the roots of the celebration.
"Despite the fact that Cinco is not Mexican Independence Day when many in St. Louis think of the 5th of May, they think about Mexican cuisine and Mexican culture," Thenhaus says.
The history of Cinco de Mayo can be traced back to 1862 when, on May 5, a "ragtag" army of Mexican military forces defeated French troops at the Battle of Puebla. In more modern times, Cinco de Mayo has been linked to the American Civil Rights movement of the 1950s and 1960s. According to Encylopedia Britannica, the celebration "became among Mexican immigrants a way of encouraging pride in their Mexican heritage" in the middle of the 20th century.
However, by the 1970s and '80s, the event had transformed into a heavy-drinking holiday thanks to advertising campaigns by brewing companies. Thenhaus says that Cherokee Street's celebration looks to honor the heritage behind Cinco de Mayo.
"Events like this festival try to direct that attention to the creations of Cherokee Street's Mexican entrepreneurs and to local performing artists and dance groups like Alma de Mexico and emerging musical groups that take part in the Battle of the Bandas," she says.
For a full day, participants from across the city can gather together to enjoy Mexican culture, from dance and music to food, wrestling and, yes, margaritas. It's a decidedly modern take on a holiday finding its footing somewhere between "party time" and "paying tribute." Regardless, one thing is certain: The festival means everything to the small businesses participating each year.
"It's a huge revenue boost to our small businesses and helps keep them open year-round," Thenhaus says. "By buying margaritas and tacos during the festival, you're supporting the small business economy of our street."
Cinco de Mayo: A Cherokee Street Festival, 3407 S. Jefferson Ave., St. Louis, cincodemayostl.com