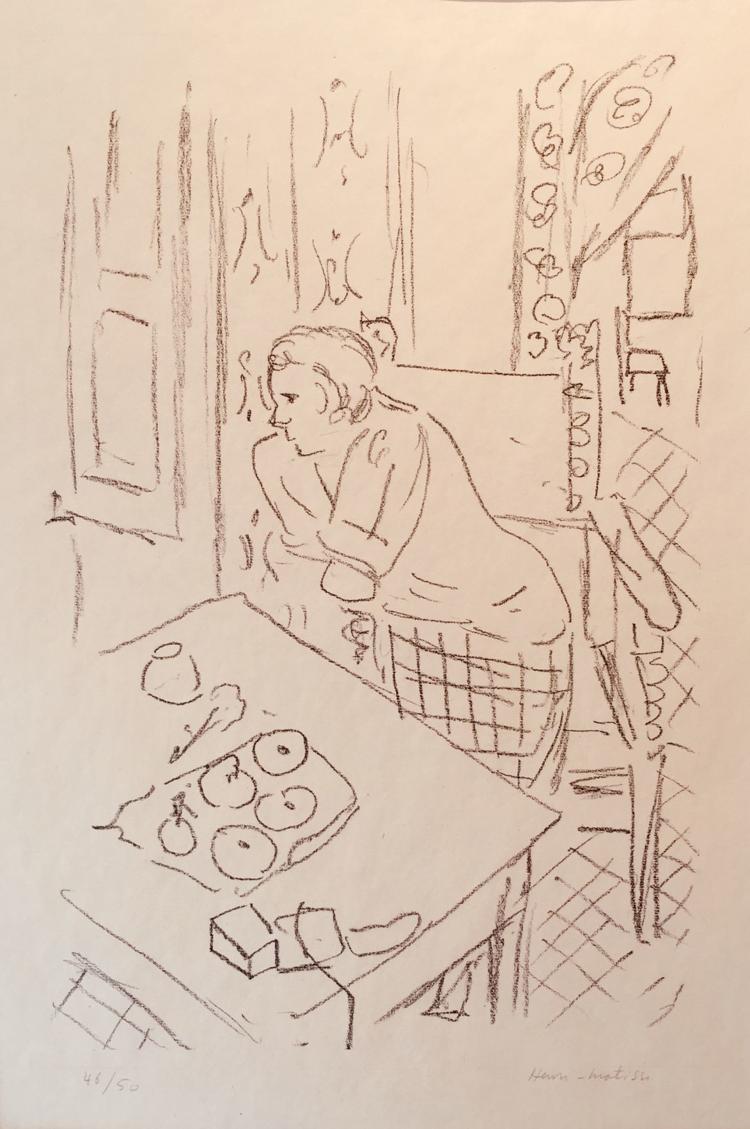 Matisse! Few names speak to aficionados of 20th-century visual art quite as authoritatively as that of the Frenchman trained in law who turned to the easel after a health-related crisis, and now an ongoing exhibition will allow such aficionados locally to revisit his élan.
"Henri Matisse: Prints and Drawings," which opened April 5, runs till June 1 at Clayton's Greenberg Gallery and, according to a release from the gallery, involves "drawings, lithographs, etchings, drypoints, aquatints and linocuts."
The exhibition comprises 57 pieces: 42 in the gallery's front (main) room, six in its beechen- or birchen-walled office, a singleton in the corridor just past the office and a final octet in the back.
Those pieces vary in size from two no bigger than a deck of playing cards to a few the size of an old-school broadside, albeit presented "landscape" to accommodate a number of recumbent figures.
"I've been buying these for a long, long time," Ronald K. Greenberg, the gallery's namesake, amiably remarks about the Matisse pieces one recent afternoon in that luxe office, mentioning in passing affiliate collectors in England and on the West Coast. Assembling the exhibition proper, he estimates, took eight months.
Potential visitors to the gallery might find themselves wondering which Matisse the exhibition's spotlighting. The Impressionist? The Pointillist? The Fauve?
Others will forgo, rightly so, such fine distinctions about the protean talent who, in the 1908 manifesto "Notes of a Painter," proclaimed, "I cannot copy nature in a servile way; I must interpret nature and submit it to the spirit of the picture."
Such genius interpretations abound in "Henri Matisse: Prints and Drawings."
All of the works in the exhibition center on women, many from the Belle Époque. "Most of them were his wife or his daughter," Greenberg notes of the subjects of Matisse's pieces here – likely an innocently offhand generalization. More specifically, although several of the pieces focus on clothed femmes, many involve often-voluptuous women au naturel in the boudoir.
In that light, Hindoue à la jupe de tulle may rank as the exhibition's single most noteworthy creation. A litho from 1929, it presents an odalisque clad only in a diaphanous skirt and gauzy head scarf, rolls of abdominal fat emphasized as she leans on her right knee, which is elevated at an angle on an ornate chair. Beneath near-feline eyes, her small smile verges on a smirk. Frankly, the piece almost sears the retinas with its sensuality.
Conversely, the 1925 litho Figure dans un intérieur centers on a scene of blissful domesticity. In it, a woman wearing a tattersall skirt and sitting in a plush armchair ignores the table before her, which bears what appears to be bagels and perhaps cheese, to gaze beyond the shuttered window to her right.
In contrast to that piece's ineluctable specificity, Nu pour Cleveland, a 1932 etching, reduces a nude woman – her featureless head, arms flung above and behind that head, and torso – and what seems to be rucked bedding to a series of simple, deceptively careless-looking curves, circles and ovals.
From work to work, perhaps most noticeably, the line weights range with breathtaking force. The 1931 etching Nu assis de profil, for instance, depicts a nude lying on her left side with her torso angled to the right and, despite its carnality, looks positively feathery. Two rows below it, though, the 1948 aquatint Visage de jeune femme renders a woman's portrait with carefree ease in a few strokes varying in width between a quarter of an inch and half an inch.
Moreover, if anything, the 1947 aquatint Patitcha a bit further east in the gallery's main room bests Visage. In it, four half-inch-thick brushstrokes limn a woman's coif and jaw, with another six, lesser strokes depicting the model's features. Easy? Certainly – for Matisse.
The Greenberg Gallery, 230 S. Bemiston Ave., St. Louis, 314-361-7600, thegreenberggallery.com