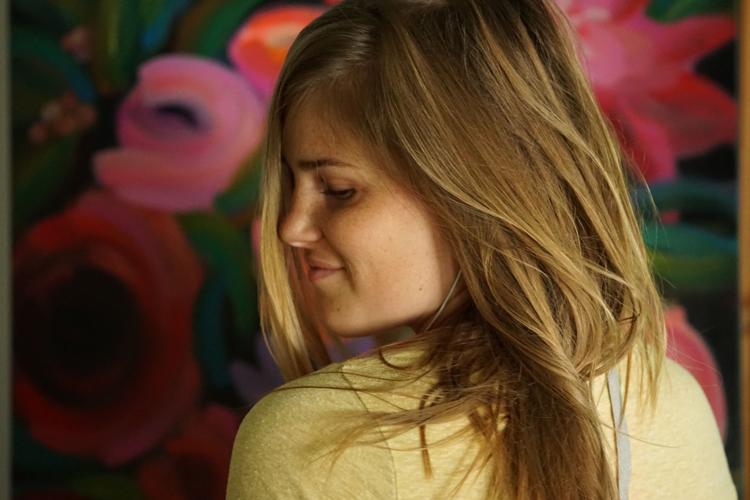 Rachel Roe sees the world as a work of art. The full-time freelance artist, designer and illustrator moved to St. Louis after earning a Bachelor of Fine Arts degree from the University of Missouri, where she began to grasp how fulfilling art was for her. After Roe started her career as a designer at an advertising agency, her husband, Ryan, encouraged her to return to the colorful paintings depicting her unique view of the natural world that she loved to create in college, and he even built her a creative space – a charming backyard art studio. Roe recently unveiled her studio and some her latest artwork to LN.
What mediums do you specialize in?
I learned how to paint with oils, so I will forever love oil paints. But my recent work is acrylic. I also like to throw in a new material or medium every now and then to push myself out of my creative comfort zone. I recently started painting on birch wood panels and find that it adds new expression to my work.
What inspires your art?
The trick for me is to not only rely on external sources for inspiration but also the passion and spark within me. My art is about revelation – revealing to others how I see the world: how I view light and color, how I compose a painting and juxtapose another. It becomes my own visual language to communicate with others. I'm inspired to paint to express myself in a way that words cannot.
How do you decide what to feature in your art?
My environment has a recognizable impact on my work. Working from my backyard art studio, where I can feel the sun and watch the breeze through the trees, connects me to nature. Those aspects of movement and fluidity are directly reflected in my work.
Describe your recent artwork.
It is apparent when I look at my body of work how my recent paintings have evolved. There is more intention and intuition. I'm able to focus less on technique and more on movement, the mark and feeling my way through the painting.
Describe your recent design work.
My role as a graphic designer is rewarding in the sense that I get to help others establish, reinforce or rebrand their identity. I do this by creating logos, illustrations or marketing materials that will help elevate their business to the next level.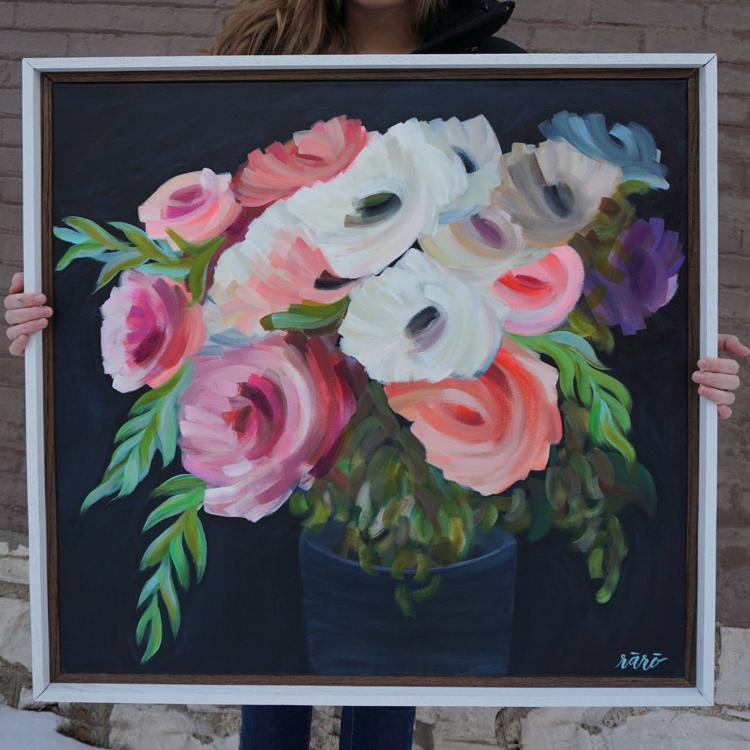 What artists inspire you?
I pull a lot of inspiration from the Impressionism and Fauvism movements. I strive to achieve the effortless and spontaneous brushstrokes of the Impressionists, and I am drawn to the expressive color used by the Fauves.
Where is your art available?
It is available through my website, rachelroedesign.com, and my Etsy shop, Rachel Roe Art.
Where is your art on display?
My art has been featured in local coffee shops and art shows. This fall, I hosted my first Backyard Art Party event, and it was a big hit! I wanted to create an environment to view my art that felt comfortable for everyone. I opened my studio, put my art on easels outside, we turned on some Otis Redding and drank apple cider. I even painted a 9-foot canvas for people to use as a backdrop for photos. It was the perfect laid-back setting to connect with other creatives and small local businesses. People really enjoyed seeing my custom backyard art studio and how it inspires my work.
What are your future goals for your art?
I would love to break into the commercial art space. I see my art and patterns being mass-produced onto everyday, functional objects.