Erin McGrath Reike founded Divinemoira Studio in 2010 as a haven for the three things she holds closest to her heart: art, inspiration and hope. Growing up in an age where children were steered away from creative arts as a career, Reike found sanctuary in art, music, theater and literature. Through her artistic co-op, Reike is able to provide a collaborative space for the art community through an online platform for sales, support for exhibits and events, and a place for artists to connect with one another and encourage each other.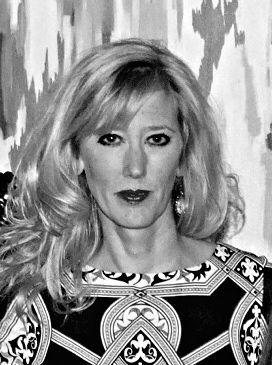 What is Divinemoira Studio, in your own words?
Divinemoira Studio is a curated collection of art, jewelry and accessories. We utilize the arts and fashion to promote hope and inspiration to our community. Divinemoira Studio has always been intended to exist as an idea. A concept. We are a collection of creative people. We are events and exhibits. We are an online gallery and shop. We are causes and beliefs, dreams and ambitions. Sometimes we are fancy and elaborate. Sometimes we are down-home and simple. The studio is a little bit of everything, because inspiration and hope can come from anywhere – and the human connection is the core of this "idea."
How are artisans selected to be part of Divinemoira?
Artisans come to us primarily through local and national calls for art. These artisans are reviewed either by our advisory board or by guest jurors participating in event-driven exhibitions. However, a significant number of artisans presented in our digital format are represented by Divinemoira Studio because they utilize their creative process to better their community or society as whole.
How does an art co-op work? What is included in Divinemoira co-op ownership/membership?
Divinemoira Studio is an art co-op in concept. Our artisans come together under the umbrella of Divinemoira Studio and help one another through cross-promotion. Divinemoira Studio as an entity provides our contributing artisans with a digital presence, features in our social media campaigns, and the option to participate in our private events and exhibits. We believe that we are stronger together than alone.
Are the services listed on the website only available to co-op members?
There is frequently a great divide between business and creativity. We developed services, which are available to businesses and creative people, to close that gap.
The arts promote conversation, and artistic expression facilitates abstract thinking. Original art on the walls within a business helps create an atmosphere supporting company ideology and encourages conversation between employees and clients. Our Art Leasing programs make original art affordable to businesses and help support emerging artists. Our Creative Workshops for companies use art for team building. Bringing employees together to work on a collaborative piece of art encourages abstract thinking and creates unity between participants.
On the flip side, a significant number of artisans struggle with the business aspects of the art world. This struggle often prevents talented artisans from getting the recognition for their work that they deserve. We provide services to creatives that help promote their work through representation, writing services and career workshops.
What's new at the studio?
We are thrilled to partner with rising stars within the arts community this year. We will be introducing the work of Dina Worzel, John Blair, Thomas Park and Rose Morello this winter. We have new pieces coming in from photographers Brittany Taylor and Jeff Sass, as well as exciting works from Jeffrey Richter and B.J. Carrick, among others. Divinemoira Studio hopes to work with more musicians as we are currently featuring the music of One Take Band. We are also excited to present our expanded curated collections of jewelry and accessories from both independent designers as well as within our studio collections.
What can you tell me about upcoming 2016 projects?
We've kicked off 2016 with our winter edition, titled "Illumination." This is a presentation of works in a digital format that embrace the light that shines on us and within us. "Illumination" really sets the tone for our 2016 projects. We will be focusing on featuring the people and the stories behind works of art and in our collections. Divinemoira Studio will continue to partner with local nonprofit organizations through several private events and exhibits, which are geared toward promoting funding and awareness of important issues like arts education and art therapy. Our goal in 2016 is to really become a leader in social business, which means we aim to shine a light on utilizing the incredible power of the arts to promote inspiration and hope.