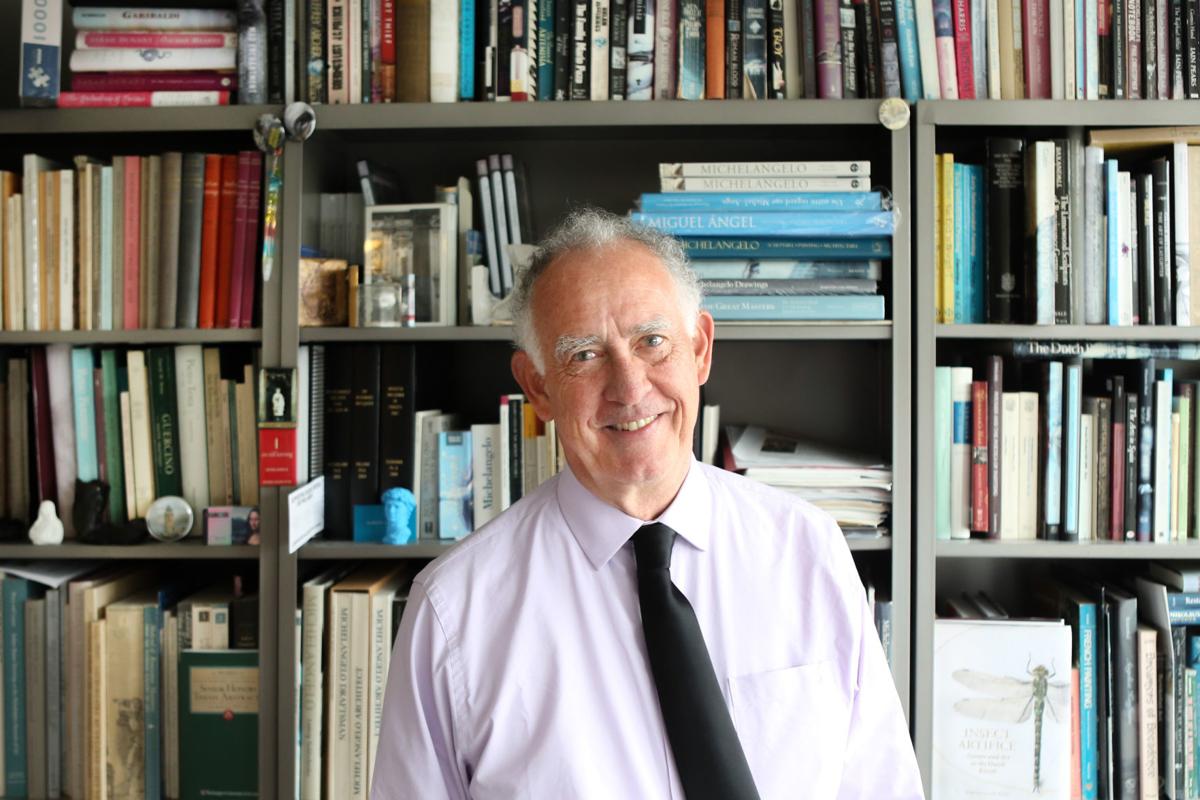 Dubbed by one reviewer "the most distinguished scholar of Michelangelo now working," William E. Wallace will discuss and sign advance copies of his latest volume on that artist's artist at Left Bank Books this coming Monday. Prior to that free Oct. 21 event at 7 p.m., Wallace – who teaches in the Department of Art History and Archaeology at Washington University in St. Louis and serves there as the Barbara Murphy Bryant Distinguished Professor of Art History – briefly discussed that 328-page illustrated tome, Michelangelo, God's Architect: The Story of His Final Years & Greatest Masterpiece, which Princeton University Press will release in November.
What specifically inspired the writing of Michelangelo, God's Architect?
After writing seven books on Michelangelo, I thought I was done. Then I turned 60. On sabbatical in Rome and looking at St. Peter's dome from my window, I became increasingly intrigued by how the "story" of Michelangelo's youthful heroic rise to fame overshadows his late-life achievements. In his 70s and 80s, Michelangelo changed the course of architecture for centuries to come! Perhaps it takes being 60 to appreciate the poignant narrative of an aging artist confronting the greatest challenge of his creative life: to build new St. Peter's, all the while knowing he'd never see it to completion.
How would you yourself encapsulate – and, given the fact that it sounds quite novelistic, characterize – Michelangelo, God's Architect?
In the words of the distinguished historian John Elliott, writing good history is "the ability to enter imaginatively into the life of a society remote in time and place, and produce a plausible explanation of why its inhabitants thought and behaved as they did."
In writing Michelangelo, God's Architect, I tried to immerse us in the chaotic and foul mess that was sinful Rome, and tried to help readers smell the sweat of carters hauling blocks of stone, feel the strain of ropes and on muscles, hear the constant cacophony of chisels and chatter at the sprawling worksite, sense the danger of laying bricks at the edge of a 200-foot yawning void, and savor the sweet pears and fine trebbiano wine that Michelangelo preferred.
In an era and a nation increasingly obsessed with youth and transience, to what extent could you see a contemporary reader speculating that Michelangelo, God's Architect may contain a read-between-the-lines lesson or two?
A few lessons we might all take away: (1) Don't rush to solutions. Michelangelo shunned fancy designs and models. After many years, he learned that solutions are discovered and rarely anticipated. (2) Build solid foundations. A building is dependent upon and follows its foundations. Michelangelo never saw the dome of St. Peter's, but he laid the foundations on which the dome rose. A good life is also built upon solid foundations. (3) Learn to collaborate. In the prime of his career, Michelangelo often tried to do everything himself, probably because he only trusted himself and saw how many mistakes arose when he wasn't overseeing every detail. The most important lesson that Michelangelo learned: You cannot do everything yourself.
Forgive a perhaps momentary descent into daffiness, but given the dramatic sound of Michelangelo, God's Architect, could you envision Hollywood taking an interest in the volume – and if so, who would you choose to fill Michelangelo's roll?
It's difficult not to picture Michelangelo as Charlton Heston, the star of The Agony and the Ecstasy [director Carol Reed's 1965 Oscar-nominated film]. But that movie culminated with Michelangelo painting the ceiling of the Sistine Chapel, when he was 37 years old. The artist still had another 52 years to live and St. Peter's to build. The Michelangelo of God's Architect, the movie, must be a robust man in his 70s and 80s. The English Shakespearean actor Simon Callow did a magnificent reading in making the audio version of my book; therefore, I nominate Simon Callow.
In that you've written/edited more than half a dozen other volumes about Michelangelo, to what extent does this volume, given the timing of its focus, constitute something of a culmination for you – or are you already mulling another project involving Il Divino?
As Leonardo da Vinci famously mused, "Tell me if anything is ever done."
Left Bank Books, 399 N. Euclid, St. Louis, 314-367-6731, left-bank.com