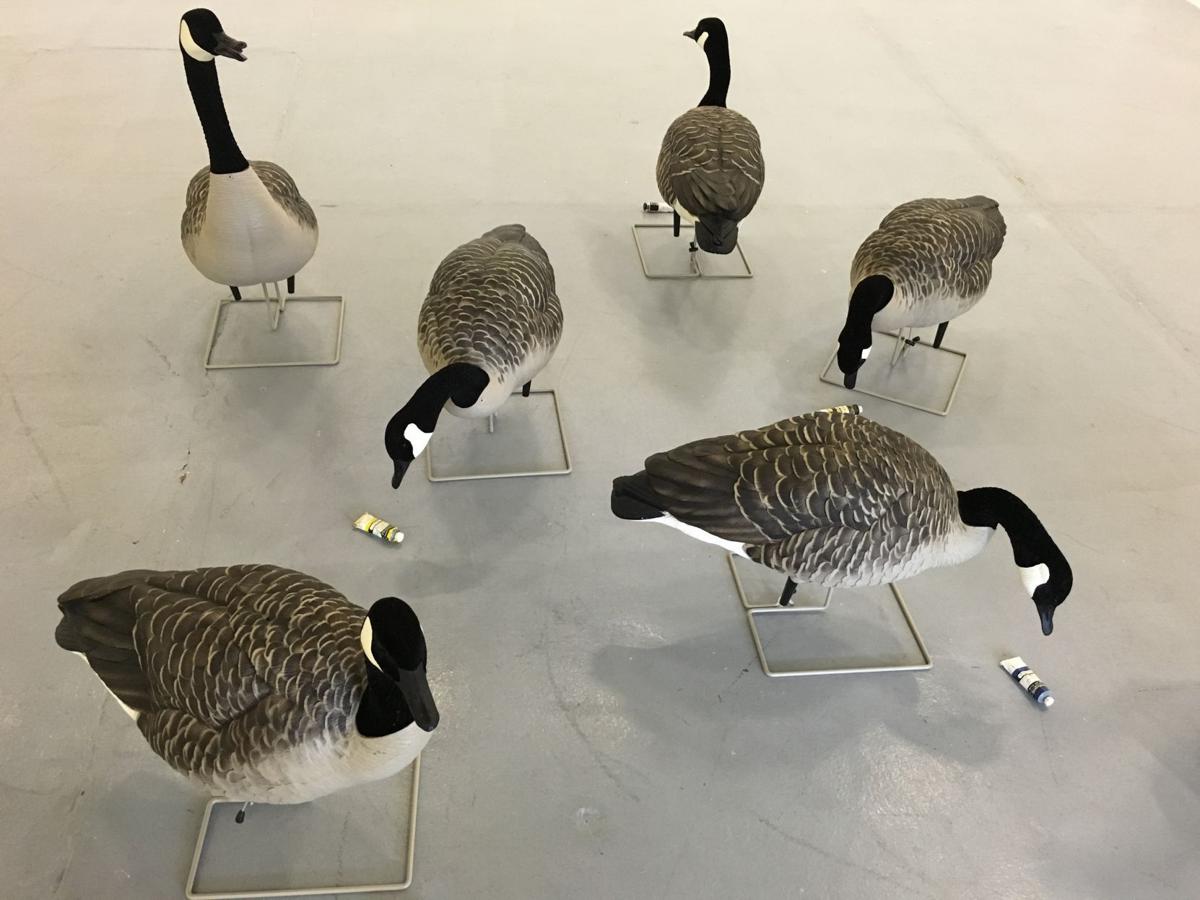 Honk!
A delicious playfulness suffuses the untitled central installation to Charles P. Reay's latest exhibition at the Bruno David Gallery, "DADADADA."
That installation – involving a sextet of faux geese (none "a-laying," by the way) and four tubes of oils – visually reads like a 3-D avian hommage to the 1898 painting His Master's Voice. The painting in question, which subsequently became a recording-industry trademark, famously shows a puzzled pooch named Nipper peering at an ancient phonograph.
Reay amusingly recounts the backstory of the installation's inclusion in "DADADADA."
"Several pieces related to Marcel Duchamp, and the geese are an allusion to his ready-mades," he says, referring to the French artist and champion of the Dada movement (which, from roughly 1915 to 1922, slipped a whoopee cushion onto the armchair of fine art) and the everyday things, like a urinal and a snow shovel, which Duchamp appropriated and repurposed as objets d'art.
"As history: I brought many of them into my studio last fall [2015] to simply keep me company. I moved them about now and then, and thought about them, and in midwinter, I gave them tubes of paint to give them a more elevated purpose. Bruno saw them during a studio visit, and we added them to my latest show – where, in the center of the gallery and asking several questions, they calmly contemplated nascent art in the form of the tubes of oil colors."
Used in the installation, he adds, were fiberglass, enamel, flocking, steel and metal paint tubes.
Professionally, Reay lays claim to serving 42 years as a design principal at Hellmuth, Obata + Kassabaum, the international architecture-engineering and interior design juggernaut founded in St. Louis in 1955 and nowadays known, simply, as HOK.
Prior to that, he also worked in his own office and – another major-league credential – in the Eames Office, shepherding the legacy of the protean husband-and-wife team of Charles and Ray Eames, two of the most influential visionaries in architecture and furniture (as well as industrial and graphic design, fine art and film) during the latter half of the 20th century.
"The last several years have allowed more time to concentrate on studio art," Reay says, mentioning shows at the Bruno David Gallery not just in 2016 but in 2011 and 2014.
From this year's show, he briefly reflects once more on those six geese, referring to Duchamp's pseudonymous urinal-centered work.
"I have, once or twice, related them to the Society of Independent Artists, a flock that M. Duchamp, a founder, resigned from in protest over the treatment he received over the rejection of R. Mutt's Fountain sculpture from its first annual exhibition, in 1917," says Reay.
"But that's pretty tough to suss out, so I've kept that to myself."
To learn more about our featured artist, visit chipreay.com.
St. Louis-area artists who wish to be considered for future installments of this monthly department of Ladue News should email inquiries to bhollerbach@laduenews.com with "Art and Soul" in the subject line.