Tonight, August 10, the Fabulous Fox Theatre will shine its stage lights on new talent, welcoming bi-state area high school students to perform in the final round of the 10th Annual St. Louis Teen Talent Competition. Tune in to PBS at 8 p.m. for a special broadcast, produced by the Fox Performing Arts Charitable Foundation and hosted by Ben Nordstrom, with a special guest appearance by Kirkwood native Joanna Serenko, 2019 competition winner and a contestant on the most recent season of NBC's The Voice.
Competitors range from musicians to dancers to aerialists to a juggler. Among the 16 acts is 17-year-old Jahnavi Vishnubhotla, a sitar player who honed her talent by learning from the best at an early age.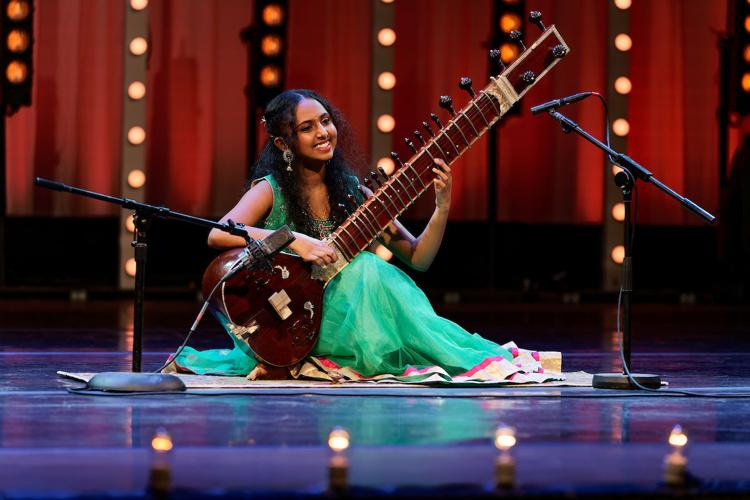 "My parents thought it would be a great opportunity for me to understand [Indian] music at a deeper level, not just through dance but also by playing the music," Vishnubhotla says. "When we first searched for sitar teachers near us, we weren't expecting anything. [We found] a world-famous sitar master living down the street from us."
The first time they met Imrat Khan, whom Vishnubhotla calls "Ustad" as a term of respect to signify the closeness between teacher and student, Vishnubhotla was so young that she could only hold a training sitar. She remembers Khan telling her then that she had "tamed the tiger."
"This teacher has performed all over the world and is in the textbooks that my mom and dad had when they were kids," Vishnubhotla says. "This person welcomed us with open arms and took me on as a student that very day."
Khan comes from a long line of legendary musicians, who trained each generation to play as a tradition. He passed in 2018, and now, Vishnubhotla studies under his son, Ustad Shafaat. Vishnubhotla performed at Khan's final concert at The Sheldon for his 80th birthday. Today, she honors her teacher by performing onstage at The Fabulous Fox Theatre.
"This competition and performing here is definitely my Ustad's blessing," Vishnubhotla says. "I know he is up there, looking down on me and smiling. This is all because of him. When I started to play, it felt like my fingers moved on their own. My mind focused on my surroundings, taking in the majesty all around. I am a tiny, 5-foot-tall, 80-pound girl, sitting alone on that huge stage. It was grandiose, an incredible experience."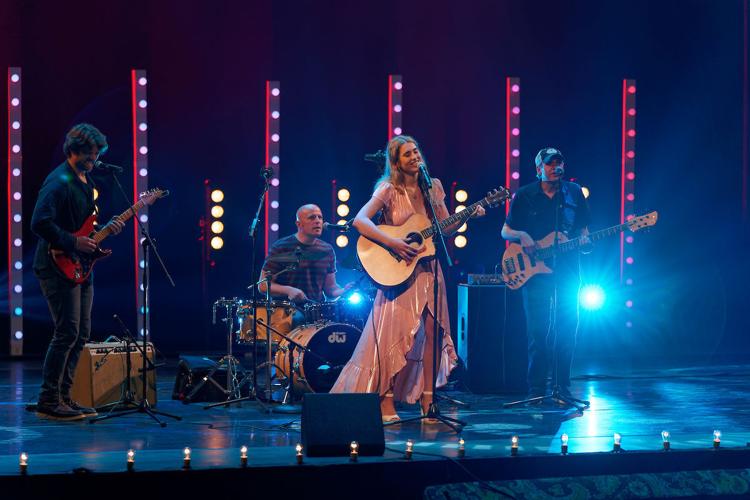 Annually, more than 120,000 viewers watch the St. Louis Teen Talent Competition broadcast, which gives people an opportunity to vote for their favorite talent post-show. Vishnubhotla, who is contestant No. 7, hopes to make her teacher proud and aims to continue educating the world on the history and beauty of her beloved instrument, the sitar.
"I can't believe I came across a master [whose] grandfather played in the courts of the Indian kings," Vishnubhotla says. "That's the lineage that I am a part of. It's an honor to share my music and this spiritual connection that I have with my own culture, [to bring] awareness and [spread] the joy that I and my teacher had with this instrument to everyone."
Viewers will have the chance to vote for the winner of the Audience Choice Award, who will earn a $1,000 cash prize, by calling in at 9 p.m. 2020 judges include: 2018 Tony nominee Taylor Louderman, Audrey Kwong of the St. Louis Symphony Orchestra, Antonio Douthit-Boyd of COCA, executive music producer Carl Nappa, award-winning actor Ken Page, and award-winning jazz vocalist and recording artist Denise Thimes.
10th Anniversary St. Louis Teen Talent Competition, Fox Performing Arts Charitable Foundation & nineNetwork of Public Media, foxpacf.org
Be the first to know
Get local news delivered to your inbox!