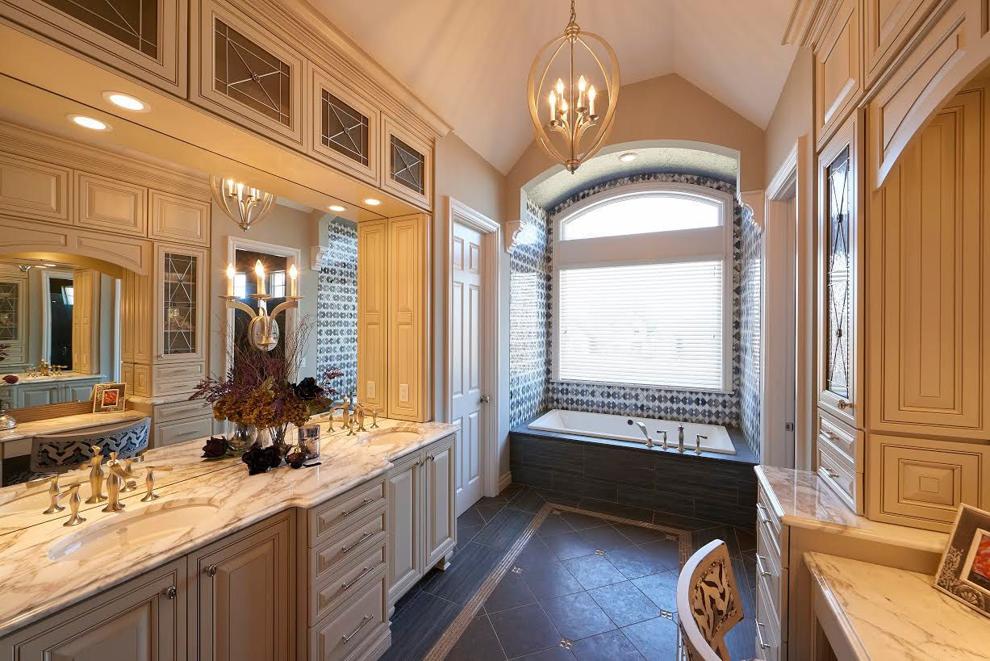 Heather Helms of Schaub+Srote Architects transformed the master bathroom of this St. Charles home into a welcome oasis. Helms worked with the client previously on her children's rooms and common rooms. When the client was ready to remodel the bathroom, Helms' goal was to create a space for her to get some well-deserved relaxation. They first focused on the cabinetry.
"She had a huge bathroom and really no storage space," Helms says.
Instead of having mirroring vanities on either side of the room, the vanities were placed side-by-side to create storage cabinets on the opposing wall. The white color of the cabinetry is complemented by gray limestone floors that have an area ruglike pattern. Everything is accented with soft, muted colors to reference the fabrics and textures in the master bedroom. The mosaic tiles on the walls surrounding the bathtub were custom-made.
"The bathroom, when I got there, was really dark, and everything felt kind of heavy," Helms says. "We wanted to give it a lighter, airier feel."
In the end, Helms says the bathroom is a place the client can escape to at the end of the day, close the doors and breathe.
Schaub+Srote Architects | 1045 North Harrison Ave., Kirkwood, Mo. | 314-822-7006 | schaubsrote.com