In our annual We Love Our Neighborhoods guide, we've asked 20 local families to share with us what they love most about their neighborhoods — from local businesses and services to the beautiful parks, arts and culture, and robust annual events that make their communities great places to live.
---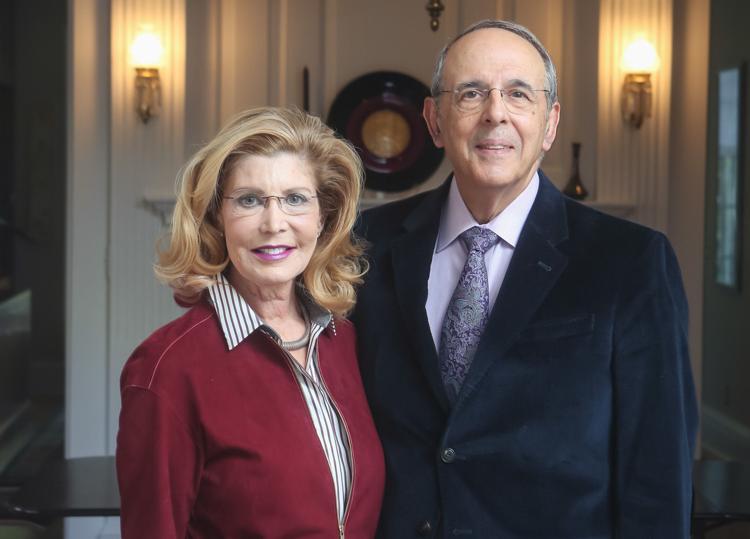 Central West End
The Bobrows | By Mary Beard
When you've lived in the same neighborhood for 43 years, you see a lot of change. For Jim and Nanci Bobrow, this has been part of the Central West End's charm. "It's been wonderful to see the rejuvenation," Nanci says. "The Central West End has endured, and we have been witness." She and her husband moved to their stately home on Kingsbury Place from Brooklyn more than four decades ago for Jim's residency and fellowship in ophthalmology at Washington University in St. Louis, with the neighborhood's proximity to Barnes-Jewish Hospital a huge attraction. Jim, a clinical professor, and Nanci, a psychologist, value the cultural diversity they experienced living and raising their now-grown children, Emily and Adam, in the historic neighborhood.
What are some of your favorite neighborhood perks?
We love living close to Forest Park. We've always utilized all the services it has to offer, from bike and running paths, nature trails, and Jewel Box to the [Saint Louis] Zoo, Saint Louis Art Museum, [Missouri] History Museum and [Saint Louis] Science Center. We are zoo parents and members, in addition to members of the art museum, history museum and science center. We love to walk, photograph nature in all seasons and attend events such as the [Great Forest Park] Balloon Race. I have attended many a Hat Luncheon, and we support Forest Park Forever, having watched "our" beloved park's preservation over these 43 years. We enjoy Shakespeare in the Park and The Muny, unique experiences just around the corner.
Where would you spend a date night in the Central West End?
A date night might include dinner at Brasserie followed by a movie at The Chase Park Plaza. We count Bissinger's in its original and current iterations [as an attraction] and regard a box of Bissinger's chocolate as the perfect gift, including their hand-dipped fruit. We miss the original Cafe Balaban and the unique folks who frequented it.
What are your favorite features of the Central West end to share with visitors?
Our unique historic preservation streets are a feature of the CWE that reflect the history of our great city as it developed westward. We take visitors around to see the grand homes of Portland, Westmoreland and Kingsbury Place, and the beautiful surroundings of these enclaves. Also, Bowood Farms is a gem for us for unique plants, gifts and a café. Bar Italia was a hangout for our children and their friends growing up, and our daughter even had her rehearsal dinner there. We enjoy its great food and ambiance, especially the patio in warm weather.
---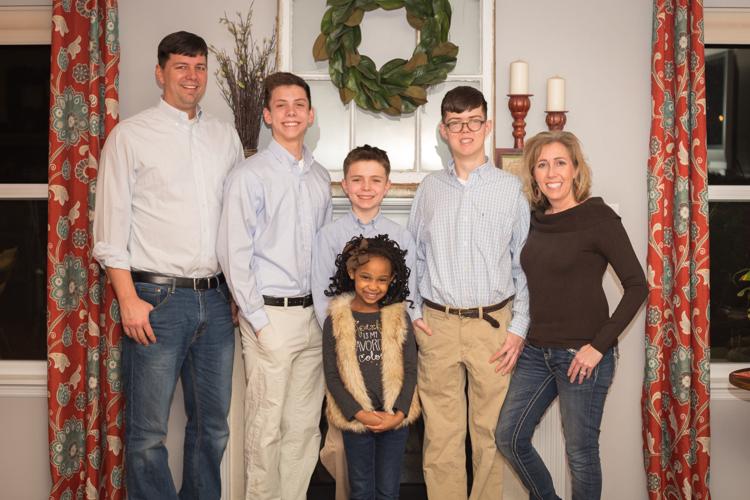 Manchester
Adam and Elizabeth Ward | By Connie Mitchell
The Ward family moved to Manchester four years ago, looking for a home near Parkway South High School. "We have enjoyed being a part of the Parkway School District and feel like our kids are receiving an excellent education," Elizabeth Ward says. "Our kids' interests vary from water polo to theater and many in between. In their respective schools, Hanna Woods Elementary, Parkway South Middle and Parkway South High, they are each cared about as individuals and challenged to meet their potential." Elizabeth is even more connected to Parkway schools through her role as a parent educator with Parkway Early Childhood, while her husband, Adam, works in sales for UniGroup Inc.
Describe a perfect weekend or day in Manchester. Where would you eat, shop, play and relax?
As a family, we love summers in Manchester. We can walk or ride bikes to Chadwick Pool, which has a great community feel. The lifeguards know the kids' names. Our kids swim with the Chadwick Swim Club, so Monday nights are spent cheering swimmers with "Eat My Bubbles" scrawled in Sharpie on their backs. Chadwick is one of those places that allows food, so once a week we all meet up after Adam's work and have a picnic dinner poolside. Sometimes we play family tennis on the Parkway South High School courts or at Schroeder Park. The teenagers love to trek down Hanna Road to Tropical Sno Shaved Ice for a snow cone.
What is your favorite event/festival or time of year in Manchester and why?
We love the high school homecoming parade! The morning of the parade, we gather with friends on a nearby corner. Our golden retriever even comes along. The adults catch up with each other, and the kids lunge for the candy that is thrown. Some of the cars and floats even throw dog biscuits! We cheer on friends in the band, on a gymnastics float or with the Girl Scouts. It feels like a small slice of Americana.
---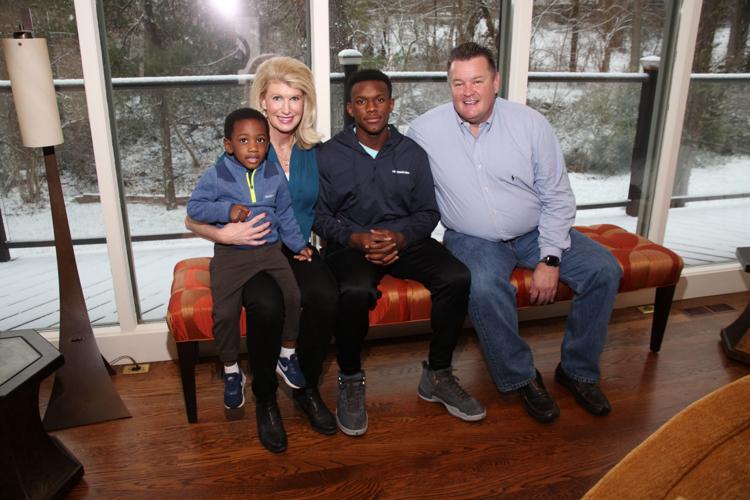 Ladue
The Nardinis | By Mary Beard
Both originally from central Illinois, the Nardinis bought and renovated their Ladue home pre-kids because they wanted to be closer to the central corridor and amenities like the airport. Chrissy, president of American Metals Supply, and Mike, president of IPSymphony, along with their sons, Harry and T.J., count Ladue as a great place for families and enjoy Ladue staples like MOD Pizza, Lester's, Elan Salon and Breeze Blow Dry Bar.
How would you spend a date night in Ladue?
In nice weather, we're on our back deck, or if it's an indoor date night, we're at Truffles.
What is a hidden gem that you'd recommend?
It may sound strange, but Ladue Pharmacy is great. If you weren't from here, you might assume it is just a pharmacy, but it has some unique gifts, toys and some items of local flair.
What might people be surprised to learn about Ladue?
Some might perceive it as stuffy, but I have found it to have wonderful, welcoming people.
What would you say to others to encourage them to move to your neighborhood?
It's hard to beat Ladue for its central location, beautiful homes and close location to so many wonderful schools. I don't know if there are many other communities where you are in walking distance to the public grade school, middle school and high school, let alone some of the great private schools in St. Louis.
---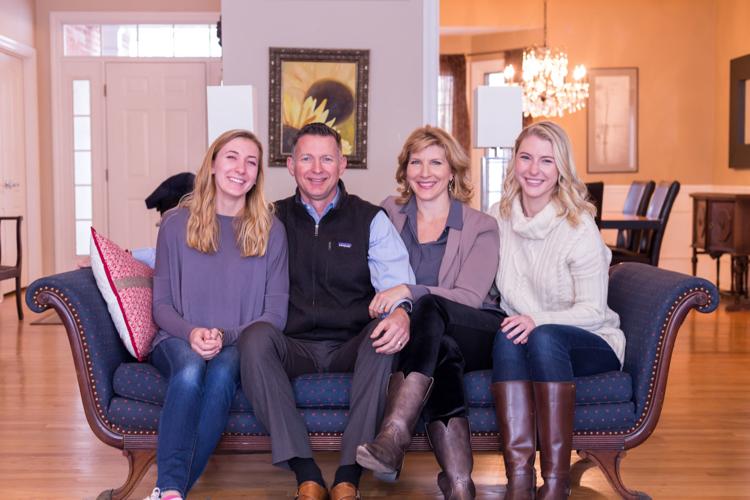 Creve Coeur
The Farmers | By Mary Beard
Located in the heart of St. Louis County, Creve Coeur has been home to the Farmer family for eight years. John, vice president of litigation at Charter, and Jill, owner of Jill Farmer Consulting, count the neighborhood as convenient for both city and county commuters, and a vibrant place to raise their kids, Peyton and Jane. "We've loved our public schools, parks and amenities in this warm and welcoming community," Jill says. "It's been a wonderful place for our family."
What are some of your go-to spots in Creve Coeur?
There are so many wonderful restaurants that we could eat out every night for a month and have a delicious dinner each and every time. Pretty much everything our family needs – from fantastic eateries to fabulous grocery stores to world-class physicians that are within 2 miles of our home in the heart of Creve Coeur. Some of our favorites are Silky's Frozen Custard, The Hive, Bristol Seafood Grill, Thai Nivas [Café] … , Fit Flavors and The J Community Center.
What are some of your favorite neighborhood perks?
The parks in Creve Coeur are real treasures. Nestled in a lovely neighborhood, Beirne Park is a favorite place for us to bike to and play tennis. Malcolm Terrace Park is a great spot to take the dogs for a walk in the woods. All of the Creve Coeur parks offer so much serenity and natural beauty right in the middle of neighborhoods.
What might people be surprised to learn about Creve Coeur?
We value the diversity of our area and have really enjoyed making friends with people who have recently come from all parts of the globe, blended with folks who are third-generation Creve Coeur residents. Our neighborhood is so vibrant, with young kids out playing every day, as well as seniors walking and connecting. I love the mix of people who have deep roots in this area and those with a fresh perspective on living here – it has enriched our experience.
---
Frontenac
The Chans | By Mary Beard
When David and Sue Chan made the move from St. Louis to Chicago, finding a neighborhood with a great school district for their children, Nathan and Kayla, was important. So Frontenac, nestled in the Ladue School District, was immediately attractive to the family. David, vice president of corporate development for Emerson, and Sue, a homemaker, now count Frontenac's central location and easy access to major highways as neighborhood perks, as they're kept busy with their children's activities. But when they aren't, you might find them spending a Saturday brunching at Brio Tuscan Grill.
How would you spend a date night in Frontenac?
We'd grab a quick bite to eat at Fleming's Prime Steakhouse and Wine Bar. They have a great happy hour in their bar area daily. Afterwards, it's off to Plaza Frontenac to catch a movie.
Name a Frontenac hidden gem that you would recommend.
Humble Pie is a hidden gem that serves up gourmet pizza from farm fresh ingredients to the table. Another hidden gem is Grassi's [Ristorante & Deli]. They serve up yummy toasted ravioli, and they're famous for their Terry Sandwich.
What would you say to others thinking about moving to Frontenac?
Frontenac has a lot to offer and is a great place to live. It's very centrally located, with easy access to major highways. Plus, it has a lot of cuisine options and diverse shops. It might come as a surprise that it has a great public school system as well. Both of our kids attend school in the Ladue public school system – that was the main reason we moved to the neighborhood.
---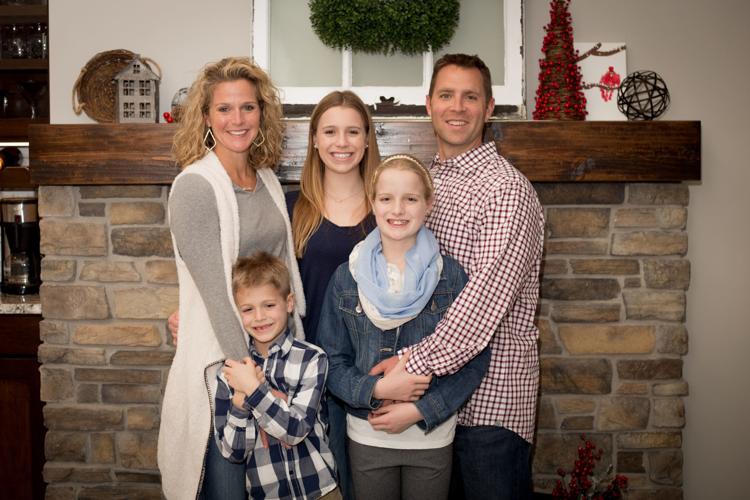 Ballwin
Eric and Kim Benting | By Connie Mitchell
In 2007, Eric and Kim Benting moved to Ballwin, motivated by the area's Rockwood School District and "wonderful neighborhoods," Kim says. "We wanted a place where our family would have neighbors with children our kids' ages, with safe places to play and ride their bikes, with shopping, with restaurants and other conveniences nearby. We also liked Ballwin for its proximity to both I-44 and I-64/Highway 40 for work commutes and getting downtown." The couple owns and operates a Chick-fil-A restaurant in Sunset Hills and keeps busy with their three children, ages 14, 11 and 7.
Describe a perfect weekend or day in Ballwin. Where would you eat, shop, play and relax?
A perfect day in Ballwin is a day at Castlewood State Park, getting out to enjoy a hike, run or bike ride, beautiful scenery and a great way to be outside. The day may start with a breakfast at The Shack and end with dinner at Marcella's Mia Sorella or Circle 7 Ranch.
What is your favorite event, festival or time of year in Ballwin and why?
We love the Ballwin Beer Festival. It's a great event to spend with friends and enjoy the weather, the park, great music, and local food and beverages. The Circle 7 Ranch group does a great job putting the event together.
What do you think is Ballwin's best-kept secret?
Castlewood State Park. It's a beautiful park with a lot to offer and right in our backyard here in Ballwin – for sure a best-kept secret. I'd also say our other great parks are a secret. We love Ferris Park, Vlasis Park and New Ballwin Park.
What would you say to someone who may be considering a move to Ballwin?
Ballwin is a great community that offers the best education you can find, affordable housing at a variety of price points, nearby shopping and restaurants, and an easy commute to downtown and business centers.
---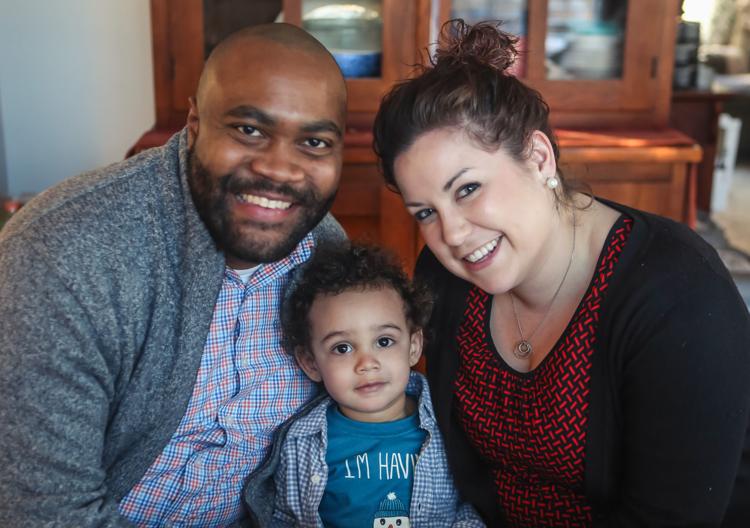 Maplewood
The Mapps | By Mary Beard
Jeremy and Rachel Mapp moved into their Maplewood home because their family was expanding – just not in the typical way. The couple serve as house parents for Joe's Place, a home for underserved and homeless teenage boys in the Maplewood-Richmond Heights School District. Joe's Place provides a stable and supportive home within walking distance of the high school so the teens can focus on succeeding in school. Outside of their house-parent duties, Jeremy works as a teacher at Maplewood Elementary, and Rachel is an adult educator and trainer. The Mapps – who have a little one of their own, 2-year-old Harris – both have their real estate licenses and advise any families looking to move to Maplewood to act fast, as homes are being rapidly snatched up.
What are some of your favorite places to eat, drink and shop in Maplewood?
We love Maven for gifts or Vom Fass and Kakao Chocolate. For drinking and dining, we like Boogaloo, The Muddled Pig, Blue Duck or The Maya Cafe.
What would a perfect Saturday morning look like for your family?
If the weather is nice, we'd walk with Harris to Strange Donuts for breakfast and then on to Sutton Loop Park.
What would you tell people who are thinking about a move to Maplewood?
Get ready to be part of a giving community. They've probably already heard about the great shopping and dining, but it's such a well-supported and generous neighborhood. It's like an old-school small town, with block parties where neighbors stay outside late and visit, school activities that everyone gets involved in and families just supporting families.
---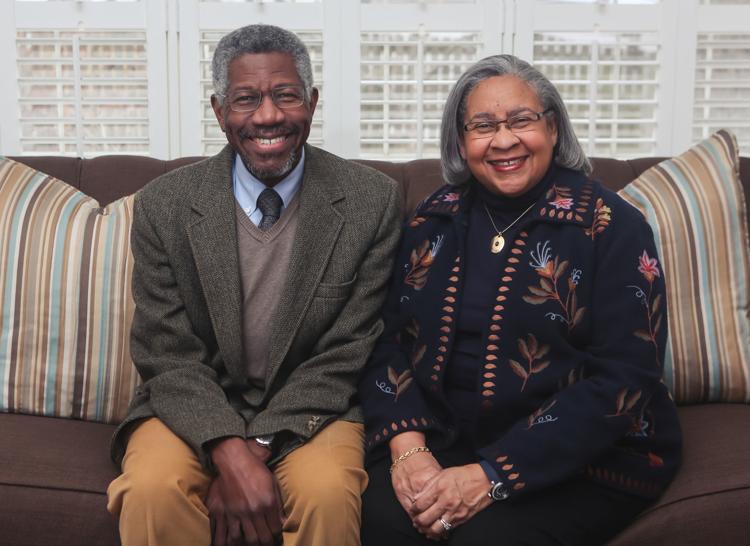 Webster Groves
Ida and Gerald Early | By Connie Mitchell
Ida Early dreamed of living in a grand old home and found just what she was looking for in Webster Groves. "Webster was the perfect place to find a great old house," she says. "Plus, we had many friends in the community, and it is a close commute to Washington University, where we both work." Ida is secretary to the board of trustees, and Gerald serves as the Merle Kling Professor of Modern Letters. The couple, whose children are grown, also donate time to a number of boards, including Care and Counseling, Women of Achievement, Jazz St. Louis, Provident and the St. Louis Public Library Foundation.
What do you think distinguishes Webster Groves from other St. Louis neighborhoods?
The large stock of 100-plus-year-old houses that are in great shape really set Webster apart from other communities and give it character. There's a lot of housing variety in Webster, it's a great community for walking, and the people are friendly.
Describe a perfect weekend or day in Webster Groves. Where would you eat, shop, play and relax?
It would include a continental breakfast at Panera Bread, groceries at Straub's and fresh veggies at Roger's Produce. Then I would pick up my dry cleaning at Suburban Cleaners, work out at the Recreation Complex or at Moss Field, enjoy a leisurely walk through historic Webster, and end the day with dinner at Dewey's Pizza.
What do you love most about living in Webster Groves?
The people. People speak when they walk past you. Also, the Webster Groves School District is very caring – our children really benefited from that care.
What is your favorite event, festival or time of year in Webster Groves and why?
We love the Fourth of July parade and fireworks, plus great neighborhood parties.
And the Webster Arts Fair has lots of great artists and entertainment.
---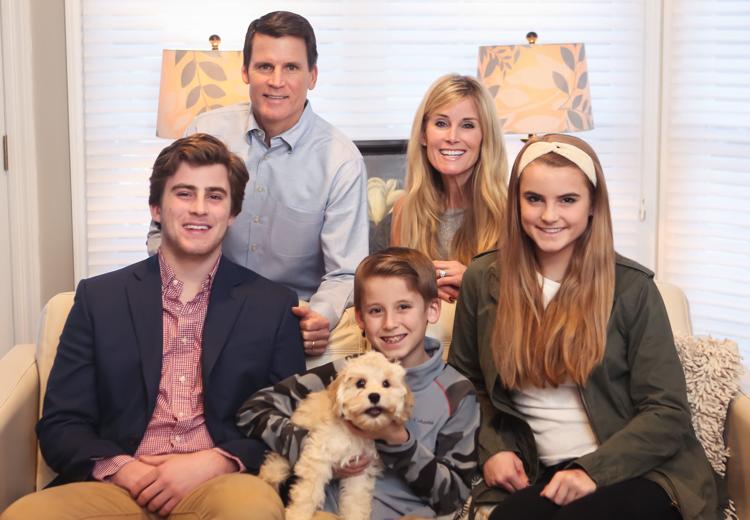 Kirkwood
The Adams | By Mary Beard
For the Adams family, deciding to live in Kirkwood was an easy choice. Eric, who works for a health care technology firm in sales, was raised there, and his sister and parents still count the neighborhood as their home. "Kirkwood definitely has a very small-town feel," says Ann, a registered nurse at a local hospital. "Neighbors really look out for one another, and almost everyone you meet is warm and friendly." Along with their three kids, Jack, Grace and Luke, Eric and Ann say that one of the best parts of Kirkwood is how walkable everything is and that strolling around downtown is something the whole family enjoys.
What are some of your favorite family-friendly spots?
The kids love to ice skate at the Community Center. Everyone loves Kirkwood Park, exploring the farmers market and hiking at Powder Valley. The girls in the family like to browse all the shops in downtown Kirkwood, and we all make it a point to shop local whenever we can. We all love the abundance of great Kirkwood restaurants, and after eating out in downtown Kirkwood, nothing beats walking to the Custard Station or Andy's for a sweet treat!
How would you spend a date night in Kirkwood?
We always joke that there's really no reason to ever leave Kirkwood, so date nights usually find us somewhere close to home. It's fun to eat great Italian food at Sapore, enjoy margaritas at Amigo's or catch the live music at 612 Kitchen and Cocktails. And we almost always run into someone we know at Duffy's or Dewey's. In warm weather, we love to enjoy beer and tacos on the patio at Club Taco.
What would you say to someone considering a move to Kirkwood?
There is something very special about Kirkwood. Events like the Greentree Festival and Turkey Day are fun for everyone and evoke such a great feeling of community pride. The school district is amazing, the people are friendly, and the setting just can't be beat. People don't just live in Kirkwood, they love living in Kirkwood!
---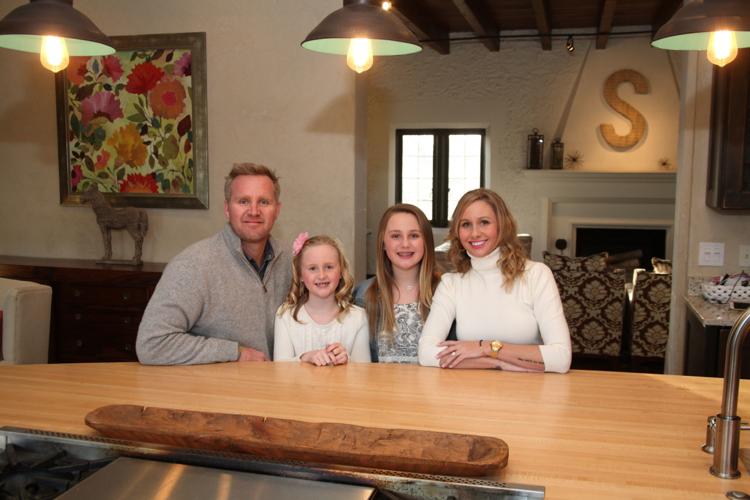 Town and Country
The Stacks | By Mary Beard
Town and Country boasts aspects of rural country living while being centrally located within St. Louis County. For Matt, managing director of Koch Development, and Erin Stack, owner of Pure Hot Yoga, that made it hard to pass up for their family. Originally from St. Charles and Kirkwood, respectively, Matt and Erin reside in Town and Country with their daughters, Stella and Remy. "It is easy to get anywhere in St. Louis from Town and Country," says Matt. "It has quaint neighborhood shopping like Mason Woods Village, but is just around the corner from major shopping malls and daily convenience needs."
What would you say to others to encourage them to move to your neighborhood?
That Town and Country really has everything – from higher education to tremendous public and private K-12 to a world-class hospital, where both our daughters were born, to a nationally recognized golf club to tremendous parks, all within the boundary of Town and Country. We are really looking forward to the completion of Town Square.
What is a hidden gem in Town and Country that you would recommend?
Drace Park.
What are some of your local go-to spots?
Queeny Park, Drace Park, Straub's, Lola and Penelope's, Town and Country Crossing, Katie's Pizza.
What surprises you about Town and Country?
That there is a sidewalk across the entire width of Town and Country along Clayton Road extending for nearly 5 miles and more than two major highways. There is no shortage of family walks, bike rides or exercise that you can't do along Clayton Road.
---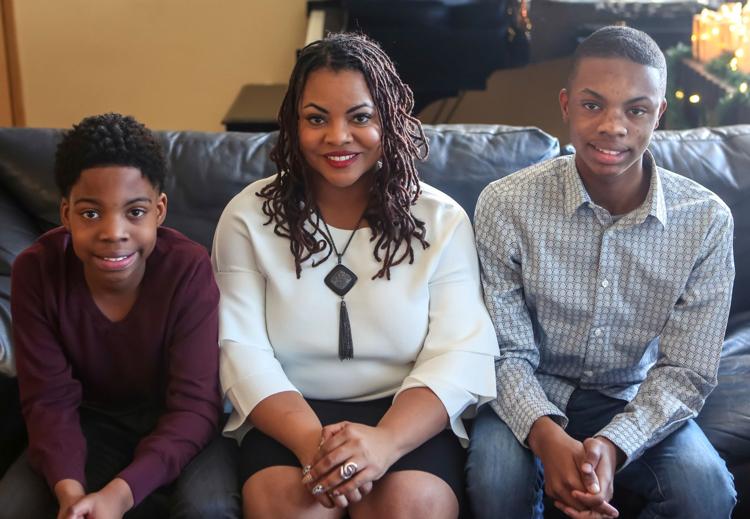 University City
Dr. Jameca Falconer | By Connie Mitchell
A licensed psychologist with Emergence Psychological Services, Dr. Jameca Falconer loves University City's diversity and proximity to other metro areas. Her perfect day in her neighborhood includes a trip to the Midtown Farmers Market and a stroll around the Delmar Loop, "watching people and enjoying the energy." If her two sons, ages 11 and 15, are along, a stop at froYo is a must. She especially loves summer in University City, enjoying the greenery and the crowds drawn to the area.
What do you think is University City's best-kept secret?
I think most people underestimate the amount of diversity in University City. A little bit of all cultures exist here. I believe that University City has a great mix of various demographics. African-American, Middle Eastern, Asian-American and Jewish, as well as older and younger people.
What do you think distinguishes University City from other St. Louis neighborhoods?
University City to me is different from other places as a result of the values and beliefs of the residents. This is an area where your differences are welcomed. You definitely cannot say that about lots of areas in St. Louis.
What do you love most about living in University City?
I love the people and the flavor of University City. It is a small part of the metro area that feels much like larger cities. I love the food, energy and the people. There isn't much that I do not love about University City!
What would you say to someone who may be considering a move to University City?
I would say that I highly recommend it! Do it! You will not be sorry.
---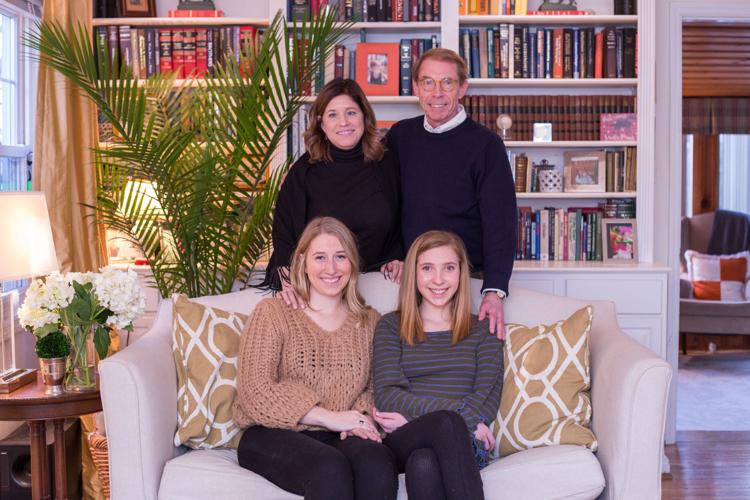 Glendale
The O'Neills | By Mary Beard
"Just like Mayberry" and "a slice of heaven" are high praise for a neighborhood, but that's how the O'Neills describe their home of Glendale. Bill, partner at St. Louis intellectual property law firm Senniger Powers, and Lisa, account executive for Entercom (Y98, KEZK, KMOX), live in the charming neighborhood with their daughters, Mary, who is currently off at college, and Brigid. "It's a true community, with a small-town feel," says Bill. "You can live here with all the advantages of a small town, but still be within a 10- to 15-minute drive to downtown St. Louis and other major attractions."
What might people be surprised to learn about Glendale?
That it is illegal to park an automobile on a Glendale street between 2 a.m. and 6 a.m.
What is you Glendale go-to spot?
The most important go-to spot in Glendale is Hanneke's Westwood Grocery, which serves as a grocery store, delicatessen and all-around gathering spot for Glendale residents. It is Glendale's version of Cheers in the sense that it is truly where everybody knows your name! The first advice we give to new Glendale residents is to go to Hanneke's and open a house charge account – then their youngsters can go there and buy candy just by signing for it!
And then a hidden gem is Hanneke's Westwood Catering, almost tucked in a corner of [Hanneke's] Westwood Grocery. Many people are not aware of it or that it is the best caterer in the St. Louis area.
Where is your favorite family spot?
The Glendale City Hall parking lot during one of the many community events we have, which include the annual Ice Cream Social, Jazzfest, Santa coming to town and others. The entire community gathers, and the kids run around and have a blast. When the kids were younger, we'd also take them to the Glendale Fire Station, and the firefighters would give them stickers and visit with them. Everybody knows everybody here, and neighbors and the community service departments really have your back.
---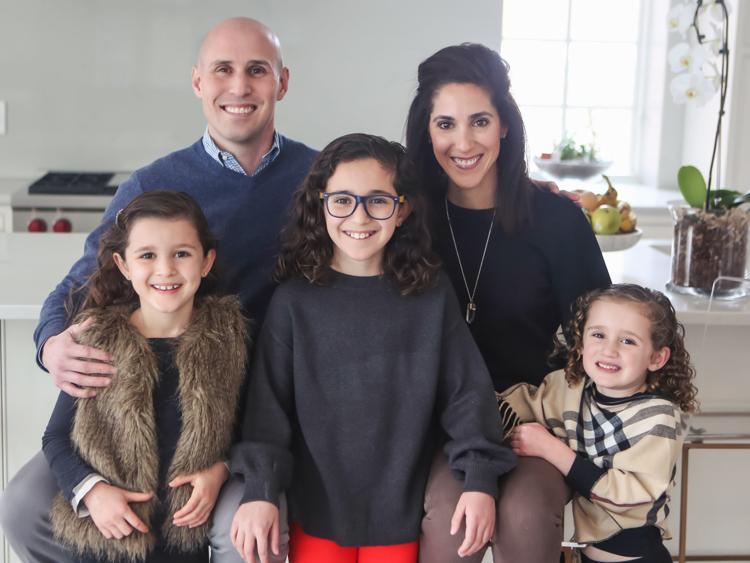 Clayton
The Flotkens | By Mary Beard
An urban – yet suburban – feel, walkability, a strong school system and ethnic diversity were all major selling points for J.J. and Angela Flotken when they decided to settle in Clayton. J.J., the CEO of Caravus, and Angela, the founder of The Better Have and a consultant for BeautyCounter, live in the centrally located neighborhood with their kids, Taylor, Morgan and Campbell. "We are so grateful for the way that this community has allowed us a safe, beautiful space to send our children to school, a home we love, proximity to some of our favorite people and the ability to run our own businesses and support our dreams," Angela says.
What are some of your favorite neighborhood events?
We love any kind of weather where we can be outside. The St. Louis Art Fair and Musical Nights "in our backyard," at Oak Knoll Park, are a few of our favorites.
Describe your perfect Clayton morning.
A family walk along Wydown with a stop for breakfast and coffee at Kaldi's and then to a park to play! Clayton's 2.5-square-mile footprint is home to 11 parks, each offering something fun and unique.
Where are some of your favorite local spots?
We love going for walks and popping into various spots along the way! For the kids, that might be Happy Up, Clementine's or even Garbanzo Mediterranean Fresh for a meal. For us, it looks more like The Crossing, Pastaria or Lusso for a gift.
---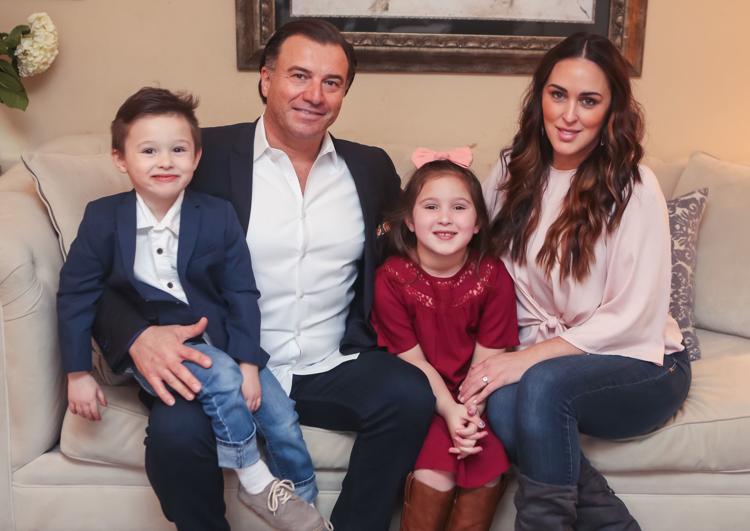 Brentwood
Sara Jane Salama | By Connie Mitchell
Sara Jane Salama grew up in Brentwood, attending Saint Mary Magdalen Catholic School, where she played basketball and volleyball. Her sports interests also included diving for the Brentwood Gators swim team and dancing with Brentwood Dance School. "It was a busy childhood, to say the least," she notes.
Now married with two children and the owner of Professional Massage Therapy in the heart of Brentwood, Salama notes, "My personal childhood and upbringing set the foundation as why Brentwood was our first choice to raise our family. Before then, Brentwood was a prime location for an active lifestyle and professional careers. Additionally, Brentwood's landscape and development have emerged to make it a desirable city for us."
What are your children's favorite spots in Brentwood?
They both enjoy [Ladue's] Tilles Park for nature walks, meeting new friends at the playground, feeding ducks and the wonderful Christmas light display at Winter Wonderland. They really enjoy the Brentwood Swim Club during the summer and can't wait to try out the new slides recently installed.
Describe a perfect weekend or day in Brentwood. Where would you eat, shop, play and relax?
Frank Papa's Ristorante is the best choice for dinner. It has fantastic food, and the veal is to die for! The Vault Luxury Resale is perfectly located two blocks from our house, and we love shopping there. The staff is very friendly and so helpful with finding great clothes and accessories at great prices. We play tennis at Hanley Park as a family and always have a great time.
What do you think is Brentwood's best-kept secret?
Brentwood is a smaller town perfectly located off Highway 40 only 15 minutes from downtown St. Louis, with easy access to the Saint Louis Zoo, Saint Louis Science Center and City Museum. The Brentwood School District is smaller than the surrounding districts, which contributes to a lower student-teacher ratio.
---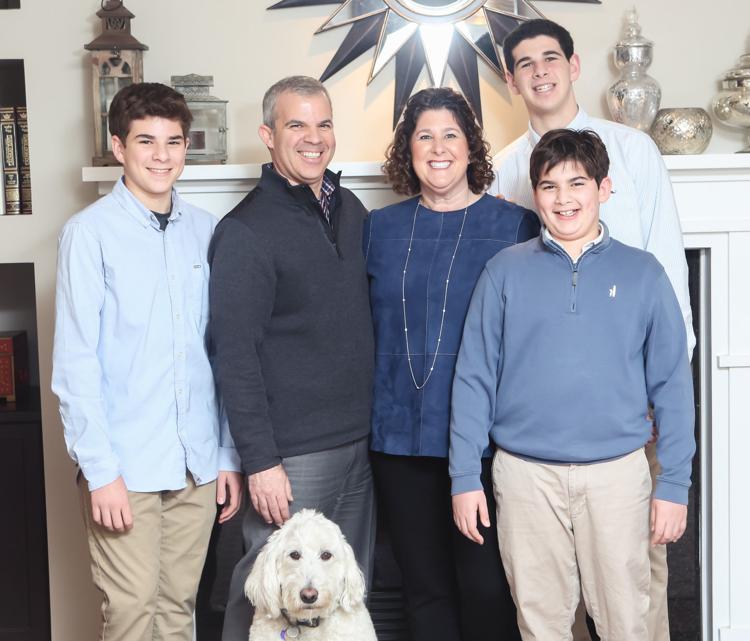 Olivette
Rabbi Brad and Mindy Horwitz | By Connie Mitchell
With three teenage sons, life is busy for the Horwitz family of Olivette. Rabbi Brad Horwitz is director of Jewish engagement and adult programs at the St. Louis Jewish Community Center, while Mindy Horwitz volunteers with the National Council of Jewish Women, Nishmah, a women's program at The J, the Harvey Kornblum Jewish Food Pantry, and the boys' schools. "We do whatever we can to support the Ladue basketball program, in which all of our boys play," she adds. Mindy appreciates the eclectic vibe of Olivette and notes, "We have the best neighbors!"
Describe a perfect weekend or day in Olivette. Where would you eat, shop, play and relax?
A perfect day would be walking our dog to Starbucks at Olive and Price for coffee, watching the kids play basketball and then going to Stacy Park with our kids and our cousins, who also live in Olivette.
What would you say to someone who may be considering a move to Olivette?
There are houses at price points that will fit a variety of budgets, the streets are quiet and pretty, and the schools, which are among the best in Missouri, are diverse and challenging.
What do you think is Olivette's best-kept secret?
Olivette is really in the center of it all. It's close to Clayton, the Delmar Loop and the shops in Ladue. It's also so close to The J and any sporting events in St. Louis.
What is your favorite event, festival or time of year in Olivette and why?
We love our annual fall football game at Old Bonhomme Elementary School and then a cozy Thanksgiving at home with all our family.
---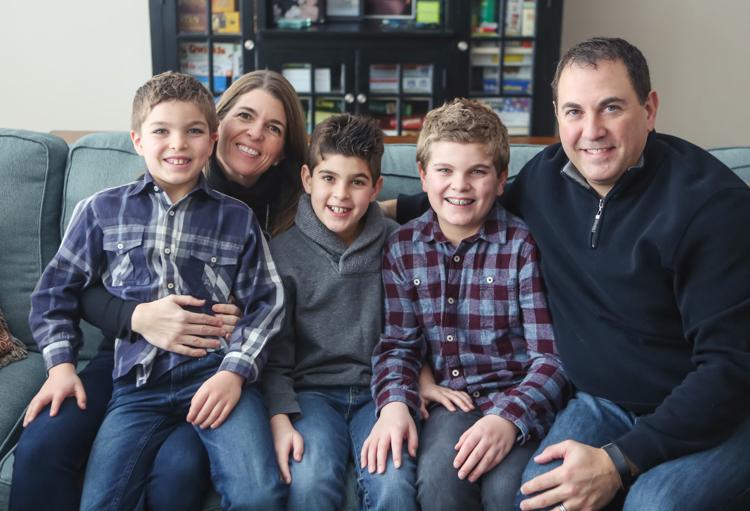 Chesterfield
The Marks | By Mary Beard
David and Corrie Marks were both raised in St. Louis – even attending rival high schools – so when looking for a perfect home for them and their three children, Grayson, Oliver, and Truett, the neighborhood needed to be convenient, as they still enjoyed exploring the rest of the metro area for dining, shopping and activities. David, a senior director of Software Consulting, and Corrie, administrative assistant and professional volunteer, found that sweet spot in Chesterfield where they also count the many great schools, down-to-earth people and safety as key features.
What are some of your go-to spots in Chesterfield to eat, shop, relax and play?
Circle 7, [Marella's] Mia Sorella, The Shack, Addie's Thai House, Babbo's, Yia Yia's, Laurie Solet, paperdolls, Lifetime Fitness and Pilates and Yoga Chesterfield.
Why did you choose Chesterfield?
We could get more house for the money in Chesterfield, and there are wonderful schools. Chesterfield puts us close to family, and it's convenient for errands. We're also close to highways, which provides easy access to the rest of St. Louis.
What might people be surprised to learn about the neighborhood?
There's a beautiful walking trail behind Chesterfield Amphitheater. It meanders through a stream, around a pond, and is a great place to walk or enjoy some peace and quiet. You can easily access it from the playground or near The Awakening sculpture, which in and of itself is a sight to behold. And then I think Addie's Thai House is pretty hidden. We tell many people about it, and many aren't aware you can get such authentic, delicious Thai food in Chesterfield.
---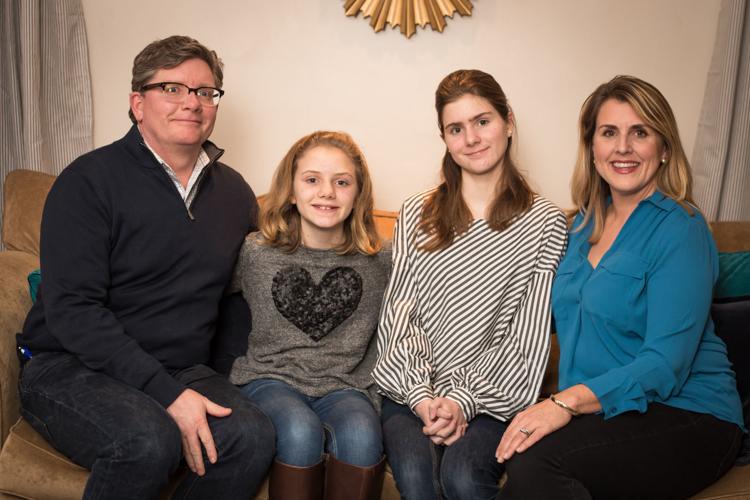 Richmond Heights
Bob and Michelle Hagen | By Connie Mitchell
Richmond Heights' central location and the Maplewood Richmond Heights School District drew Bob and Michelle Hagen to the area as newlyweds 15 years ago. Bob owns Hagen Properties, a commercial real estate company, while Michelle is completing her teaching certification in art education at the University of Missouri-St. Louis and working as a student teacher at Logos School in Olivette.
What are your children's favorite spots in Richmond Heights?
We have three daughters, ages 24, 13 and 11, and a granddaughter. My girls love the Richmond Heights Memorial Library, and our 13-year-old volunteers there during the summer. They also like Mr. Wizards Frozen Custard and Yogurt.
Describe a perfect weekend or day in Richmond Heights. Where would you eat, shop, play and relax?
A perfect day in Richmond Heights for Michelle would include lunch at Mai Lee, shopping at Crate & Barrel, cocktails at Basso and a late movie at the Hi-Pointe Drive-In. Bob would enjoy a cooking class at the Weber Grill Restaurant, shopping at Big Shark Bicycle Co., then a visit to Starrs to pick out an interesting bottle of wine. And Tropicana Lanes is great for family fun!
What is your favorite event, festival or time of year in Richmond Heights and why?
Our favorite time of year is Halloween! We have amazing neighbors that love to trick or treat together, and there is always a great party!
---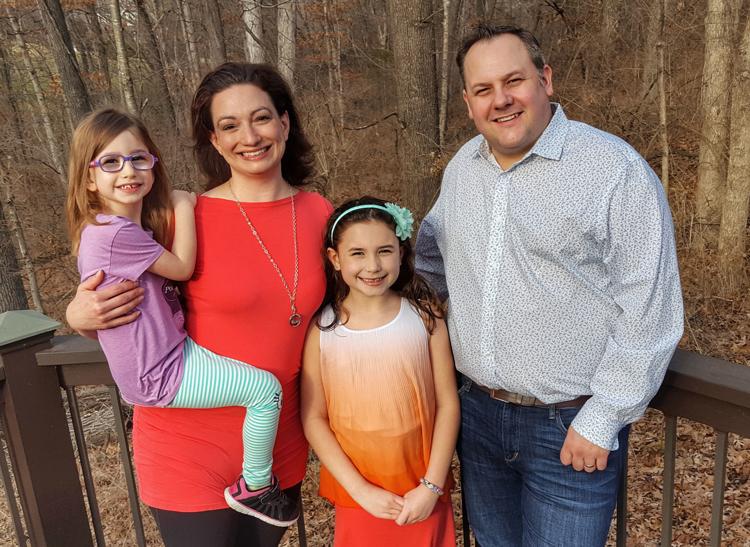 Wildwood
Joe and Candace Farmer | By Connie Mitchell
Joe Farmer, vice president of Dielmann Sotheby's International Realty, grew up in Wildwood. "About five years ago, when our oldest daughter was approaching school age, it felt like the right thing to do to make our way back to a place that held such strong memories," he says. Farmer also co-founded The Half Fund, a nonprofit organization "created to illustrate the realities of a cancer diagnosis, the good and the bad, through commercially viable mass-media projects such as films, documentaries, books and music." Candace Farmer works at the McDonnell Genome Institute at Washington University in St. Louis and serves as the Wildhorse Township Democratic Committeewoman, and the couple has two daughtgers, ages 9 and 4.
Describe a perfect weekend or day in Wildwood. Where would you eat, shop, play and relax?
The perfect weekend would be spent working in the yard or taking a bike ride, followed by dinner at the Big Chief Roadhouse or getting a burger from Larry's Tavern.
What do you think is Wildwood's best-kept secret?
We frequent the Big Chief Roadhouse for the amazing atmosphere and great food. The large community tables on the patio are a really fun way to spend an evening. But the best-kept secret is Larry's Tavern, a very small little hole-in-the-wall with some of the best burgers I've ever had.
What do you think distinguishes Wildwood from other St. Louis neighborhoods?
Wildwood is unique for its size and incredible green space. A city founded with a plan in mind to appreciate nature that has stuck from its inception is truly something to be proud of.
---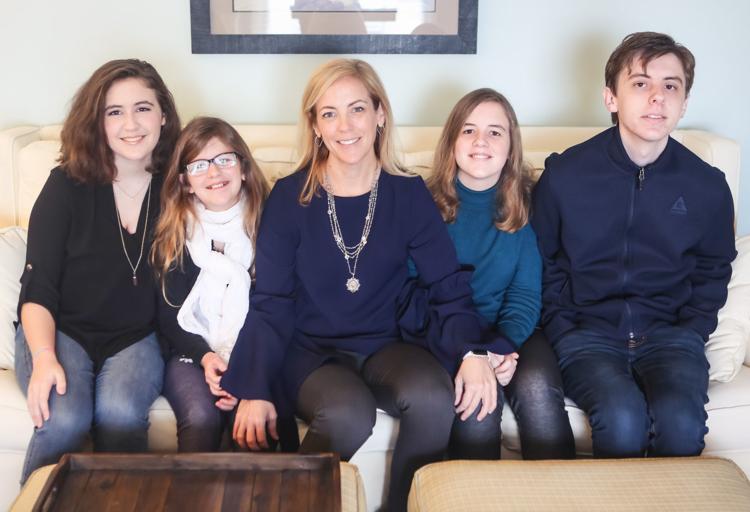 Des Peres
Jackie Schlarman | By Connie Mitchell
A Chicago native, Jackie Schlarman says she was a St. Louis fan long before she moved to the area. "I had extended family in St. Louis, and I just thought it was so beautiful. It seemed like it was very green and lush, and there were big lawns," she recalls. Now Schlarman has her own lush, green lawn in Des Peres, where she lives with her four children, who range in age from 18 to 10. Schlarman, an assistant vice chancellor for marketing and communications at the University of Missouri-St. Louis, loves the neighborhood's big trees and green space and appreciates the high-quality Kirkwood School District.
What do you love most about Des Peres?
There are so many great amenities and things to do within walking distance, and the whole area has a nice neighborhood feeling. Stores, restaurants and parks are all within a mile or so of our house. Des Peres has everything you need nearby, and you feel like you're in a close-knit community, but you're not living on top of each other.
What are some of Des Peres' best-kept secrets?
Des Peres is more affordable than some of the surrounding areas – you get more land and house for the money. There's also diversity in the types of buildings in Des Peres. You have everything from sprawling ranches to two-story new construction.
Describe a perfect weekend or day in Brentwood. Where would you eat, shop, play and relax?
If it's summertime, we might go to Des Peres Park for a free concert, then go across the street to Rosalita's Cantina for great Mexican food. Or we might go to The Lodge Des Peres to swim or work out and then have dinner at Three Kings Public House.
---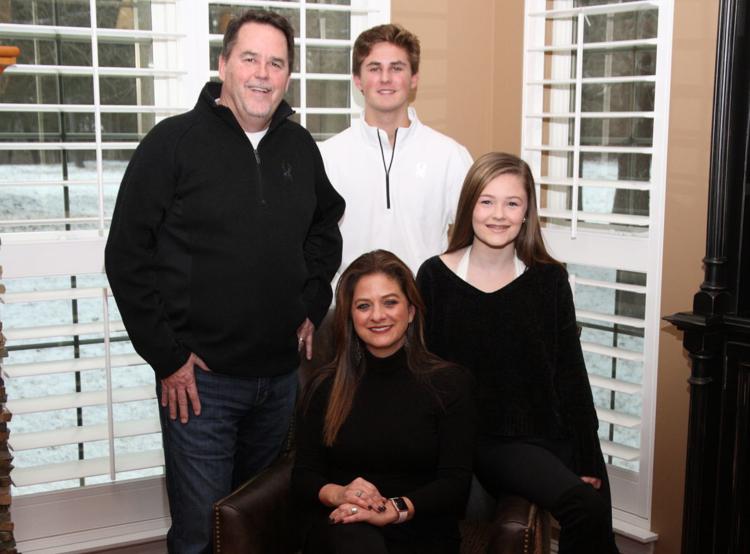 Ellisville
Chuck and Debbie Newberry | By Connie Mitchell
Chuck and Debbie Newberry moved to Ellisville almost 10 years ago, choosing the area because of its beautiful neighborhoods, parks and location within the Rockwood School District. The couple's two teenagers keep them busy with school and sports activities, including soccer for son Brady, 16, and cheerleading for daughter Karsyn, 14. "We're also thankful for the Fountains of West County Memory Care facility, where my mother-in-law lives, which opened in Ellisville just a few years ago," Debbie says.
Describe a perfect weekend or day in Ellisville. Where would you eat, shop, play and relax?
A perfect day starts off by gong to the Ellisville Farmers Market at Bluebird Park, then staying for a concert and food trucks. Otherwise, we enjoy socializing with friends at our home or at one of the local establishments, such as corner bar Mulligan's Grill or Walnut Grill.
What is your favorite event, festival or time of year in Ellisville – and why?
Our family's favorite event in Ellisville is the Independence Day celebration at at Bluebird Park. We love to listen to local bands, have great food and enjoy fellowship with other Ellisville residents. We also love to view the wonderful fireworks from our neighborhood, which is right across the street from the park.
What neighborhood businesses do you frequent most – and why?
We love to shop at Dierbergs for groceries. Our favorite donut shop is The Donut Palace. We go to C&C Butcher for great meats, and Mulligan's Grill is our favorite neighborhood hangout for great food and fellowship – it's similar to Cheers, "where everybody knows your name." Our year-round favorite ice cream stop is Andy's Frozen Custard.