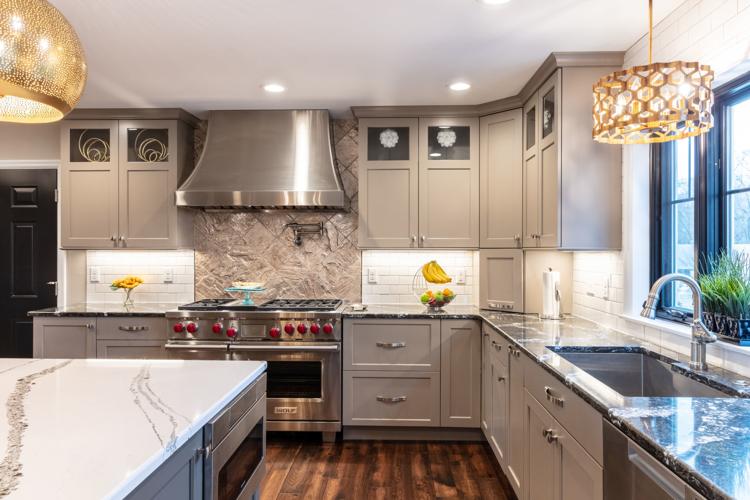 There simply is no place like home, especially around the holidays. This year, make your home even more inviting with a guiding hand from Mosby Building Arts.
"Our clients expect a high level of quality in the finished work, along with expert coordination and communication," says designer Jake Spurgeon. "We [always deliver] an all-around, well organized and executed remodel."
Meeting those expectations may be part of the job, but for Spurgeon and his fellow designers, the best part of what they do is working with different clients and discovering their unique personalities. Spurgeon's most recent client infused life into this first-floor makeover.
"Our clients had purchased the house two or three years prior," explains Spurgeon. "The space was traditional and each room closed off. The couple was blending their families and wanted an open floor plan, especially for entertaining during the holidays."
The property, built in the 1980s, was selected as the couple's "forever home," which allowed Spurgeon to indulge their creative side in every aspect. "The Mrs. has a wild personality," he shares. "We chose finishes and designs that were taste-specific to the homeowners, which I think is fantastic. The [details] and artwork she chose reflect that."
With any large remodel, a space can reveal potential issues, and this project was no exception. "We moved a load-bearing wall between the kitchen and dining room and discovered the house had not been framed properly," details Spurgeon. "The stair was not built to code, so we changed it from a straight run into an L-shape. There were unforeseen structural repairs that had to happen."
Reinforcing the property's perimeters then allowed the design team and clients to determine which requests from their wish list could be achieved. One fun item to cross off was the addition of a double-door refrigerator and ice cream freezer between the kitchen and dining areas, where a wet bar used to reside. This high-end amenity paired well with the kitchen's 48-inch dual fuel range by Wolf, complete with a custom hood. Brushed gold light fixtures accent the whole open space.
Spurgeon reflects on the complete redesign: "This is not your typical traditional design. It isn't even ultra-contemporary. It is a nice blend of different styles. The client texted us a lot and posted on [social media, expressing her] excitement throughout the project."
Now, with the aid of Mosby Building Arts, it's your turn to transform your abode into a gorgeous space best-suited for the ones who call it home.
Mosby Building Arts, 645 Leffingwell Ave., St. Louis, 314-909-1800; Exteriors by Mosby, 314-909-8383; Right Kitchen & Bath, 314-909-1820; mosbybuildingarts.com