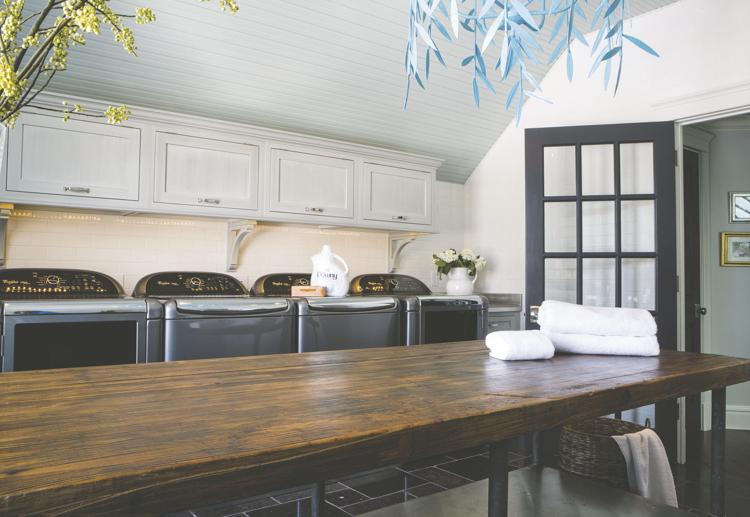 "Ordinary is boring. There's enough ordinary in the world." So says Jenny Rausch, designer and co-owner of Karr Bick Kitchen & Bath. Since buying the venerable design and remodeling company in 2006, Rausch and her husband, Todd, have made it their mission to create – and to be – "nothing ordinary."
"For us, 'nothing ordinary' simply means striving to be the best in whatever you do and to be present in the moment," explains Rausch. The "nothing ordinary" ethos infuses every aspect of Karr Bick, from the way the company cares for its employees to its partnerships with clients to its trademark inventive spaces.
"We're family-oriented people," stresses Rausch. "Our employees are our family – our Karr Bick family. I think that if you give your employees the freedom to take care of their families, they're not only happier people, but also better at their jobs and will work harder for their clients."
Equipped with a talented team of designers and carpenters, Karr Bick is a full-service operation that can handle an entire project, from conception to sourcing materials to installation and completion. "We will work with a team, but we can do it all on our own," states Rausch. "We're problem-solvers at heart. Whether it's an issue with your layout, a complicated color combination or an unexpected pipe – we can handle it. We supply everything, down to the handles and knobs."
That can-do spirit and flexibility extends to the company's aesthetic. Karr Bick's designers are multilingual, fluent in a diverse array of modes that includes French Country, cottage and contemporary. "We've all flexed our muscles in different styles," notes Rausch. "It's a collaborative process with our clients. We get a chance to play and to go on a dream ride with them."
Regardless of style, the resulting spaces are united by an almost indescribable quality, which is palpable upon entry. "We hear it all the time, especially on house tours," says Rausch. "People will say to us, 'we knew it was a Karr Bick kitchen!'"
Rausch attributes this feeling to the company's family focus. "It trickles down into our projects," she observes. "I think that if you had to encapsulate what we do, it's that we create spaces that feel like home. There's a sense of coziness in whatever we design. Our spaces are not museum pieces. They are places in which you can see yourself living."
Having recently undergone a massive renovation of her own Kirkwood residence, Rausch acknowledges the stress that such an undertaking can cause families. She advises prospective clients to do their homework first. Many customers arrive at Karr Bick by way of its website, which is filled with before-and-after photos, process breakdowns and informational videos. After reviewing these materials, clients can then schedule a complimentary initial design consultation – either in-home or at the Karr Bick showroom in Brentwood – and proceed from there.
"We don't want people to settle for ordinary," Rausch underscores. "We believe that everyone deserves to feel good in their space. That's nothing ordinary."
Karr Bick Kitchen & Bath, 2715 Mercantile Drive, Brentwood, 314-403-7619, karrbick.com