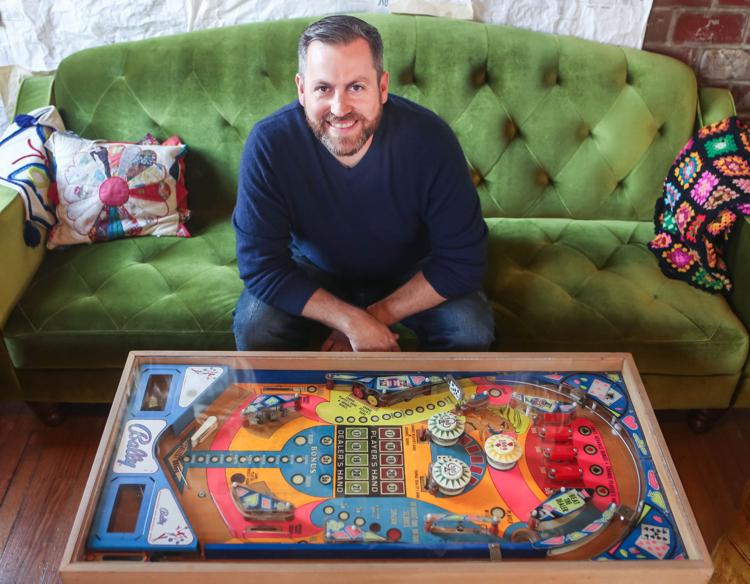 Mac McNally says he's always liked to tinker. He recalls "building mousetrap cars in my parents' basement" and taking a metals-focused sculpture class while studying at the University of Minnesota. "At the time," McNally says, "I didn't realize that art was a passion that I would go on to pursue." Now, the Missouri craftsman known as 2000 Man creates nontraditional, quirky pieces that are equal parts artwork and furniture, often centered on one beloved hunk of metal: a pinball machine.
"A good friend of mine owns a vending arcade business," McNally explains of the nontraditional source of his inspiration. "I started seeing old, dilapidated pinball games just sitting around his warehouse. Pinball is such a beautiful medium; it was a shame to see these machines just sitting there not being appreciated. I asked him if I could start experimenting with some of them, and he said go for it." And so the pinball table was born.
As showcased on his Instagram feed (@2000.man), McNally turns pinball machines into coffee and end tables, occasionally even with working lights. "I am self-taught when it comes to wiring, so sometimes the [lighting] experiments don't always work out," he says, noting the fun of the ever-different experience of his work. Price varies, starting at around $700. His craftsman skills extend into other forms of custom tables outside the arcade realm, but all include at least a hint of that midcentury modern vibe.
"Midcentury modern is definitely where my style is centered," McNally says. "But when someone asks me to create a new piece, I try to match [his or her] style as best I can. For example, my friend asked me to make her an outdoor table for a kitchen workspace. I took the legs from an old pinball machine and built a rolling rustic table with barn wood. It sounds weird, but it worked well."
The theme of reusing materials comes up a lot when examining McNally's work. Although the arcade pieces are an obvious upcycle, even the wood he works with – mostly white oak, red oak, black oak and black walnut – is often locally sourced. Future projects will include black oak from a tree that recently blew over on his father's land at the Ozarks, for example. It's all about what's available.
"While in school, I worked at the [University of Minnesota's] Weisman Art Museum, a beautiful building designed by Frank Gehry," McNally explains. "He is primarily known for his architecture, but [he] also has designed some interesting furniture, using wood. His architectural style started with the incorporation of basic construction materials such as chain-link fencing and sheet metal. Basically, products that were readily available. I utilize a similar process, in that I use what I can find, such as unused arcade parts, and repurpose them into new pieces."
Although McNally's shop is in Lake of the Ozarks, St. Louisans are only a few clicks away from his work – locals also might have spotted one of his tables at Rise Coffee House in The Grove. His social media presence is full of an adoring audience amazed at his one-of-a-kind pieces. "I love when people comment on my pieces!" he says. "Anytime someone shares my photo or comments, I try to interact. Social media is the best way for a small business to gain traction when you are just getting started. It levels the playing field. If I offer up something that people like, and others appreciate it, then good reviews [or] word of mouth lead to more opportunities."
Work by McNally can be found online, as well as at John Elliott Interiors at the Lake of the Ozarks and at South Jefferson Mid Century Modern in St. Louis. According to McNally, "Both … have very different styles, but appreciated what I was creating." Additionally, custom orders are welcome for "pinball or otherwise."
"What started out as just a hobby has now turned into something a little bit bigger," 2000 Man concludes.
2000 Man, chairish.com/shop/2000man, 2000mandesign@gmail.com