Anna Weiss and Luby Kelley turned heads in their Crestwood neighborhood when they changed the exterior color of their new home. Mostly following the lyrics of a 1966 Rolling Stones hit, they saw a red house and wanted it painted black.
"You can't miss it," Weiss says when describing its location. It's the house drenched in black – even the bricks are coated in a dark charcoal hue – with sharp angles and a flat roof. It stands out on a street of red brick houses with shades of white and brown and traditionally triangle-based rooftops.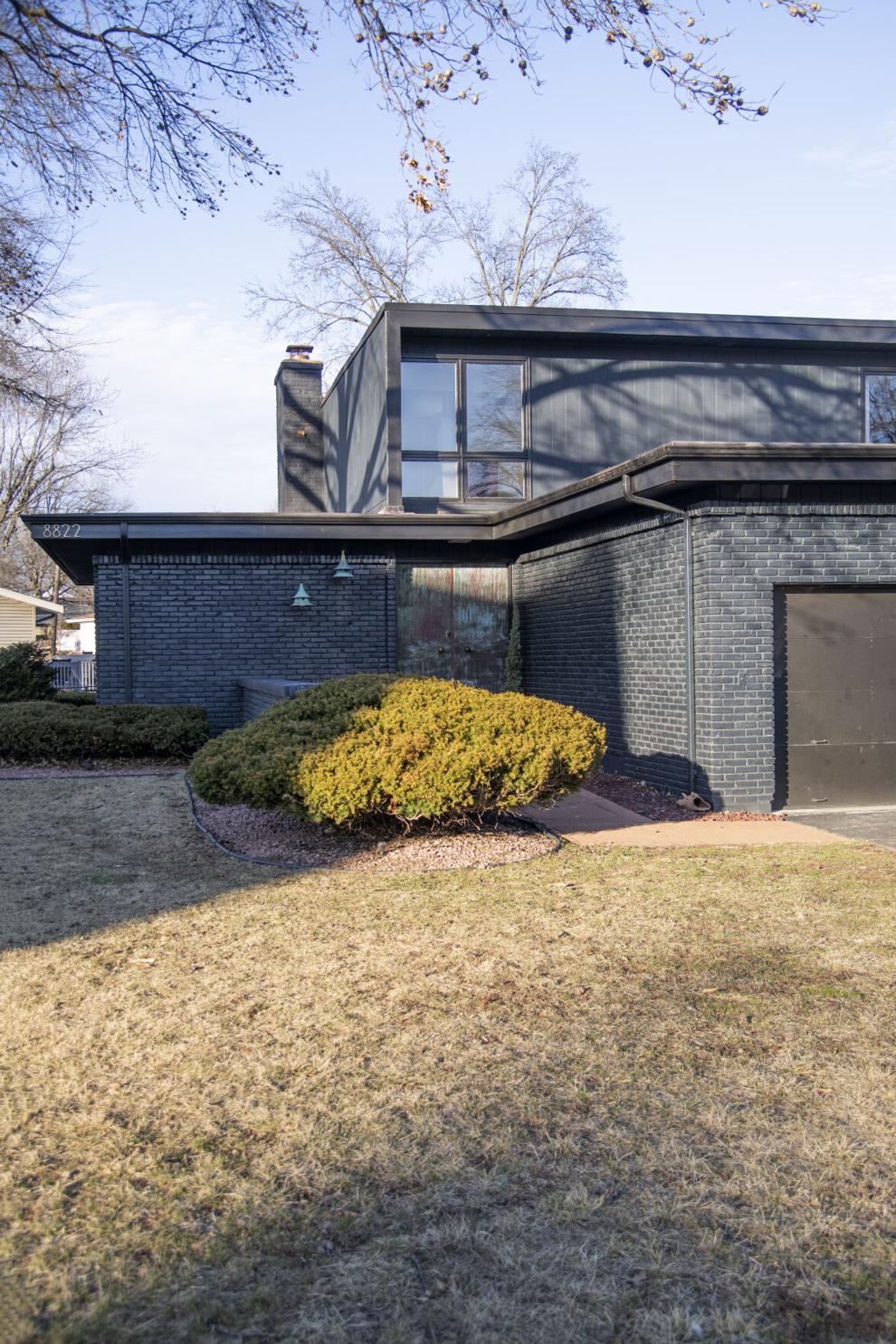 "I always pause and have to hesitate," Kelley says about reacting to his wife's design ambitions. "But it always looks great. She's definitely the dominant designer."
"I'm not afraid for something to fail," Weiss adds, "so I'm OK with painting something a few times or ordering three different wallpapers to get it right. It's trial and error."
Weiss and Kelley own Webster Groves' midcentury modern design shop, MoModerne, which also manages estate sales in the metro area and beyond. They've developed keen eyes for unique goods and charming home interiors – yet this house intrigued them just from the outside.
It first caught their attention during a stroll through the neighborhood in 2008. The young couple's former home stood about two blocks away, and so they often took their daughter out for walks in the area. One day, the elderly homeowner, Jack Tyrer, noticed them and struck up a conversation about how he had designed the home, and his father built it in the early 1970s.
"We said – politely, as we have practiced doing – that, 'When you are ready and finished with the home, we'd be really interested to buy it,'" Kelley remembers. "We never got a chance to see inside."
Eleven years later, Tyrer's daughter called with the news of his passing and inquired about an estate sale. While working on the sale, the couple secured a deal and purchased the house in the fall of 2019.
"Once we walked inside, [we agreed] it's an undeniably original, unique space," Kelley reflects.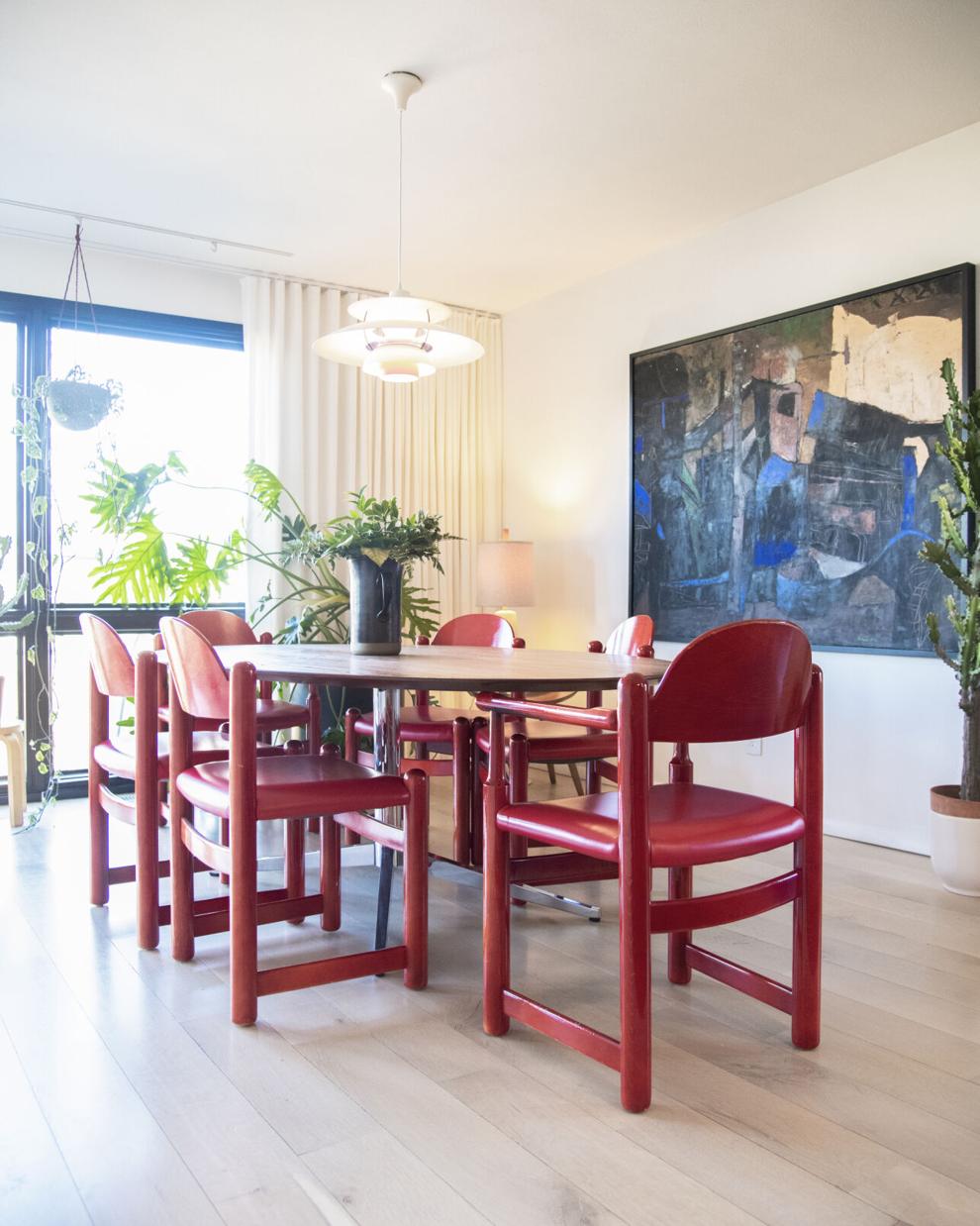 Weiss and Kelley began renovations immediately with help from contractors and spent weeks ripping up carpet, repairing walls and exchanging old wallpaper for more modern finishes. Weiss envisioned a stark, monochrome interior with open, naturally lit spaces.
"We have, basically, a black-and-white theme running through the house," Weiss notes. "Let the art and the textiles kind of talk."
Dark slate floors stretch from the foyer into the kitchen, where matte black appliances and black cabinets nod to the home's exterior. The dining room provides more color, with hanging and potted plants, cherry-red dining chairs and wall art featuring subtle strokes of blue. Light oak floors and natural wood furniture throughout the home lend a feeling of warmer, cozier spaces.
A 40-foot-tall foyer welcomes beams of sunlight throughout the afternoon, hitting the angled, spiral staircase and a striking piece of art posted on the original cork wall.
"We get calls at the [MoModerne] shop all the time to buy furniture and artwork … Instead of ending up in the store, it ended up here," Kelley says.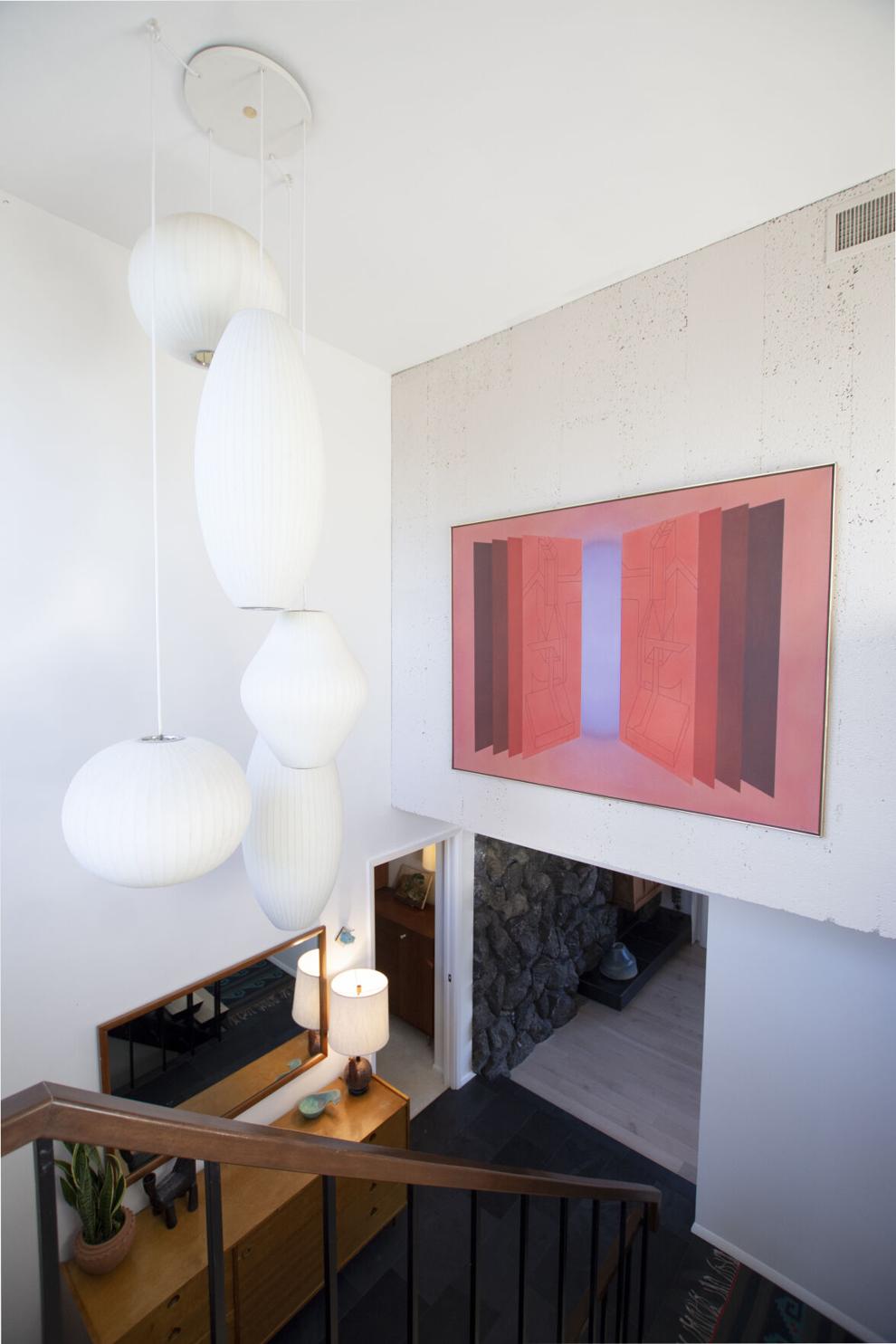 "We're pretty minimal at home," Weiss elaborates. "We just have a few items in each room, and when we get tired of it, we'll switch it out, typically with something from the store."
Elements preserved from the original home design include the fireplace and black lava-rock wall in the living room, a screened-in "sun porch" and an honorary piece of décor you might miss if you aren't looking for it: Jack Tyrer's nameplate.
"He had an architectural firm and an office in the basement here, so we kept his nameplate around the house," Kelley says.
The initial renovation took about three months, and Kelley and Weiss documented the progress on their aptly named Instagram page, @momomoneypit. Here, they continue to share insights on new projects and admire their very own "little black house."