Lighting makes a statement – just ask Patty Birkhead, buyer and director of merchandising at Metro Electric Supply.
"Lighting can change the look and feel of a space," she says. "Layering your lighting gives you the widest range of adjustability to change the feel and look of a space. By adding recessed lighting, portables, accent and task lighting, you can adjust your lighting based on your changing needs."
Birkhead is without a doubt an expert in the field. She's worked with the company 32 years, meaning she's seen trends come and go – and knows that the right luxury fixtures can add a much-needed artistic touch to any room.
As far as current trends go, Birkhead acknowledges that natural brass and black finishes are in, as the two complement each other well and are quite popular with both traditional and modern styles. She also points out that brushed and polished nickels are still popular, and that natural fibers are currently having a moment.
"Natural fibers like rattan, rope and woven grasses with or without beading are huge," she says.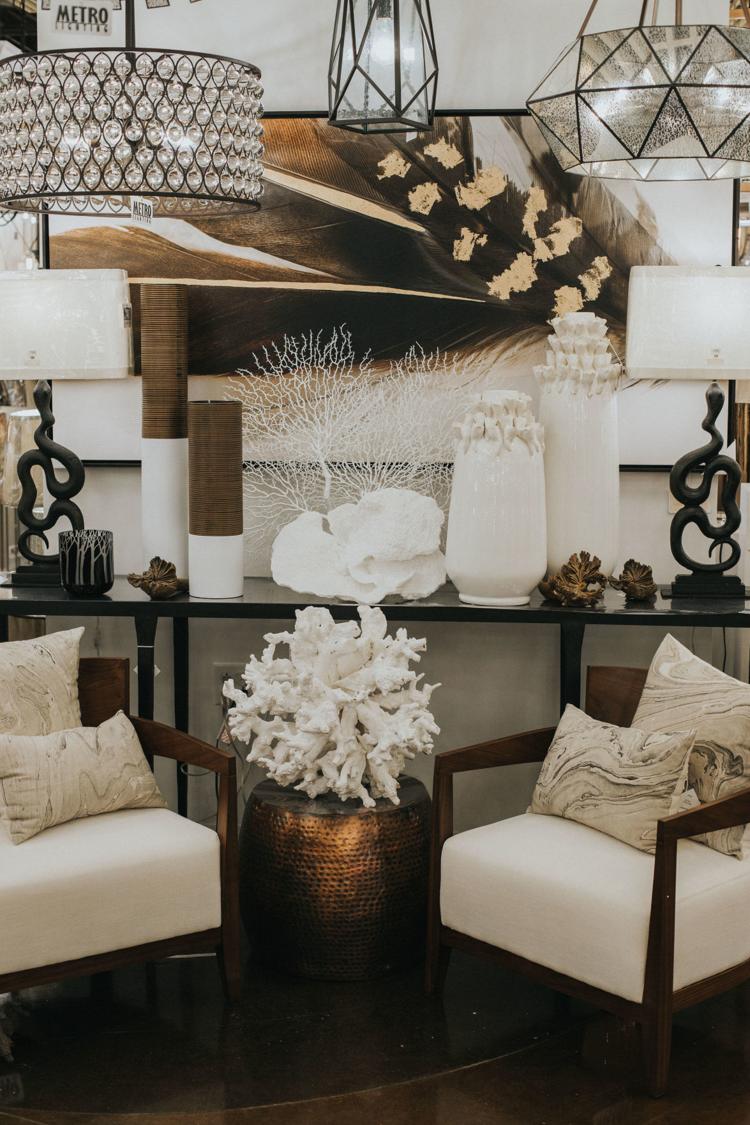 For the kitchen, fixtures are shifting toward one or two large pendants as opposed to multiple mini pendants or single linear island fixtures. The latter feature, however, appears to be thriving elsewhere.
"I am seeing linear pieces being used more and more in dining rooms over long tables," says Birkhead.
As for bathrooms, Lars Johansen of Ferguson Bath, Kitchen & Lighting Gallery's Chesterfield location says that customers are moving away from what's typical.
"We're definitely seeing people trying to do more wall sconces [and] side mirrors as an update to the traditional bar fixture over the vanity in the bathroom," the showroom manager says.
Somewhat surprisingly, it's this section of the house that tends to inspire change elsewhere.
"Plumbing has really pushed the brushed golds and matte blacks, and lighting is following that," says Johansen. "Lighting has a shorter cycle time in terms of fixtures getting designed into market, so they tend to follow plumbing trends."
For Nichole Kennelly, marketing manager at Wilson Lighting in Clayton, balance is essential when considering a lighting fixture's form and function, no matter the room.
"A hallway powder bathroom won't need as much light as a master bathroom that you use every day," she says. "When in doubt, layering your lighting by using multiple sources like chandeliers or pendants, wall sconces and lamps creates more flexibility and function while adding style. You can also supplement your decorative fixtures with minimal or unseen light sources like cabinet lighting and modern recessed lighting."
Kennelly points out that the industry is trending toward this increased functionality in lighting. The difference between now and then? Style won't have to come at a cost.
"Bulbs that don't need to be changed, wall controls and apps for every light source and creating ambiance through strategic lighting design are just a few changes we've seen already," she says. "We expect practical, smart lighting will become commonplace in every home."
Metro Electric Supply, 6801 Hoffman Ave., St. Louis, 314-645-9000, metroelectricsupply.com
Ferguson Bath, Kitchen & Lighting Gallery, 17895 Chesterfield Airport Road, Chesterfield, 636-519-7299, ferguson.com
Wilson Lighting, 909 S. Brentwood Blvd., Clayton, 314-222-6300, wilsonlighting.com
Be the first to know
Get local news delivered to your inbox!