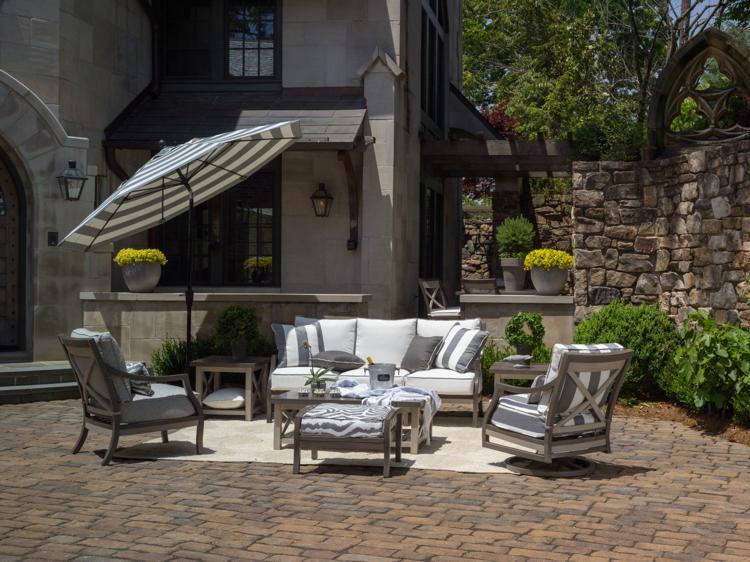 Cozy evenings spent with friends and family don't lose their appeal once the wintry blues start to melt away and spring arrives, which is why local retailers are seeing an increasing number of homeowners use outdoor spaces to create intimate and attractive entertaining spots.
Well-maintained landscapes don't just enhance the value of your property – they also can enhance your lifestyle, according to Glory Castello, marketing assistant for Chesterfield-based Amini's. This year, customers can follow their true decorating passions, whether futuristic, nostalgic or exotic, because there's not just one trend that's "in."
"This year's popular trends are timeless, so they aren't likely to go out of fashion any time soon," Castello says. "Really, the stuff that's 'in' now has always been cherished, but it's just coming to the forefront of everyone's focus again."
For some, that might mean decorating with contemporary styles and incorporating pieces with sharp edges and metallic finishes. For others, it might mean following a retro theme and using pops of color to break up a largely black-and-white design. But because the climate in the Midwest can often be harsh and unpredictable, retailers suggest purchasing products that can weather any type of … well … weather.
"In St. Louis, we often see a lot of extreme temperatures," says Amanda Bauer, director of marketing for KDR Designer Showrooms. "It's important to invest in quality pieces that will stand the test of time."
One of the best ways homeowners can ensure the quality of their outdoor furniture is by purchasing pieces with attractive, yet durable, fabric.
"The biggest change in outdoor [trends] over the last couple years is fabric qualities," says Rick Forshaw Jr., co-owner of Forshaw of St. Louis. "You're getting more indoor-level fabrics that have more texture to them, which creates more of the living room look outside."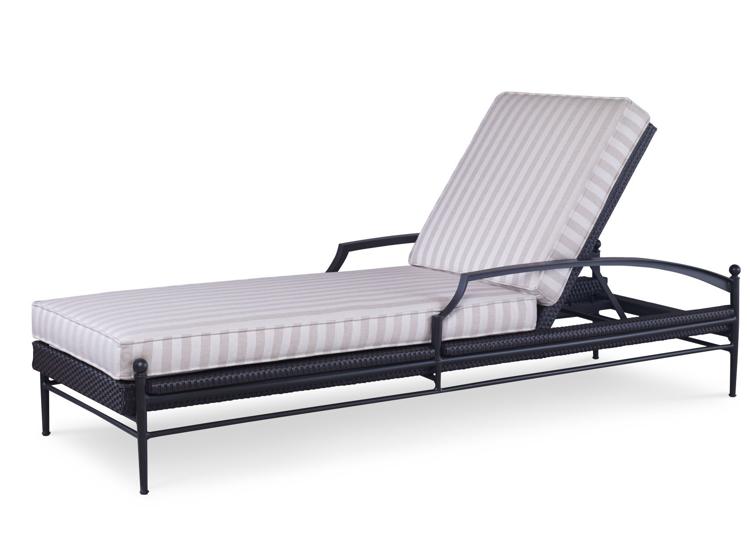 Those fabrics, he says, maintain their quality through all types of weather. Although most choose cast aluminum furniture, which doesn't rust, Forshaw says the newest offering at Forshaw is a brand called Summer Classics, which has a variety of finished, preweathered teak, as well as wicker options.
Also this year, little touches go a long way. Castello says furniture embellishments are particularly noteworthy, with both floral and textilelike configurations incorporated into designs.
"The inspiration is across the board, really," she says. "It depends on what captures the eye of the designer, but I've definitely seen suggestions of the Victorian era, [and] 20th-century modernism is also regaining attention."
At KDR Designer Showrooms, Bauer says, there's been an increased interest in an "all-over" upholstered look. Chairs don't have just removable seat cushions that need to be brought indoors when it rains. Now, entire pieces are created with comfortable upholstery that maintains its quality in all conditions, for a modern and contemporary look.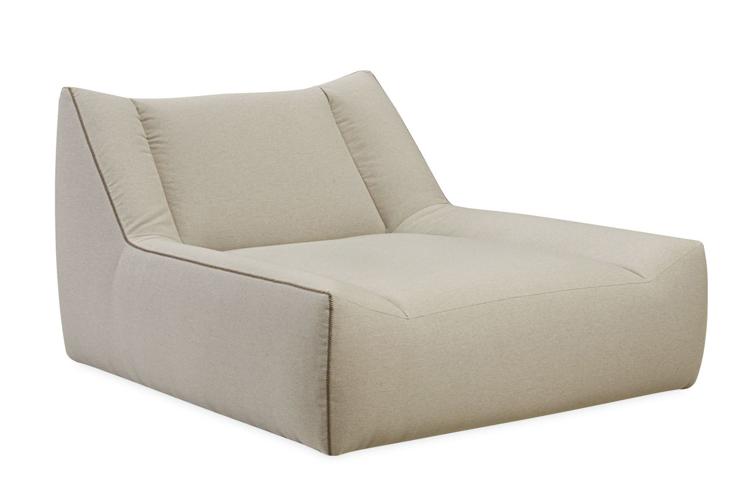 "We're also seeing increased interest in neutral colors," Bauer says. "Many people are searching for products in beige, and the offerings aren't as taupe-y as they used to be. Now, we're seeing more sand colors and warmer tones than we have in the past."
Castello agrees and says patio furniture this season is featuring more internationally inspired shapes, designs and hues, many with vivid colors. Color isn't the only thing warming up backyards this season: Fire pits are one of the hottest – literally – trends in outdoor furniture. Forshaw says outdoor gas fireplaces have been rising in popularity, especially as customers seek ways to artfully integrate them into existing outdoor areas.
"With gas fire pits, they're functional, and you don't smell like a campfire after using them," he continues. "Depending on the space, we use propane or run a new natural gas line. We also can integrate aluminum or tile to make the fire pit look more like a furniture piece, or we can create a look made out of concrete or stone to make it blend into the patio."
Bauer says customers at KDR Designer Showrooms have also embraced fire accessories such as fire pits and fire tables, particularly in three-season rooms.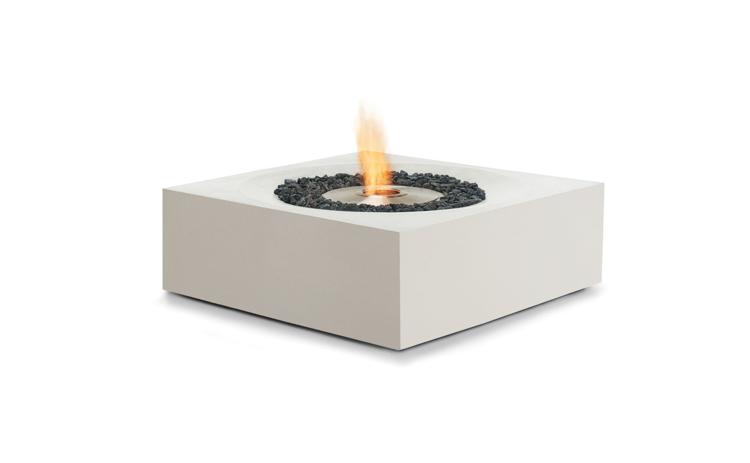 "With bioethanol fire pits, your space can look fun and exciting while still being eco-friendly," she says. "You can burn them indoors, and they make for great centerpieces as the weather transitions."
As the weather improves, many customers look to bring the entertaining normally done indoors into the outdoor space. Forshaw says homeowners are now looking to create outdoor kitchen and entertaining spaces.
"In addition to the fireplace, along with the seating area, they're looking to extend the usefulness of the patio into the spring and the fall seasons," he says. "To help them do that, we do work with outdoor fireplaces, gas and electric heaters, based on what customers are looking for."
But as people spend more time outdoors, Bauer says it's important not to skimp on shading.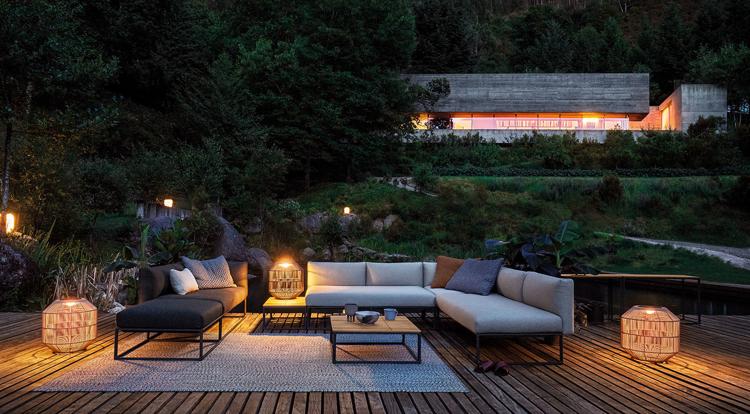 "Shading isn't always something that's thought of, but in the hotter months of summer, it's important," she says. "Cantilever umbrellas [freestanding umbrellas supported by a pole on the side, rather than in the center] are great additions to backyards and are portable, so you can move them based on where guests are sitting."
No matter the design, Castello says, adventure awaits customers this summer, all in the comfort of their own backyards.
"You don't need a plane ticket in order to draw from the world's excitement," she says. "This year's design trends will take you back in history and across cultural borders."
Amini's, 17377 Chesterfield Airport Road, Chesterfield, 636-537-9200, aminis.com
Forshaw of St. Louis, 825 S. Lindbergh Blvd., St. Louis, 314-993-5570, forshaws.com
KDR Designer Showrooms, 11660 Page Service Drive, St. Louis, 314-993-5020, kdrshowrooms.com