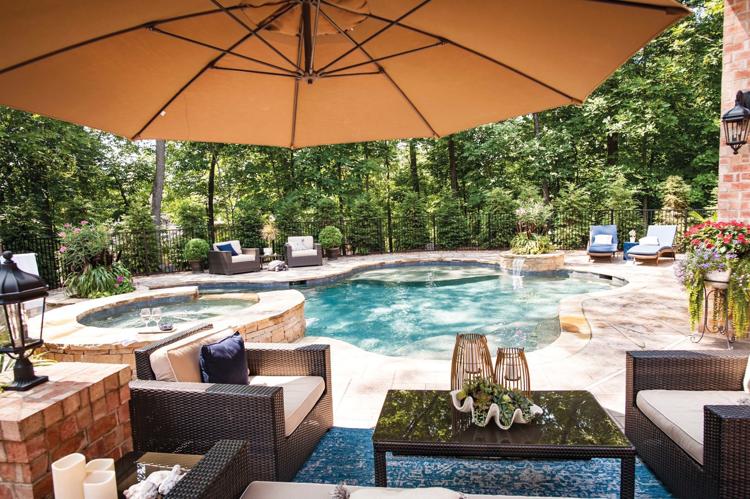 For the perfect pool setup, every detail, no matter how small, needs to be considered when designing and installing. Most important, that setup needs to work for both the homeowners and the home. Metro area pool experts know just how to turn that dream into a reality, from start to finish.
For Liquid Assets Pools, the pool installation process begins long before any concrete is poured. "Once we present initial designs and cost ranges, we then go into more detailed drawings," says company president John Jacobsen. "We even offer a 3D design service that shows a 360-degree view of exactly how the pool will look upon completion."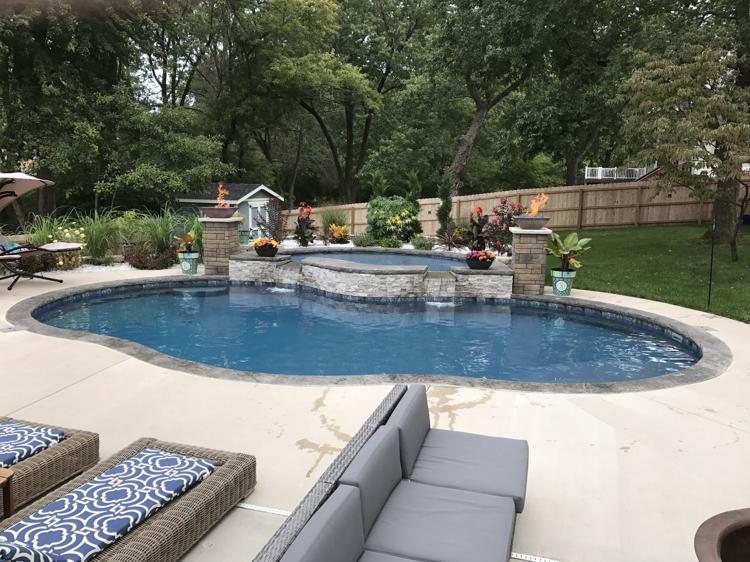 The company, which has been in business for 15 years, specializes in constructing in-ground concrete pools, all with an emphasis on custom projects and offering client-friendly experiences.
"If they want a free-form pool designed to meet the shape of their backyard, then they've come to the right place," Jacobsen says. "Our customers generally don't want cookie-cutter designs, so the structure of the backyard and the customer's preference dictate the shape of the pool."
Pool shapes can vary from rectangular to more natural, lagoon-style designs and even regal, as in the so-called patrician shape, which combines a narrow rectangle with a circular entry – almost like a cocktail shaker laid on its side. Regardless, pool experts bring concepts to life before any ground is ever broken.
"Most customers can't visualize the finished product, but with our [3D] software, it allows them to see the finished product before starting – and make comments," says Jeff Fitterling, president at Pool Pros of St. Louis. "Pools and recreation areas are permanent installations; we want the experience to be fun and fully anticipated. The customer should not have to guess at what the outcome looks like."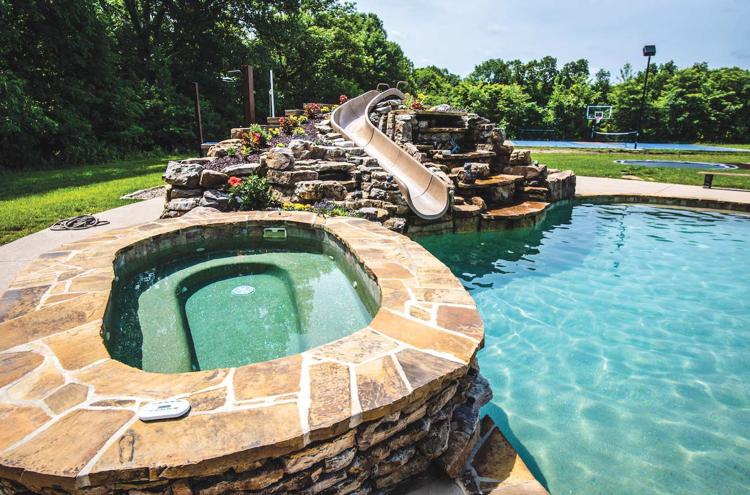 Design aside, Liquid Assets also focuses on walking clients through permit applications – another essential step in any pool project. No construction can begin without municipal approval, and the team assists customers through this often-complicated process.
Once all of the preliminary work has been completed (and once the homeowner has probably taken a deep breath), clients can rest assured that the entire construction process will be handled with care and consideration.
Liquid Assets identifies points of entry for the pool area – in-ground pool construction requires heavy-duty equipment – and typically takes a day to excavate. Plumbing for the pool takes place either during the excavation process or immediately afterward, and then the pool finally starts to take shape.
"Once that's in place, we line the pool bottom, sides of the pool and around skimmers with steel reinforcing rebar rods to provide long-term stability," Jacobsen says. "Then the fun begins, as our experienced crews 'shoot' the pool with a concrete mixture that is pneumatically applied under great pressure. This forms the pool shell."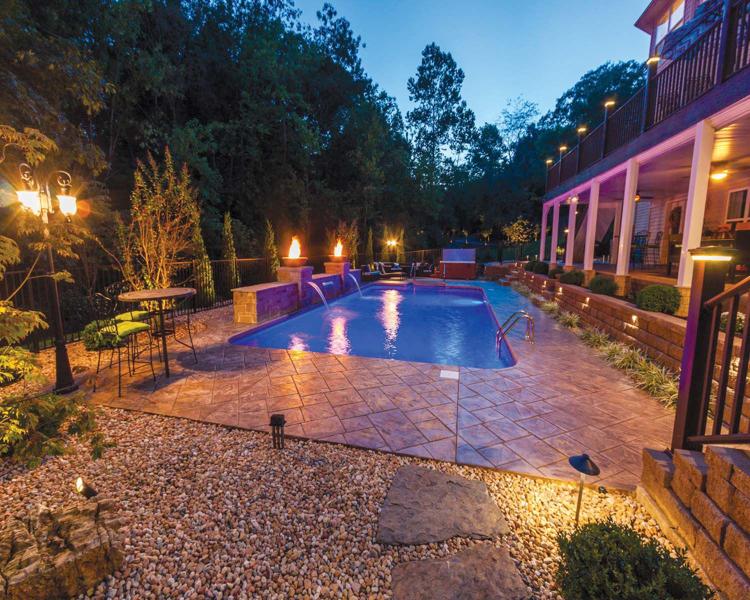 What follows next is coping – which serves as a cap for the edge of the pool – tiling, electrical and gas lines, and then the application of the pool deck. And once the six- to eight-week construction process is complete, the ever-necessary rundown of pool functions and ongoing maintenance is provided.
The pool might be finished, but next comes the surrounding area, which can be outfitted with accompanying cabanas, basketball hoops for the youngsters (or the young at heart), nearby outdoor fireplaces and other unique additions that add character and comfort.
"The space surrounding a pool is every bit as important as the design of the pool itself," Fitterling says. "You might only swim a few times a week, but many people use their outside areas almost daily."
Fitterling maintains that maximizing the entertainment area is important, but the key is for those features to enhance the pool experience, from general ambiance to day-to-day use.
"Having water features included with your pool allows the homeowner to relax outside in the pool area while listening to soothing water sounds," he says. "These sounds can be soft, like a babbling brook, to louder, like a large waterfall. Lighting and fire features are also important factors to consider in completing the outdoor space."
Fran Struckhoff, owner at Prestige Pools & Spas, echoes the sentiment that surrounding amenities help make the space truly special.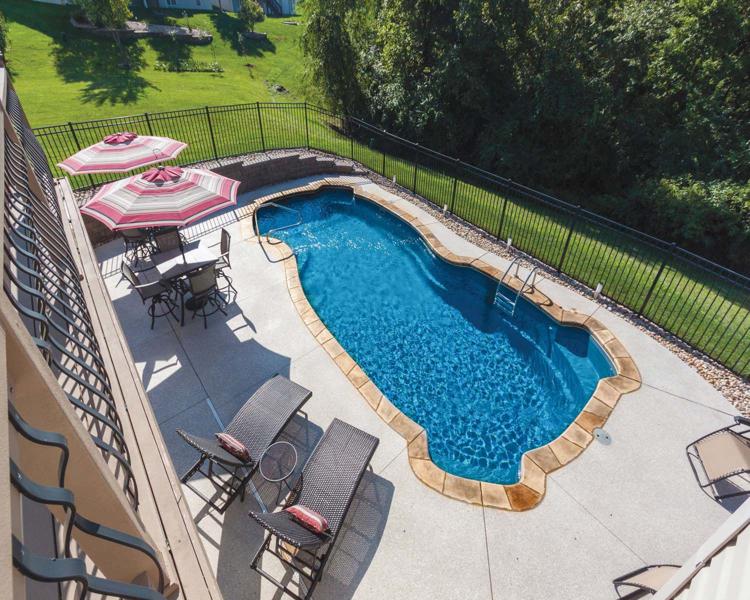 "Make sure you have plenty of patio leftover for tables and chairs [and] sun-lounge chairs for sunbathing," Struckhoff says. He's also careful to note that every client's home is different, which offers unique solutions and settings. "It's a process, not a slam dunk; the homeowner's ultimately the boss, but we make suggestions on what we think would work best by the situation."
No matter which direction a homeowner decides to go, there's a reassuring certainty with transforming a home's backyard with a pool.
"It's a lot better than a vacation because it's there for years and years," Struckhoff says. "There's a lot of enjoyment out of a pool." 
Liquid Assets Pools, 221 Way Ave., St. Louis, 314-822-7946, liquidassetspools.com
Pool Pros of St. Louis, 4709 LaGuardia Drive, No. 180, St. Louis, 314-427-7767, poolpros-stl.com
Prestige Pools & Spas, 10416 Watson Road, St. Louis, 314-488-2111, prestigepoolsandspas.com