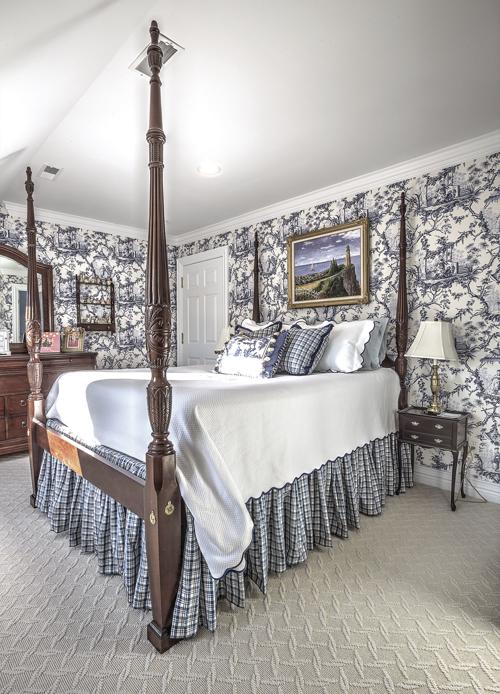 Teddy Karl's passion for interiors began as a passion for fabric. While studying textile design, he actually began a career as a bridal designer, but in his own (very much joking) words, "That window is going to be the same size when I measure it, and it doesn't talk back." He brings years of interior design experience both in St. Louis and on the East Coast to his role as a principal designer at The Great Cover-Up, favoring a traditional classic aesthetic with pops of fun.
Ladue News recently had the opportunity to speak with Karl about the best ways to keep classic design fresh, the accessories he can't get enough of, the differences he's seen in interior styles from the East Coast to St. Louis and more.
Sew stylish
I have way more bow ties than I should have or need … I'm a really avid needlepointer, so there's always some project that I'm working on – I'm always working on that next belt … Also, my reading glasses are a joke; I horrify people with how many I have. I can wear a different pair every day, and they match my outfit.
Favorite furnishings
I'm inspired by each project rather than a specific item. Now, I have certain companies that I go to for certain things – a lamp or chandelier from Visual Comfort, a chair I love from Lee Industries … And I love using historic colors from the different manufacturers. I feel like they're tried-and-true, and you can freshen them up with accessories or a Lucite table or a fun chandelier, but you know that the color is never going to look like a dated 1970s avocado green.
Signature style
I like classic, traditional things with great bones that will still be relevant for years to come. But that doesn't mean I don't like to have fun. I'm a big fan of lots of color, lots of pattern and texture mixing. I love a whimsical polka dot or a fun stripe or something really kind of modern that blends itself in and makes everything else feel a little younger, hipper and fresher.
East meets Midwest
I love the differences between the two areas. St. Louis takes their design very seriously, which I love. Here, everyone decorates their homes. Their means and how much it means to them differ, but everyone decorates. For me, when I went back home [to the East Coast], it was much more about necessity. There's also a little more respect for antiques and older things here, whereas there, little dings or scratches don't matter as much, because they tend to have more old pieces and antiques.
Be the first to know
Get local news delivered to your inbox!