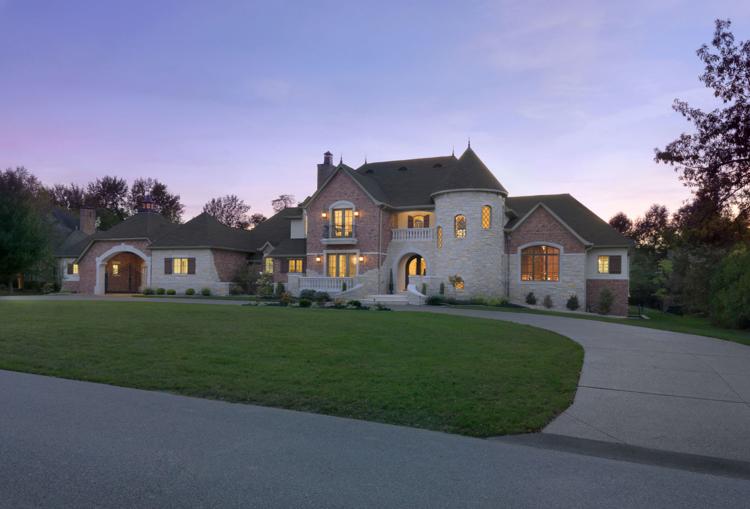 The St. Louis metro area isn't necessarily the first place you'd expect to find an expansive 19th-century European-inspired manor. But that's just what you'll come upon along a lovely tree-lined lane in Frontenac.
Standing serene and stately, like a majestic modern-day castle, the idyllic manse, dubbed Bridleview, is the unique work of Schaub+Srote Architects, a full-service architectural, structural engineering and interior design firm serving residential and commercial clients throughout the area. "Our firm specializes in luxury home design," says principal architect Robert Srote.
Bridleview captures the elegant essence of 19th-century France, the clients' dream destination, Srote says, adding, "Our clients' direction was to simply have fun with the design while incorporating every unique element [they desired]."
The abode's opulent exterior boasts stately cut limestone window and door surrounds, crosshatch windows, wrought-iron balcony railings, copper spires and Flemish diagonal bond gable brickwork – a pleasing pattern of alternating stretchers (sides of brick) and headers (ends of brick) found in late medieval buildings across Europe.
Inside the impressive estate, homeowners and guests alike receive a warm welcome from the two-story grand foyer, featuring a stunning stairwell turret with iron railings showcasing a creative scroll design. The kitchen glows with custom white cabinets, a white granite-topped island and a tray ceiling with crown molding, and the dining room stuns with white marble flooring, French doors and a chic metallic ceiling. The two-story grand hall shines with a wall of wood-framed French doors and windows and a limestone fireplace, while the office space boasts custom solid-wood walls and built-in bookcases.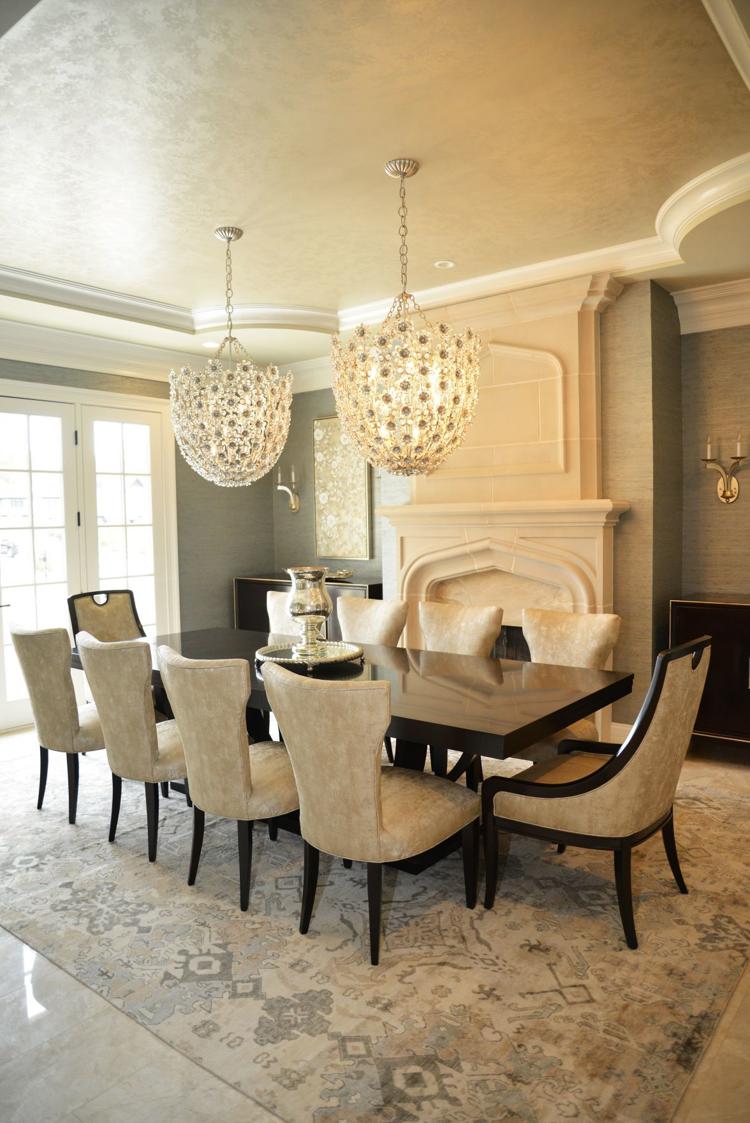 A strategically positioned tavern between the grand hall, kitchen and hearth room, featuring curved timber ceiling beams, creates a symbiotic relationship among the spaces, perfect for a private family evening and equally inviting for larger formal gatherings, Srote says.
A peaceful master bedroom with a plush tufted upholstered bedframe and floral-patterned gold wallpaper also includes a cozy adjacent sitting room, while the relaxing master bath has white marble floors, a soaking tub and a delicate gold chandelier.
Outside, an immaculately landscaped backyard featuring an alfresco dining terrace, an inviting gazebo and a pristine pool, complete with a soothing waterfall and adjacent hot tub, adds to the abode's entertaining space.
Intricate interior design details throughout the home, from regal furniture to eye-catching chandeliers and metallic wall treatments, were achieved thanks to Laurie LeBoeuf of Castle Design in St. Louis. "[LeBoeuf's] ability to capture the client's desire for a transitional interior, while melding with the French eclectic exterior, created a truly dramatic synergistic effect," Srote says.
As an expert in luxury home design, Schaub+Srote Architects works closely with clients throughout the design-and-build process to construct their perfect home. "Our in-house interior design and structural engineering divisions allow for seamless collaboration throughout the architectural process, eliminating the need to subcontract services," Srote says.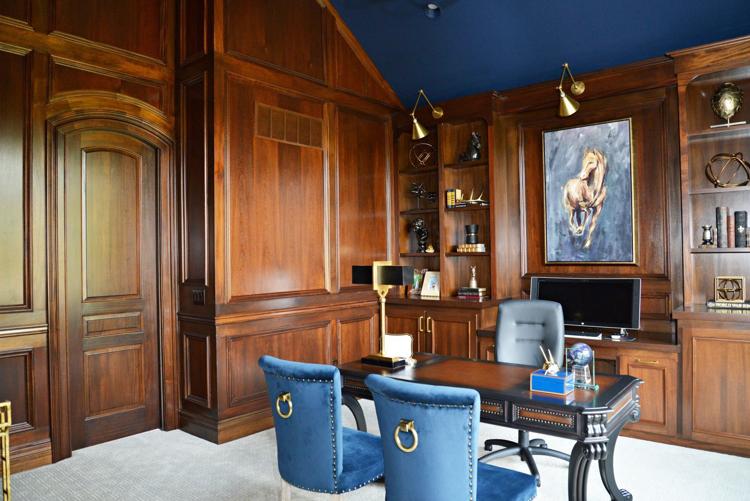 The firm's vision for each custom home is an extension of the client's dreams, Srote says. "We create inspired designs by incorporating an extensive predesign phase, which allows us to become exceedingly familiar with our clients' wants and needs before beginning the creative process," he says. "Once predesign is complete, we have absorbed the necessary information to express our design prowess in a way that we feel is unparalleled in the industry."
Schaub+Srote Architects principal architect David Schaub founded the firm as Schaub Design Group, Inc. in 1992. Schaub+Srote Architects was formed in 2012 with the addition of Srote, who formerly helmed the high-end residential architecture firm Residential Masterworks. And in 2015, Schaub+Srote Architects expanded to commercial architecture with the acquisition of John Lark & Associates.
With this expanded staff possessing decades of design-and-build experience and expertise, Schaub+Srote Architects is well-versed in all types of large and small projects of varying architectural styles, from modern to Victorian, Italianate and Tudor. Although the firm can create luxury homes as large as 40,000 square feet, it also has provided architectural services for renovations and additions as small as 400 square feet. "Every project presents a unique challenge," Srote says, "which is why we get just as enthusiastic about a small addition or renovation as we do about an expansive 19th-century European manor."
Schaub+Srote Architects, 2900 S. Brentwood Blvd., Brentwood, 314-822-7006, schaubsrote.com