Nistenhaus Design recently renovated a historic home in the heart of St. Louis' Lafayette Square neighborhood that's moody and modern, yet also pays perfect homage to the home.
"The house itself informed a lot of the design decisions," says Nistenhaus principal designer Michael Wyrock. "Ultimately, we all wanted to be mindful that this was a 100-year-old house and something that really should be respected, but that the clients didn't want to live in a museum either."
Achieving the renovation of this handsome 6,800-square-foot abode, though, was no easy feat.
"As we were touring the property, it was very much derelict," Wyrock says. "A lot of water damage; the wallcoverings were all kind of hanging off the wall; there was debris everywhere. It pretty much looked like someone had been living there one day, and then just wasn't."
Wyrock recalls one room even having a hole in the wall that allowed water to trickle in and a tiny tree to take root in the floor.
"Even though it had a lot of issues that happened because of water, a lot of the woodwork, original trim work and molding was all in pretty amazing condition still and just needed to be readdressed," Wyrock says. "It had obvious potential."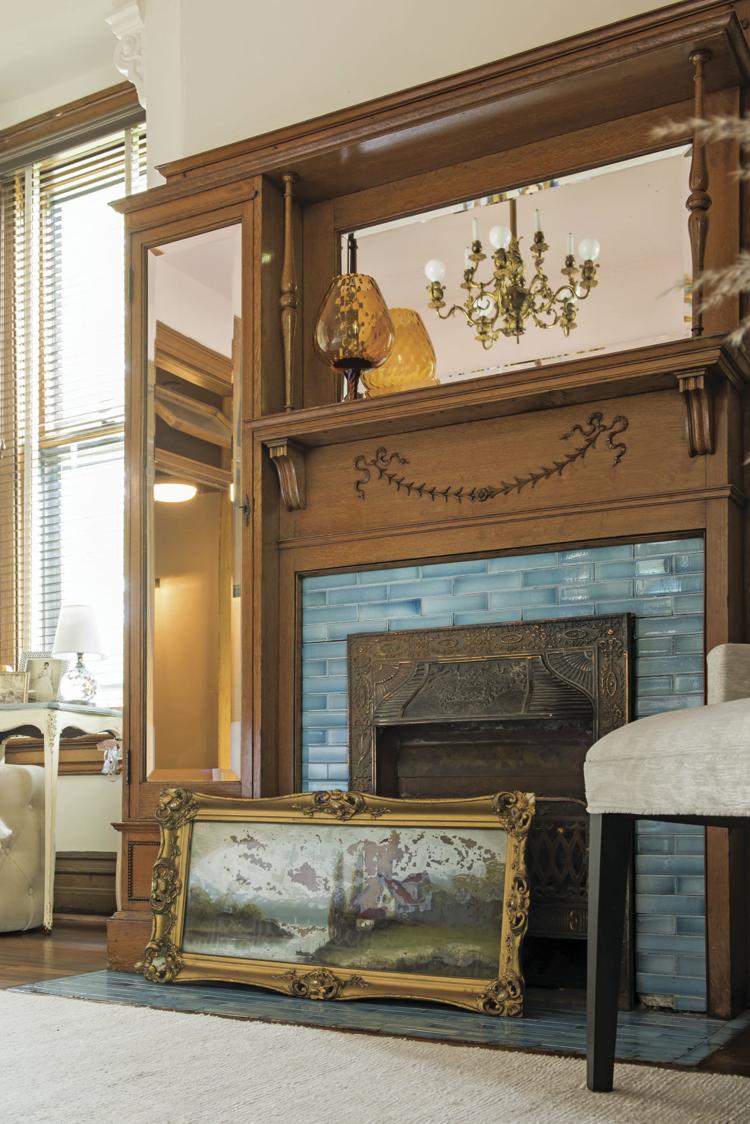 Shoring up the roof started the same time as the design and planning process began, approximately a year before any real interior work began.
"Sometimes it feels like we aren't moving fast enough, but that's not to say we aren't making progress," Wyrock says. "We went through multiple iterations of the floor plan itself until we landed on the most appropriate one."
Although nearly all rooms in the residence were rehabbed, the kitchen received substantial attention by upgrading the layout and finishes, all while staying in the original footprint.
"This was a doctor's home, so the original kitchen had been converted over for him to be able to do whatever he needed from the medical side of things," Wyrock says. "We modified all of that, so the new kitchen, more or less, went back to where the original kitchen was. The stand-in kitchen for when the doctor was there is now a pantry, but they actually use it when they entertain for more of a bar area."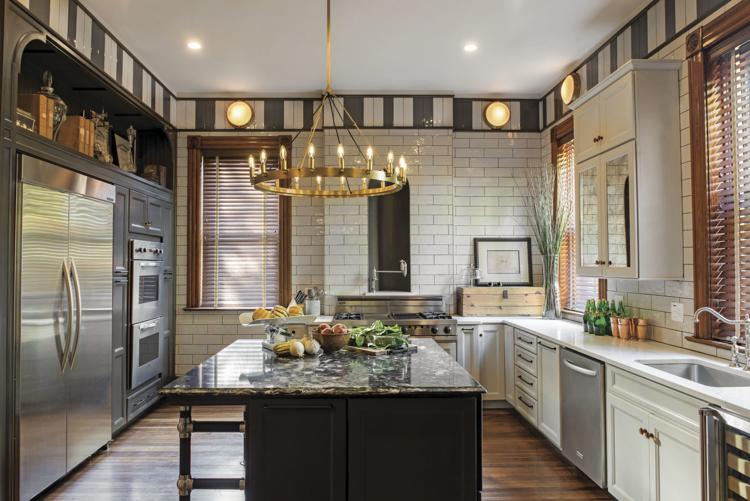 The new kitchen features ivory cabinets as the perimeter, beautiful tilework and deep gray touches that paired well with the original red-toned wood.
"We had to go with something that played with the trim work that is much redder, much warmer and basically a major component," Wyrock says. "For a lot of the color scheme in the kitchen, we had to consider, 'OK, we have this beautiful coppery tone, and we've taken that color and put that on the ceilings and on walls in other rooms, but in the kitchen, we want to make it more airy and light like the bright kitchens that everyone enjoys.'"
Glass knobs in an amber hue adorn the cabinets, which also set a certain nuance in the stunning space.
"It brings in a rusty red tone that I feel is modern and fresh but still feels slightly traditional," Wyrock says. "It really looks beautiful – especially as the light hits it."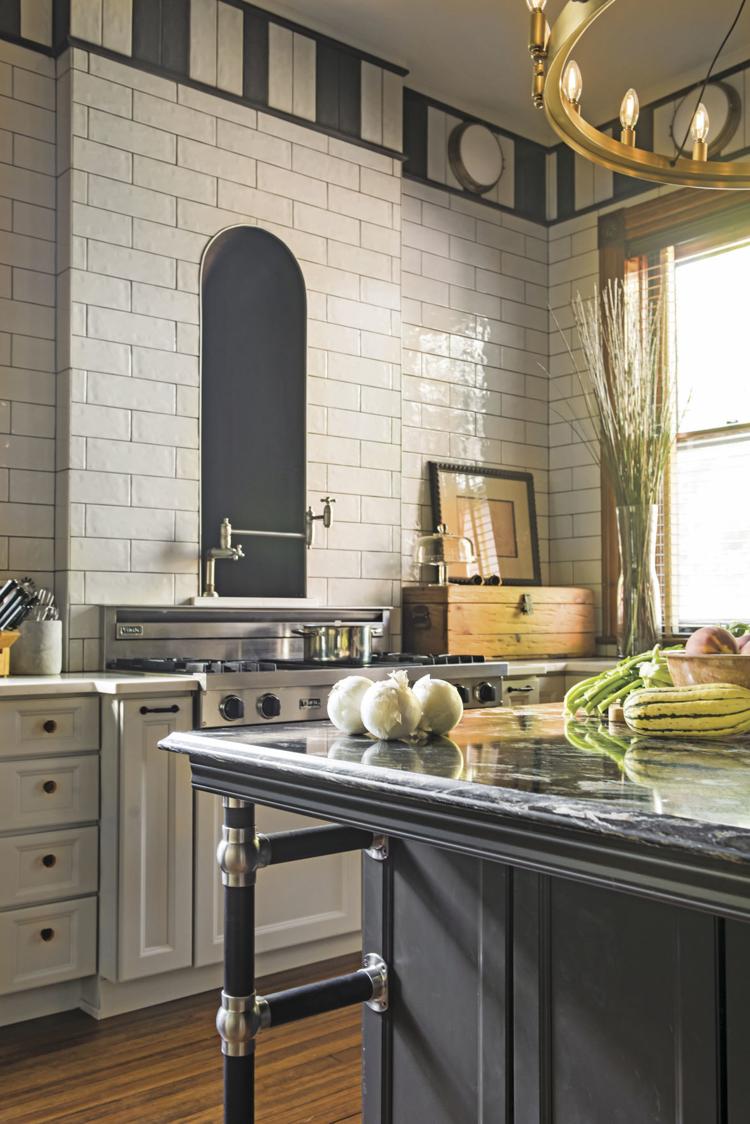 The new master bathroom on the second floor was created from the ground up, from the bones of a former front parlor. Door locations were reworked to create a real master suite.
"On that level, there wasn't really a true master," Wyrock says. "The client obviously wanted to have a true master with a closet and a true master bath, so we actually took the first room you walk into when you reach the second floor, which likely would have been a parlor that had a fireplace, and we turned that into the master bathroom."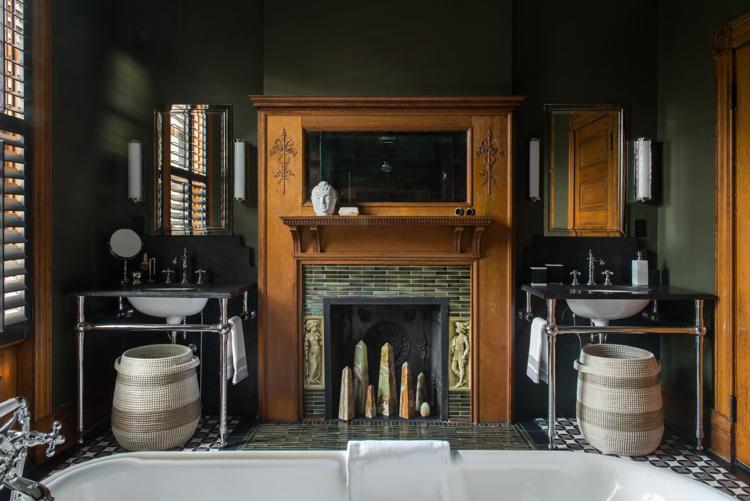 The bathroom in question is a moody marvel.
"It is so silly to say, but it is just such a sexy bathroom," Wyrock says. "I think that's partially because of all of the design details where you have to look closely."
Such items include the copper penny tile floor in the shower, the classic claw-foot tub, the elegant green glazed tile in the stunning stand-in shower that also accents the fabulous fireplace.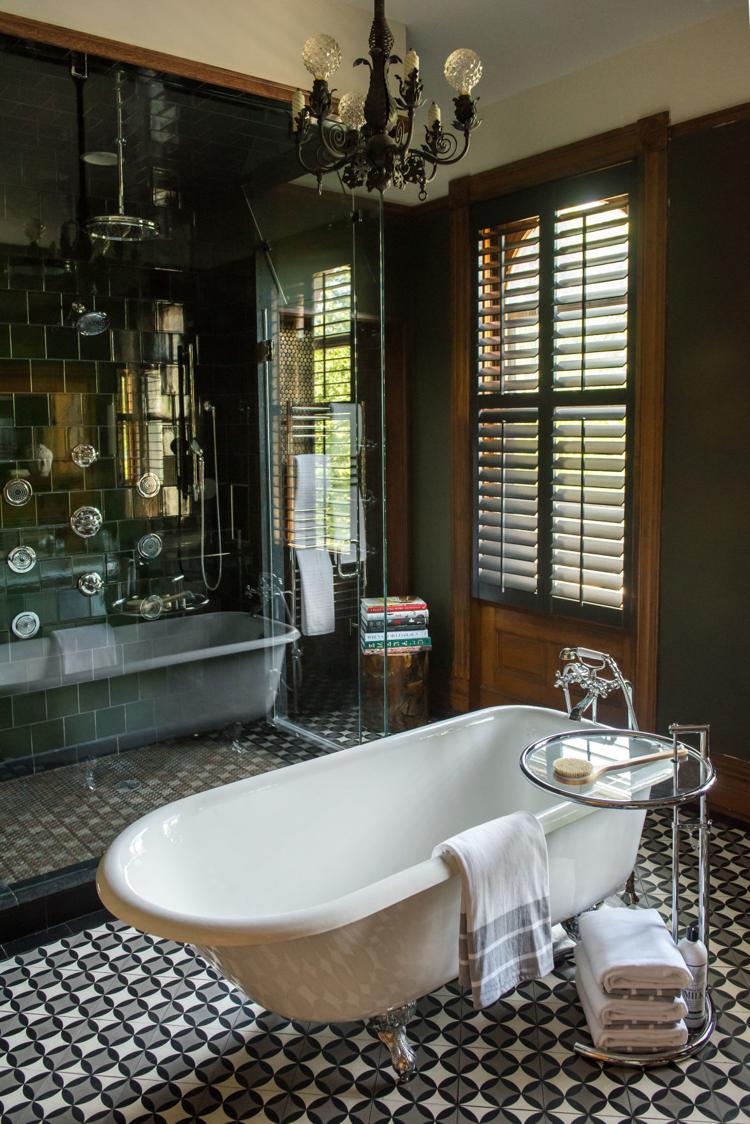 "The bathroom specifically seems like it transcends time from old to new, and that was something we were really happy to be able to accomplish in that space," Wyrock says. "The material palette itself was something Justin [Maine, Nistenhaus principal designer] and I are really proud of. The kitchen, too. I think we ultimately ended up getting it just right."
Nistenhaus Design, 2118 Cherokee St., St. Louis, 314-553-9245, nistenhaus.com
Be the first to know
Get local news delivered to your inbox!