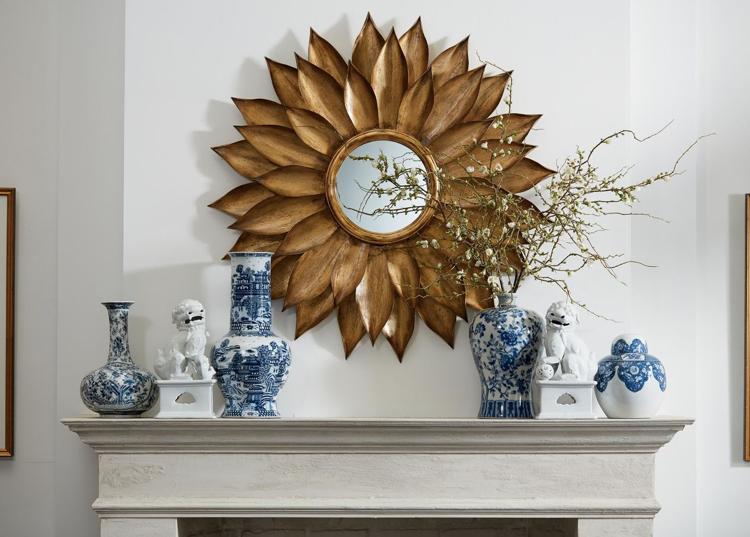 Regardless of the room, a fireplace is a focal point. It needs to be aesthetically pleasing yet functional and represent your home's style in an eye-catching way – so no pressure when it comes to decorating this all-important feature, right? Local designers offer a few tips to lower that pressure.
"The main focus should be scale and playing with proportions to make sure whatever you're using to decorate the mantel doesn't feel overbearing to the fireplace and take over," says Channing Glover, partner and principal designer at C&M Interiors. She and her partner, Maria Hogrefe, run the St. Louis-based interior design studio, which specializes in luxury projects for private clients and property developers throughout the Midwest.
Taller fireplaces and ceilings, they say, allow for more room to play with scale.
"A lot of times, when we see super-tall fireplaces with tall ceiling heights, we're able to do taller and larger artwork because it helps elongate the space and it brings your eye up," Hogrefe says.
Scale also has to do with how deep the mantel is, which comes into play when adding décor elements, says Ethan Allen design consultant Jennifer Johnson. Decorative boxes, for example, carry more visual weight, and if the mantel is deep enough, boxes can be stacked without creating clutter.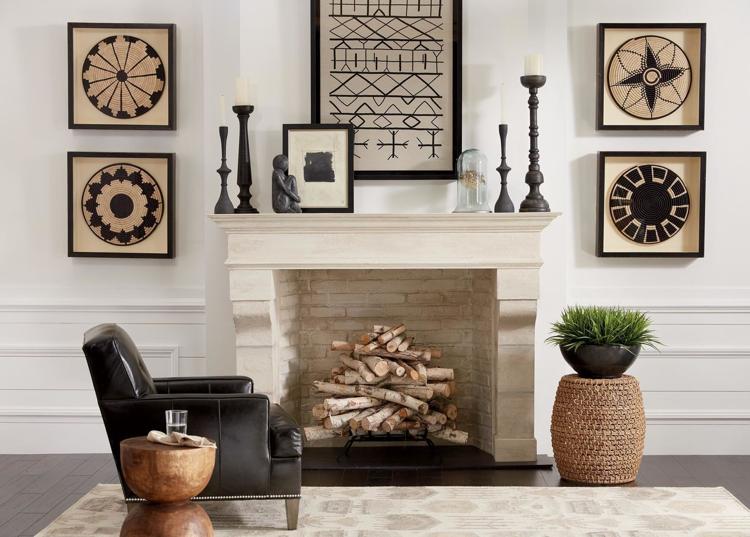 If you're working with a narrower or smaller fireplace and need to use smaller accent pieces, Glover and Hogrefe advise keeping it simple: Pieces that share a common element like a light-colored wood will always work well together. And remember, when it comes to grouping, it's an odd-numbers game.
"Working in groupings of three or five is the easiest way to achieve balance but not make things symmetrical," Glover says.
You also want to consider how formal the space is, Johnson says. Placing pieces symmetrically creates more of a traditional and formal design, whereas asymmetry evokes a more casual vibe. Hung art or frames equal traditional, while leaning framed pieces equal casual.
Johnson also says you need to pay attention to what is around the mantel.
"Are there windows on either side?" she asks rhetorically. "Or bookcases? You might have a lot of accents there, and then you don't want to use too many on the fireplace in that case because they will fight for attention."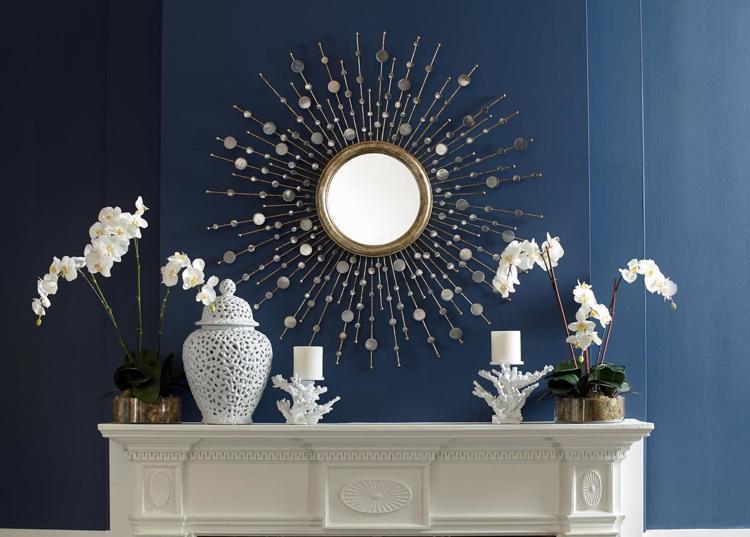 What about seasonal décor?
"We often suggest starting with a mirror hung above the mantel as a base for your design," says Sarah Corrigan, co-owner of The White Hare. "If you always have a mirror, there it will be an easy background for you to use if you like to swap out for seasonal décor. Every season's décor will match a mirror, as opposed to having to work with artwork with color in it."
Of course, how far you lean into holiday décor is a personal preference, but Glover and Hogrefe suggest decorating for the season as opposed to a specific holiday – that way you aren't stuck with Halloween skulls on your mantel on Thanksgiving morning. For early fall, live cotton and cotton branches are an easy addition, or if you already have greenery such as eucalyptus incorporated, simply switch it out for pieces in warmer colors.
"With fall, people bring nature inside," Johnson says. "The greens, the fall leaves, pumpkins and gourds. Young children at school might be doing projects and bringing home things like turkeys, so moms and dads might want to incorporate that in there as well."
And when it comes to specific pieces, whether it be a kindergartner's "hand turkey," a unique found item or a treasured antique, as long as it's in scale, fits your style and you like it, go for it.
"Typically, the fireplace is either in the middle of a living room or a dining room where you have big gatherings," Hogrefe says. "We are always in favor of finding pieces with a story behind them to spark a conversation."