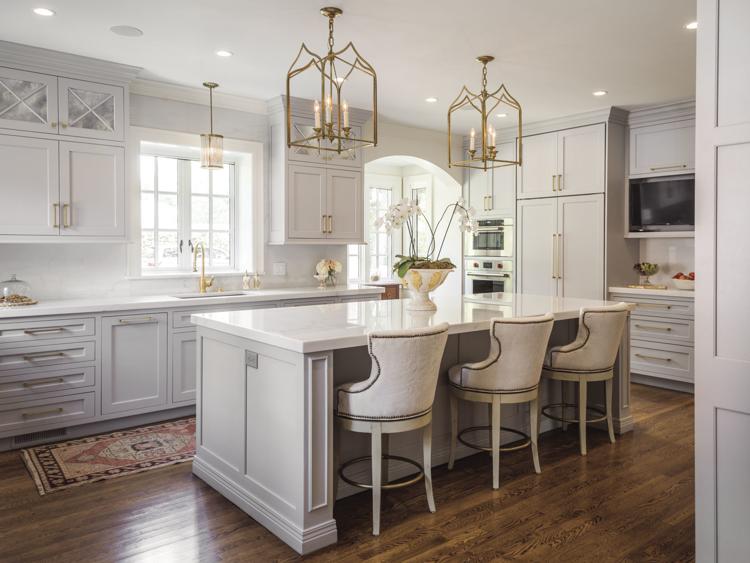 Kitchens are undeniably the heart of the home, and as such, individuals should devote extra time (and funds) to ensuring their kitchen is both functional and aesthetically appealing. However, trends come and go, so Ladue News spoke with local kitchen design experts about looks that will establish your kitchen as both trendy and timeless.
Andy Coffin, owner of Brooksberry Kitchens and Baths, says that the all-white everything trend is still holding strong – albeit with a minor adjustment.
"Whenever possible, [clients] are offsetting the white with a wood-toned or painted island," Coffin says. "This along with a beautiful counter or adventurous backsplash gives the room some character."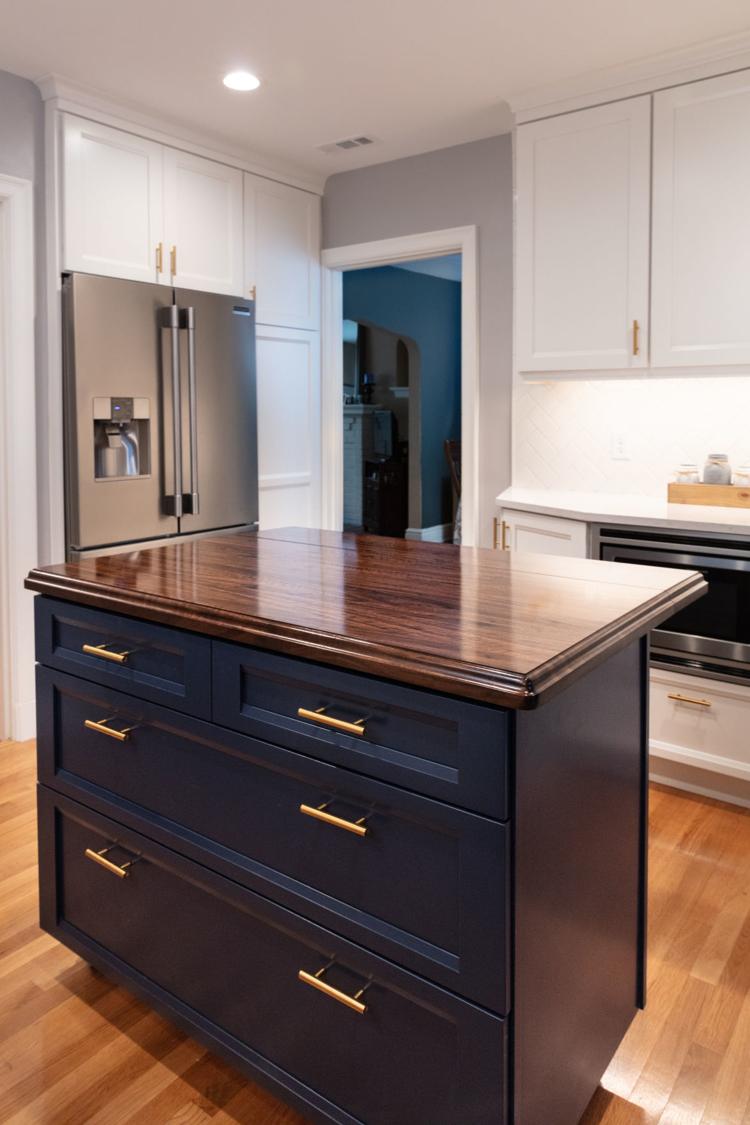 Jenn Lewis, Right Kitchen and Bath designer for Mosby Building Arts, concurs that white kitchens remain popular, but adds she's seeing pops of color being incorporated minimally, as well.
"You will find [clients] playing with different colors, too," Lewis says. "You are finding more islands in an accent color or even different colors used between the base and wall cabinets."
In terms of cabinetry, Coffin says he sees inset cabinets – a cabinet frame that fits flush to the face of the cabinet when closed – stealing the hearts of his clients.
"When clients see and experience inset cabinetry, they fall in love," he says. "It's not a great fit for every family or budget, but aesthetically, it's very appealing."
Jeanne Liston of Liston Design Build, though, is seeing the continued integration of open shelving.
"From an appearance perspective, having open shelves allows your kitchen to showcase your personality," Liston says. "The shelves can also serve as an accent with material options from raw wood to stainless steel and everything in between, creating a wow factor."
Liston recommends being mindful, though, about what will inhabit the open shelves before going that route.
"[Ask yourself] will it mesh with your overall cooking style and lifestyle," she says.
Both Lewis and Karr Bick Kitchen & Bath senior designer Wendy Kuhn says St. Louisans are also becoming more accepting of quartz countertops.
"St. Louis traditionally, for me, has been a very natural stone-oriented market," Kuhn says. "And that is still really popular, but rather than have the maintenance of marble, a lot of people, if they want natural stone, are going more into quartzite, which is a lot more durable than marble and has a very beautiful, veiny look to it."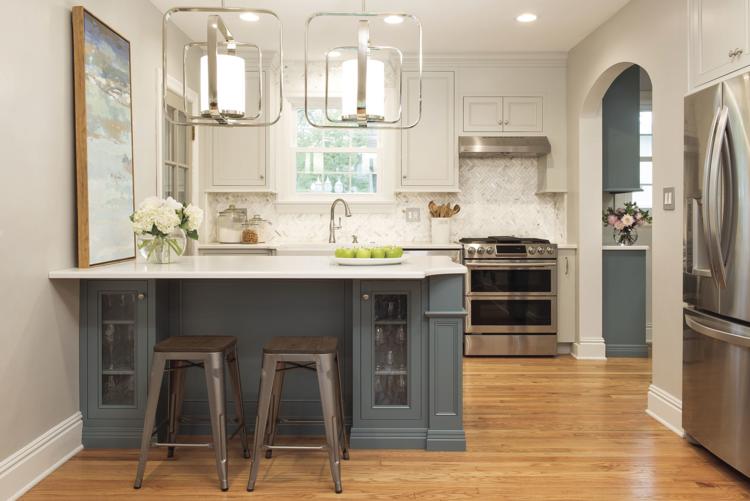 Lewis applauds the maintenance requirement – or lack thereof – of using quartz.
"Quartz is a nonporous material; therefore, you don't have to seal it," she says. "Cleanup is simple and maintenance is minimal. Quartz manufacturers are growing their lines to include patterns that appear more natural."
Last, but certainly not the least worthy of mention, is the increase in technological integration into the kitchen.
"Smart home technology is growing every year and shows no sign of stopping," Liston says. "We recently attended a conference all geared toward innovation in remodeling. It's all about simplifying your lifestyle."
Kuhn agrees that smart elements are gaining momentum in the kitchen.
"Hands-free faucets are definitely things we are installing; it's not something you are just out there hearing about," she says. "I think as people are eating healthier and embracing that healthier lifestyle, [the steam oven] is one appliance I see people incorporating. … I do think up and coming are all the appliances that are connected to [Amazon's] Alexa."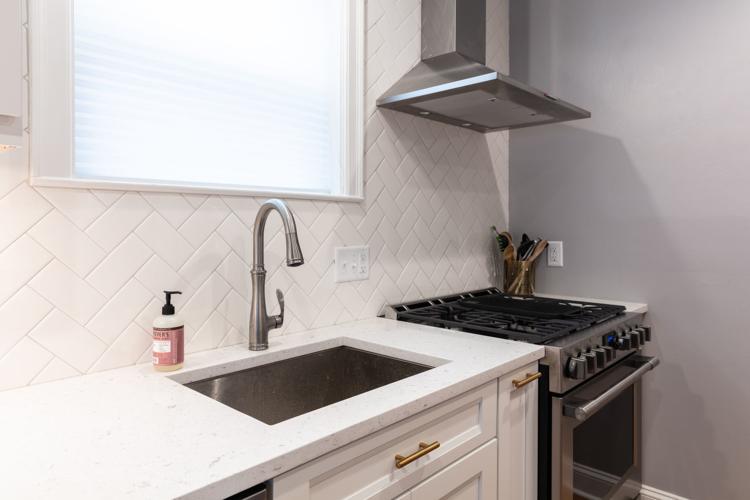 Kuhn, however, advises clients to carefully consider where they are incorporating technology.
"The thing that always comes to mind is when you go into people's homes right now that have the home-intercom system right there in the wall," she says. "Technology is going to change so rapidly, and it does change so rapidly right now, that I always try to keep anything technological out of the hard surfaces that can't be easily changed out."
Whether adding a simple pop of color or a tech-savvy appliance, these exciting design trends don't miss a beat on the latest updates for the heart of the home.
Brooksberry Kitchens and Baths, 751 Old Frontenac Square, St. Louis, 314-872-7720, brooksberry.com
Karr Bick Kitchen & Bath, 2715 Mercantile Drive, Brentwood, 314-274-3640, karrbick.com
Liston Design Build, 1106 First Capitol Drive, St. Charles, 636-940-9417, listondesignbuild.com
Mosby Building Arts, 645 Leffingwell Ave., St. Louis, 314-909-1800, mosbybuildingarts.com