When designing a special space for her daughter Aurora (Rory), Maria Hogrefe relied on the "like mother, like daughter" philosophy – filling the nursery with fun and whimsical pieces that reflected their bond and similarities.
"Though she still is very young and hasn't fully developed her personality, she's very goofy, smiley and silly," says Hogrefe, who also co-owns the illustrious C&M Interiors with Channing Krichevsky.
"I feel like all the bold colors and fun prints we chose really do reflect her personality."
Beyond baby Rory's bright disposition, Hogrefe also found inspiration in her personal travels. "When I travel, I really latch onto the things I see and the elements I pick up on," she says. "That's a huge part of where I get my design inspiration from." In this design in particular, Hogrefe incorporated the tropical vibes she recently collected from the Caribbean island country of St. Lucia and Palm Springs, California.
From the natural grasscloth wallpaper ceiling installation to the macramé tapestry to the baby-friendly faux plants to the tented canopy play place, the island aesthetic was an important component to the C&M Interiors-crafted design.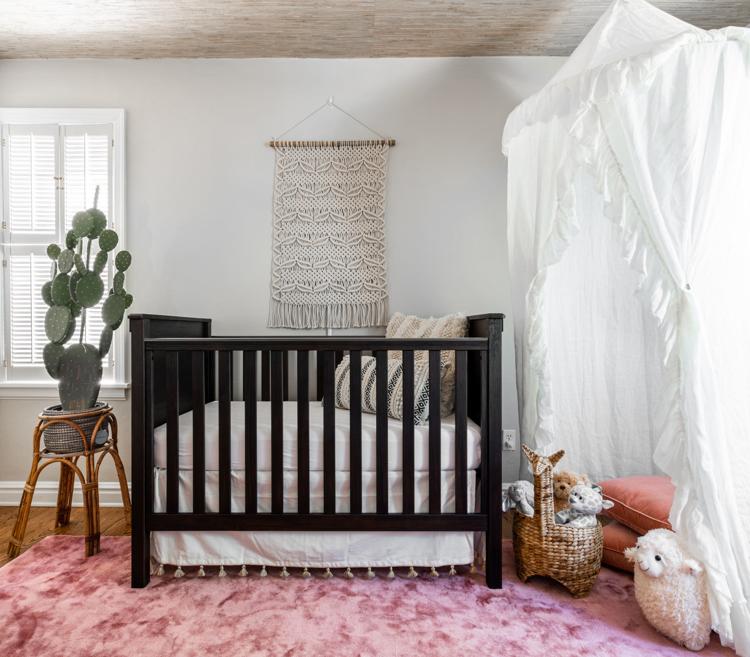 More important than anything else to the new mama, however, was how the space would nurture and inspire her daughter's development. Multiple layers of texture in the space, including the knotted ottoman and silky rug, as well as quirky-looking stuffed animals, a showstopping chest of drawers and a daring color palette, were all placed with the intent of fostering Rory's growth and individuality. "I want my daughter to understand that it's OK to be different and to have all these fun little features," Hogrefe says. "I want her to know that everyone's different, and you don't have to be the same as everyone else."
And as baby Rory grows, Hogrefe hopes her space will evolve right along with her. "My thought is that maybe we can pick up on some added elements that she likes when we start bringing her places, rather than just the places that [my husband and I have] gone together," she says.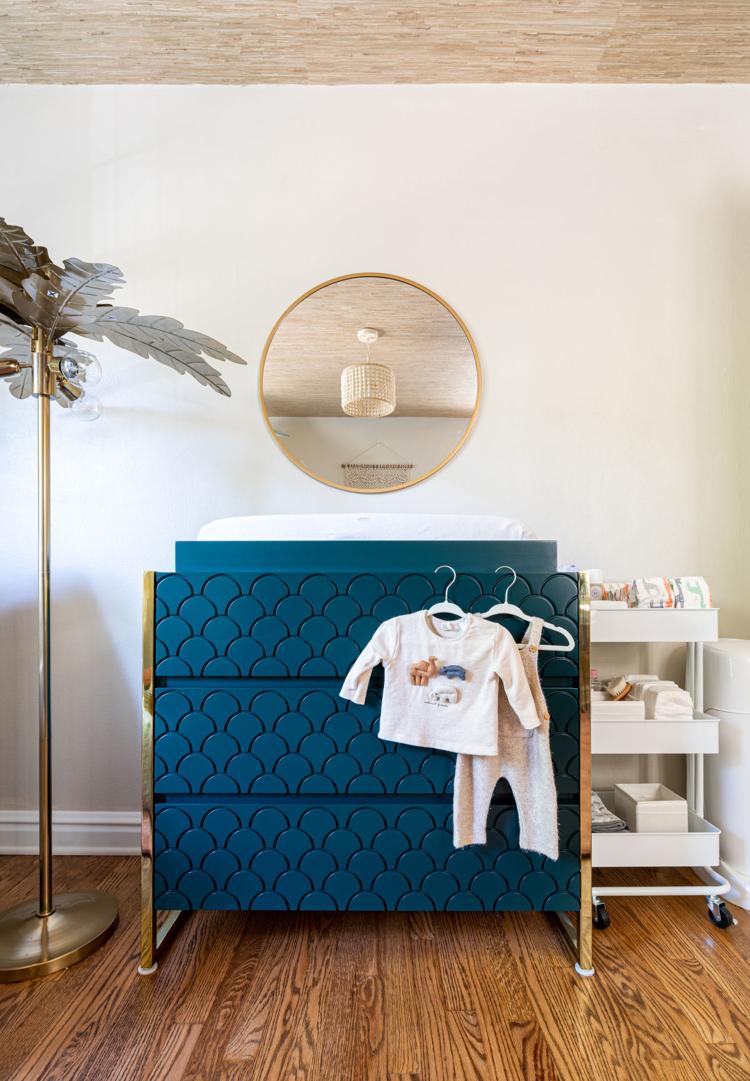 However Rory's tastes evolve, Hogrefe hopes this space gives her an imaginative, whimsical place to start. "As people pull their nurseries together, I think it's really important to think about how their kids are going to evolve and change as they get older," she muses, "because in the reality of things, babies are only babies for a little while."
C&M Interiors, 937 Midland Blvd., St. Louis, 314-328-1923, candmstudio.com
Be the first to know
Get local news delivered to your inbox!