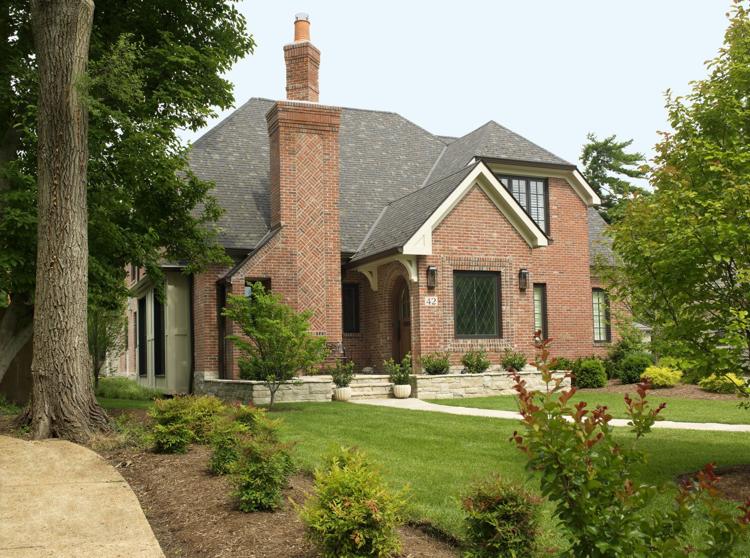 On its website, Mitchell Wall Architecture & Design lays claim to having overseen the creation of "the first ground-up, newly constructed home in Clayton to be recognized as green."
The cottage in question boasts glorious masonry, including some exquisite basket weave coursework on its chimney, and handsome fenestration beneath a multiply gabled hip roof, backed by an expansive patio sheltered by a Doric-columned pergola. Within, the residence generally abounds with airy spaces – chambers and passageways alike – in white, beige and sage, including a stunning alabaster kitchen with ashen flooring.
Behind the architectural scenes, moreover, the residence includes such green insulating features as solar panels, geothermal ground source heat pumps, abundant natural lighting instead of artificial lighting and an underground stormwater detention system, all while blending into its neighborhood.
"Although the home was designed to be LEED-certified, modifications were made during the construction so that it no longer reached the LEED certification point," says the firm's Thomas Wall, referring to the Leadership in Energy and Environmental Design program governed by the Washington, D.C.-based U.S. Green Building Council and reflecting the fact that LEED certification may well rank as the best known but also the most stringent measure of architectural eco-friendliness. "But it is still very much a green home – lots of use for solar and water retention and rain gardens and things of that nature."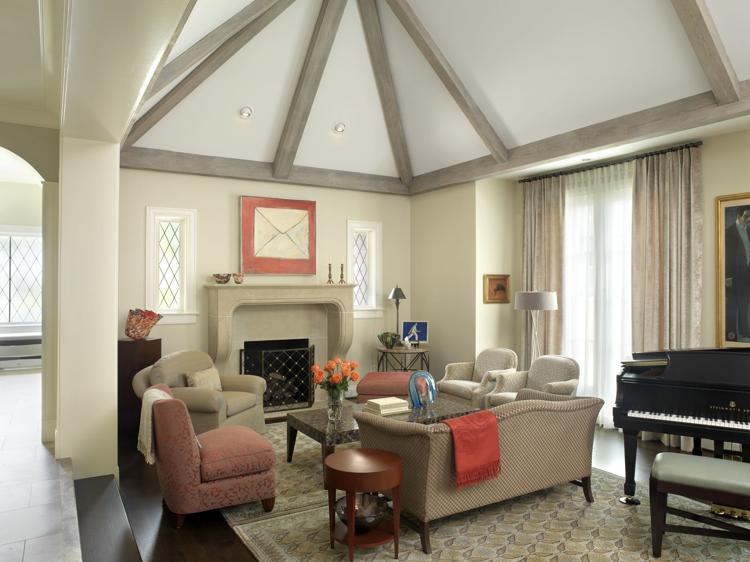 Architectural eco-friendliness, of course, long predates LEED certification and similar measures, as Wall relates. "When you look at ancient Rome," he says, "they would have these courtyards with fountains in the middle of them, and the reason was that that courtyard would bring in the breeze, the fountains, the water would cool off the air, and then the air would go through the house."
Wall states that his firm customarily attempts to steer clients toward green innovations – an agenda sometimes complicated by monetary matters. "The main recommendation is geothermal for your HVAC systems," he says of heating, ventilating and air conditioning. "But the problem is, in order to go green, it actually costs more money, and people just are still more interested in preserving their wallets than they are the earth, unfortunately. However, this is changing, and our clients now see the necessity to save the earth, reduce [their] carbon imprint and correct climate change. Along with this interest, of course, prices continue to drop to do the right thing."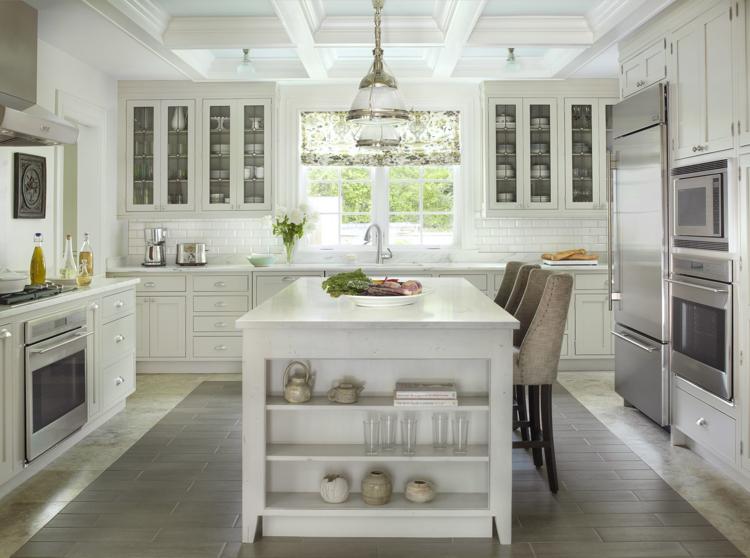 Figuratively speaking, Wall's firm has been creating green-lighted projects for more than four decades now. Since Mitchell Wall was founded in 1976, its goal, according to the firm's website, has been to create "beautiful space: residential space, work space, school space, on time and on budget. We are here to create your vision."
Mitchell Wall's team of eight has designed a panoply of projects in Missouri and Illinois, as well as in Colorado, Florida, New York and Puerto Rico. "We just want to be your architect, your interior designer and your landscape designer," the website continues.
Wall, who owns the company, received his Bachelor of Arts degree from Ithaca, New York's lauded Cornell University – with a major in medieval literature with a concentration in architecture. He also holds a Master of Architecture degree from the University of Kansas and studied Scandinavian architecture and furniture design in Copenhagen, Denmark. A Registered Architect in Missouri, Wall otherwise holds a National Council of Architectural Registration Boards National Registration and belongs to the 162-year-old Washington, D.C.-based American Institute of Architects.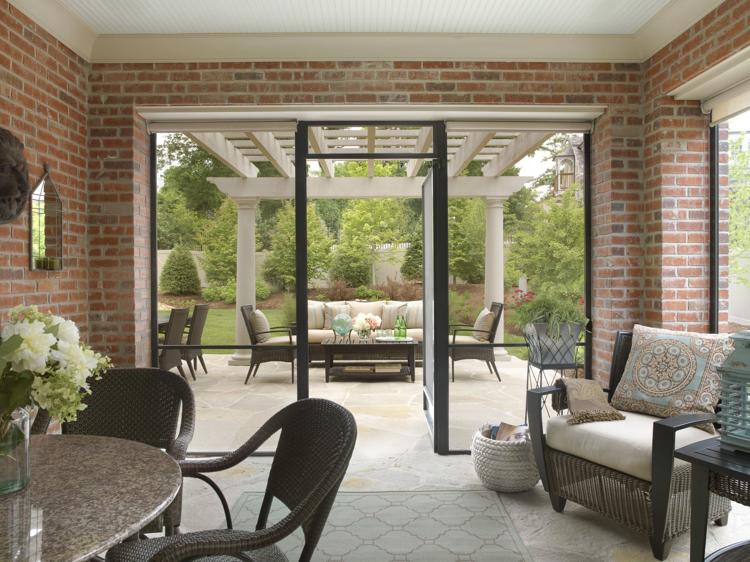 Regarding the eco-friendliness of the technology underlying the Clayton domicile, Wall sketches diverse binary options. "There are 'active' systems, which are things like solar panels, efficient heating systems and cooling systems – all the things that technology has brought us that can help create a renewable system," he says.
"And then there are 'passive' systems. Passive systems … create a more ecological environment. So to that end, if you don't have south-facing windows, for example, you don't get direct sunlight coming into the house at that point. The south face gets the most sunlight, and if you're not getting all that sunlight, you have cut the heating and cooling down.
"Other passive systems [in the Clayton house] include shades over the blinds outside, courtyards and water features in the courtyards – design concepts and technology, essentially, that we've known about for hundreds of years if not thousands of years on how to cool our homes that we just forgot when the air conditioner was invented."
In that respect, Wall makes another eco-friendly historic comparison to the Clayton abode, this one involving the North American Puebloans.
"You know, you look out at the Southwest, and that meant adobe, really thick walls that during the daytime would absorb all the sun's radiation and at nighttime would release that heat back into the house," he says. "These were different ways that people created to make their own environments more comfortable."
Wall continues by alluding to the sod houses popular during the settlement of the Great Plains: "There are no plants growing on the [Clayton residence's] roof, but if you were to look at the south face of the roof, on the slope, there's a solar array."
Regarding the Clayton cottage, Mitchell Wall also faced municipal restrictions beyond budgetary constraints. "In Clayton, you're not allowed to do anything too crazy that doesn't jibe with their aesthetic," Wall says. "They have an architectural review board in place for that reason. Also, the client wasn't looking for that aesthetic. You do what you need to do.
"We created a plethora of passive systems to control the light coming into the house, as well as air flow. … There are a million different ways to make points in order to make it in the ecological home, and not all of those have to be highly visible."
In Wall's view, finally, the local popularity of green features has been building slowly but surely. "Every day, our clients are becoming more aware of their social responsibility," he says. "We haven't really had anybody come up and say, 'I want to make a zero-impact home, live off the grid – solar power, wind turbines, all that.' But we have had people who want individual aspects. We have a home in Wildwood that has a solar panel array on the roof. We have homes that reclaim groundwater to use for watering the lawn at a later date. Our clients and our staff are looking to the future."
In short, to quote Kermit the Frog, it's not easy being green – but it's definitely getting easier.
Mitchell Wall Architecture & Design, 2 The Pines Court, St. Louis, 314-576-5888, mitchellwall.com