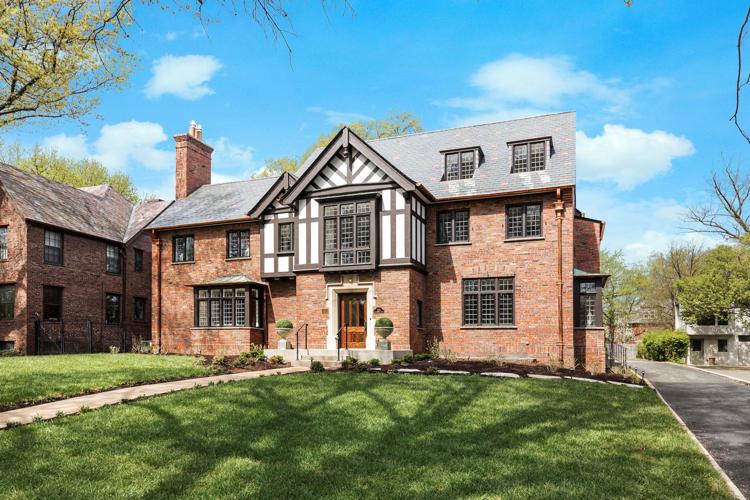 Despite the blandishments of the present and the future, the past, when skillfully stewarded, embraces timelessness, as a local property rejuvenated by Period Restoration illustrates adroitly.
That property, listed as a 1929 Tudor, stands at 233 Woodbourne Drive in St. Louis due southwest of the intersection of Skinker and Wydown boulevards – roughly a westward wedge shot from St. Louis' Forest Park.
"With most homes, we get quite a bit of information from the family and also have a historian do a background on the home," says Randy Renner Jr., who co-founded Period Restoration with his father, co-owner Randy Renner Sr. "Woodbourne didn't have much info transferred from the previous owners, and we didn't do a historic investigation. … I do know they were avid art collectors and, I believe, were prominent in the community."
Predictably, authorities vary on the temporal and physical details of the Tudor style (technically a revival of a 16th-century English style) in the United States. Lester Walker's American Shelter dates it from simply 1900. For their part, John Milnes Baker's American House Styles and Steven J. Phillips' Old-House Dictionary cite ranges starting in 1890; Baker's range ends in 1930, though, while Phillips' runs a full decade longer, to 1940.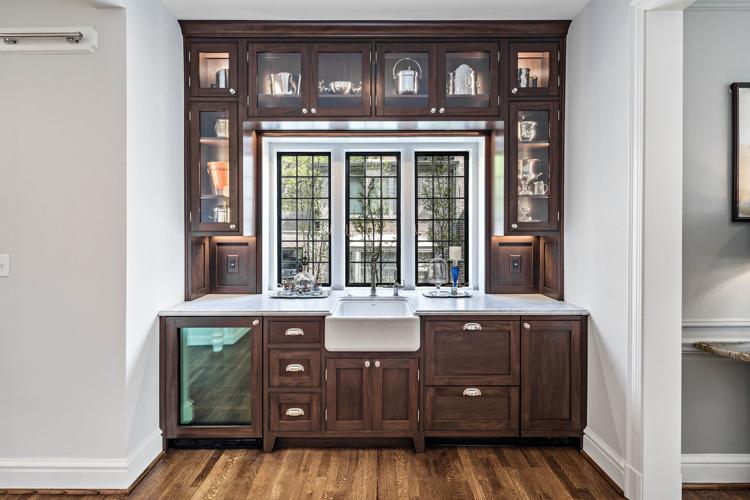 Physically, Phillips and Walker agree on a stylistic component immediately discernable from 233 Woodbourne Drive's main entryway. "The most common exterior feature of the Tudor house is that of half-timbering," Walker states.
"In this type of construction, the actual timber framework of the building is left exposed and the spaces between the timbers filled or 'nogged' with brickwork and often covered with white stucco."
To half-timbering, Baker adds parapeted gables and leaded windows with certain stone components, and Phillips cites masonry construction and tall chimneys often topped with pots – all structural components gloriously exhibited by the Woodbourne Drive abode.
Renner Jr. states that the 2½-story residence contains close to 4,900 square feet with five bedrooms, three full baths and a half-bath, surrounded by an oversize lot boasting more than 2,000 square feet of English garden space.
The house sports a multiply gabled roof in slate, as well as half a dozen gabled dormers, and exemplifies the glories of St. Louis brick in coursed range work. It also abounds with metal casement windows, which feature 18 leaded panels.
Admitting visitors at the front is a stately masonry-framed sash door with a central patera. Just off it, from a two-story entry hall, an equally stately wood-and-metal stairway angles to the right, past a spacious window seat above which lies the second floor.
Most of the residence features hardwood strip flooring almost too handsome for the depredations of even measured treads. Moreover, despite an exterior palette largely muted by the abode's brickwork, woodwork and roofing, white predominates within and synergizes with the glories of the glazier's art to brighten everything magnificently.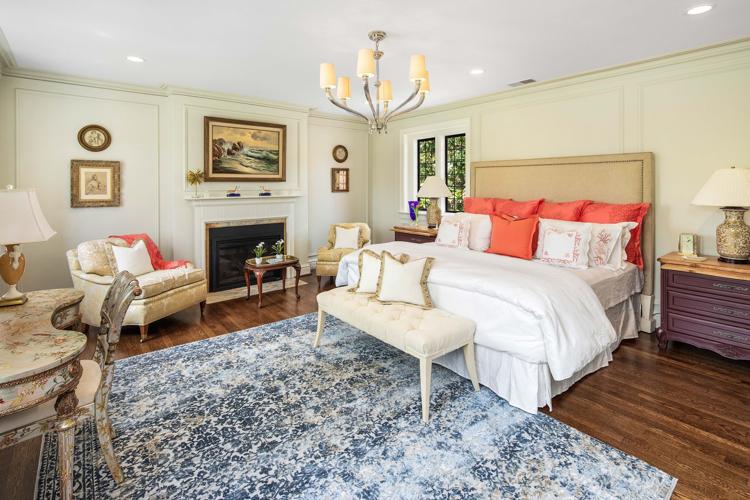 Achieving such overall magnificence took considerable time and effort, Renner relates, especially given the property's listing on the federal government's prestigious National Register of Historic Places.
"The total restoration took approximately eight months," he says. "We removed and replaced the slate roof with a matching 120-year S1-grade slate roof. More than 130 leaded-glass metal window and door panels were totally restored, stripped, deglazed, reglazed and two-coat finish-painted – that process took over 2,000 man-hours.
"Copper gutters with custom conductor heads were replicated. Mechanicals included all new wiring, removal of knob-and-tube wiring, a new 400-amp panel. The home did not have air conditioning, so we installed all-new HVAC mechanicals, one system per floor, along with all-new ductwork, which was sized correctly to condition the space appropriately.
"The whole house was re-plumbed … Custom-designed brick lined the English garden, with a one-of-a-kind pergola, along with full landscape plantings and an irrigation system.
"We removed the back staircase, an old elevator and load-bearing walls to establish the new open-kitchen design. The kitchen has custom furniture-quality cabinets with beaded inset doors, a ladder-and-rail system, a 2-inch-thick walnut island top, a custom exhaust hood, a farmhouse sink. The gentleman bar is mahogany and has a bar sink, a second dishwasher, a wine fridge and an ice-maker. The appliance package consists of a Wolf range, a Sub-Zero paneled fridge and a paneled ASKO dishwasher."
When asked which component of the rejuvenation most challenged Period Restoration, Renner cites the metal leaded windows. "Anytime you're working with older things, it takes a lot of patience and skill to get them functional again," he says. "Sometimes sourcing parts is also difficult."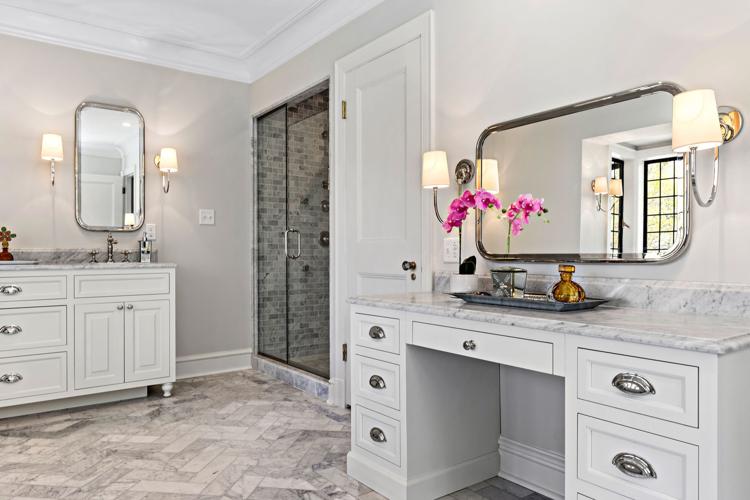 Given 233 Woodbourne Drive's listing on the National Register, Renner reflects on the strictures involved in rejuvenating such properties. "With all Period Restoration projects, much thought is put into reusing and enhancing the architecture of the home," he says.
"The Woodbourne home was no exception, from the gardens to the roof, windows, the matching of all the interior trim, the tile chosen in all the baths, lighting, plumbing fixtures and cabinetry – all painstakingly considered to ensure a timeless look that doesn't take away from the original beauty of the home. We call it an Heirloom Quality Home when we're finished."
Appropriately, reflecting Period Restoration's 2009 founding, Renner also looks back at its first 10 years – and forward to its second. "In the last decade, we've done work to a lot of houses that ranged from 1,300 square feet to the largest of 12,000, each having its own difficulties," he says.
"We've done condo conversions, additions, built an elaborate carriage house, luxury condos, built several period-correct new infill homes and tons of whole-house restoration to many old homes. I'm proud of our team and how we don't cut corners and figure out what many people are afraid to tackle. We have a pretty diversified portfolio, and I hope to continue to build on that."
Otherwise, in addition to his partnership with his father, Renner cites another homey, familial connection in inspiring his vocation. "My grandfather piqued my interest," he says. "I used to work with him when I was a kid. He had a wood shop, and he built and made furniture along with other carpentry items.
"We used to watch [the long-running PBS TV programs] New Yankee Workshop and This Old House, and I've carried that same passion since I was a kid."
Period Restoration, 7417 Delmar Blvd., Unit A, St. Louis, 314-704-5146, periodrestorationco.com