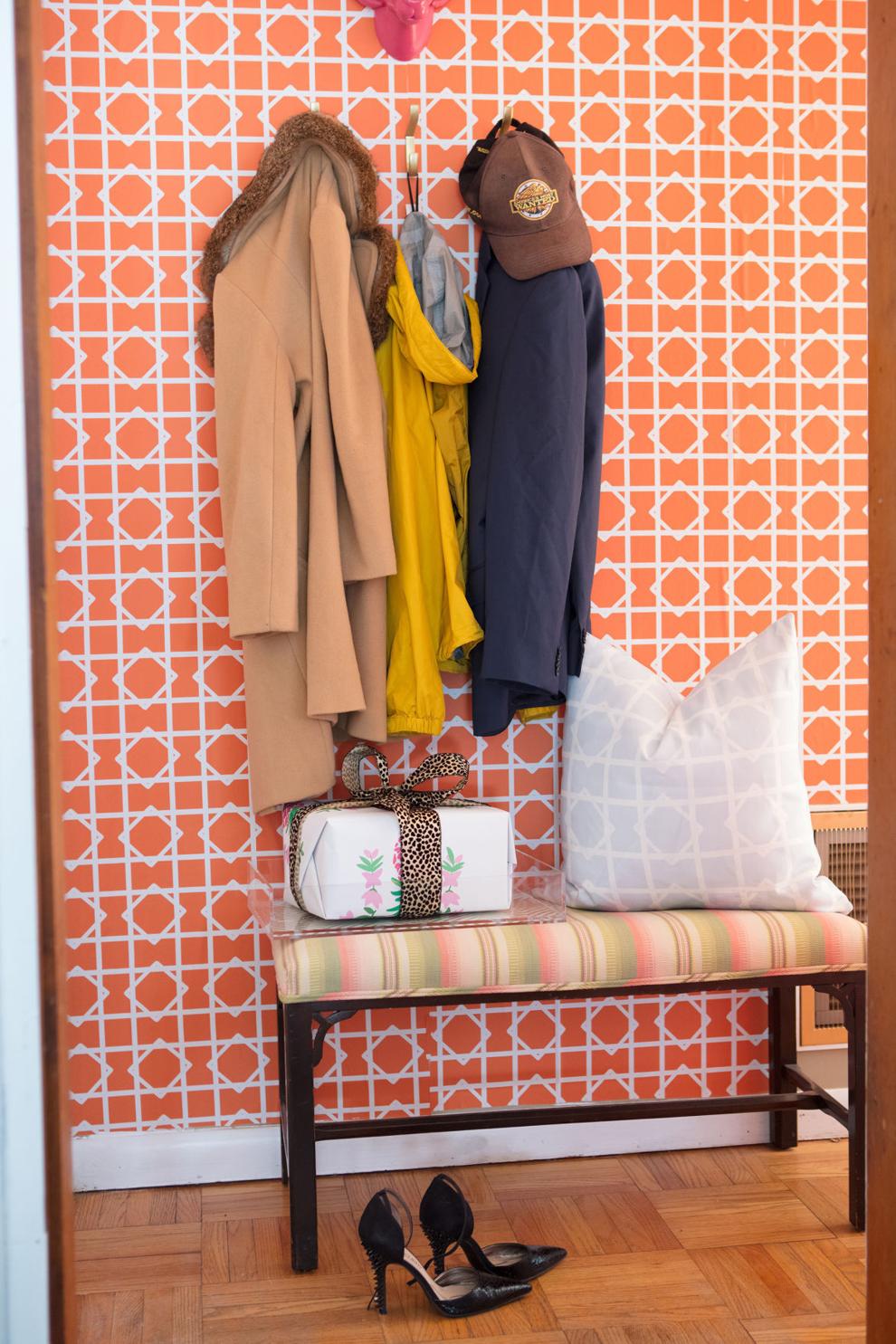 When Blair Dobson was a child growing up in St. Louis, she would go to estate sales with her father every weekend. She couldn't help noticing the designs and patterns on decades-old draperies, wallpaper and furnishings – and she liked them.
"As I got older, my love and appreciation for this style never faded, but I recognized an opportunity in the market for a young, vibrant, fresh look inspired by these classics," she says. To that end, Dobson recently introduced Hello Dobson, "an emerging lifestyle brand of fashion, home décor and accessories inspired by the Midwest."
Dobson's designs include wallpaper, fabric and throw pillows. Her patterns feature bold colors and rely on a number of motifs, such as repeating Dalmatian spots, latticework, pineapples and pagodas. In the near future, she anticipates adding monogrammed Lucite trays and embroidered tabletop accessories such as dinner napkins and hand towels. She also carries tassel earrings and clothing based on the same designs.
Dobson refers to her style aesthetic as "classy but approachable" and notes that much of it was influenced by those early father-daughter visits to Selkirk Auctioneers & Appraisers and other local auction houses.
"My dad is the kind of guy who can go and talk to anyone anywhere and immediately befriend them," she says. "Really, it's that friendliness and approachability my parents taught me that Hello Dobson is all about: classic but approachable."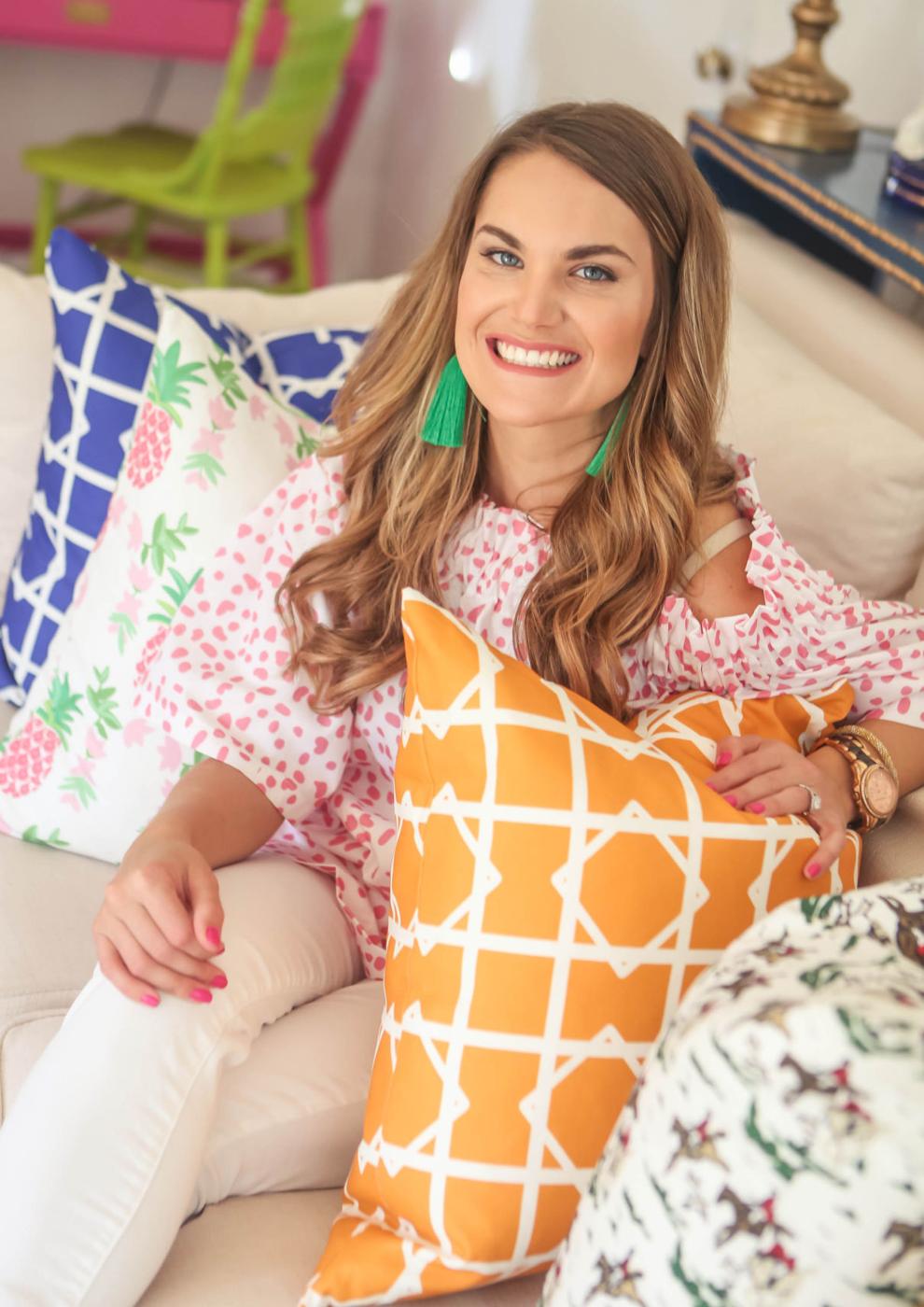 Although Dobson says her current work fulfills that childhood passion, she started her career in the nonprofit sector and then worked in real estate before launching her brand in April of this year. "I think for most people, their career, especially their early career, is really a journey about learning what type of work really satisfies our souls," she says. "In each position I've held, I've been drawn to the creative, inventive and people-oriented aspects of the job. Deciding to launch this venture was really about bringing the truly fulfilling elements of those roles together into a brand and business." She adds that her intention is to build Hello Dobson into an international brand.
In creating her work, Dobson takes a number of approaches: "My design process is truly a collaborative learning process. What I mean by that is, on any given day, I'll take note of patterns, textures or spaces I see that speak to this idea of being classy but approachable. Then a few times a month, I'll sketch out some rough drafts of concepts floating around in my head. Sometimes I'll rely heavily on my notes; other times it is completely free-flowing. It really depends on the day."
Once she sketches a concept, she asks for feedback from friends and family, making changes and refining the design based on their comments. The Hello Dobson Instagram account (@hellodobson) sometimes offers sneak peeks of new concepts, and she welcomes comments to further inform her work before she unveils the final product. "The last step is deciding where and when a print fits in," she says. "In those cases, we'll sit on it until the appropriate time or season." Best-sellers include hot-pink pineapple pillows and Kelly green lattice pillows, and during the holiday season, the red-and-green fox-hunting print is popular, she adds.
Customers can find Hello Dobson online at hellodobson.com, as well as style and entertaining tips, recipes and DIY projects that can be done to complement Hello Dobson décor items. "Another fun way to connect with Hello Dobson is through our Instagram," Dobson says. "We typically post every day and love sharing our new collections and sneak peeks here. As far as holiday sales go, we'll run a 15 percent-off storewide sale with coupon code 'laduenews' from Dec. 2 through Dec. 10." In addition, select Hello Dobson products are available at Lusso in Carondelet Plaza.
No matter how big Hello Dobson gets, its Midwestern roots will always guide the brand. "We love collaborating with St. Louis designers and businesses and make all of our products locally," Dobson adds. "We are always open to custom design projects or ideas that aren't seen on our website."
Hello Dobson, 314-315-1028, hellodobson.com