It's a beautiful neighborhood—regardless of whether you find yourself in Chesterfield, the Central West End or somewhere in between! In this, our annual We Love Our Neighborhoods guide, meet 19 local families who share what they adore most about the communities in which they reside. From shouting out their go-to eateries and coffee shops to divulging the hidden gems and must-attend festivals, these families share what makes their community a great place to live.
---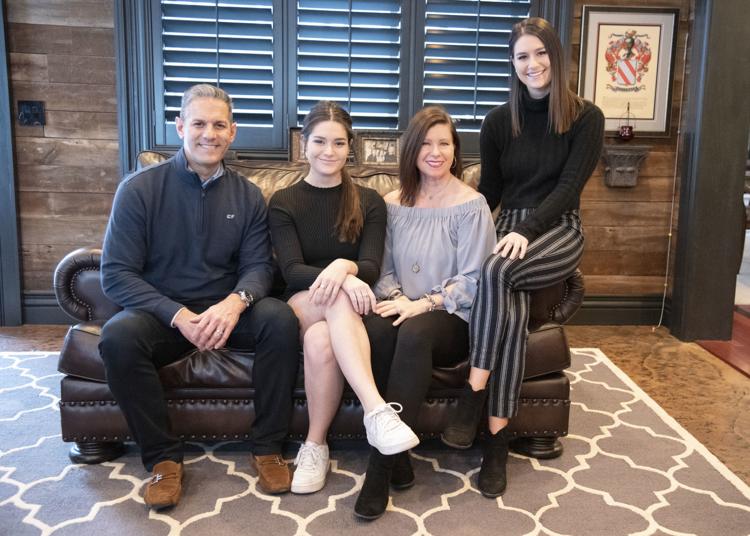 BALLWIN
The Ferettis | By Mary Mack
As a co-owner of Circle 7 Ranch, Pete Feretti and his wife, Tonya, a teacher, are deeply embedded in the Ballwin community along with their daughters, Sophia and Demi. And that's something that they don't mind a bit. In fact, they have put on two separate additions to the Ballwin home they bought 20 years ago because they liked their house, location and community so much. Local favorites include Ballwin Days, Taste of West County and the Ballwin Beer Festival, and they have no shortage of stories of the community coming together to support those in need.
Where do you go for date night?
Honestly? We go to Circle 7 Ranch. We live close enough to where we can walk, [and] our kids have both worked there. We also run into everyone there that we'd want to see.
What's a Ballwin hidden gem you'd recommend?
We recently found The Wolf Cafe. They have live music, they support local farmers, and it's a great spot to grab a coffee. Our daughter Demi likes to take her laptop to work and study. It's very cozy and cute.
What are your favorite spots for family time?
We like both Queeny Park and Castlewood Park for hiking and biking. We like Napoli 2, we spend time at Ballwin Golf Course, and then shopping at Paperdolls with the girls.
Why did you choose to live in this neighborhood?
For us, it was the school district, being at Parkway West. The kids loved it, and we also loved the location: the older neighborhoods with the big trees, ranch houses and the close community. What we really love about Ballwin is that the people are so friendly; everyone knows everybody. It's got a small-town feel, but we're still close to things and have easy access to the highway.
---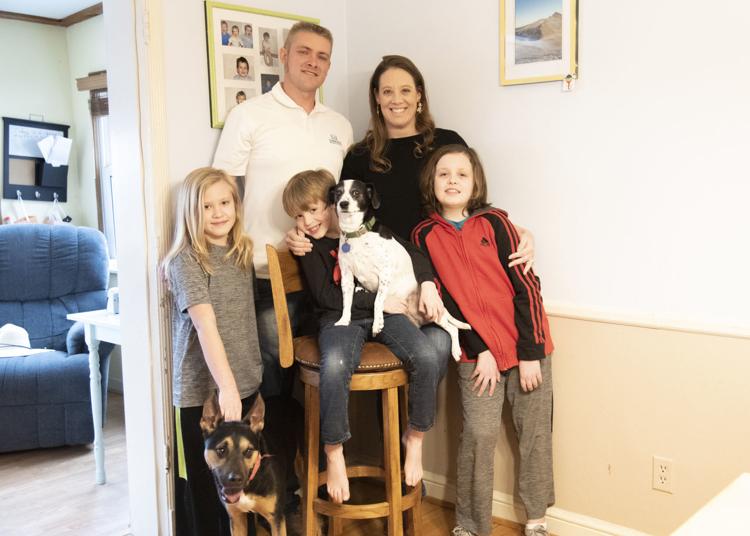 BRENTWOOD
The Whites | By Trey Ross
Mary White is a cheerleader for Brentwood. A resident for well over a decade, White serves on the Brentwood Swim Club Board and landed her dream job last year teaching fourth grade in the Brentwood School District. The valued sense of community is a key factor in why White believes her neighborhood is the perfect fit for her and her three sons – John, Elliot and Jack. "It has the 1950s feel where everyone looks out for everyone!" White explains.
What do you think is Brentwood's best-kept secret?
As a teacher and mom, I have to say the schools. They truly offer individualized education. The class sizes are extremely small, with about 15 kids per class. This really allows the teachers to get to know each child as an individual and to help them grow. Also very unique is their approach to truly teaching the whole child. There is a great focus on character development, as well as growing leadership skills. The students leave the district with not only their academic needs having been met and exceeded, but they have the tools, the confidence and the leadership abilities to take with them into the real world and the skills to cope with life's ups and downs. I really believe there is no better education in St. Louis.
What is your favorite event, festival or time of year in Brentwood?
I love the Friday night of Brentwood Days, as it's still mainly the locals. The whole neighborhood gets together, and the kids all run around with their friends. It's truly a celebration of our small community.
Describe a perfect weekend or day in Brentwood. Where would you eat, shop, play and relax?
The best day is any summer day! We go to Baumann's, the local butcher, and grab burgers and steaks from Charlie [Baumann] and Ann [Lucas]. Then we come home and pack up the golf cart and head to the pool for a day of fun barbecuing and hanging out with the neighbors. The kids love to swim and play in the little woods there, while the parents sit around and catch up and play games with the kids. It truly brings the community together and gives the kids those same type of memories I had of a great childhood growing up. They are still able to have childhood adventures like we did in the old days! That's not something that really happens many places anymore, and it's why summer is my favorite time here.
---
CENTRAL WEST END
The Hunters | By Trey Ross
Ross and Debra Hunter, new transplants from Sonoma County, California, felt a connection with the Central West End in St. Louis from the very first time they visited.
"There is a strong sense of community here," they explain by email. "Having Saint Louis University, Washington University and Barnes-Jewish Hospital as neighbors brings a wonderful, diverse mix of ages, cultures and energy that inspires us daily."
Other key Central West End features in their relocation process included the accessibility to Forest Park, museums, art galleries and the vibrant bar and restaurant scene. The pair owns Provisions St Louis, which offers a range of "necessary luxuries" from organic, plant-based skin care, to personal and home accessories, to art books and barware.
Name a Central West End hidden gem you would recommend and why.
Right across the street from our store is the intimate (and sometimes mysterious) Pagan Wine Bar. The owner, Ed Kings, is known for his interesting cocktails, especially the 1738 Lavender Sidecar, and has created an adult hideout – perfect for after-dinner meetings and drinks.
What's your favorite event, festival or time of year in the Central West End?
We have to say the Halloween festivities were beyond our expectation, but we hear the CWE annual cocktail party in June is pretty fantastic as well, so – check back with us after that!
Where would you spend a date night in the Central West End?
All of the restaurants that we have been to make an evening feel like date night, but we have a soft spot for Brasserie by Niche. This was the first restaurant in the CWE we went to when we first visited St. Louis last March.
---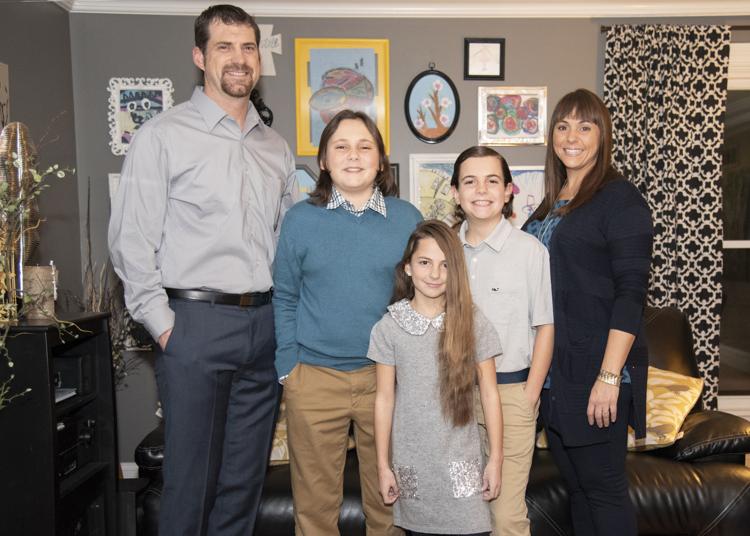 CHESTERFIELD
The Fosses | By Connie Mitchell
Elizabeth and Eric Foss settled in Chesterfield in 2007, when Eric Foss began his specialized dental practice with St. Louis County Endodontics. As St. Louis natives, they wanted to be near their families and close to their children's schools. Now established Chesterfield residents, Elizabeth Foss keeps busy with the couple's three children and as a board member and volunteer for the greater Missouri and southern Illinois chapter of JDRF, a global organization funding Type 1 diabetes research. "Our family coordinates the Mouse Races for a Cure event every other year to raise money for JDRF, and I'm working on that full time right now, as the event is coming up on Feb. 9," she says.
Describe a perfect weekend or day in Chesterfield – where would you eat, shop, play and relax?
The perfect weekend would include riding our bikes on the Monarch Chesterfield Levee trail. We do the JDRF Ride to Cure Diabetes 100-mile bike ride every year, so we spend a lot of time riding on this trail, and we are anxious for its completion! Once the ride is over, we would cool off at the Chesterfield Family Aquatic Center and finally get cookie dough from Half-Baked Cookie Dough Co.
What do you think distinguishes Chesterfield from other St. Louis neighborhoods?
Chesterfield is unique to many other neighborhoods because we have great open space. Our neighborhood has more than 200 acres of common ground, which we use for sledding, flying kites and playing fetch with our dog. Also, we have a large lot – you can't find lots like this all over St. Louis.
What do you love most about living in Chesterfield?
The thing we love most about Chesterfield is our neighborhood. We know the names of nearly everyone on our street, and it's not uncommon for a group text to pop up when someone needs to borrow a teaspoon of something. There's always a teenager to babysit just a couple doors down and a mom to grab your kids after school when your errands run long. My kids get to explore on their bikes and with the dog as my husband and I did when we were kids because we know there are always neighbors watching out for them. It is truly a community.
---
CLAYTON
The Sutters | By Mary Mack
The reason the Sutters live in Clayton can be summarized with one word: simplicity.
"There's the convenience of being able to walk to absolutely everything – banking, business meetings, hair appointments, etc.," says Anne Sutter, a consultant with Will Cru Consulting. "Everything is here, and if you want to do something last minute like go to The Muny, you can get there in no time. I've literally bought tickets 20 minutes before and made the show."
Anne and her husband, Scott, an executive with Investa Management, as well as their three children, Dwight, Will and Rory, are strong advocates for the area. "If you are into simplifying your life – this is the place," she says. "Try an extended staycation at the Seven Gables Inn and see what you think of the Clayton lifestyle."
What are some of your favorite family spots?
We like Half & Half on a weekend, Vincent Van Doughnut before school and Peel Wood Fired Pizza for dinner. We also like playing tennis at Shaw Park and kicking the soccer ball around at Clayton High School.
What surprised you about the area?
[I was surprised at] how friendly everyone is and how often people stop us to meet our dogs. Many of the merchants leave water out for the dogs, and Ted Wheeler at American Family Insurance leaves treats, too. A pleasant surprise was the amount of independence and freedom our move to Clayton provided our youngest son. He loves to run and ride his bike and can get anywhere to meet friends.
What are the best ways to unwind in your area?
[We enjoy] riding bikes to Forest Park down Wydown, walking our dogs down Maryland [Avenue], visiting Chapman Plaza and ice skating at Shaw Park, and walking to Massage Envy.
How would you spend a date night in Clayton?
The best is finding an unexpected free night and scoring a table for two or sitting at the bar at I Fratellini.
---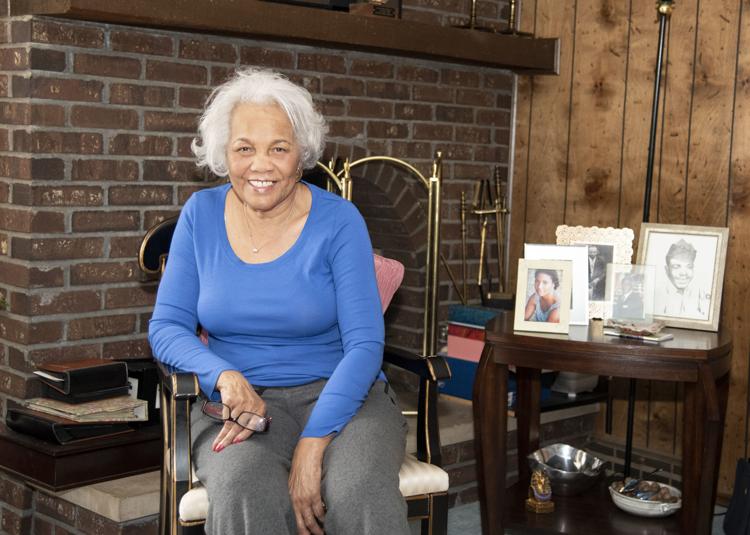 CREVE COEUR
Dorothy Fiddmont | By Connie Mitchell
"When we chose our home in Creve Coeur, I knew very little about any of St. Louis' neighborhoods," says Dorothy Fiddmont. "It was summer 1993, and having retired from my position with the Illinois State Department of Education, I was relocating from a Chicago high-rise condominium and responded to an announcement for an open house. It was on this visit that I first saw the house that we subsequently purchased." After living in their new community for a decade, her husband, Frederick, was diagnosed with Alzheimer's disease, and Dorothy Fiddmont was his caregiver until he died in 2013. She remains in her home and is active in both church and the community in general.
Describe a perfect weekend or day in Creve Coeur. Where would you eat, shop, play and relax?
When I think of perfect weekends, I recall wonderful fall days with balmy weather and lots of sunshine. The beauty and calm atmosphere of the neighborhood stands out, even in retrospect. A perfect day for me now is usually a Sunday after I have been to service at my church. It's a good time for brunch at Gulf Shores Restaurant & Grill, which is warm, efficient and friendly and buzzes with activity.
For dinner, I enjoy Bristol Seafood Grill and occasionally invite family and friends to join me there. While I think of it as a special place for special events, it's also great for lunch.
Also, there are wonderful little shops tucked away in little shopping collectives. So on a perfect day I would have the time and means of going shopping.
What do you love most about living in Creve Coeur?
What I most love about Creve Coeur is its efficiency in the provision of excellent community services. Things work and do so without obvious disruption. To me, that means that there is an efficient city management structure at work. The Creve Coeur Police Department even helped me out recently when my furnace stopped working on one of the coldest nights of the year, even though that wasn't necessarily within their area of responsibility.
Also, I've had great neighbors who have offered me assistance many times, especially during and after my husband's illness. While neighbors change over time, I have continued to be the beneficiary of kindness and assistance. I currently have young neighbors who can observe my backyard and will periodically inquire about my welfare during snow or other inclement weather.
---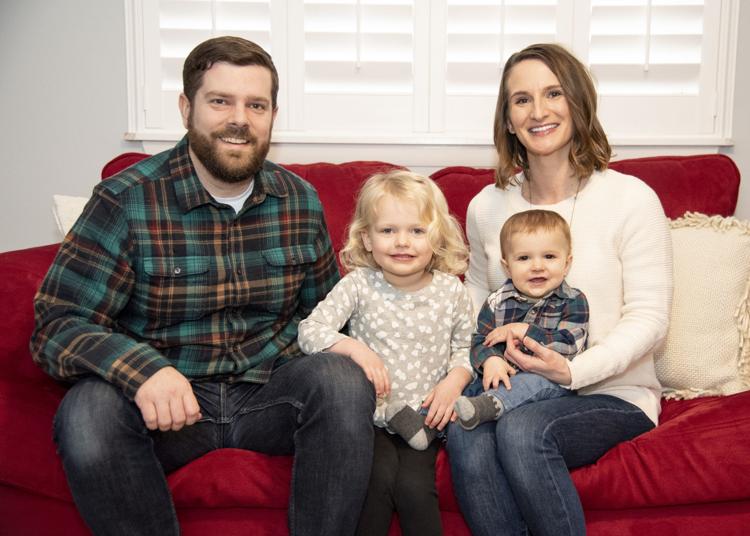 DES PERES
The McCarthys | By Connie Mitchell
Corey and Jessica McCarthy are fairly new Des Peres residents, but they decided on the neighborhood in late 2017 after almost a year of searching for a new home throughout the metro area. "We chose this area because of the school district and location," Jessica McCarthy says. "We're close to family and can jump on the highway and get anywhere quickly," adds the Kirkwood native. Although daughter Mia is only 3 and son Liam is not yet 1, knowing the children will attend Westchester Elementary in the Kirkwood School District was an important selling point for the McCarthys.
What are your kids' favorite spots in Des Peres?
Mia loves Pioneer Park, which is right across the street from our house. We often run into friends and neighbors there, and it's a great place to have a picnic. Mia also loves Dierbergs because we can walk there from our house. She had a great time trick-or-treating at their Halloween event.
Describe a perfect weekend or day in Des Peres. Where would you eat, shop, play and relax?
A perfect day in Des Peres would consist of a visit to Pioneer Park or Des Peres Park, lunch at The Daily Bread Bakery & Cafe, shopping at West County Center and a date night at The Village Bar followed by a movie at Marcus Des Peres Cinema.
What neighborhood businesses do you frequent most and why?
Dierbergs is a three-minute walk from our house, so we go there a lot, but we love having other grocery options, including Schnucks and Trader Joe's.
Corey likes to go to The Village Bar because it has a nice atmosphere and really good burgers. I love The Daily Bread Bakery & Café, where the Big Time Veggie is my favorite sandwich, and the bakery is full of delicious treats.
What do you love most about living in Des Peres?
We love living in Des Peres for many reasons. It's centrally located, the school district is top-rated, and there are a ton of great restaurants, parks and places to shop. We also feel safe, and our neighbors are friendly.
---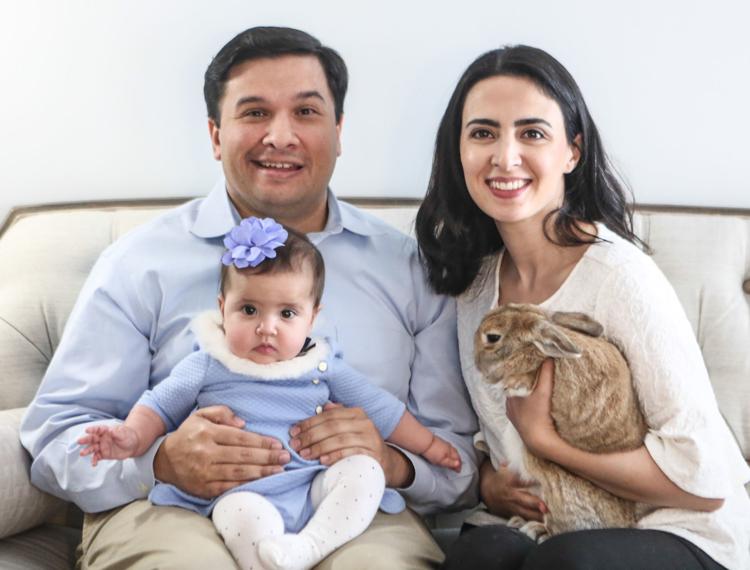 FRONTENAC
The Ramarajus | By Mary Mack
Krishna and Marjan Ramaraju, originally from Staten Island, New York, and Iran, respectfully, moved four years ago from Washington, D.C., to Frontenac, where they live with their 6-month-old, Maya, and a rabbit named Dandy. Kris, assistant general counsel at Bayer Crop Science in Creve Coeur, and Marjan, a medical laboratory technologist at Missouri Baptist Hospital, appreciate the neighborhood for its size and location.
"Frontenac is fairly small, but it's central to anywhere in St. Louis," Kris says. "We are both just minutes away from our work. It's also really close to 64/40 and not too far away from I-270, so we can get to just about anywhere we'd want to go in the region in less than a half-hour." The family counts St. Louis mainstays like the Missouri Botanical Garden and the Saint Louis Zoo as favorites that they're able to frequent because of their location.
What are some of your go-to spots in Frontenac?
[We head to] Plaza Frontenac for shopping [and] Brio's, Sugo's and Fleming's Steakhouse to eat, as well as Frontenac Racquet Club for tennis. We also like Plaza Frontenac and attending events at the library where Maya can participate.
What is a hidden gem in Frontenac that you would recommend?
Grassi's restaurant is not easily visible from Lindbergh, so many don't realize it's there. It's a great place to go to for a delicious yet affordable St. Louis-style Italian lunch or dinner.
What surprises you about Frontenac?
Many in the St. Louis area associate Frontenac with high-end shopping and dining and very expensive houses, which of course [it has], but Frontenac has a wide variety of dining, shopping and housing at many different price ranges.
What would you say to others to encourage them to move to your neighborhood?
We have everything here: great shopping and dining, friendly people [and] safe, walkable neighborhoods with an incredibly convenient location in the heart of the St. Louis region. We also like that it's in the Ladue School District – one of the best in the state.
---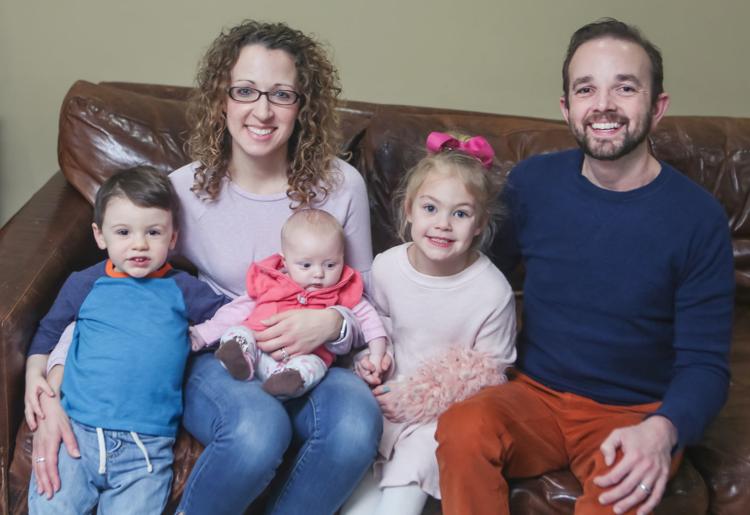 GLENDALE
The Robertsons | By Connie Mitchell
High-quality schools, access to the city and "amazing homes," were among the reasons Kate and Tyler Robertson moved to Glendale in 2016. The couple stays busy with their three children, ages 5 and 2 years, as well as 4 months, and Kate Robertson says they value "our awesome cul-de-sac," where the children spend time outdoors riding bikes, flying kites and playing with neighbors' dogs.
What is your favorite time of year in Glendale and why?
Our favorite time of year in Glendale is the fall. We really enjoy trick-or-treating in the neighborhood – we may be biased, but we truly believe our neighbors are the best. We've realized just how much everyone who moves here really loves it by hearing how long everyone has lived in their homes, not to mention that in the fall, the trees are absolutely gorgeous.
What neighborhood businesses do you frequent most and why?
We frequent Filomena's Italian Kitchen quite often. We love their penne pasta with meat sauce and meatballs. Their pasta sauce is unique and delicious. Our kids love the food, too, which is definitely a plus when picking a restaurant.
We buy at least one great pair of tennis shoes for our kids at Laurie's Shoes each year because they are such great quality and supportive shoes for growing feet. Our kids would tell you that the play area and free balloons are why we go there.
And although we have unfortunately had to call the Glendale city fire department to our home, it was as "good" of an experience as could be. The firemen were the friendliest around, and even though they probably had a million other things to do after our call, they took the time to make balloons out of medical gloves and gave our kids fire department hats. They helped our kids not be scared and made sure our kids knew that the fire and police departments are here to help.
What would you say to someone who may be considering a move to Glendale?
We would wholeheartedly recommend Glendale to anyone considering a move. We love everything about this area, especially the friendly and loving people. The location is a gem, with that small-town feeling but still close to major roads and highways. We couldn't imagine a more perfect place to call home.
---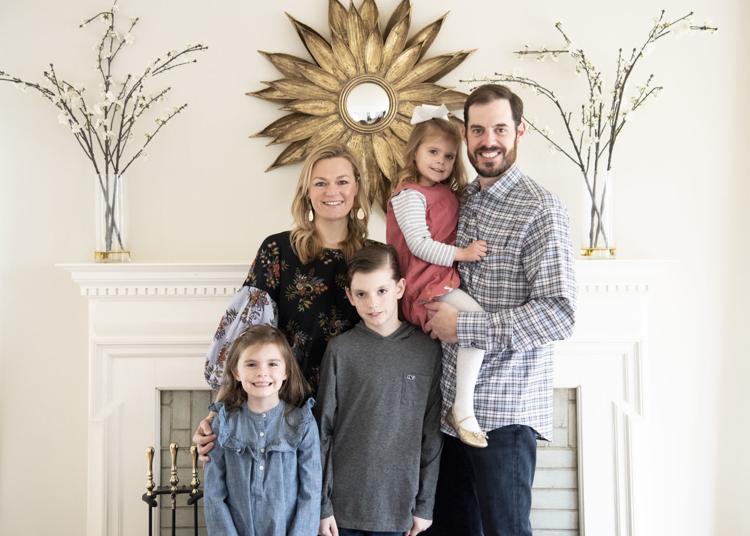 KIRKWOOD
The Yeadons | By Mary Mack
Growing up in neighboring Glendale, stylist, Beautycounter consultant and Ladue News resident fashionista Katie Yeadon has long been familiar with the charms of Kirkwood, from storied events like the Greentree Festival to walkable downtown retail spots. (Some of her favorites include Paperdolls, Fun in the Sun and Finders Keepers.) So when she and her husband, Tim, who heads the Customer Success department at Jane.ai, were looking for a spot to settle with their three kids, Whit, Ellie and Lucy, it was an easy choice. "When the weather is nice, my kids are outside from the minute they get home from school until dinner," Yeadon says. "It's a great place to raise a family."
What are some of your favorite spots to go with your family?
We love The Magic House, the [Kirkwood] Farmers' Market, Dewey's, Pottery Hollow and the Kirkwood library – they just redid the children's area, so they have a great story time there. My son plays hockey, so we also live at the rink, and when the weather is good, we drop him at practice and then hit up Kirkwood Park. We also love Walk Away Waffles; they are the best waffles you'll ever eat, and they have the cutest old-fashioned bus they park throughout Kirkwood.
What's a Kirkwood hidden gem that you'd recommend?
The Rusted Chandelier is the most darling store – right next to Dewey's – in the heart of downtown Kirkwood. It has sophisticated, eclectic but attainable home items, from beautiful candles to amazing furniture. During the holidays, Patti Porter [one of the owners of Rusted Chandelier and the talent behind Patti Porter Designs] makes these unbelievable hand-constructed decorative bows; they're just fabulous.
What would you say to someone thinking about moving to Kirkwood?
I love how everybody flies the Kirkwood flag, I love the trees, and I love that everybody walks and rides their bikes. The schools, of course, are amazing, and it's very welcoming if you're new to the St. Louis area. People love to open their homes.
---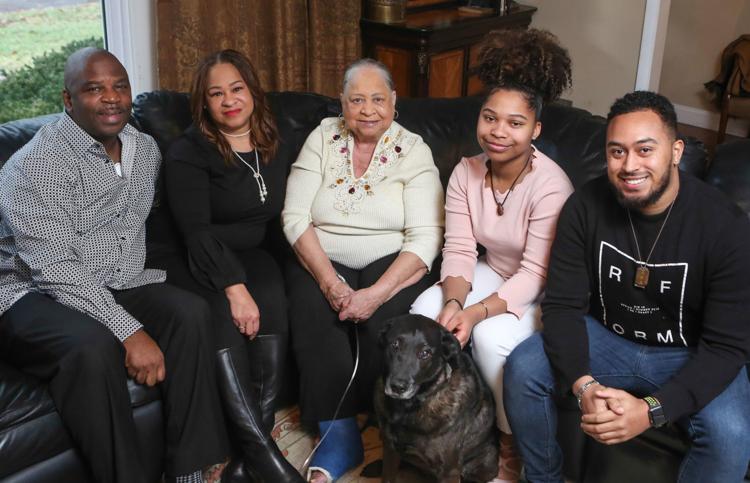 LADUE
The Donovans | By Mary Mack
For Tracye Donovan, Ladue was a return to her roots, having grown up in the area and attended Ladue schools as a kid.
"This neighborhood is great to raise your family, and the neighbors are great," she says. "The ladies on our block used to get together for book club or pop over to Frontenac and grab dinner together. A lot of our kids are older now, but at one time, we had a lot of younger little ones running around, so we'd have a Halloween party right in our circle drive and have Fourth of July parades down our street."
Tracye Donovan, her husband, Eric, and their kids, Lauren and Myles, made the recent move back to the metro area from Washington, D.C., when Eric Donovan retired from the Air Force. They are now management consultants and franchise owners of Supercuts and have recently welcomed Tracye Donovan's mother, Sandra, to their Ladue home from Fort Lauderdale, Florida.
What are some of your go-to spots in Ladue?
[We head to] Sportsman's Park, Schnarr's Hardware, Baskin-Robbins, Deer Creek Coffee and Ladue Pharmacy.
What has maybe surprised you about the neighborhood?
As one of very few diverse families in the neighborhood, the community is very friendly and welcoming. Our neighbors are warm and kind.
What do you love about your neighborhood?
As family, we love it because it's central. We're close to everything, pretty much between West County and the city. It's a very safe, beautiful community, with really nice neighbors, and our schools are great and within walking distance. We love the charm of our streets lined with mature trees, the spacious yards and the privacy.
What would you tell someone thinking about making the move to Ladue?
This neighborhood is a great place to raise your children. Neighbors are friendly, schools are fantastic, there are lots of great restaurants and shopping spots, the location is very central to just about everything, and it's very safe.
---
MANCHESTER
The Nelmses | By Connie Mitchell
The Nelms family – Andrew, Kayla, 4-year-old Penelope and 2-month-old Hazel – moved to Manchester in 2016. "We chose Manchester because it's a nice central location that feels like a small community," Kayla Nelms says. "Our favorite park, church and schools are all only several blocks from our home." She adds that they felt at home as soon as they arrived in the tightknit, friendly neighborhood.
What are your kids' favorite spots in Manchester?
Penelope's favorite spot in Manchester is Schroeder Park. She loves the playgrounds and looks forward to riding her bike on the trail in the spring and going to the pool in the summer. She also loves when the fire department brings Santa through the neighborhood on the fire engine before Christmas.
Describe a perfect weekend or day in Manchester. Where would you eat, shop, play and relax?
On a perfect weekend, we have breakfast at Uncle Bill's Pancake House, take a family walk around the neighborhood or go to the park, shop at The Fruit Stand to pick up fresh local produce and other items, and then eat dinner on the patio at Joey B's Food & Drink.
What is your favorite event or festival in Manchester and why?
The Manchester Homecoming Festival is our favorite event. Our daughter enjoys the rides and cotton candy, and we enjoy the bands and festival food!
What do you think is Manchester's best-kept secret?
The Fruit Stand, for sure. It's family-owned and provides locally sourced items whenever possible at a great price. The owners are very nice and treat everyone like family.
What do you think distinguishes Manchester from other metro area neighborhoods?
We are in West County while still being central enough to get anywhere in St. Louis in 30 minutes or less. Our neighbors are families who have lived here for 40 years and families just starting out.
---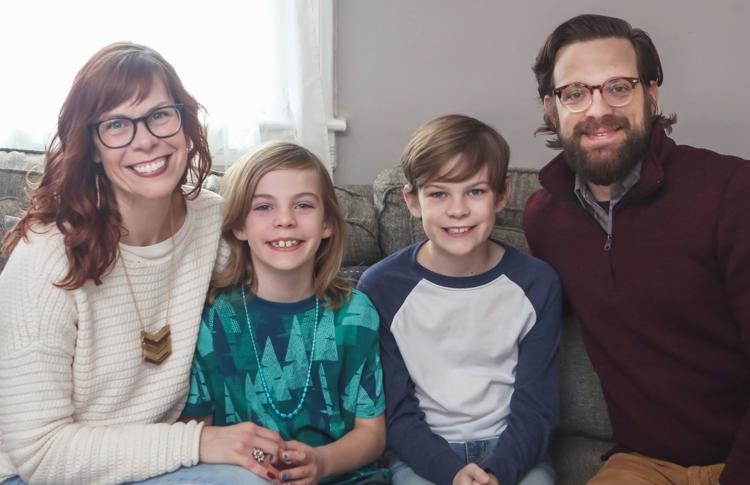 MAPLEWOOD
The McGaugheys | By Mary Mack
For the McGaugheys, their Maplewood home was the best way to stay close to the city as their family grew.
"After we had kids, we really wanted to stay in the city," says Susie McGaughey. "However, with the challenge of finding a good school and being sure that our kids could get a good education, we felt like we had to look into the suburbs. Maplewood turned out to be such a perfect blend of an urban lifestyle with a strong community."
Now Susie McGaughey, an art therapist and licensed counselor with Great Circle and The Cancer Support Community, and her husband, Matt, a local musician and director of expressive arts at Great Circle, along with their children, Dunnen and Eliot, take advantage of their walkable neighborhood year-round.
What are some of your go-to spots?
We can walk and bike to all of our favorite spots, which is the absolute best thing about living here! Our favorite places to play are in the parks in our neighborhood. We have several small "pocket parks" along with bigger areas for families to gather, like Sutton Loop Park and Ryan Hummert Park. Both places host summer concerts and neighborhood festivals throughout the year. This is the land of cool small businesses; there are so many great restaurants and shops to choose from. Family favorites for dinner include The Blue Duck and The Picadilly at Manhattan and Foundation Grounds for coffee, a meetup with a friend and snuggling up with a book. We love to buy local, especially for gifts for friends and family: Vom Fass for interesting liquors and fancy oils, Kakao for amazing chocolates, Penzys for spices and Zee Bee Market for unique handmade fair-trade goods.
How would you spend a date night in Maplewood?
Leaving the car at home, we'd walk around town for our evening. We'd likely meet up with another couple or two from the neighborhood and grab delicious beers at The Side Project Cellar. We'd have dinner at Reeds American Table, maybe followed by an intimate concert of local musicians at one of the greatest places to hear music in St. Louis, The Focal Point.
What surprises you about your neighborhood?
There is a neat blend of people who have lived here from when before Maplewood really took off and new families arriving with energy and vision to help the community progress. We really appreciate the families who have contributed to the foundation of our community, especially building such an excellent school system [and] taking risks here before Maplewood was such a desirable place to live.
---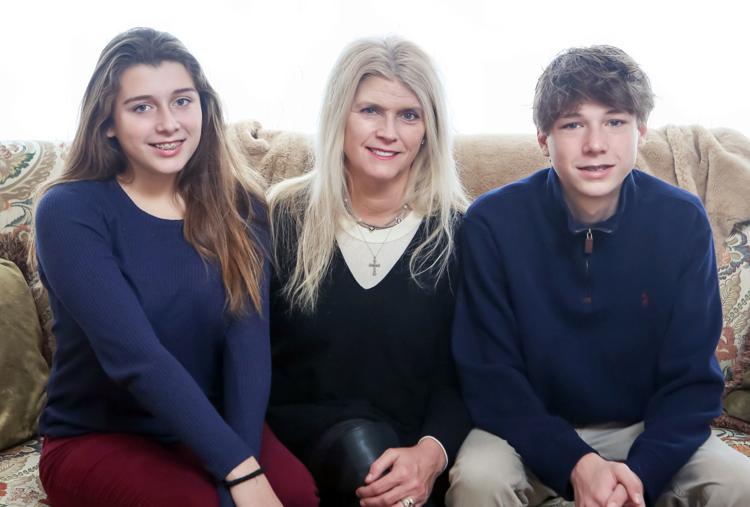 OLIVETTE
The Hayes | By Mary Mack
When Kelly Hayes and her teenage twins, Paige and Jack, moved to Olivette (along with their beagle, Winston) from neighboring Ladue three years ago, she wasn't really sure what to expect.
"I didn't know much about the area even though we'd been so close before," she admits. But within the first week, Hayes had neighbors popping in to introduce themselves, bringing over cookies and offering their future help whenever it was needed, and she knew she'd picked the right location.
What do you love about your neighborhood?
[I love] the friendliness of the people. Everybody looks out for one another, and it's been a really easy transition for us. I may not know everybody's name, but I know their dogs. We all know one another through our dogs, so people will stop to talk to you in the street – everybody's out and about all the time.
What are some of your favorite family spots?
Our No. 1 go-to spot is Sugarfire Smoke House. We love it; we go there at least once a week. My children will no longer eat my brisket because they like Sugarfire's so much. We also like The Caramel House, and Chevy's down the street. In the spring, summer and fall, we like to take a stroll down to Stacy Park. My kids played Olivette sports, so we like to go back there, take the dog for a walk and hang out.
Are there any Olivette hidden gems that you would recommend?
The Olivette Diner is one of our favorites for breakfast. It's kind of an older, hidden place that unless you live in the area, you don't know about, but it's a good breakfast, and we love it.
What would you say to someone considering a move to your area?
It's convenient, it's affordable, and it's right in the center of everything – and you can get anywhere fast. Everyone is friendly, and we feel very safe. And then, of course, you get the bonus of the Ladue School District.
---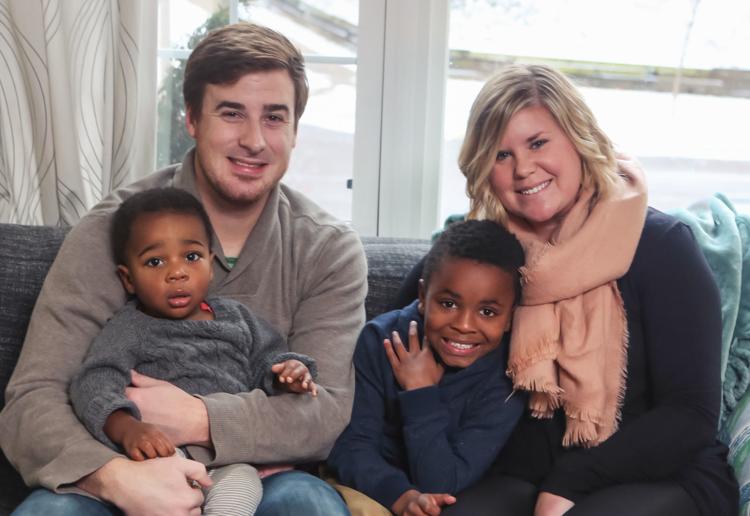 RICHMOND HEIGHTS
The Dohts | By Mary Mack
For the Dohts, making the move to Richmond Heights was a bit of a no-brainer.
"We bought our first house, in Maplewood, about 10 years ago, and when we wanted a bigger house, we chose to stay in the area for the school district," says Beth Doht, a first-grade teacher in the Kirkwood School District. "Maplewood Richmond Heights School District led by superintendent Karen Hall values educational equity, and that's incredibly important to our family." Beth Doht and her husband, John, who works for Centene, along with their sons, Oliver and Calvin, were drawn to the neighborhood because of its central location.
What are some of your go-to spots in Richmond Heights?
We love going to many locally owned/small business spots, [like] Garden Heights Nursery for our gardening needs and Christmas trees, and Ryan Hummert Park to play. We also enjoy going to The Heights for the library, indoor pool, playground and exercise classes. We definitely consider ourselves part of the Maplewood-Richmond Heights neighborhood since we are part of that school district, so some of our favorite spots are in Maplewood. For a date night, we would go to Reed's American Table for a delicious meal and great glass of wine. The Living Room is a small little coffee shop that also has amazing bakery items, lunch and breakfast.
What's the best place for family time?
My kids love to swim, so the Maplewood Family Aquatic Center is one of their favorite places in the summer, and we buy a family pass every year.
What would you say to someone thinking of making the move to Richmond Heights?
If you have kids and want them to be involved in their local public school, this is a great neighborhood full of many wonderfully different people, locally owned spots and plenty for families to do and get involved in. I'm still learning important history about the neighborhoods and school district, which always makes me want to learn more and get more involved.
---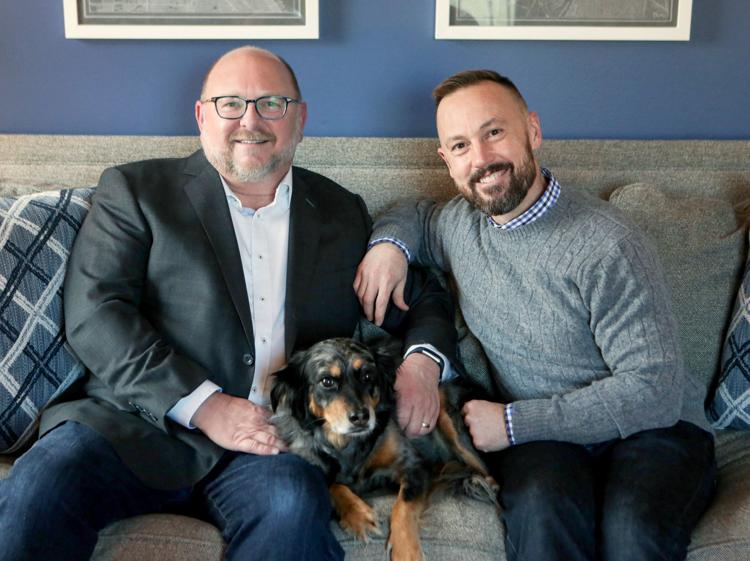 TOWN AND COUNTRY
Jim Knight and Mike Valzania | By Mary Mack
Before making the move to Town and Country, Mike Valzania, an executive at Express Scripts, hadn't even heard of the neighborhood. But when he and Jim Knight, a personal stylist for J.Hilburn Custom-Made Men's Clothing, were looking for a little bit more space – especially for their two border collies – their Realtor suggested they check out their current home, and it was basically love at first sight. "On our way out to see it, we passed the winding roads and gorgeous cul-de-sacs, and then 20 seconds after being in the house, we knew we wanted to buy it," Mike says.
Where would you go for a date night in Town and Country?
A great date night is John Mineo's, an old-school, traditional restaurant. They truly have a unique and high-touch service.
What has surprised you about the area?
We were pleasantly surprised with the commute. Originally, we were hesitant to live west of I-270, but we're convenient to the highways, and our commute time actually got shorter. We can be downtown for a baseball game in 25 minutes.
We were also surprised with how quickly we got along with our neighbors. There is a really great sense of community. A while back, our neighborhood started calling ourselves "the fun cul-de-sac," jokingly checking in on Facebook. We all have a lot of smaller-scale events like progressive dinners during the holidays, Labor Day picnics with huge Slip 'n Slides for the kids, chili contests and happy hours where everybody comes out onto our porches. We didn't move here thinking we'd become best friends with our neighbors, but that's what happened.
What's one of your go-to local spots?
We love Queeny Park. We'd lived in St. Louis for years, but we didn't even know it was here until we bought the house. There's a dog park, scenic wooded areas and great trails for running and walking with good, challenging hills. We like to take our out-of-town guests here, and in the fall, they have hayrides. It's a hot spot for professional family photos because of all of the natural beauty. We're also excited for Town Square, under construction right now.
---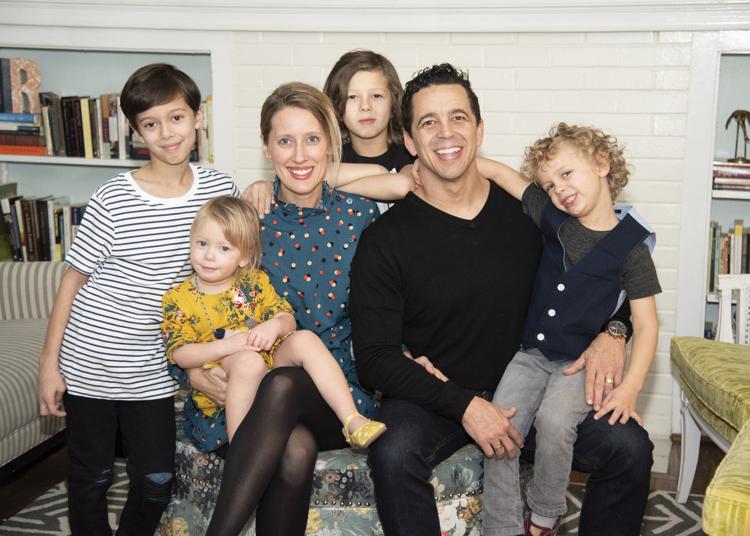 UNIVERSITY CITY
The Roams | By Trey Ross
Brent and Rebecca Roam love the constant juxtaposition of life in University City. It is a small-town feel within an urban environment, where the Roam family has the freedom to explore the lakes and woods in Lewis Park or ride their bikes down to Meshuggah Café or Rocket Fizz on the Delmar Loop.
"There is a vibrant and meaningful counterculture here," explains Rebecca Roam, founder of Mrs. Roam's Art Camp, a summer art program for kids located in University City.
Brent Roam, a St. Louis native, is the pastor at U-City Family Church, which meets at the Tivoli Theatre. Like University City, his congregation has every type of demographic worshipping together, he explains: "It's black and white and old and young and Asian and Hispanic and rich and poor; there are Ph.D.'s and GEDs."
University City provides not only a diverse neighborhood for pastoring a church but also for raising the Roam children – Jameson, Lincoln, Augustine, and Eden – who "get to be around all kinds of people," says their mother. "They will have many different potential role models, from different backgrounds and different walks of life."
Where would you spend a date night in U. City?
We often hit up Salt + Smoke. We love Mission Taco. We've gone to Pin-Up Bowl before. We love the rooftop of the Moonrise Hotel, we love movies at the Tivoli Theatre, and we love live shows at The Pageant. We patronize the places on the Loop all the time; we love to give them our business – they are all great restaurants! We also love Mi Ranchito, but that's more of a family date night.
What is your favorite event, festival or time of the year in U City?
Rebecca Roam: "I really love the homecoming parade, even though it's really kind of small town, all of the people love it. The schools get really into it. Our school marches in it. It's really fun."
Brent Roam: "I love spring on the Loop. All of the flower boxes are beautiful! Any time the weather is good, we are going to walk to the Loop. Or the whole crew is on a bike."
Rebecca Roam: "They do a really good job of keeping it really pretty. U City in Bloom really works hard on all of the gardens here.
The Roams also list the Ice Carnival, Art Festival and Taste of U City as their favorite festivals or events.
What would you say to someone who is considering a move to U. City?
Brent Roam: "We are always trying to get people to move here. Big sells: It's walkable. You can be downtown in a heartbeat. It's diverse – you are going to get all kinds of different people and different experiences. It feels like a genuine community. On a snow day here last week, people were scraping each other's windows and shoveling each other's driveways."
Rebecca Roam: "The public school system is underrated. Our kids are in the school system, and we absolutely love it. We are proud to be a part of it."
---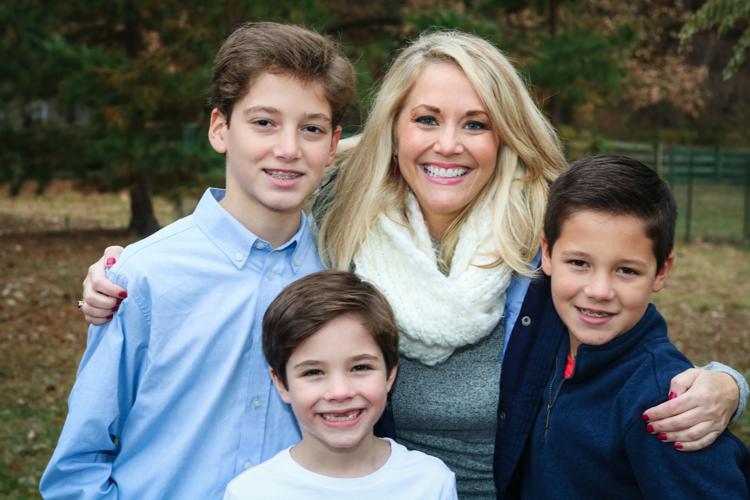 WEBSTER GROVES
The Lauxs | By Trey Ross
As a Webster Groves resident of 18 years, Jill Laux lists kind people, great restaurants and gorgeous trees as just a few of the dozens of reasons to love her neighborhood. Laux worked in media advertising sales "for a really long time" before starting her own advertising consulting firm, Mix Media, and also serves as the director of charitable giving for the nonprofit Kids Smart. Jill and her three sons – Tyler, Nate and Auggie – recommend the carrot cake and bread pudding for dessert at Cyrano's and consider Half & Half to be the best Webster Groves breakfast spot.
Why do you think Webster Groves is a good fit for your family?
I think that it takes a village to raise children, and it's the greatest village around! I've never moved because the people who are on my street are amazing. I can call any one of them for help. There is a mix of ages, lots of different varieties of people.
What is your favorite event, festival or time of year in Webster Groves?
My favorite time of the year is May. It's always right around Mother's Day. Everything is green. The peonies are in bloom, and everyone is outside exercising and working on their yard. That is definitely my favorite time. Fall is a close second.
What are your favorite neighborhood perks?
There are a lot of different areas to explore. Downtown Webster, Old Orchard, my kids love Blackburn Park. There is a lot of accessibility and walking for the kids to go and have fun with their friends.
---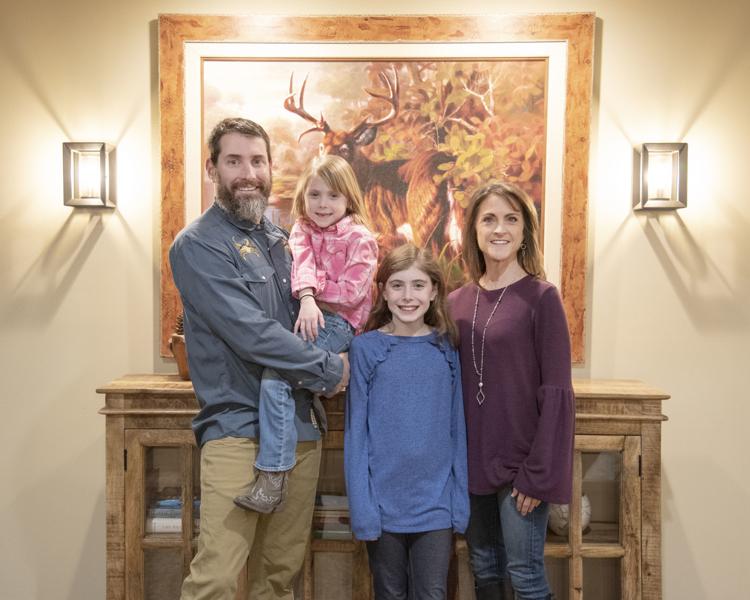 WILDWOOD
The Clevelands | By Mary Mack
For the Clevelands, the combination of convenience and space made Wildwood a winning destination. Dr. Jeanne Cleveland, a cardiothoracic surgeon, needed an easy commute to work at Mercy Hospital, and she and her husband, Jason, owner of Trophy Properties & Auction, wanted plenty of space both indoors and out to raise their two daughters, Cora and Jaycie. Neighboring Chesterfield's amenities were also a draw.
"Our family who still lives closer to the city thought we were moving way out west," says Dr. Cleveland with a laugh. "But we're close enough to 40, while still being tucked away from businesses."
What were the draws to your neighborhood?
We love Wildwood because of the amount of space you have. When we moved back to St. Louis , it was important for us to have an area that had a bit of acreage. Everyone here has at least 3 acres, some with a lot more, and everybody loves being outside and in nature. So you get your space, and all of our neighbors are superfriendly. Also, the school district is good, and we've been superhappy with our kids there.
Where do you go for date night?
We love dinner at Table Three and then a movie just across the street at B&B Wildwood 10. We also like dinner and live music at Parkside Grill.
What are your favorite spots for family time?
We love Babler State Park and Bluebird Park in Ellisville, and Wildwood Park is great for kids and dogs. We also like the Wildwood Farmers Market. They have great produce; they have a lot of neat festivals with activities for the kids, like craft fairs and bounce houses. Then, being close to Chesterfield Valley is convenient. We can easily and quickly get| to places like Sky Zone.