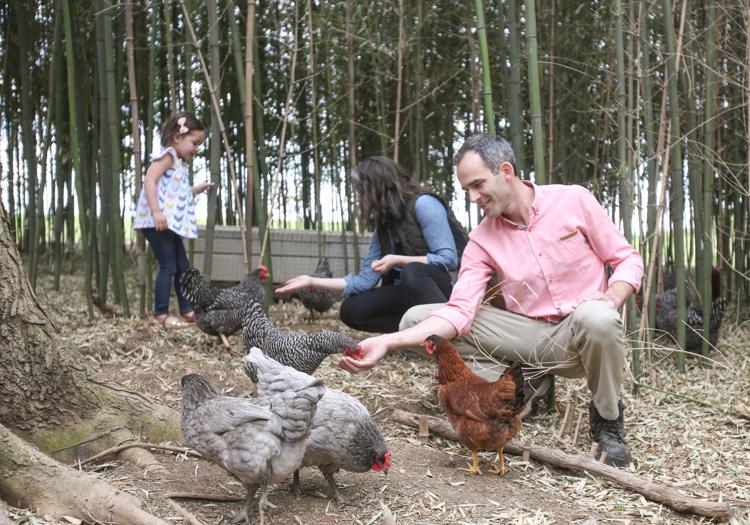 Many parents are familiar with pleas from children for a brand-new puppy or kitty. But now, an increasing number of families in the metro area are adding a different sort of furry … er … feathery friend to their flocks.
The Easy Chicken is a St. Louis-based company that strives to make owning chickens, well, easy. Families who take part in its services can either rent or purchase chickens, which will provide both eggs and educational experiences for the entire family.
"They're kind of a gateway animal," says Seth Jansen, who owns The Easy Chicken with his wife, Maria. "They're supereasy to take care of compared to other animals and are suitable pets for people in the city or suburbs."
The idea was hatched when friends of the Jansens moved to a farm in Ste. Genevieve, roughly 65 miles southeast of Ladue. At first, Jansen thought the idea was crazy. But the more the couple learned about their friends' lifestyle and the more time they spent experiencing it while housesitting for those friends, the more inspired he and his wife became.
"It's hard to articulate why that became so appealing to me," he says. "I like being outdoors, and it introduced me to a part of myself I didn't know a lot about in terms of working and living off the land, gardening, composting and seeing how it all fits together. I didn't realize how much I like being with animals and taking care of them."
After seeing how their four sons interacted with chickens on their friends' farm, the family began to consider how they could incorporate farming elements into their own more urban lifestyle. "We realized we could share with others what we learned about raising backyard chickens and make the experience easy for them – and so, the idea for a business emerged," Jansen says. The Easy Chicken debuted in 2014 as a one-stop shop for raising chickens.
The basic package starts at $500 for a six-month rental. The company provides two chickens that are each guaranteed to lay four eggs a week during peak laying season, as well as a coop, a feeder and feed.
Families can also pay $125 for a four-week chick rental. The Easy Chicken provides everything families need to care for three chicks, including a brooder, a feeder, a waterer, feed, bedding, a heat lamp and stand – and, of course, the chicks. At the end of the month, families can adopt their chicks.
"Our customers' favorite offering is the baby chick kit," Jansen says. "Chickens are not a hard animal to raise, so you can do it the DIY route. It's just a matter of how much time you have to research it, make mistakes and learn from those mistakes. We make it supereasy and set you up for success from the beginning."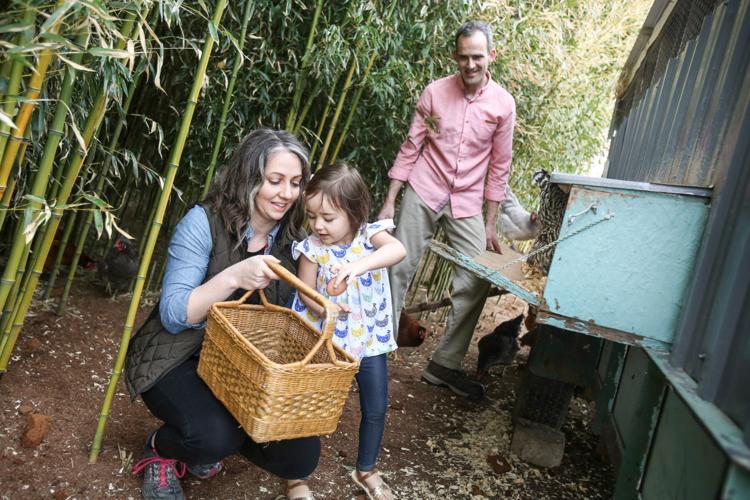 The Jansens support their customers through chick and thin, offering a "chicken coaching" service à la carte or as part of their packages, in which families can call or text for support. The Jansen family – which now includes a daughter in addition to the four sons, ranging in age from 3 to 11 – currently has 150 chickens, with 50 chicks currently rented out to customers, and draws on that experience to help answer questions.
"The most common questions are, for baby chicks, 'How do I hold them [and] can I bring them outside?'" Jansen says. "A couple of the most common questions we receive about hens are 'How many eggs do they lay [and] are they friendly?'"
Before adopting a chicken, families should check regulations in their municipality. Given that there are more than 90 municipalities in St. Louis County, each with its own rules, The Easy Chicken has compiled a list on its website to better help families prepare for the process.
In Ladue, for example, a permit is required, as well as a chicken shelter and enclosure. Properties must have at least 4,000 square feet of green space depending on the number of chickens, and the maximum number allowed is six, which requires significantly more green space.
When the business began five years ago, the Jansens heard from many people who were focused on urban farming and were passionate about raising chickens for environmental reasons, like harvesting manure for the soil. Now, they have seen more mainstream families come to them.
"Our clients have spread to people who wanted this experience for their children but maybe didn't have the time to figure it out themselves," Jansen says. "Families have found them to be easy to take care of and also fun for the whole family."
The Easy Chicken, 314-852-2802, theeasychicken.com