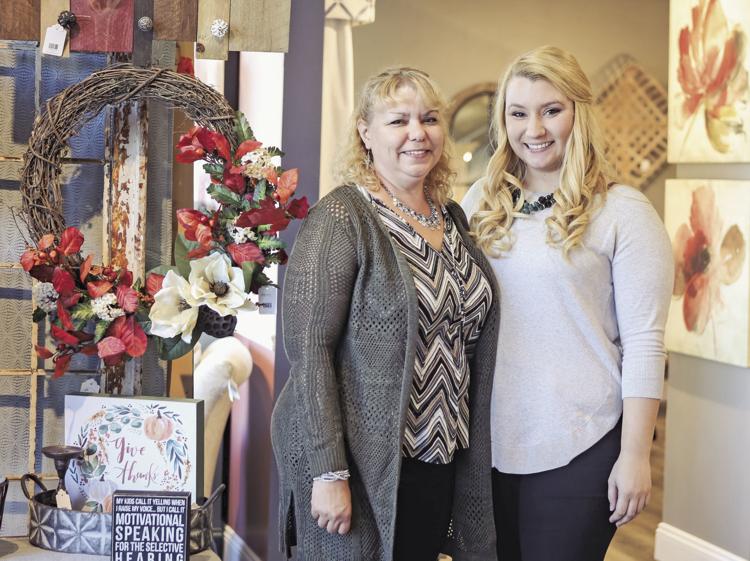 Alyssa Mangan remembers watching her mother pick out paint chips when she was no more than 9 years old. Because she's the daughter of both an interior designer and an architect, her world has always orbited around the beautification of her surroundings.
"I lived through, gosh, 7 to 10 years of construction inside the home, of them adding to our house and just completely making it over and creating something beautiful," Alyssa Mangan says. "I think I always knew that, if this is a real job and I can do this for the rest of my life, of course I'm going to do that."
After graduating from Springfield's Missouri State University with a bachelor's degree in interior design, Alyssa Mangan knew precisely what she wanted to do – bring her and her mother's dream to fruition. "I always wanted a store where I could talk to people and inspire them," says Angie Mangan, Alyssa's mom and the owner of Blue Dahlia Designs in Webster Groves. "And then when Alyssa graduated, she happened to say, 'Mom, I'd love to do this store with you.' And I said, 'Great, let's do it!' – and we jumped right in."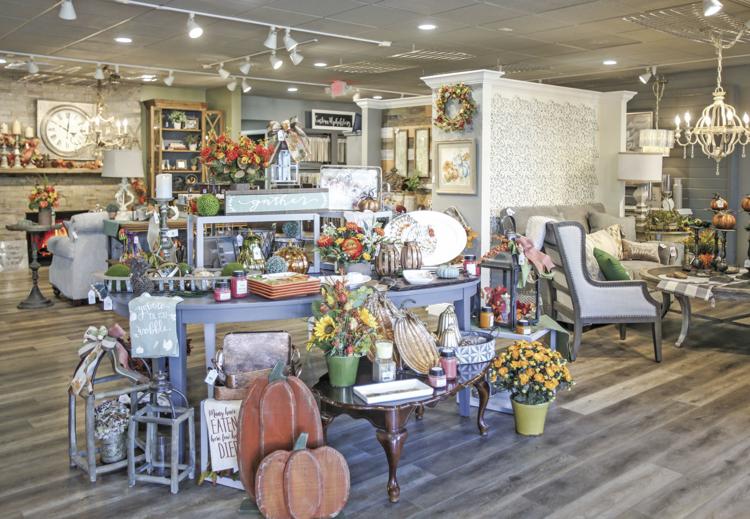 Fast-forward to today, and Blue Dahlia Designs, which opened in late August, is everything the two ever wanted – including the adorable storefront with an effortlessly emblematic door in the entryway and three irresistibly cozy fireplaces inside. The store's offerings include décor accessories, artwork, furniture, a custom upholstery line, gift items, custom artificial floral arrangements, interior design services and at-home consultations.
"Growing up, my mom always talked about this dream of hers," Alyssa Mangan says. "And the fact that it was something I was passionate about as well and that she let me take this on with her and share the dream, it's just been an unbelievable experience. Being able to spend all this time with your mom, who's one of your best friends – I mean, it's the time of your life, making memories with someone that you love."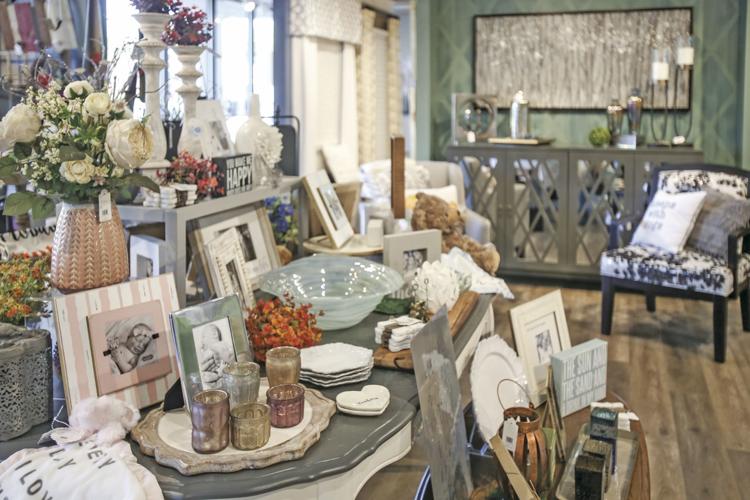 Angie Mangan, while batting away grateful tears, agrees. "I don't know if I would have found anybody that I would've run a business with besides her," she says. "Not saying that there aren't times when we step away – but I really don't know if I would've done it with anybody else."
Among the store's most notable features are the carefully designed and ever-changing vignettes set up around the floor. "We have it styled to where you feel like you're walking into someone's home," Alyssa Mangan explains, "and each turn of the store you make, you're walking into another room or you're walking into maybe a completely different home because it's a completely different look. We're going to be constantly changing the vignettes, so there's always inspiration around the corner."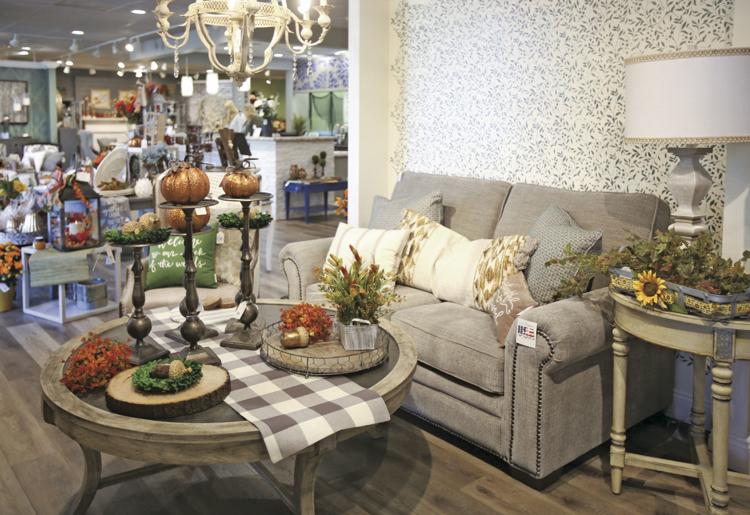 Mixing design styles comes naturally to the duo, with Angie Mangan leaning toward contemporary, colorful palettes, and Alyssa Mangan transfixed by the French country aesthetic. But these drastically different styles make them a stronger team for their customers. The pair agrees that, whether picking out inventory or stylizing vignettes, their talents and skills often feed off of one another to make each and every decision work.
As for the Mangans' interior design services, no project is too small or too large, from bookcase décor to entire homes, and no design style is off limits. If customers just want an encouraging word of advice in the store, this bit of friendliness comes free of charge, but for more in-depth projects or at-home consultations, the team charges $100 per hour. The process begins with a kickoff meeting and a price estimate. "The first consultation's really getting down to what you don't like about your home and what we can do to make it somewhere you love to be," Alyssa Mangan says.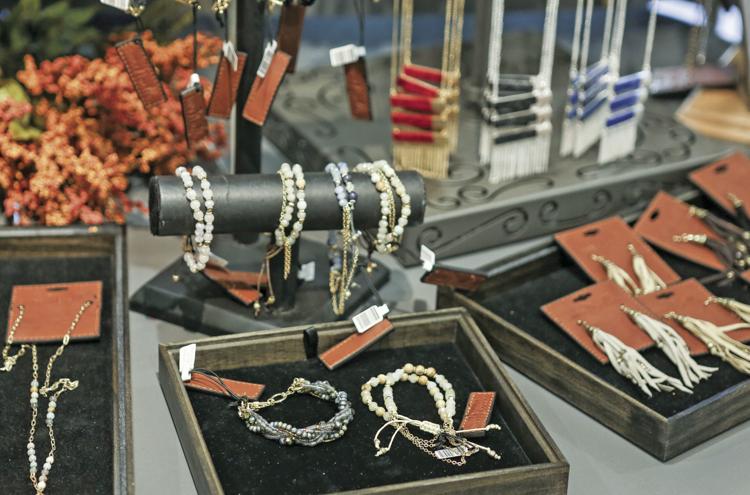 No matter the type of assistance customers need, Angie Mangan says Blue Dahlia Designs is here to help. "We are hoping our store feels homey and relaxing, and if people come in with questions, no matter what their question is, we want to be there to guide them with however they want to do things," the elder Mangan says.
Angie Mangan's sentimentality over helping others love the space they're in is intimately shared by her daughter. "It's bringing someone's personality out in ways that maybe they can't see in themselves," Alyssa Mangan says.
"You're constantly meeting new people, and you're constantly learning different things about other people's lives, and it just awakens you to the world and everything that other people have to offer. It's fun, and to be able to do something that's so fun every day, I mean, it doesn't even feel like a job most of the time."
Blue Dahlia Designs, 7930 Big Bend Blvd., Suite B, Webster Groves, 314-274-8717, bluedahliadesigns.net
Holiday Open House - Nov. 1 to 3
Inspire your holiday home décor with tips from the designers at Blue Dahlia Designs while enjoying seasonal scents, spirits and snacks, as well as the chance to win discounts and prizes.