Top interior designers know how to infuse each homeowner's personality into a truly unique design for a given abode. That's why Ladue News is once again highlighting the best in local inside and outdoor design projects with the Ladue News Design Awards.
Here, we honor this year's skilled and talented winners, thoughtfully selected by a panel of independent judges, in six categories: bathroom, bedroom, dining room, kitchen, landscape and living space.
CATEGORY: BATHROOM | DESIGNER: Amy Studebaker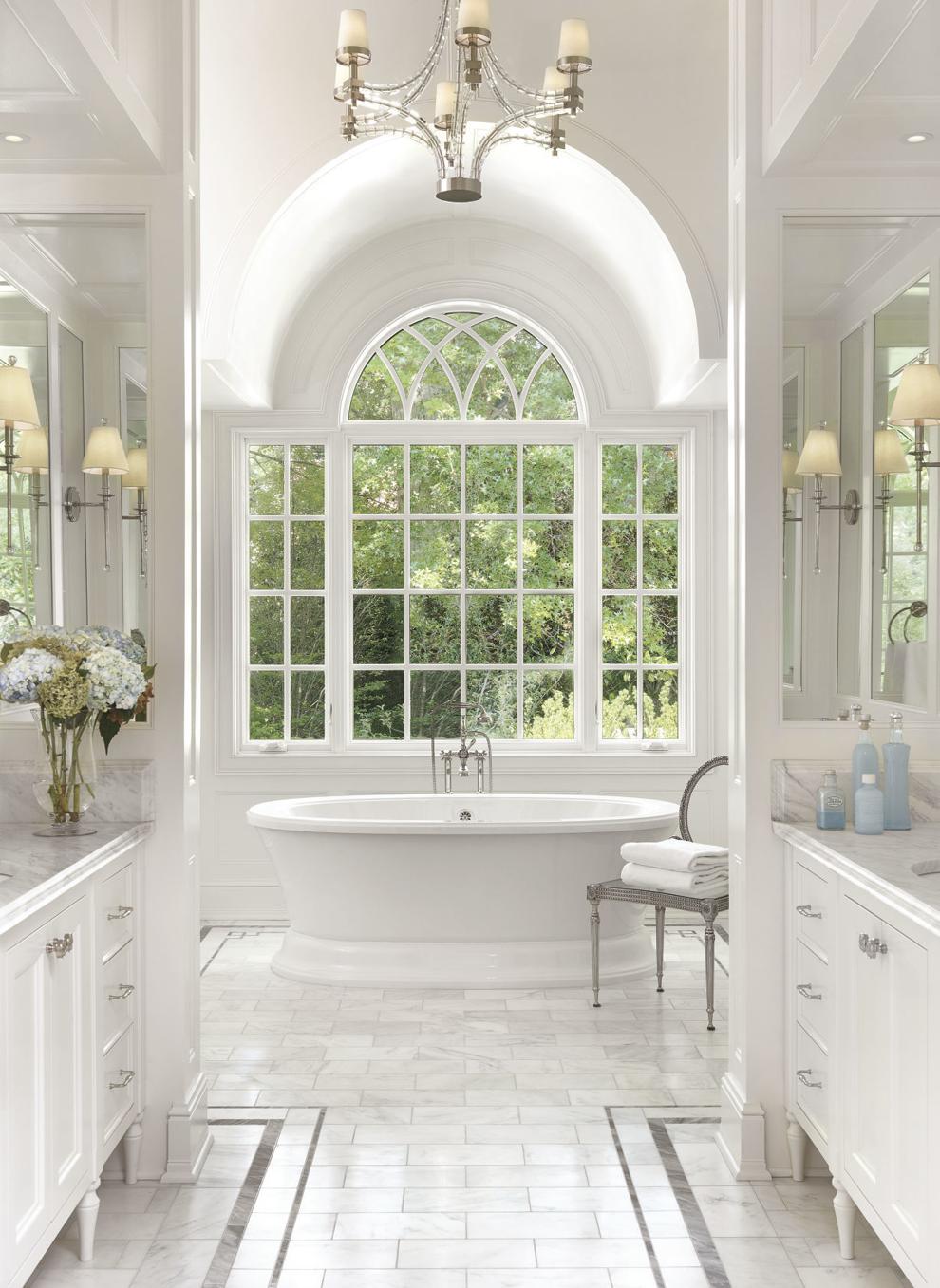 Savor soothing serenity in this marvelous master bath by Amy Studebaker Design.
The St. Louis luxury living design firm chose a bright white color scheme for an all-encompassing experience, from the luxurious white marble floors to the richly detailed white-paneled walls, to accentuate the light and airy vaulted 14-foot ceiling.
Below built-in soffits, his-and-her vanities featuring white marble countertops and custom white cabinetry flank the bath's beautiful focal point: a white freestanding bathtub situated below an arched window lined with a lovely lit inset border. The serene scene is reflected by rectangular mirror panes with chic sconces.
"From studs to finishing details, this suite encompassed a functional and soothing space that our clients feel enhances their daily lives," designer Amy Studebaker says.
Judges loved the light and bright bath, with one noting the "timeless design and quality materials ensure this room will age beautifully."
Amy Studebaker Design, 11614 Page Service Drive, St. Louis, 314-440-0853, amystudebakerdesign.com
CATEGORY: BEDROOM | DESIGNER: Gigi Lombrano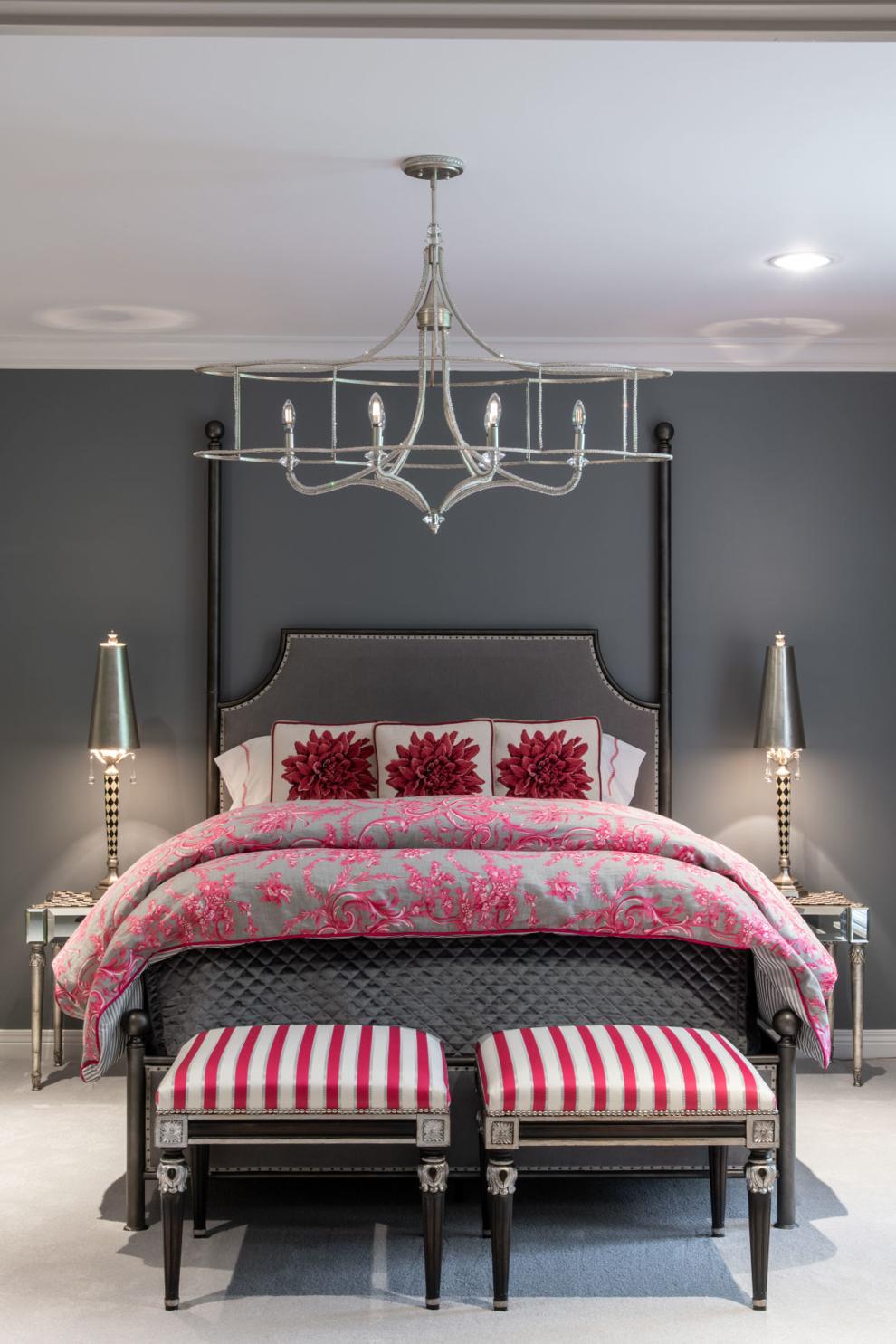 This former boy's bedroom was transformed into a strikingly regal guest retreat for a pair of empty nesters thanks to Gigi Lombrano Interiors.
With a neo-glam design directive, designer Gigi Lombrano went to work refurnishing the room from top to bottom, with an elegant gray upholstered bed accented by lavish red floral bedding and shiny silver lamps and nightstands below a sparkling silver chandelier.
At the bed's foot, splendid stools and an upholstered chair were updated with red- and white-striped fabric, adding more pops of color while tying together the room's sleek design.
"A new [deep gray] paint color gives the room that final finishing touch," Lombrano says.
Judges expressed their admiration for the unexpected neo-glam design, with one emphasizing the uniqueness of the "daring color palette of rich red, gray, black and silver."
Gigi Lombrano Interiors, 314-707-7291
CATEGORY: DINING ROOM | DESIGNER: Laurie LeBoeuf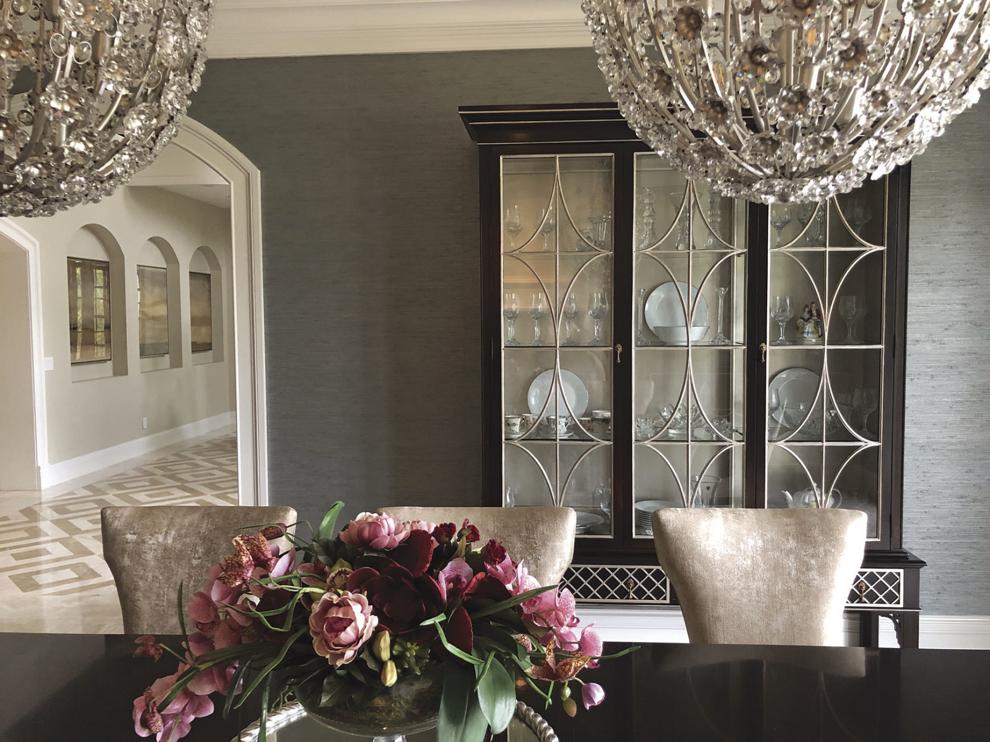 Hollywood Golden Age glamour drips from this dramatic dining room by
Castle Design.
Debuting in a newly constructed 9,000-square-foot home, the Hollywood Regency-style space is grand yet inviting, comfortably accommodating 12 guests.
Architectural embellishments, such as three-piece crown molding, a tray ceiling and traditional archways, perfectly frame the room, notes designer Laurie LeBoeuf.
The stately cast-stone fireplace is flanked by a pair of hickory white walnut servers with platinum and silver leaf details, and the sideboards anchor delicate floral artwork and decorative hand-cut metal sconces, LeBoeuf adds.
For striking lighting, a showstopping pair of crystal chandeliers – Visual Comfort's claret pendants in burnished silver leaf – preside above a custom Century table with a curvilinear base.
In keeping with the Regency style, LeBoeuf added interest with soft reflective surfaces, including the metallic Hartmann & Forbes grasscloth wallcovering and a shimmering custom paint treatment on the ceiling. "Luxe texture is added in the chair fabric and bamboo silk hand-knotted rug, placed over the large-scale Diana Royal marble floor," she says.
A judge comments: "Wonderfully glamorous room! The color palette is beautiful. The chandeliers are stunning and add high drama."
Castle Design, 7707 Clayton Road, Clayton, 314-727-6622, emilycastle.com
CATEGORY: KITCHEN | DESIGNER: Rebekah Moore Murphy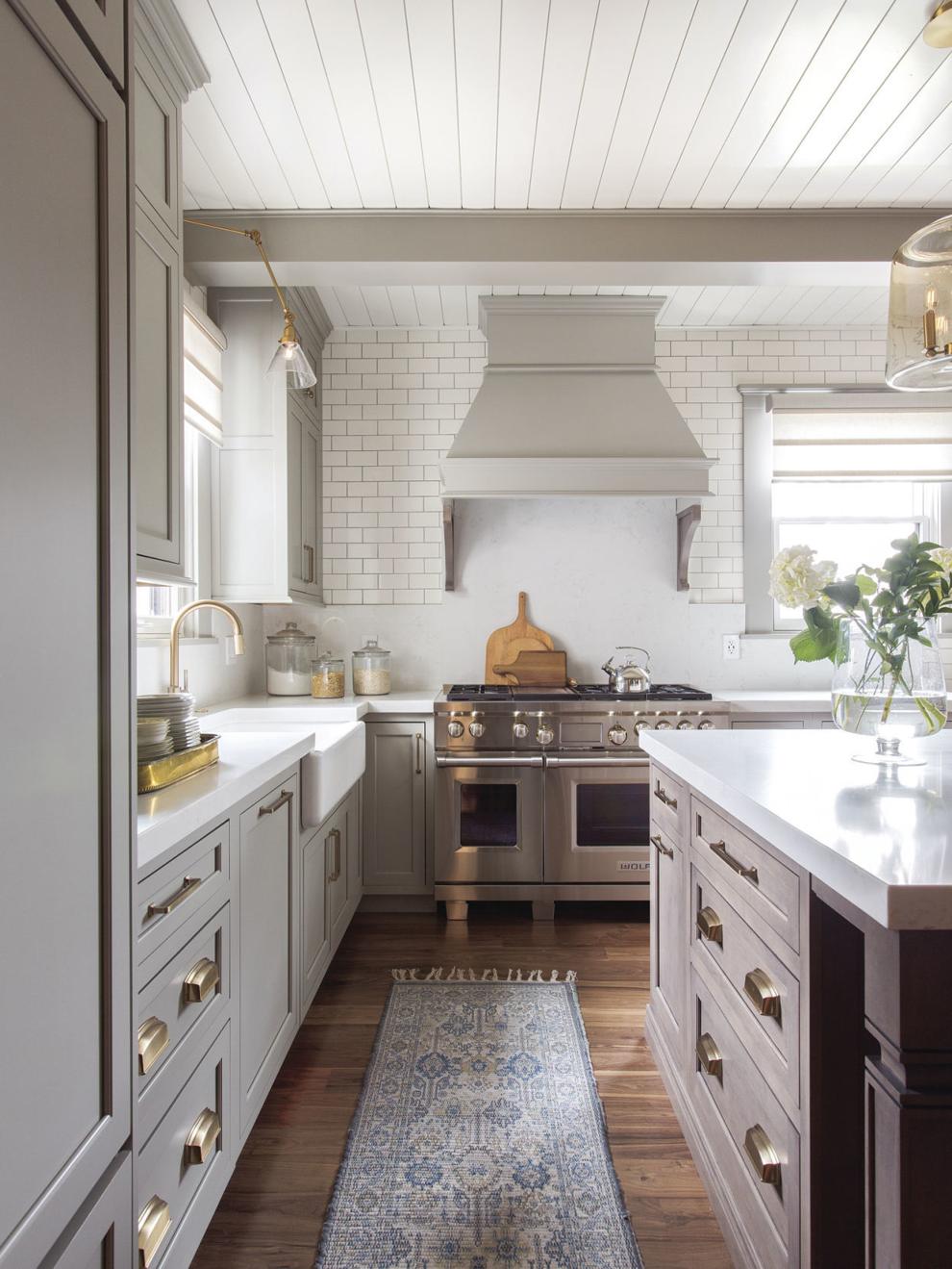 High-end and highly functional, this timeless kitchen designed by Karr Bick Kitchen & Bath graces a more than 100-year-old home.
Designer Rebekah Moore Murphy solved the challenge of a small space by removing the house's three-story chimney and fireplace. The spectacular result was a kitchen double the size, allowing for the homeowners' dream checklist items, from the large Sub-Zero Wolf appliances to the wine column in the bar.
To achieve a minimal aesthetic in the vein of British Humphrey Munson handmade kitchens, Murphy chose soft two-tone colors for the cabinetry, rich wood stain for the dynamic floors and extra-thick, 2-inch marble quartz countertops extending to the backsplash.
"We tiled all the walls in the space for a turn-of-the-century café feel," Murphy says. "The island was designed to feel more like a table, with the square design. A long line of tall pantry cabinets solved the problem of not enough storage. The homeowners confidently say that every square inch of this kitchen was designed for [optimal] function and beauty."
A judge agrees: "The fixtures and especially the appliances are works of art! This kitchen will stand the test of time and may even become better with age."
Karr Bick Kitchen & Bath, 2715 Mercantile Drive, Brentwood, 314-403-7619, karrbick.com
CATEGORY: LANDSCAPE | DESIGNER: Tony Frisella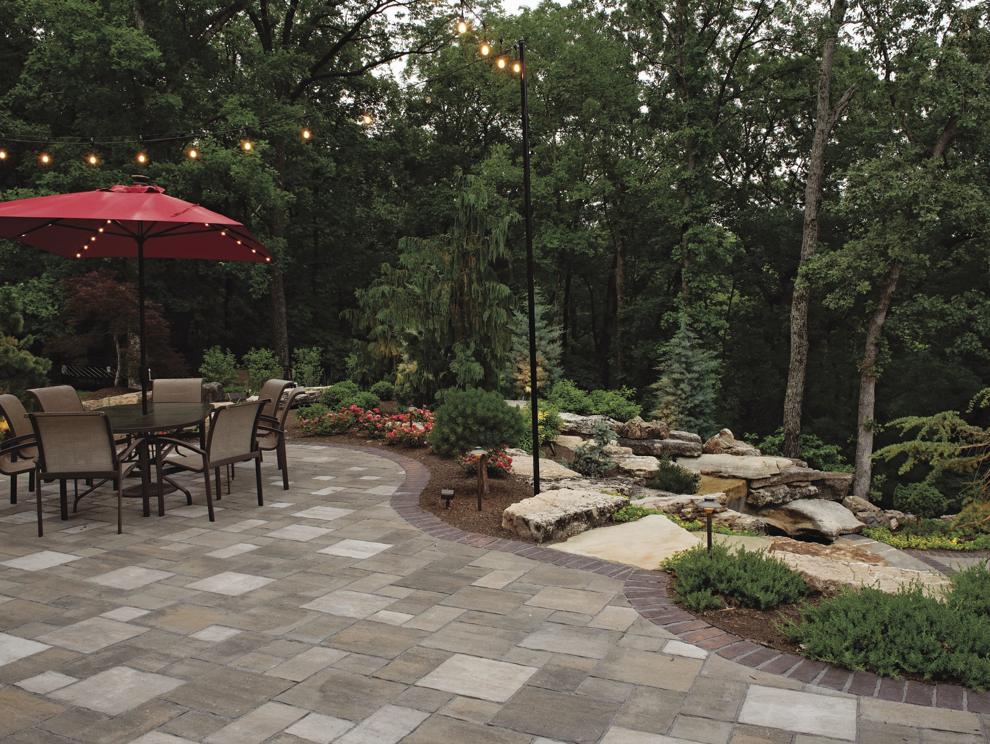 Frisella Landscape Group rose to the challenge of carving a calming outdoor living space into a Wildwood client's wooded, sloping backyard.
The resulting design by Tony Frisella was a three-tiered, lush landscape and entertaining space complete with the state's first residential natural pool, a waterfall, an outdoor kitchen with a raised garden bed, and a gas fire pit lined by built-in seating.
"The construction of two irregular-edge, natural stone stairways are [an example] of engineering and artistic mastery and a testament to the incredible craftsmen we are proud to have on our team," Frisella notes.
Limestone boulder retaining walls strategically support the elevation grade and structure throughout the three levels. And at its stunning centerpiece, the BioNova natural pool looks much like a pond, with a natural filtration system that makes for a satisfying swim.
"We added a stone bench that is hidden beneath the water for ultimate unwinding," Frisella says. "We are thrilled to see [the landscaping] thriving as the plants mature and grow into the space."
Judges expressed how well the project blends into the natural environment, with one noting it's a "tranquil, soothing and overall wonderful space for relaxing and entertaining."
Frisella Landscape Group, 2214 S. Big Bend Blvd., Richmond Heights, 636-798-2555, frisellalandscapegroup.com
CATEGORY: LIVING SPACE | DESIGNER: Jessie D. Miller
Tasked with refreshing a seasoned bachelor's Webster Groves home, Jessie D. Miller created a remarkably modern, masculine living space.
An eclectic mix of furniture and artwork gives the room a genuine collected look. "We incorporated some of his collected antiques and oddities with vintage and custom-made pieces to bring a fresh perspective to his living room," Miller says.
Two seating areas were created with a combination of black leather sofas and unique olive- and mustard-hued chairs, making the space "perfect for parties," a judge notes.
The judges also complimented the perfect mix of furniture and fabrics that gave the living room a collected feel, with one judge commenting: "The pair of classic midcentury leather sofas with silver metal frames have great lines and are perfect for a bachelor's home. The chocolate brown draperies accent the beautiful windows, provide some vertical lines in the otherwise horizontal feel of the space, and tie in so beautifully with the pair of leather sofas and the dark brown mantel piece. What a great room."