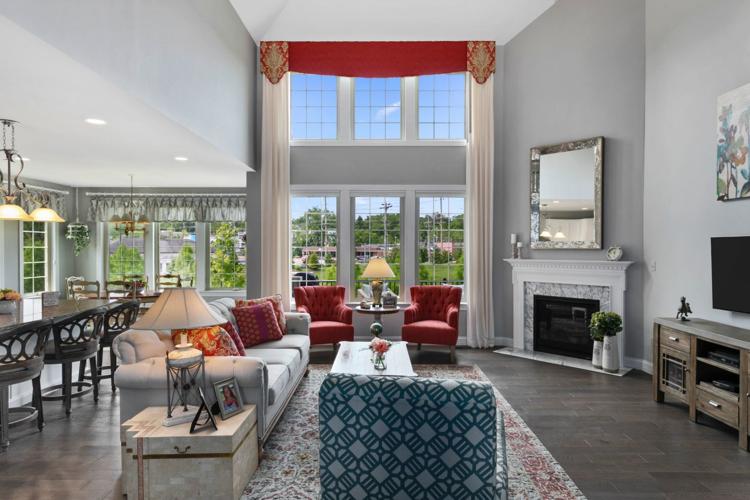 When Bruce Bernstein purchased Sunshine Drapery and Interior Design from its original owner, Les Finkelstein, he did not expect to be managing the venerable window covering firm through a recession. "Our sales and profits had been declining for a few years when I first purchased the company in 2008," Bernstein recalls.
Yet Bernstein not only steered the company through rough economic times but also cultivated new strategies and ensured that, as Sunshine Drapery now celebrates its 50th year in business, the firm is thriving.
"I'm very proud to be this company's second owner," he says. "I've worked hard to 'put the right people on the bus,' as the saying goes."
Bernstein joined Sunshine Drapery as a sales manager in 1996, when the company's primary competitors were the large department stores JCPenney and Sears, Roebuck and Co. and a handful of smaller competitors. With experience as a general store manager for Famous-Barr, a now-defunct division of May Department Stores, Bernstein enjoyed Sunshine Drapery's less complex corporate structure, allowing him to make a quick and immediate impact. "I had the ability to work directly with salespeople and implement ideas at a faster pace, and that's continued," he says.
Taking on more and more responsibilities over time, Bernstein became Sunshine Drapery's president in 2004. Four years later, he purchased both that firm and The Great Cover-Up, another interior design company owned by Finkelstein.
"Over the years, we've seen several changes in the industry," Bernstein reflects. He ticks off a number of notable evolutions in the window covering and interior design field: the advent of big-box stores selling blinds and shades; increasing use of the internet for design ideas and product research; individuals ordering window coverings from impersonal 1-800 number services or online sellers; and an increase in niche-market competitors.
Bernstein's response to these challenges involved commitment to quality and careful choice of narrowing down an array of vendors and stressing exceptional service through all levels of company employees. "We didn't want to go head-to-head with big-box stores and 1-800 numbers – their model was to sell mass quantities at lower prices," he says. Instead, Sunshine Drapery prides itself on exceptional quality, relying on its own team of experienced seamstresses and craftsmen to create its custom orders. "This strategy of using our own seamstresses, not outsourcing, has been and continues to be the backbone of our success," Bernstein says.
Another move Bernstein made was to incorporate shutters into Sunshine Drapery's product mix. "In the late '90s, we would refer shutter business to other companies, but I realized that interior shutters represented a profitable opportunity," he says. "There was no reason that, as a leader of the window covering industry, we shouldn't be in the shutter segment as well. Fast-forward to today – shutters are our top-selling product."
Individuals who shopped at Sunshine Drapery in the past may recall a large showroom chock-full of wallpaper, accessories, area rugs, furniture and thousands of bolts of fabric. Bernstein remembers those days, too, and says it worked well for many years. However, wallpaper lost favor to paint. Importers began selling cheap accessories and furnishings. Customers began shopping online.
Finkelstein and Bernstein, keeping their companies agile and responsive to market trends, closed Sunshine Drapery's retail division and focused solely on providing in-home decorating services. "In-home decorating, without charging an hourly rate, has been the foundation and a key to our success," he says. Sunshine Drapery designers visit clients' homes to advise, measure and review samples.
While the in-home service represents the cornerstone of Sunshine Drapery's current business model, two small design centers, located in Chesterfield and Sunset Hills, provide the chance to view different options and get fresh decorating ideas. "In essence, our customers can come to the store or view our online gallery and then set up their in-home consultation," Bernstein explains. In-home consultations are also set by calling Sunshine Drapery or requesting a consultation through the company's website or visiting one of its design stores..
To ensure they stay current, Sunshine Drapery staff members also participate in regular "think tanks," sharing design ideas and discussing industry trends. New design concepts are mocked up in the workshop, reviewed and then implemented. Fabric vendors also meet with Sunshine Drapery decorators, giving them a chance to see and feel the newest offerings.
"There's a reason we've been in business for 50 years, and we plan to be around for another 50," Bernstein says. "We're committed to making the decorating process enjoyable and easy for our customers, and when someone asks one of our designers to visit their home or business, we view it as a privilege to do so."
Sunshine Drapery and Interior Design, 94 THF Blvd., Chesterfield, 636-812-0155; 10757A Sunset Plaza, Sunset Hills, 314-909-1244; The Great Cover-Up, 9708 Clayton Road, Ladue, 314-995-5701, sunshinedrapery.com