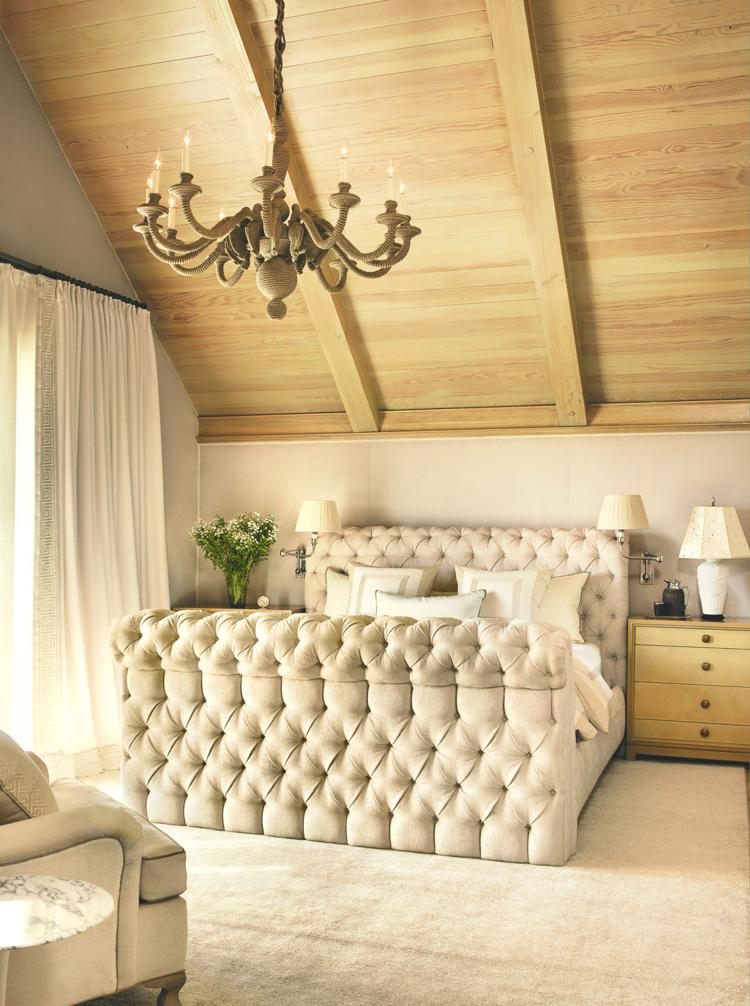 Subtle colors. Silky linens. Soft lighting. To create an ethereal escape away from the hustle and bustle of modern life, Ken Stückenschneider skillfully designed the ultimate serene space in some local homeowners' master suite.
In the newly constructed loft-like space, a white oak vestibule and stairway lead to the spacious master bedroom and airy master bath. Upon this fresh canvas, Stückenschneider – principal designer of Stückenschneider Decoration & Design in Ladue – combined the clients' Zen-like Chinese accessories and chic styles from New York and Paris with his own elegant creations for an ultra-luxurious, calming atmosphere.
Amid the dreamy master bedroom, quiet neutral hues and plush silk carpeting surround its soft, chic focal point: a deeply tufted, cream-colored bed designed by Stückenschneider Decoration & Design. Swing arm lamps, available through Stückenschneider's design firm, adorn each side of the bed for convenient nighttime reading, and a stunning rope-wrapped chandelier, which was made specifically for the project by artist Christian Astuguevieille of Paris, suspends from the vaulted ceiling for dim daytime rays or mood lighting. On either side of the bed, restored 1950s velvety vellum-covered chests by late New York-based German furniture designer Tommi Parzinger lend vintage character to the modern new room. Airy sheer draperies with a Greek Key border design – by Stückenschneider Decoration & Design – balance the expansive bleached pine ceiling.
After a serene slumber in the master bedroom, the peaceful, spalike master bath awaits. The calm color palette continues here, along with handmade Waterworks tiles available through Immerse in St. Louis, honed imperial Danby marble countertops and floors available through Absolute in St. Louis, Kallista faucets from Ferguson Showroom in Chesterfield and nickel hardware by The Nanz Company in New York City, all embellishing white oak cabinetry custom-designed by Stückenschneider in collaboration with master craftsman Brent Hull of Hull Historical in Fort Worth, Texas. To lend character to the bathroom's clean lines, Stückenschneider also added vintage brown- and black-swirled doorknob hardware.
As the homeowners head out for a new day, they descend the master suite stairway amid bleached white oak paneling and a modern print by late New York painter and sculptor Ellsworth Kelly. The staircase rails and newel post – custom-designed by Hull – along with the wide-plank flooring of reclaimed Missouri oak vintage barn boards, infuse history into the new house. Vintage sconces available through Stückenschneider Decoration & Design, as well as a woven seagrass rug bound in distressed leather by Stark Carpet in New York, accessorize the stairwell and its steps.
Upon entering the master suite vestibule, the bleached white oak paneling carries on the retreatlike atmosphere. Like the stairway rails and posts, crown and trim details were custom-designed by Stückenschneider, in collaboration with Hull. The homeowners' collection of Chinese scrolls and Imari porcelain evoke a Zen feeling. And the square-shaped space is accented by a rug made of tent canvas, designed by Stückenschneider Decoration & Design to mimic traditional architectural flooring patterns appropriately scaled to the geometries of the area.
Resting easy in their relaxing retreat, the homeowners agree that Stückenschneider achieved their dream of designing a perfectly peaceful master suite for weekends away from their busy urban lifestyle. "The clients are ecstatic about seeing their vision turn into a reality," Stückenschneider says. "They say they have never slept better in their lives until they moved into this serene space."
9785 Clayton Road, Ladue | 314-726-2000 | stuckenschneider.com