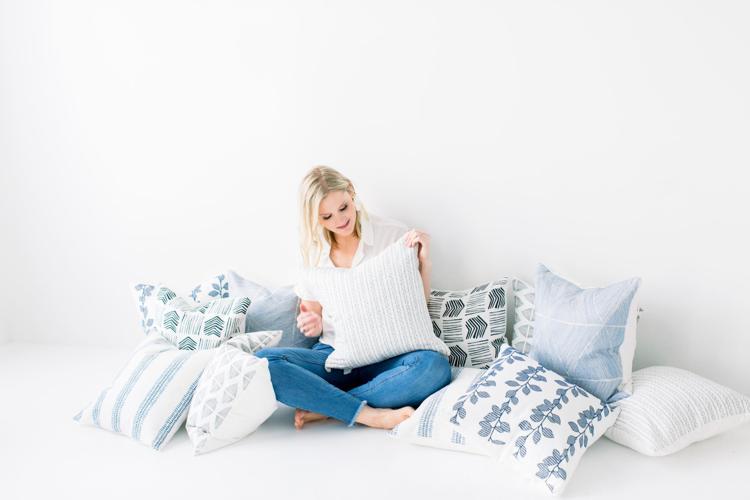 Stephanie Pohlman is bringing a splash of coastal-inspired design to the landlocked Midwest.
More specifically, influenced by West Coast designers like Salt Lake City's Studio McGee, the St. Charles-based interior designer possesses a très moderne aesthetic. "I get my biggest inspiration scrolling on Instagram … and the [trendsetting] designers on the coasts," she says. "My style is coastal chic, light and airy, and I keep it really bright, comfy and cozy, while keeping designs practical."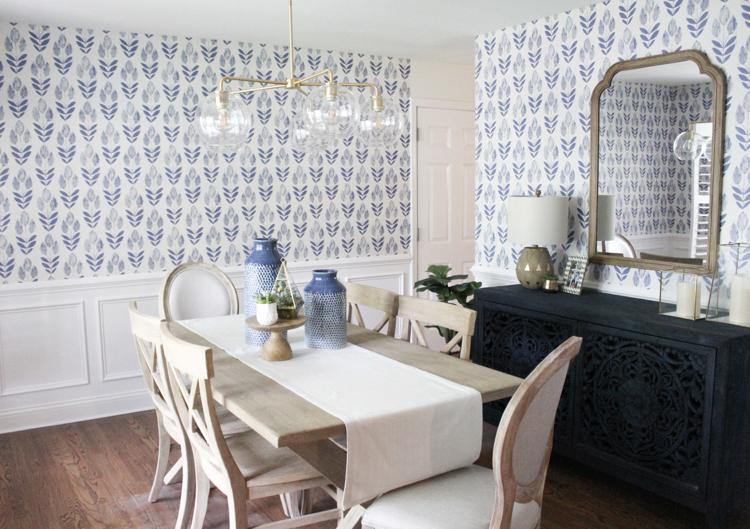 Although she aims for a high-quality designer look, the local mother relates to the need for her designs also to be family-friendly. "My designs are livable," she says. "Most of my clients are young moms who have young kids and need design to be practical – but still pretty."
Pohlman, who has a degree in architectural studies with an emphasis in interior design from the University of Missouri, always had an affinity for such topics. "Growing up, I always loved decorating and rearranging, and at school, I was drawn to projects and stronger at computer classes," she says. "So I almost knew immediately, as I walked through the hallways of [the University of Missouri] and saw all kinds of renderings and drawings, that I would be good at that."
In 2016, the St. Charles native took her talents to a new level, launching her own home-based interior design firm, Stephanie Pohlman Designs, which tackles everything from room remodels to brand-new construction. "I do anything between a one-time consultation where I just come over and give [home design and décor] advice to working from the very beginning of a new build," she says, calling the latter her true love. "My heart really is in the full process. I love working with people who are building from scratch and doing remodels – figuring out the puzzle and reworking the space."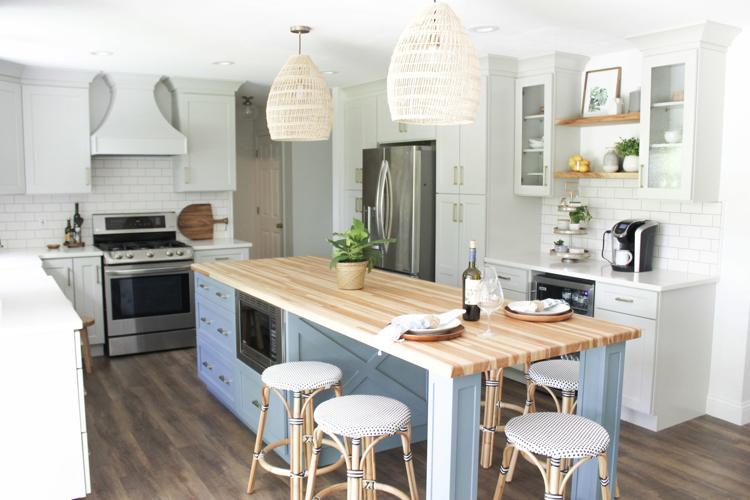 During Pohlman's one-time consultations, which last one to two hours, she offers advice on everything from paint color to furniture layout and décor ideas. For more extensive room remodeling and new building projects, the designer's process begins with getting to know the client through a questionnaire and consultation in order to create an inspiration board, floor plan and budget before hand-selecting and sourcing furniture and accents.
Although Pohlman sources from some large retailers such as San Francisco-based Pottery Barn and Framingham, Massachusetts' HomeGoods, she also loves to keep it local – hence, her own home accessories line, offering collections of locally handmade throw pillows with coastal-inspired fabrics she selects and airy wall art in the form of prints featuring plants by area artist Florelle Rodenberg. "I wanted to create a line so people could get a quick refresh, and pillows and prints are an easy way to redo a room without breaking the bank," Pohlman says. "I went with a coastal look for my pillow and print collections – it's a classic look that will be around for a while."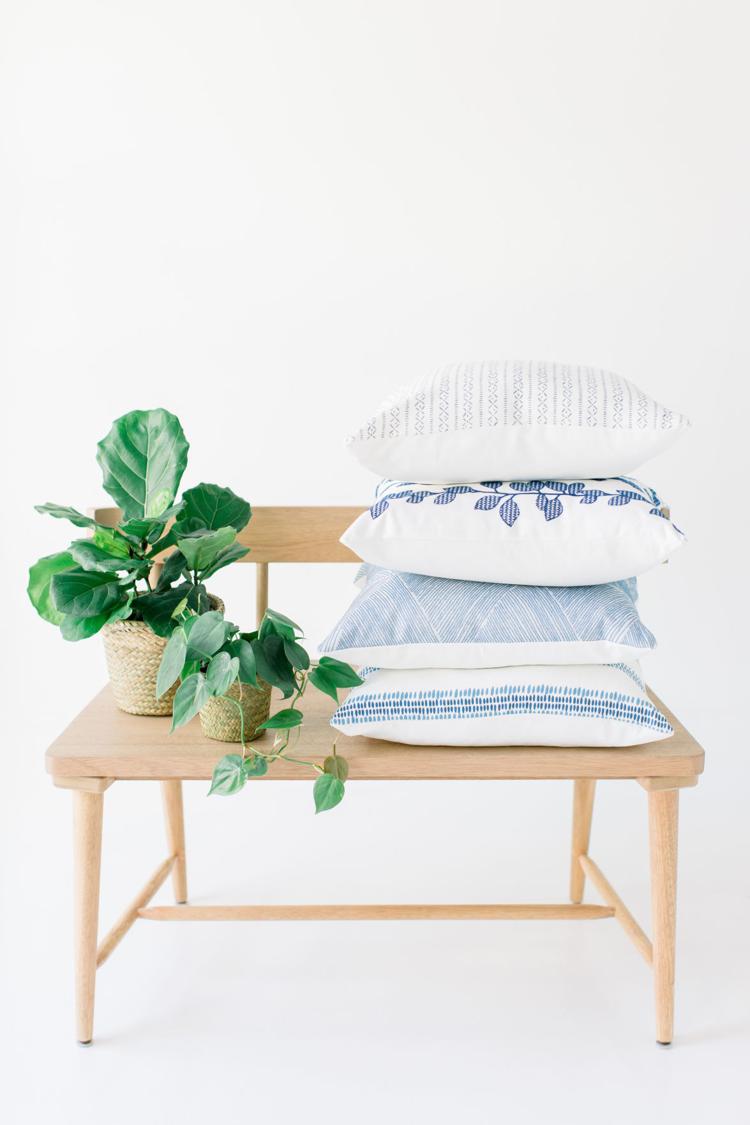 The final step of each project entails that Pohlman complete the installation and professional styling of the space. "I ask the homeowner not to be home on installation day," she says. "It's fun for the client … It gives them something to be surprised by when they get home."
Pohlman has delivered her light, livable design to metro area kitchens, living rooms, sunrooms and master bedrooms, as well as applied her "practical, pretty" stamp to nurseries and girls' bedrooms. "Most of the time, people see me on social media and have an idea of my style and like my style, so they trust me," she says. "Many times, I complete a client's living room, and I'm soon back doing their master bedroom."
For one recent project in Eureka, Pohlman breathed new life into a dated kitchen, giving it a coastal-farmhouse feel with on-trend rattan pendant lights, light gray cabinetry, gold hardware, wood accents and a splash of blue on the kitchen island. "The reason people like that farmhouse look is because it makes it feel so homey with the warmer tones of the wood," she says. "This client wanted a pop of color, but still wanted it to be sophisticated."
Another recent local project illustrates Pohlman's evolving style: a modern, chic master bedroom where she added black, textured wallpaper behind the bed and wooden beams to the vaulted ceiling. "My style evolves so much with each project, so my favorite project is always the one I'm working on right now," she says.
The "big reveal" of every design is a rewarding process, Pohlman says. "Installation day is my favorite part … To see it all come together and see the client so happy – it pays off and makes me realize that what I'm doing is beneficial to other people."
Stephanie Pohlman Designs, stephaniepohlmandesigns.com