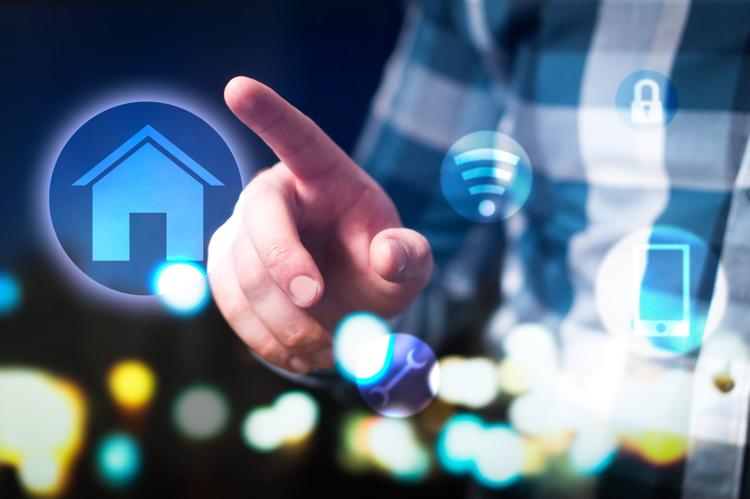 Homeowners can have their house at their fingertips, anywhere, anytime, thanks to the latest advancements in home security.
"The biggest trend is to have your home in your hand – to have control of your home from your smart device, whether it be a smartphone, smartwatch or tablet," says Chris Burnes, president of Burnes Citadel Security, a residential and commercial security business serving the metro area's central corridor since the 1970s. "Most homeowners are opting for the interactive option when they are away from their home."
About 95 percent of today's home security technology incorporates the use of wireless systems and interactive apps, and one of the most popular apps that homeowners are choosing these days is Alarm.com, Burnes says. "We can put a system in their home and integrate it with the Alarm.com app, and that will allow them to arm or disarm their home, monitor cameras, lock or unlock doors and more," he says, noting that remote locks, indoor and outdoor cameras, thermostats and water systems all can be incorporated into the automated safety system.
Aaron Walbrandt, president of Walbrandt Technologies, agrees that the ability to easily arm and disarm your security system as you come and go from your home is a must, as is viewing live video and replaying recorded video from your smartphone, anywhere in the world. "Being able to do this remotely adds a further sense of security," Walbrandt says. "Some clients want to have chimes that go off when a door is opened and text alerts if that door is left open. Others may want video cameras to monitor key areas or the ability to communicate with someone at the front door and let them in by remotely unlocking the door."
Among the current market's do-it-yourself wireless alarm systems are Ring, Nest and SimpliSafe, in which hardware, ranging from about $200 to $500, can be self-installed and self-monitored, avoiding installation charges and monthly monitoring fees of $3 to $30 per month.
If homeowners opt for professional installation and monitoring, local tech companies offer customized systems and plans. And since today's home security systems primarily involve state-of-the-art wireless technology, installation is less invasive and much faster these days, Burnes says: "It can take about an hour for a small system to a couple days for a large system, depending on how many devices are in the house."
Burnes Citadel Security engineers every home security system to fit each homeowner's needs. "It's a custom installation, so it varies depending on the family's lifestyle, what their needs and concerns are, if they have kids or no kids, pets or no pets, and if people are coming in and out of their house," Burnes says. "There's not a one-size-fits-all system."
For example, if homeowners have children, a camera can be installed in their home and linked to an app to monitor the children from afar. "When the kids come home from school, they can wave [at the camera] to let mom and dad know they're home safe," Burnes says. In the case of pets, other security system alterations can be made, he adds. "Some people with pets might not want to put motion detectors in certain areas so the pets don't trigger the alarm to go off."
With Walbrandt Technologies, the installation process starts with a discussion in the client's home – or with a full set of blueprints, in the case of new construction. "We need to know how they plan on using their system and what functionality is important to them," Walbrandt says, noting that installation includes the design, programming and setup on any smartphones, laptops or other devices that will be used to control the safety system. "Then, [we offer] tutorials to all family members and the comfort of knowing that we will be there in case they have any questions or issues."
Bottom line, the best home security system for each homeowner is the one that provides the flexibility and functionality to ensure the entire family feels safe, Walbrandt says. "We realize the importance of knowing your security system is working properly," he says, "and we will do whatever we need to make sure that comfort level is there."
Burnes Citadel Security, 5027 Columbia Ave., St. Louis, 314-771-7275, burnes-citadel.com
Walbrandt Technologies, The Interior Design Center St. Louis, 11612 Page Service Drive, St. Louis, 314-627-0346, walbrandt.com