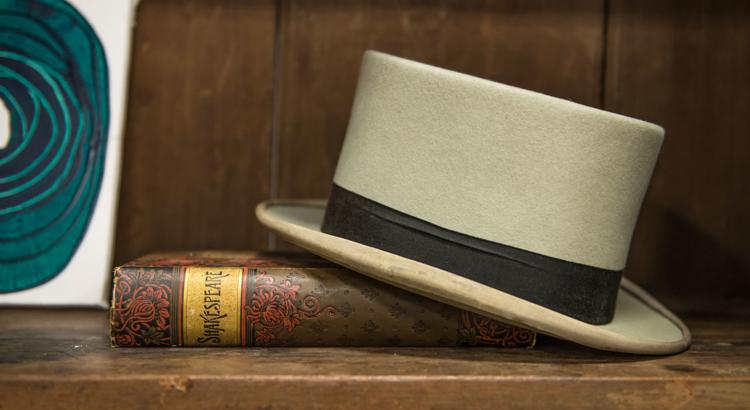 A Tiffany Victorian 14-karat gold toothpick, a late 19th-century English presentation steer horn fitted with silver-plated decoration, a tortoiseshell heart-shaped box and an early 20th-century European brass fireman's helmet are just some of the rare finds a gift-giver can select to send a special someone through The Gift Horse.
The creative personal shopping companion delivers treasures from the curated collection of interior designer David Kent Richardson.
A self-described "high-class hoarder," Richardson has a lifelong passion for collecting unique artifacts with a story – and a knack for knowing who will love them. As a kid growing up on a farm in southeast Missouri among cows, horses, pigs and goats, the local owner of his eponymous residential and commercial interior design company says he didn't even know the field of design curation was a career option. But after developing a taste for fine art and antiques as a young adult, he was hooked on combing collections for himself and others.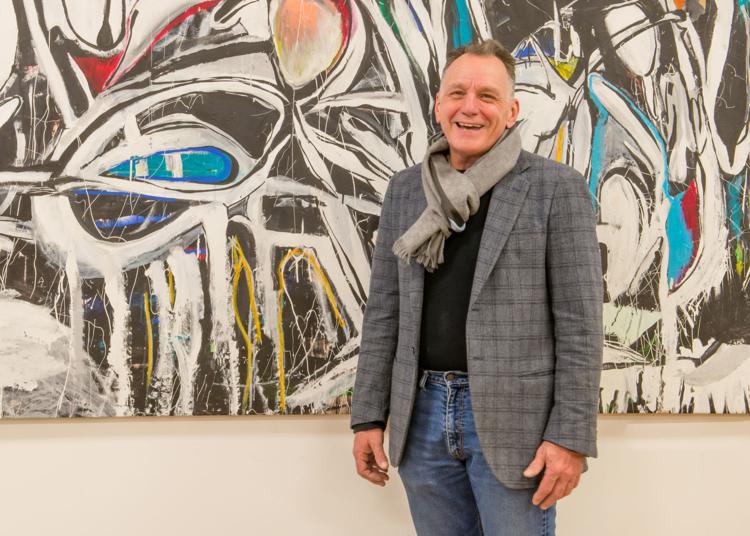 So last fall, Richardson launched The Gift Horse to share his ever-expanding, character-filled collection with area residents.
The Gift Horse allows shoppers to simply fill out a form describing their gift recipient on the company's website, and Richardson searches through his "carriage of curiosities" to pick the perfect present for the recipient's unique personality and interests. "I go through my inventory and shoot some pictures of selections in their price range [he or she] might like," Richardson says, adding that clients provide their preferred price range, and gifts typically range from $65 to $500, with the exception of artwork. "It's something different from a gift basket, more personal than a sweater, pair of socks or gift card."
Gifts are accompanied by a handwritten history of the piece and elegantly wrapped in "just for you"-stamped tissue paper, placed amid shredded black-and-white newspaper, sealed with The Gift Horse logo sticker and enclosed in a craft box or sleek black bag, then hand-delivered to the recipient. "I help ensure you give a gift that stands out from the rest and stands the test of time," he adds.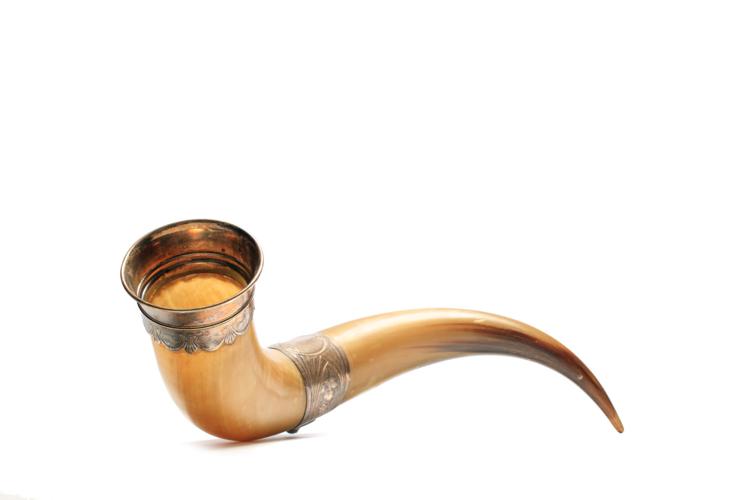 The Gift Horse's uncommon artifacts are mostly locally sourced from area artisans – from jewelry designers and metalsmiths to ceramic and textile artists. "I like to keep it local and utilize the artistic talent that is in abundance in St. Louis," Richardson says.
The extraordinary, ever-changing inventory includes pop art from Ernest Trova, fine art by Ted Collier, contemporary art from Chad Lawson, paintings by Belinda Lee, ceramic pottery by Nancy Holtz, mixed media from Julie Heller and Bryce Ramming, and custom jewelry from Peg Fetter and Laura Marlow.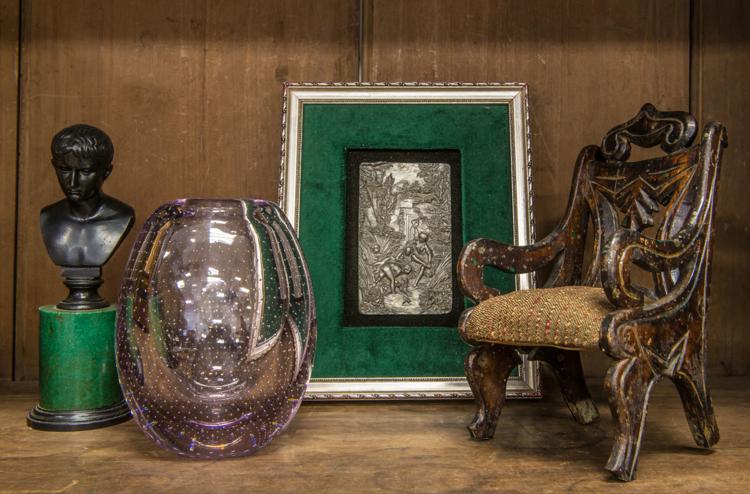 The curated collection also includes antique accessories, accent pieces and vintage items, such as Louis Vuitton upholstered stools, barware sets, sterling silver serving pieces, desk accessories, men's cuff links, leather saddlebags, cigar cutters and ashtrays, hand-painted scarves, hand mirrors, ceramic pottery, handmade dolls, gold-plated dinnerware and hand-stitched accent pillows.
To further enhance the creative gifting experience, Richardson collaborates with award-winning fellow business owners, including restaurateur Zoë Robinson, to offer handwritten cocktail recipes to accompany the cocktail glasses in his collection, and restaurateur Ben Poremba, whose new venture in St. Louis' Botanical Heights neighborhood, AO&Co. specialty market, carries antique items such as vintage ashtrays and teacups from Richardson's rare collection.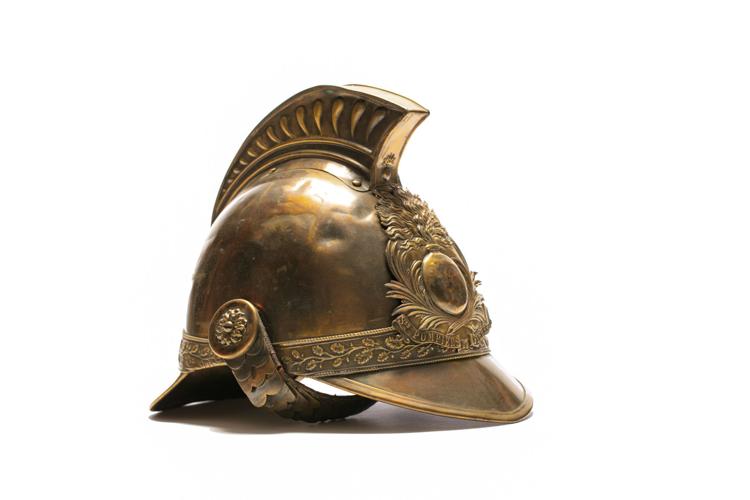 In addition to connecting with The Gift Horse through its website or by phone, customers also can reach out by calling or texting 314-899-7919 or emailing gifthorse@dkrinteriors.com. The retail shop in The Hill neighborhood of St. Louis also is open on select days and by appointment, and customers can check facebook.com/thegifthorsebydkr and instagram.com/the.gift.horse for the most up-to-date business hours.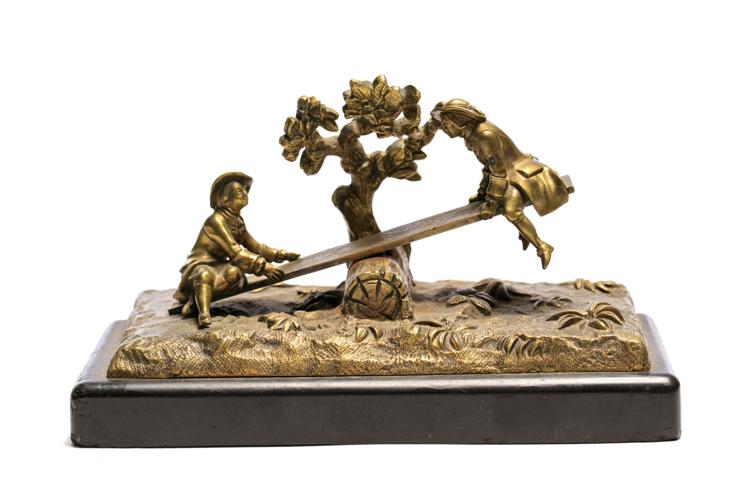 For the new year, the specialty gift store will be adding fresh selections, such as Valentine's Day offerings, including the tortoiseshell heart-shaped box previously mentioned.
"It is important to make your loved one feel cherished on Valentine's Day," Richardson says. "Save the hassle and time without sparing the thought by letting me help you put a smile on your beloved's face! I have timeless objects for the object of your affection."
So whether potential customers need a present for a significant other, family member, friend or hostess, Richardson says they can rest assured The Gift Horse won't be sending out any run-of-the-mill gifts – only the finest accoutrements tailored to the tastes of that special someone.
The Gift Horse, 1923 Marconi Ave., St. Louis, 314-899-7919, dkrinteriors.com/the-gift-horse