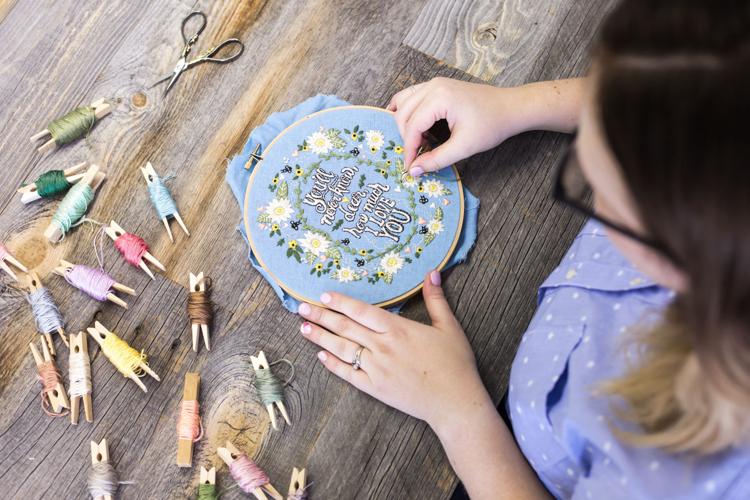 Kristen Gula loves to hear an embroidery needle popping through a piece of fabric – it's the sweet sound of progress as she hand-makes each stitch of a project that could take anywhere from one hour to 12 hours. "It's like I'm painting with thread," the southern Illinois artist says.
Seven years ago, before embroidery was commonly found on social media sites as it often is today, Gula used vintage embroidering books to teach herself the art. "I received an embroidery for my wedding, and I thought, 'I think I can do that – I want to do that!'" she says.
The former copy editor (currently a working stay-at-home mom) learned six basic embroidery stitches: backstitch, whipped backstitch, satin stitch, stem stitch, straight stitch and French knot. From there, Gula began creating her own pieces and posting photos of them online. Soon, friends started to ask for custom pieces and encouraged Gula to sell her work online. In 2013, she launched an Etsy site that quickly began receiving 70 orders a month, and her hand-embroidery business was born.
When Gula began embroidering, she couldn't find patterns that appealed to her aesthetic – all things feminine, fun and floral. So she started crafting her own designs for embroidery hoops and do-it-yourself embroidery kits, all inspired by her own personal style and love of flowers. "I have 10-foot-tall sunflowers in my backyard, and I always have a bouquet on my dining room table, but I'm sad when the flowers die," she says. "With my floral embroidery, you can hang it on the wall as an heirloom that you keep – they are 'forever flowers.'"
Today, Gula's Swansea, Illinois-based Gulush Threads offers designs with a modern take on vintage embroidery, featuring bright, colorful florals and funny or inspiring sayings created from a variety of handmade stitches. "My company name, Gulush, is a combination of my last name and the word lush – because I want my work to be full," she explains.
Gulush Threads' most popular handmade embroidery hoops feature floral borders and bouquets, with sayings such as "Bloom Like a Wildflower," "A Mother's Love Blooms Eternal" and "At All Times Grateful." Additional customer favorites often have a funny twist, including a cat silhouette with the saying "Meow Sweet Meow" and a batch of doughnut-themed flowers featuring the phrase "But First, Donuts."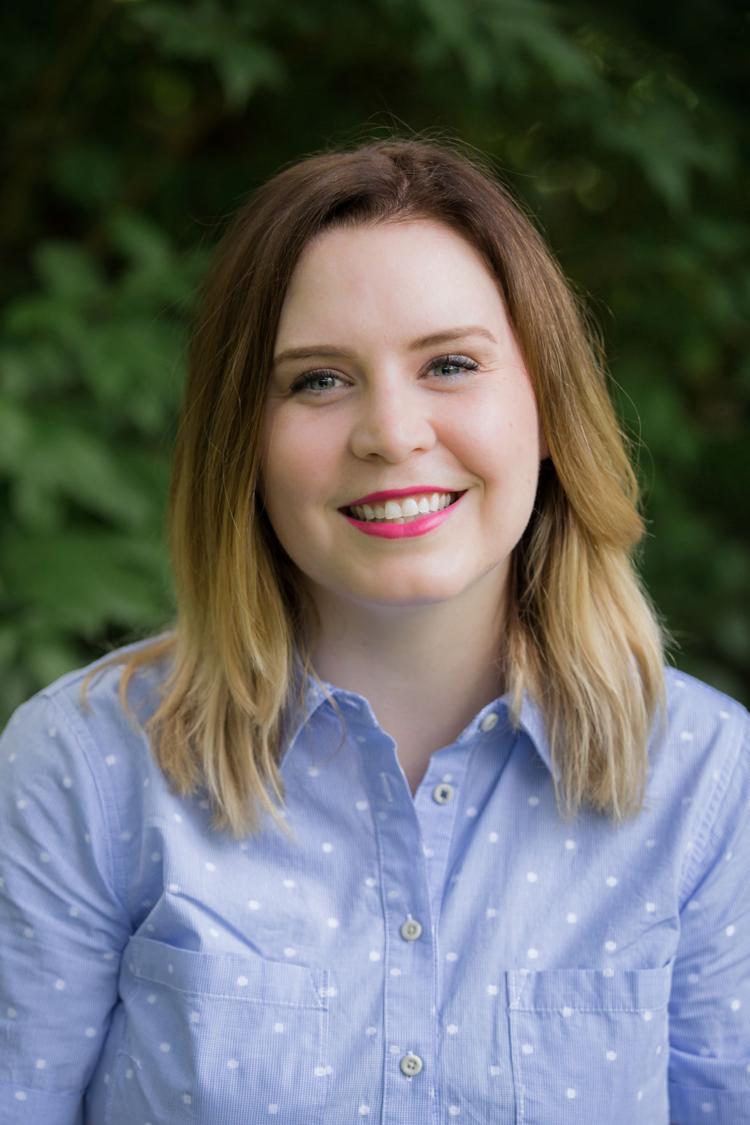 For those who want to try their hand at the art, Gulush Threads offers do-it-yourself kits that include an embroidery hoop, a needle and thread, as well as fabric with a preprinted pattern and stitch guide to follow.
Gula uses threads from international textile giant DMC for all of her handmade creations and also has designed 10 embroidery patterns that were released on Sunday, Sept. 3, on DMC's website.
Through social media and DMC's website, Gulush Threads has garnered a lot of attention – so much so that Gula is writing a book focused on teaching people how to embroider florals, which is set to be released next June through Amazon and major craft retailers such as Jo-Ann Fabric.
The self-made artisan also passes on her passion to others through embroidery workshops at Bowood Farms in St. Louis. "You learn six basic stitches and work on a pattern, so anyone – beginners to [experienced attendees] – can do it," Gula says, adding that classes have focused on embroidering florals and other nature-inspired patterns onto hoops, clothing and accessories.
While Gula is juggling workshops and writing a book – as well as raising two kids (ages 3 and 6) and four chickens – she is offering premade embroidery pieces on her website this fall, with a goal of returning to accepting custom orders for the holiday season. Gula's custom pieces have ranged from florals surrounding a client's favorite hymn to a young girl dancing in a field of wildflowers – and each took about 12 hours to complete. "When you've been working on something for 12 hours and you finish it, it feels like you gave birth," Gula says. "When I sell it, I feel like I'm losing a part of myself, but it makes me feel good to make someone else happy."
Gula also plans to bring back her jewelry line, which includes leather cuffs, and sterling silver rings and earrings, all showcasing hand-embroidered floral patterns.
For the latest updates on Gulush Threads workshops, custom orders and new offerings, embroidery lovers can sign up for its online newsletter or visit its Instagram page.
With two kids, four chickens and a blossoming business, Gula is grateful that an embroidery hoop, needle and thread can be taken anywhere – from her backyard to the park. "I love the possibilities with embroidery," Gula says. "With just six stitches, you can do anything."
Gulush Threads, gulush.com
Gulush Threads Hand Embroidery Workshop
What: Embroidery with Kristen Gula of Gulush Threads
When: Sun., Sept. 17, 1 to 4 p.m.
Where: Bowood Farms, 4605 Olive St., St. Louis
Cost: $40
Reservations: Call 314-454-6868 to reserve your spot; seats limited to 15; all skill levels welcome
Information: 314-454-6868, bowoodfarms.com