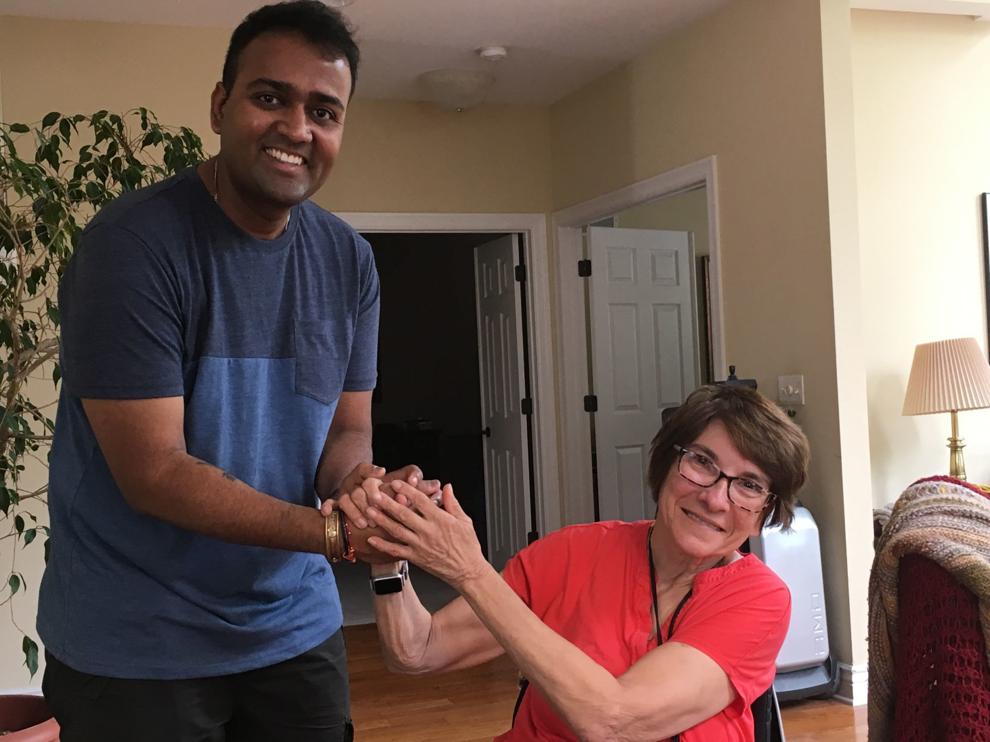 On meeting them, you wouldn't assume that Nagesh Khanvikar and Sally Lorino are roommates. The young, broad-shouldered Khanvikar, a graduate student from India studying at Webster Groves' Webster University, and Lorino, a petite, retired associate dean of communications there, are certainly an unusual pair. Yet their arrangement, through Odd Couples Housing, benefits each of them financially and has resulted in an unexpected friendship.
Odd Couples Housing, a unique new service, pairs older metro area homeowners who have space available with responsible younger adults who need affordable housing. Khanvikar and Lorino are among the first matches made since the 2017 start of the program, which has performed 10 since then. However, interest is quickly increasing, says Steve Lilly, the company's president and CEO.
"Our target homeowners are empty nesters and active adults with an extra bedroom who are living independently in their homes," Lilly says. "Our target seekers include young adults either in graduate school or in the workforce searching for an alternative, more affordable form of housing. There is also a third group [who] have expressed great interest. They are the 'gatekeepers,' who may be children, friends or advisors of the homeowners that assist in the living decisions of the older adult group."
Similar housing options have seen success across the country. This unique service provides homeowners some assistance with regular household chores and social connections through living with a younger adult. Meanwhile, the younger adult seekers benefit from an affordable housing option and building a new relationship with the homeowner. "Every match is different, and the sharing of costs is customizable to fit the situation," Lilly says. "It's really a win-win for both parties in the relationship."
Brian Carpenter, an Odd Couples Housing board member, is a professor of psychological and brain sciences at Washington University in St. Louis. He conducts research on the clinical psychology of aging. "[Carpenter's] research shows that our population is aging at a rapid pace, and most active adults prefer to remain living in their homes for as long as possible," Lilly says. "Odd Couples Housing provides this group of adults with socialization and some additional cash to help with expenses in the form of a younger adult housemate."
Lorino learned about Odd Couples Housing after a neighbor heard about the organization at a Rotary Club meeting. "Once I contacted Odd Couples Housing, the process was easy," she says.
Compatibility is the greatest concern for both parties, Lilly says, adding, "This is addressed through the matching process and face-to-face meetings that we facilitate before a living agreement is established." A matching algorithm, similar to those used for popular online dating sites, matches individuals who have similar personal preferences.
The process is straightforward, according to Lilly: "Once you sign up and create a profile, the website will suggest matches for you based on a compatibility score. You can then choose to match with someone, and if they choose you, there's a 'matchback.' Finally, we help facilitate meetings and execution of a housemate agreement that both parties sign."
Your profile is meant to elicit the best-possible compatibility results. "People who sign up rate their own personality traits," Lilly says. "They also indicate specific preferences for a roommate, which guides them toward the ideal match. We also suggest background checks – we work with a national firm, or users may choose their own firm for this service."
Monthly expense-sharing amounts are recommended, but can vary for each situation. Some homeowners agree to accept a lesser amount in exchange for specific household duties – such as cleaning or gardening, to be performed by the seeker – and all terms are detailed in the housemate agreement facilitated by Odd Couples Housing.
"The housing stock in St. Louis is strong, and at the same time, there is a shortage of graduate school housing at many of the local universities," Lilly says. "In addition, many young adults new to the workforce have student debt, so they are always looking for affordable housing. With a surplus of nice housing available in this area, the matching of these groups of people seems to fill a need."
For Lorino and Khanvikar, the benefit is much more than just extra cash in their wallets. "Nagesh and I started our relationship in November [2018] and have become good friends," Lorino says.
Odd Couples Housing, 314-925-2003, oddcoupleshousing.com