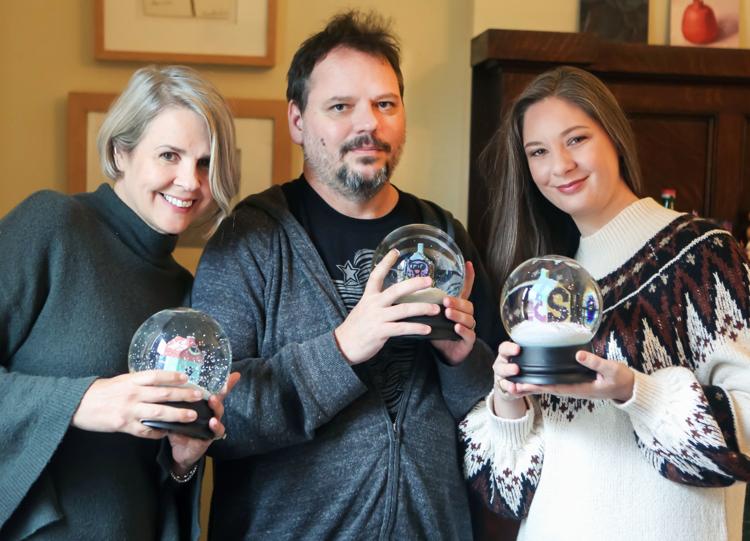 The venerable snow globe – displayed on grannies' shelves and in other cozy domestic niches nationwide for quite some time now – is undergoing a major new-millennial update through the efforts of a trio of local entrepreneurs.
Lisa Donahue, Karl Stiefvater and Amy VanDonsel officially introduced Snow Day, their new endeavor, with a launch party last month focused on reimagining the grandmaternal trinket.
VanDonsel sketches the origin of Snow Day and its offerings, which rely on photogrammetry, head-scratching high technology involving not only optics – the science of light and vision – but also bundle adjustment, orthorectification and that perennial crowd-pleaser, the Levenberg-Marquardt algorithm.
"In 2012, Karl made a snow globe as a surprise gift for his wife, Lisa [Donahue], featuring their home," VanDonsel says of her fellow Snow Day co-founders. "He documented his process and shared it with others online as a DIY [do-it-yourself] tutorial. The tutorial caught the interest of blogger, journalist and science fiction author Cory Doctorow, who published it on [the website] Boing Boing.
"Every holiday season since, Karl has been getting emails from folks who are delighted by the tutorial but don't have the time, resources or skills to create a custom snow globe by themselves, and many ask Karl if they can just pay him to do it for them. And so a business was born!"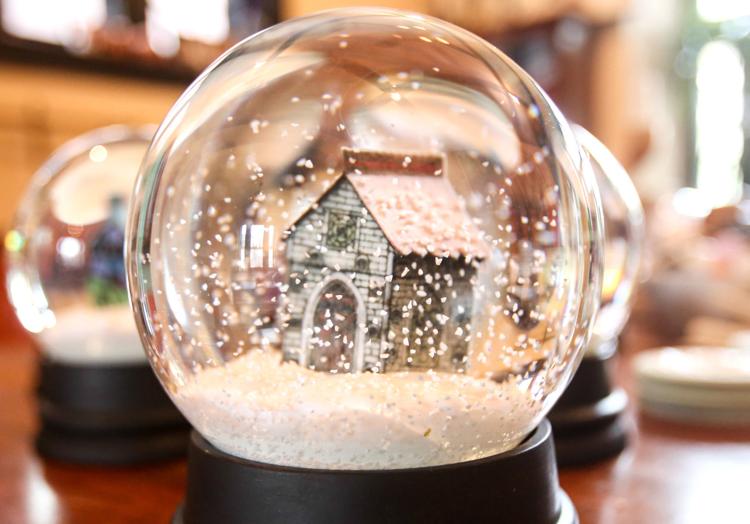 A custom Snow Day snow globe costs $300, VanDonsel says, with each additional globe of the same design running just $100. For the nonce, the endeavor's website lacks full e-commerce capacity, with a shopping cart and similar felicities, but VanDonsel anticipates that will change directly: "We have an Etsy shop set up at etsy.com/shop/snowdayproject, and we'll be integrating the shop with our website very soon."
The four-step process of photogrammetry yields new-age snow globes showcasing subjects like homes, landmarks and such un-grannylike objects as a 4 Hands Brewing Co. City Wide beer can nestled in a small drift.
"The snow globes range from 4 to 6 inches in diameter, with glass domes and solid wood bases," VanDonsel says. "The custom 3D print lives inside, and the dome is filled with a top-secret liquid and equally confidential 'flitter.' Flitter is the official name of the flakes of matter floating inside a snow globe, and the compositions of a snow globe artist's flitter and the liquid it floats in are carefully guarded industry secrets."
From customers, VanDonsel relates, Snow Day's globes "use turntable videos to showcase the 3D scans from all sides, which may give the illusion that the interiors are rotating." She continues: "Once we receive the video, 3D scanning takes a few hours of work in software on the computer. The scan is sent out to our printer, and it could take up to a few weeks to receive the finished print. Then, snow globe assembly takes a few more hours, as there is some wait time involved in the process."
VanDonsel also details a few niceties involved in the creation of Snow Day's globes. "Right now, thin, skinny things are our biggest challenge to print in 3D, although we'll soon be experimenting with a new material that might make that much more doable," she says. "As such, a bicycle wheel wouldn't be a good subject, but a bicycle seat would work just fine.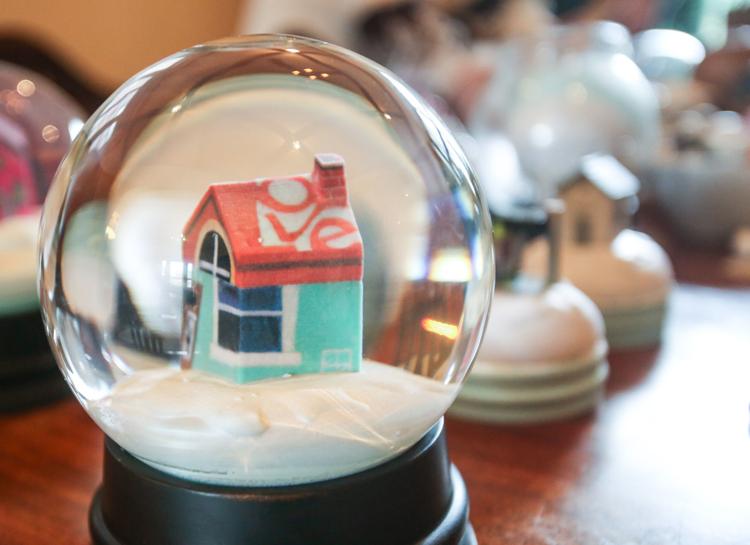 "People and animals are a challenge that the technology hasn't fully met yet, but we're working on solutions for that. The more information we have about a subject, the better, so we prefer to work with a video of the subject which captures as much of the subject's surface from as many angles as possible.
"When it comes to buildings and landmarks, we can sometimes source aerial data from Google Earth, and if needed, we also match our customers up with drone operators who can capture custom aerial footage of the subject."
VanDonsel's descriptions might tempt one to speculate that she and her co-founders have variegated backgrounds, a speculation she confirms. Previously, for example, the Stiefvater-and-Donahue husband-and-wife team co-founded the funky art-based smartphone application Pikazo, previously featured in Ladue News.
VanDonsel continues that Stiefvater worked both on the 2006 classical Greco-Persian war film 300 and on the Matrix science fictional cinematic blockbusters – the latter of which, not coincidentally, involved photogrammetry. His installation, "the waterworks," was also displayed at SIGGRAPH, the distinguished tandem annual Association for Computing Machinery event.
"Lisa minored in theater and got her start in Silicon Valley riding a motorcycle and working in a pool hall while becoming very, very good at breaking software," VanDonsel likewise notes impishly. "So she started working in quality assurance and moved into project management.
"I started my professional life as an apprentice scenic artist at The Muny theater, have an ever-evolving personal art practice and now work as an information technology consultant." With a smile, VanDonsel adds, "Techy snow globes make perfect sense for us – we're artsy nerds."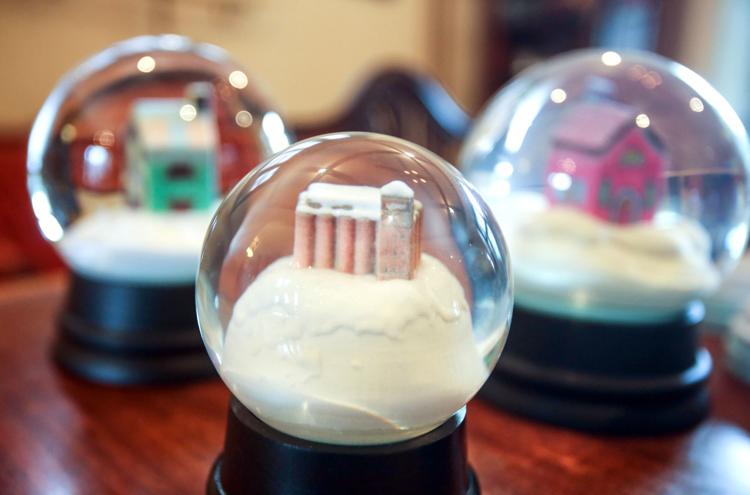 Finally, VanDonsel fields a question involving folks congenitally averse to snow. (Yes, Art Hill sledheads – unthinkable!) Specifically, will such folks be able to commission nonsnow globes from Snow Day?
"In the very near future," VanDonsel says. "We've been concentrating on traditional snow – or white flitter – for our first holiday season, but we have dreams of globes of all kinds.
"One thing we're excited to develop next is custom flitter, where we also 3D-print tiny objects that swirl around the globe instead of snow. Think hearts for Valentine's Day, pumpkins for Halloween, kittens for 'Caturday' – the possibilities are infinite!"
Snow Day, 314-737-2144, itsasnowday.com