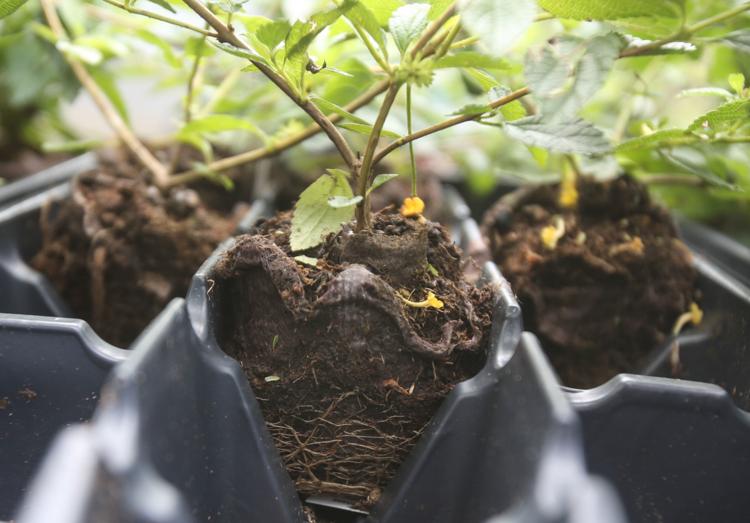 "One step up and two steps back."
That common phrase, immortalized in a 1987 ballad by Bruce Springsteen, forms the core of a longstanding horticultural problem Maypop Coffee & Garden Shop is seeking to solve.
Specifically, the containers long used in gardening and landscaping have involved plastic, humanity's dangerously overrated cost-cutting panacea, which a release from that Webster Groves business characterizes as "contaminated." That state of affairs has complicated recycling such containers – which, in turn, recently led Maypop to launch a plastic-free plant line amusingly christened No Pot, No Problem.
Instead of plastic, a breathable, biodegradable material encases No Pot, No Problem plants from Maypop. "Imagine a brown paper towel wrapped around the roots," the shop's release states, "and you won't be that far off."
Although local, the No Pot, No Problem initiative can lay claim to global roots. That is, according to the shop's release, the initiative's inspiration came to Tammy Behm, Maypop's owner, while she was attending industry summits in France and The Netherlands (as well as Washington, D.C.).
"Most of us at Maypop have been in the horticulture and retail garden center industry for five-plus years, so we've seen firsthand how much waste is generated," Laura Caldie, Maypop's marketing director, relates about the initiative. "Even with the best of intentions, when a site is large-scale, it can be very difficult to manage that waste properly.
"To me, it always felt painfully ironic that the whole point of our industry is the beautification and conservation of the planet, yet we're contributing so thoroughly to degrading it at the same time. The Maypop team feels this is the right moment and place to cultivate a solution. Our footprint is on the smaller end, and our community is strong, so we're hopeful that this will make a big impact and inspire a global change."
Technically, of course, the No Pot, No Problem initiative ranks as new wine in an old bottle – or perhaps more aptly, a new growth in an old garden. As early as 1970, that is, an extremely popular horticultural encyclopedia edited by E.L.D. Seymour described efforts to improve garden-related containers by using compressed peat moss, waterproof flexible cardboard and roofing paper.
The first container category, according to the Seymour reference, worked well "for starting plants that do not like to have their root system disturbed when transplanted. They retain moisture and the roots easily penetrate their walls, which become soft and disintegrate into the soil when they are set out in the ground."
Paper and similar pots, meanwhile, proved useful "for growing (and especially for shipping) young plants, such as vegetables and annual and perennial ornamentals. Made with interlocking but easily opened bottoms, they too can be left on the plants when they are set out so as to keep the root ball intact. The rim, if allowed to stand slightly above the soil level, helps ward off cut-worms. Some kinds of paper pots will in time break down and let the roots spread into the soil."
Caldie cheerfully confesses to no knowledge of such earlier containers but expresses unbridled enthusiasm for the Maypop initiative.
"I can't speak to the history of plant pot development," she says, "but I have seen the [No Pot, No Problem containers] up close and personal. They seem very flexible and do a great job of holding the soil in, but also letting the roots through.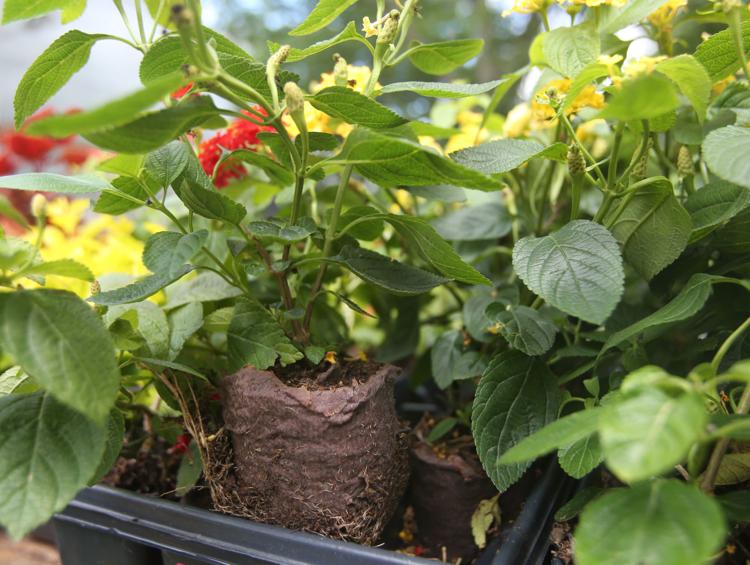 "With a conventional plastic pot, the roots will wrap in circles and constrict inside the pot, which is not ideal for plant health over long periods of time. We've definitely seen healthier plants in the landscape as a result of planting out some of the No Pot, No Problem line on-site." As an extra felicity, she adds that users needn't remove the containers before planting their purchases.
Caldie also briefly dwells on annuals and perennials that have taken well to No Pot, No Problem or that have drawn the most notice. "Some of our best-selling annuals, such as lantana, Angelonia and sunpatiens, have continued to be popular items in the potless section," she says. "I think the ones that like drying down in the soil a little more are most adept to this method, but that's not how we make our choices.
"As far as perennials go, coral bells have been a really great fit. Those can be really hard to find from growers in small, affordable sizes, so customers seem to enjoy the extra option."
If containers like those in the No Pot, No Problem initiative have been taking a long, long sabbatical during this period of conspicuous consumption, their resurgence may well mark the start of a large ecological correction. "I would absolutely agree that this type of container technology was widespread in the past," Caldie says. "Plastic is a relatively new invention, and plants sure aren't."
In that light, Maypop is urging devotees of No Pot, No Problem to draw attention to the initiative by hashtagging its name across social media – in hopes of inspiring greater knowledge and use of such eco-friendly alternatives to plastic pots.
Caldie also reports a favorable initial customer response to No Pot, No Problem. "On the whole, people seem really receptive to the idea," she says. "There can be a little bit of confusion about how to get the plants out of the tray. Just pull on them – it's OK! But once you clear that up, they're generally pretty excited.
"A lot of folks take pause because they've never even thought about how much plastic is involved in horticulture. The plastic bag and single-use water bottle tend to be more the poster children of unsustainable consumerism, but plastic waste is prolific everywhere."
Almost as an afterthought, Caldie adds a final felicity of No Pot, No Problem: "One thing we've also heard from people is that the lack of a pot helps them keep from procrastinating on planting, which is always a good thing!"
Maypop Coffee & Garden Shop, 803 Marshall Ave., Webster Groves, 314-764-2140, maypopshop.com