"I came out of the womb wanting to be an interior designer," declares Marcia Moore, and that delightful declaration speaks volumes about her both professionally and personally.
Moore serves as the owner and principal designer of Marcia Moore Design, one of the metro area's preeminent full-service, luxury residential interior design firms, which takes as its tagline "Intelligent Design. Signature Style."
"When I was little, I would rearrange the dolls on my dresser, was excited every time we moved because I got to create a new bedroom, read every design magazine and book I could get my hands on," Moore continues by way of providing background on a career now in its third decade. "I had a few fleeting moments of wanting to drive race cars and be an archaeologist, but design has always been my first love."
Among major influences on her work, Moore mentions familial connections. "I had an aunt and uncle who were antique dealers, so I got my appreciation of history from them," she says. "My parents were more into the Scandinavian look, whose clean lines were the direct opposite of most antiques, which gave me my appreciation for more contemporary, midcentury-modern and minimalist design.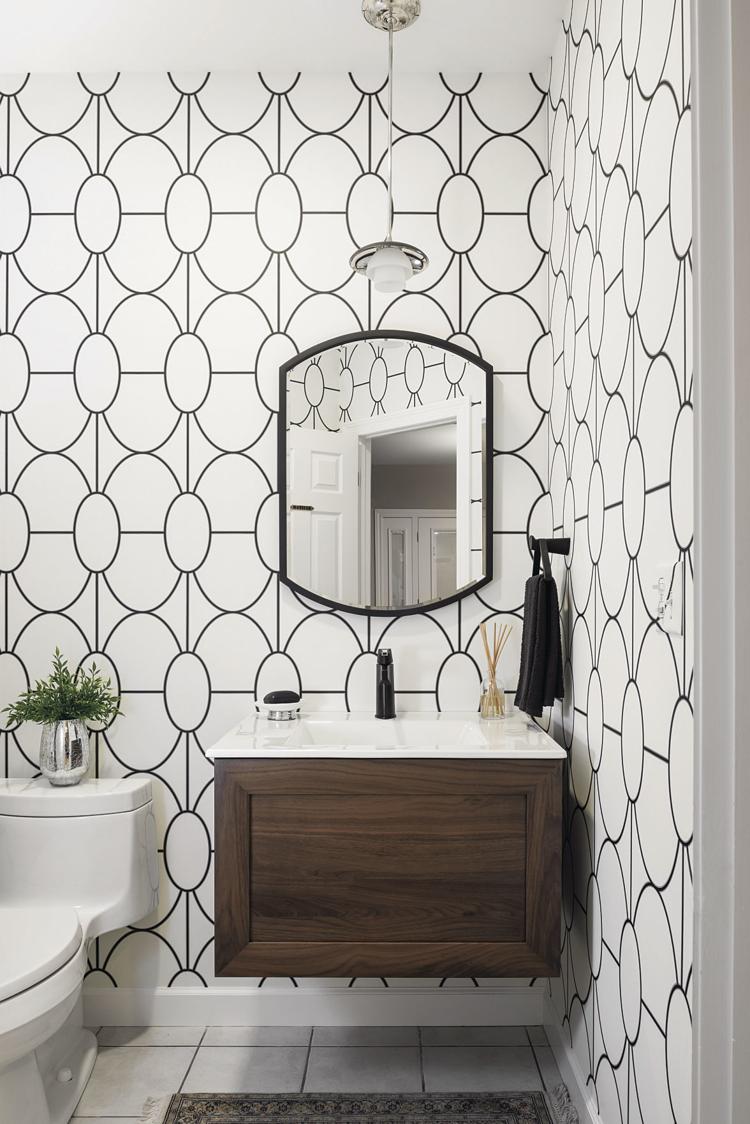 "Studying art, architecture and design history exploded my desire to understand and create interiors using elements of every design style. More recently, traveling to France, Spain, Greece and Turkey has given me even more of a worldview of design. My personal style is very eclectic and edgy, which has been molded by all of these experiences."
Beyond its namesake, Moore's firm comprises only five members, according to its website, but that relatively small team customarily tackles a large array of services, including additions and downsizing, whole-house remodeling, designing new homes, and designing and remodeling kitchens, baths, lofts and condos.
From the list of her firm's manifold offerings, Moore cites no single service as a personal favorite. "There isn't one service that delights me more than another," she says. "I would be totally bored if I had to choose just one area to concentrate on.
"What truly delights me is the variety of styles and spaces I get to work in. I love a complete home remodel as much as I love new construction. I love a tiny powder room as much as I love a huge master bath. I love midcentury modern as much as I love modern farmhouse or country French or art deco. The variety is what keeps my creative juices flowing."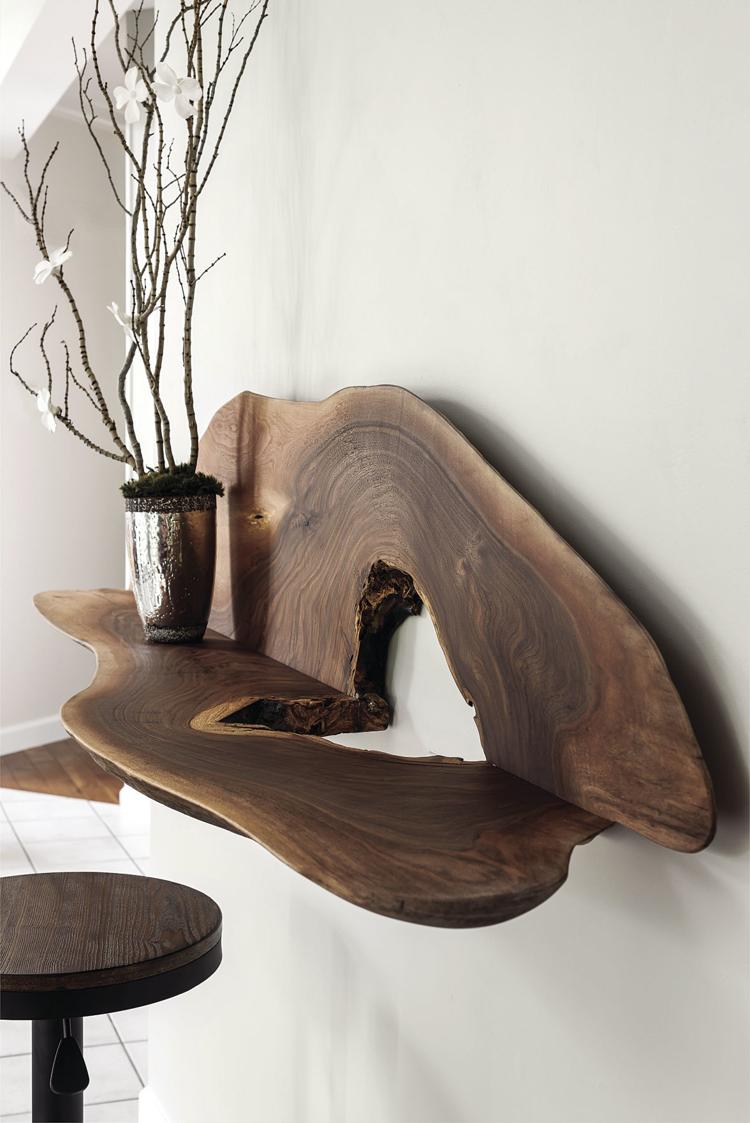 Among her firm's latest endeavors, Moore – an associate of the American Society of Interior Designers – focuses on one quite close to home as the most stimulating. "I've had lots of interesting residential projects recently, but the most challenging project right now is a commercial office remodel," she says.
"We will be moving to a larger office space in the near future and have spent considerable time working on floor plans to completely re-create the space. It's been so much fun developing the plan, putting together our wish list, melding that to our budget and choosing all the fabulous products we want to showcase in the space."
If the past guides Moore and the present galvanizes her, the future holds similar interest for her professionally through interaction with Eureka's Rockwood School District, whose juniors she regularly addresses about her work.
"The most important thing for them to know has nothing to do with understanding and excelling at interior design," Moore says. "College teaches you the basics of design. It does not teach you how to interact with people.
"To be a successful designer, you need to be able to connect with people, understand people and explain your ideas to them. Taking a psychology or speech class, being on the debate team, getting a summer job working anywhere as a salesperson will help a lot. The more you make yourself interact with different kinds of people, the more successful you'll be.
"Lots of people have good design instincts, but having a winning personality and good people skills will set you apart."
When Moore reflects on three-plus decades in interior design, she can name a few profound changes in her profession. "HGTV and the internet, definitely, both as good and bad influences," she says.
"Good: HGTV has given everyone 'remodel fever.' People of all income levels see the value in having a home that looks fabulous and functions perfectly. This has created more demand for interior designers.
"Internet sites such as Pinterest and Houzz broaden everyone's horizons on design options rather than relying solely on what can be found locally. I love that clients start out with a broader view of design and are interested in a more creative approach to their homes.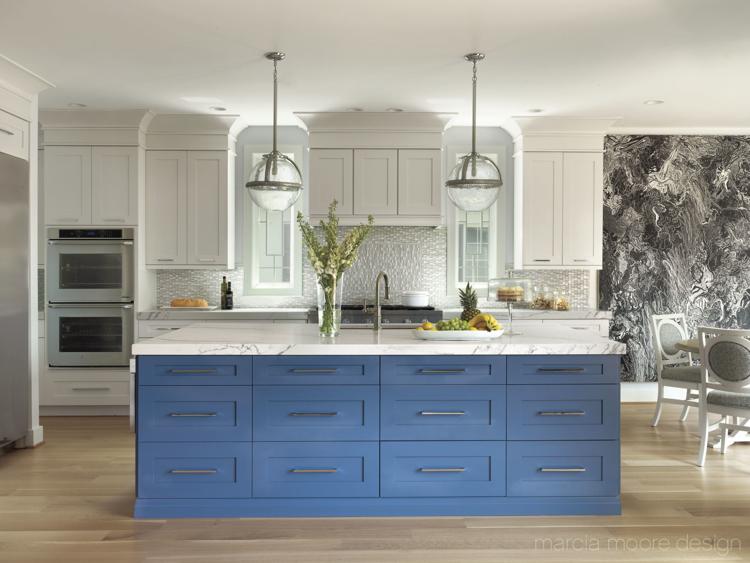 "Bad: HGTV is not based in reality. Neither the cost given for a project nor the time needed to complete a project are even close to being real. You are only seeing the surface level of what goes into a remodeling project. The internet has helped create an environment of immediacy and disposability. We all want things delivered to us 'next day,' and we don't expect to keep things for a lifetime.
"This has changed the landscape of my work dramatically. The days of purchasing something with the intention of keeping it until you die and then passing it on to your children are gone. This sometimes means a change in perception of how important quality is – something I continually try to educate my clients on."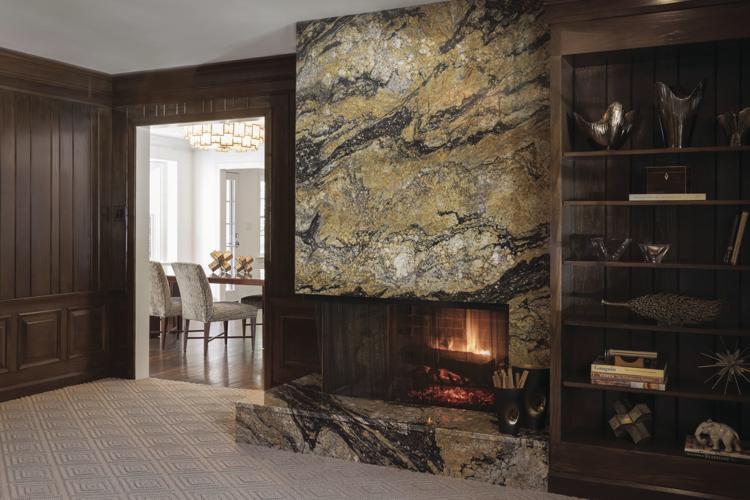 Otherwise, Moore reflects on challenges she foresees for the next decade for her profession in general and her firm in specific. "The interior design world everywhere is in the process of reinventing itself," she says. "A lot of emphasis is being put on the wellness of a space. This is something we're focusing on and expanding our knowledge of in order to better serve our clients.
"Specifically for us, Marcia Moore Design is growing and expanding what we have to offer the public. As with any growth, we may have some challenges, but this is a very exciting time for us." 
Marcia Moore Design, 11622 Page Service Drive, Suite 103, St. Louis, 314-395-1114, marciamooredesign.com