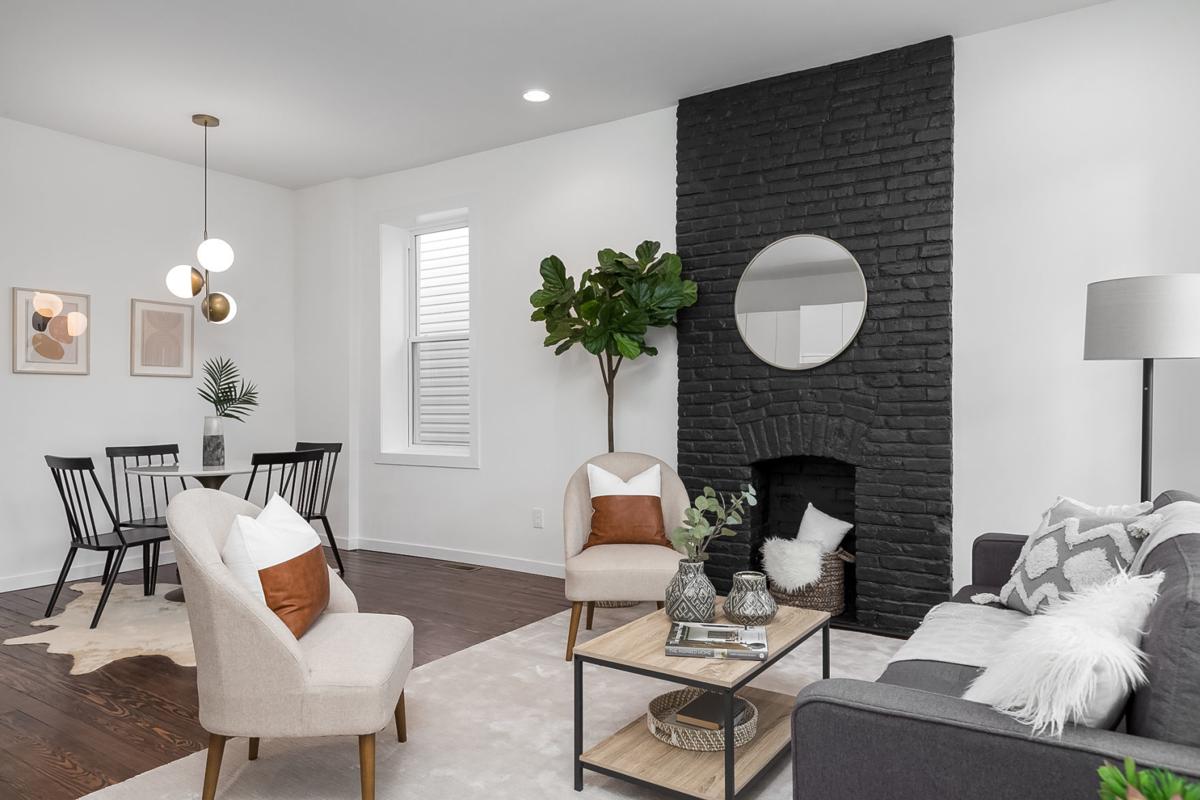 Hiring a professional to stage your home before listing it on the market is a lot like hiring a makeup artist.
Like makeup artists, professional designers know how to highlight the best of what your home has to offer. They don't erase imperfections, which are an inevitable part of living life, but they do draw eyes toward more attractive features. The process creates a picture-perfect veneer.
"The nature of a lived-in home … not every inch of the house is pristine, to say the least," says Meagan Givens, designer and owner of M. Interiors. "When you are getting ready to sell your home, you want it to be ready for sellers to walk in and basically just be wowed. [Home staging] is about making the home feel exciting and comfortable and welcoming."
Givens says she never wants to deceive or intentionally cover flaws like a nick in the floor, especially considering that home buyers will eventually view the home without its "makeup" before signing off on anything. Her goal is simply to showcase the potential of each space.
Givens realized just how great a difference home staging made while she and her husband were shopping for their own home. "I was walking into all of these homes that were not staged, but were almost identical to other homes that were staged, and immediately understood what staging did for the home and how it made me feel," she says.
Armed with a background in visual display and an eye for design, she started staging homes for her Realtor husband and his colleagues. About two months later, in June 2016, M. Interiors officially came to fruition.
The home staging process typically begins with a real estate agent reaching out to a home staging professional and discussing the staging needs of their client.
For those who schedule a styling consultation with M. Interiors, Givens will lend her expertise during a walk-through of the home, offer detailed suggestions for improvements to be made before listing and will often provide a "light staging bid." Light staging means Givens styles a home using mostly what's already on-site but brings in a few plants, rugs, pieces of art or other small items from M. Interiors' inventory.
"It doesn't take a lot to change the way a home feels," Givens says. Updating light fixtures, a fresh coat of neutral paint or even doorknobs can alter a residence's entire look. "If you stage and utilize professional photography, it does a world of difference, especially in a market so competitive."
M. Interiors' full-service home staging takes it up a notch. Clients gain access to M. Interiors' available inventory, including furniture, décor and more.
"For the most part, once you're established [as a home staging business], you have, you know, 20 couches, you have 20 dining tables," Givens explains. "You're rotating that around the city, essentially, so it takes a whole lot of planning, a little bit of luck, honestly, and strategy."
M. Interiors' staging inventory has been chosen to mix and match in diverse homes across the metro area, but it all fits a clean, modern aesthetic. "We choose the style of staging for the home, so it will differ," Givens says, "but we still have the consistency.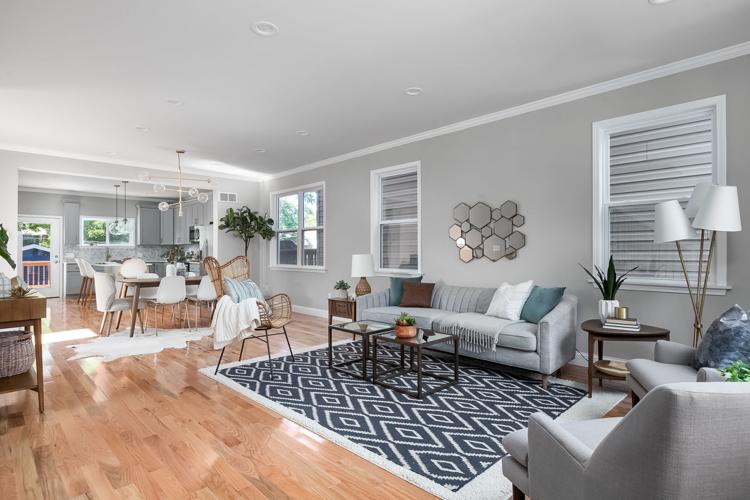 "Not every staging company changes the style of their inventory to fit the house, but when we started, that was kind of what we wanted to do to set us apart. We see a lot in the city – a small bungalow in the city is going to look very different than a loft in the city, and a loft in the city is going to look very different than a ranch in West County. So we first start with the location of the home and their target buyer."
M. Interiors' minimalist aesthetic does well in the current market, she says, and allows flexibility in a variety of homes.
Givens also offers separate interior design services, which involve purchasing new pieces specific to a client's personal style. Home staging, however, differs in that each piece in the home primarily serves a visual purpose rather than a functional purpose. For instance, she often eliminates entertainment features when staging a home, if they're an eyesore, like a bulky TV.
Her two worlds collide with a new service M. Interiors is offering: Airbnb furnishing and styling. Instead of booking a hotel, many travelers nowadays head over to Airbnb's website and find a homier place to stay within their destination.
"People are choosing where they're staying based on the photos," Givens says, so attractive interior design sells the space. Knowing what looks attractive online but is also comfortable for guests is key to Airbnb styling.
Often, investing in home staging or professional interior design brings in more money and saves time in the selling process, Givens says. It's all about creating a presentation for the potential buyers looking to make the space their home. 
M. Interiors, 1302 S. 18th St., St. Louis, 314-540-3466, minteriors.design