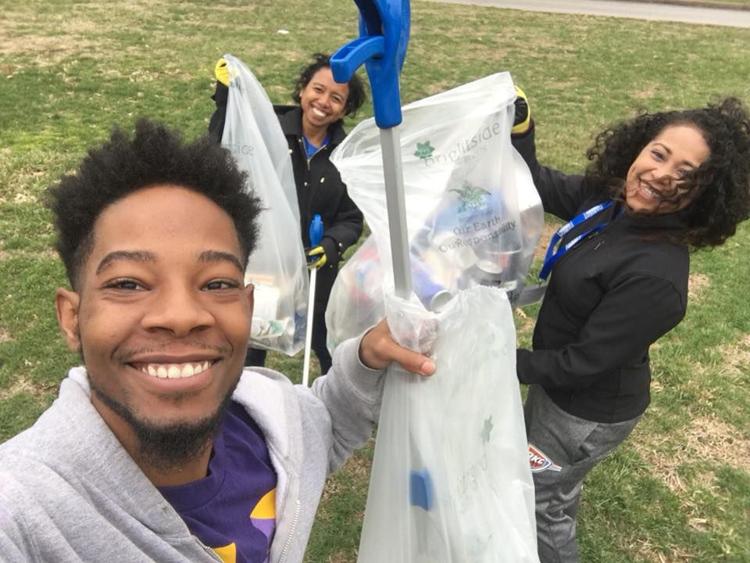 In the spring of 1982, reportedly 100,000 area residents took to the streets for a mission known as Operation Brightside. Armed with trash bags and determination, the throngs of volunteers had just one goal: clean things up. Their work responded to a survey published by the now-defunct St. Louis Globe-Democrat, in which citizens said the No. 1 problem facing the area was its lack of cleanliness.
"This is more than just a spring cleanup," the city's then-mayor, Vincent Schoemehl, said at the time. "This will be a continuing effort to clean up the city."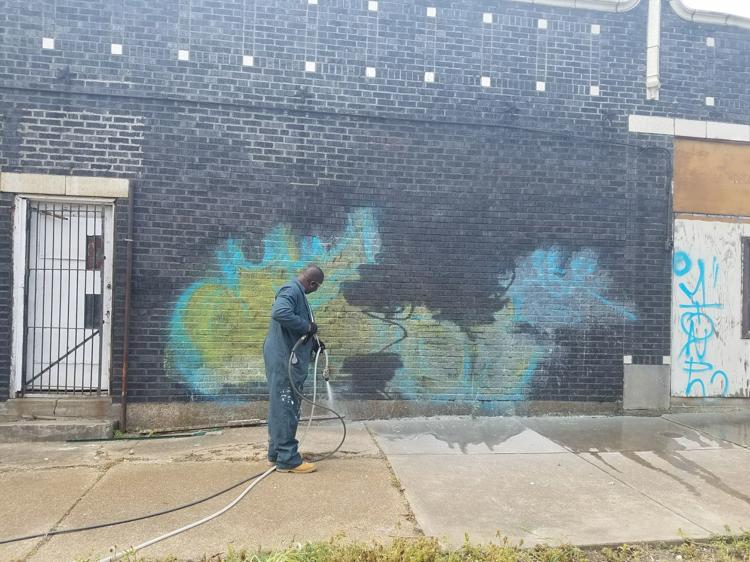 And continue it has. Nearly four decades later, the operation is now a nonprofit organization known as Brightside St. Louis and has grown to be the area's most comprehensive cleaning and greening initiative. Brightside aims to improve the quality of life in St. Louis through everything from cleaning up neighborhoods and removing graffiti to planting native flowers and promoting recycling programs. In 2018, volunteers invested more than 20,000 hours in the organization's initiatives.
"Our volunteers run the gamut," says Mary Lou Green, Brightside's executive director. "[He or she] could be someone who is the president of the neighborhood association, all the way down to a lady who lives on the block who wants to see that trash gone. It's really cool because it's one of the things that people of all ages can be involved in."
Those volunteer hours are spread across multiple efforts. For many years, the organization divided the city into eight regions and gave each region an assigned cleanup date as part of what is known as Project Blitz. But now, Brightside lets residents decide when to schedule their neighborhood cleanups and provides the tools and trash bags for the volunteers.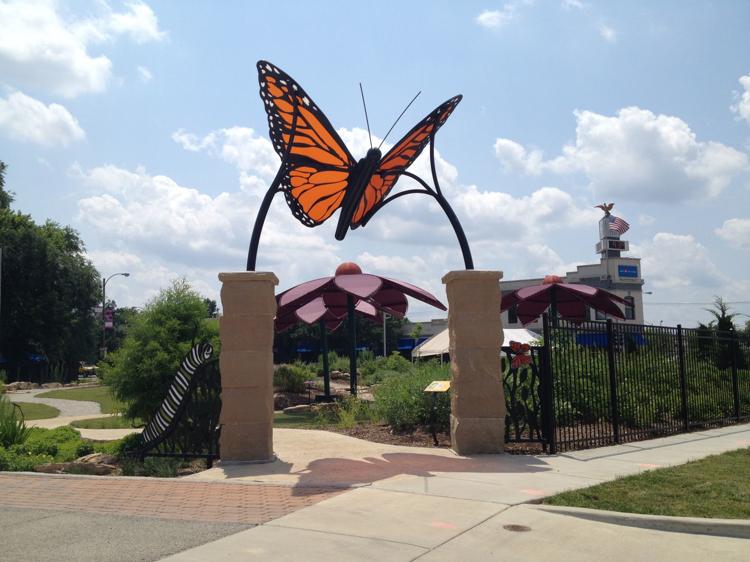 Brightside receives roughly half of its funding from a federal grant through the Department of Housing and Urban Development and St. Louis Community Development Administration, and then the other half through donations from individuals, companies and foundations. In the past, Brightside used some federal funding to support Project Mainstreet, a program that gave teenagers an opportunity to get job skills and clean up along major thoroughfares. The project ended after about 25 years because that source of funding ran out, Green says. "We can always use more funding," she says with a laugh. "And we always put it to good use."
Brightside employs just five full-time staffers to manage its various programs, all in an effort to make a mark on the community – although sometimes, the organization is noticed for the marks it takes away. That is, Brightside operates a graffiti-removal program, in which trained staffers remove graffiti from vandalized homes and businesses at no cost to the owners. To date, the organization has removed graffiti from more than 150,000 vandalized homes, businesses and other structures in St. Louis.
The organization also empowers residents through its education programs. Last year, the three-person recycling team held more than 100 educational events in the community to help residents learn about best practices.
"Brightside has such a strong network of activated residents who want to keep their neighborhood clean," says Elysia Musumeci, Brightside's sustainability education and outreach coordinator. "We came up with a strategic program to let people know what they can and can't recycle, and people have been very responsive."
St. Louisans have also responded well to the growth opportunities in the organization's Demonstration Garden, a working mini ecosystem created to help educate St. Louisans on native plants and sustainable practices. In 2011, Brightside transformed a rock-filled lot on the corner of Kingshighway Boulevard and Vandeventer Avenue that had sat empty for more than two decades into what is now the garden's colorful and vibrant community space. It's not too big, Musumeci says, so your best walking shoes aren't required. But the garden is open year-round and is tended by volunteers and master gardeners who cultivate native plants. Signage throughout the garden helps residents learn more about the plants, but the organization also holds workshops about native plants and their habitats.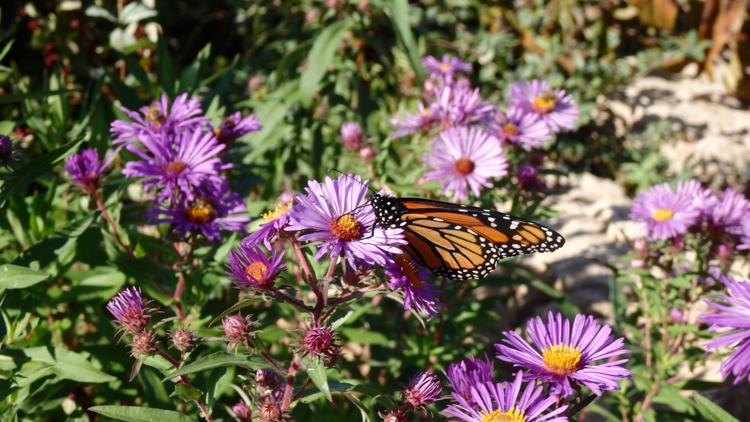 "Anyone can come to this garden and learn about sustainable practices and learn about Missouri native plants [he or she] might put in [his or her] own yard or in a neighborhood garden," Green says. "We have a lot of people, especially in a city with so much paved area like ours, who totally understand the reality of the urban heat island effect. You can have a positive impact on your own environment by selecting the right plants for the right place."
For glades – dry areas with rocky soil – Brightside recommends rattlesnake master and Missouri coneflower, among others. For prairies – open, sunny areas – the organization suggests purple blazing star and butterfly milkweed, to name a few. Also, this May 18, Brightside suggests participating in the Flowers for Downtown event, in which residents plant flowers along Market Street and Tucker Boulevard around St. Louis' city hall. Volunteers can register on Brightside's website.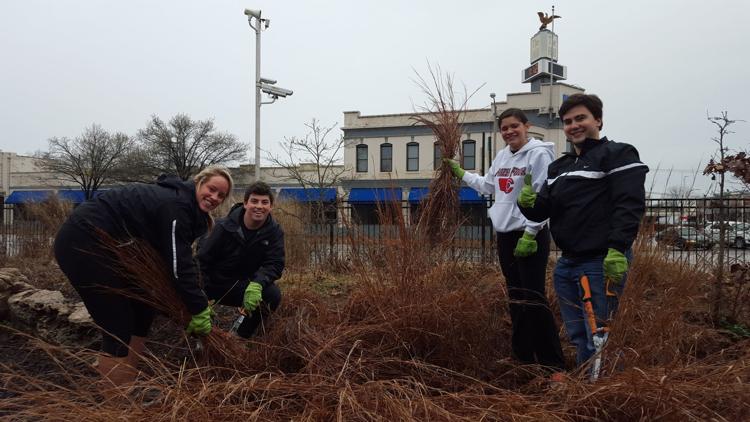 Residents from all over the metro area who are looking for a touch of color can purchase daffodil and tulip bulbs that come straight from Holland. Brightside bulbs are available for purchase from July to September and are available for pickup or delivery at planting time in early October. In addition to the Brightside Red tulips and Carlton daffodils, Brightside offers an exclusive Midwest Mix of daffodils, selected by the Greater St. Louis Daffodil Society, for their outstanding performance in our region, with proceeds helping to support Brightside's various initiatives.
"People come back every year to get our bulbs," Green says. "We hear lots of stories from people who get compliments from their neighbors when the bulbs are in bloom."
With each bloom comes an opportunity to keep looking on the bright side for many years to come.
Brightside St. Louis, 4646 Shenandoah Ave., St. Louis, 314-772-4646, brightsidestl.org