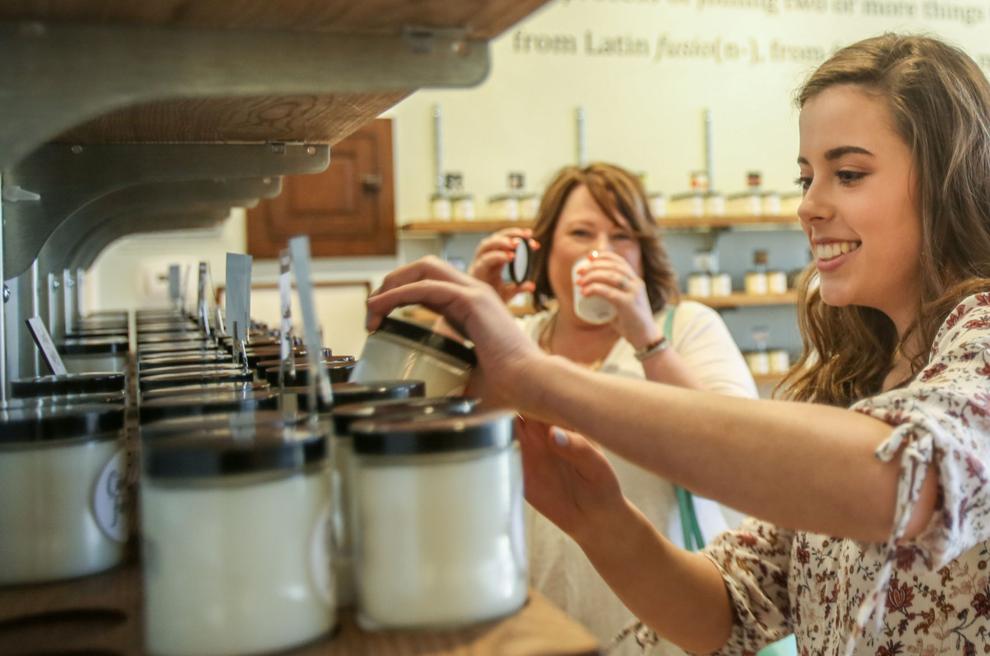 The idea that our olfactory receptors – the neurons responsible for our sense of smell – are inextricably linked with our memories in such a way that our other senses cannot compete is well documented in psychological and health studies. Keith Lester and Deanna McClintock Lester, the husband-and-wife team who recently opened The Candle Fusion Studio, a hands-on candle-making studio in the Central West End, see this phenomenon firsthand as guests come in to sniff out more than 100 different candles in the studio's scent library.
"Smell is so personal and emotive," Deanna says. "It brings up such memories for our guests – they smell pipe tobacco or a certain flower and say, 'This smells like my grandfather,' or, 'This smells like my mom's house,' or another childhood memory. That's such a fun thing."
Opened in December 2016 in the space that housed St. Louis' original Bissinger's Handcrafted Chocolatier shop for more than 80 years, The Candle Fusion Studio gives customers the opportunity to hand-mix one – or several – different scent oils and take home a custom-scented candle or other creation, such as room spray, bath salts, reed diffusers and more. Many of the original elements from Bissinger's are still apparent in the studio today: the original hardwood floors and tin ceiling, the window display structure, the functional transom windows and the original dumbwaiter.
"My husband and I come from different backgrounds – he was in manufacturing and business operations, and I had worked in journalism, sales and marketing, special events and fundraising – and we thought, 'How can we best use our skills together?'" Deanna says. "With our backgrounds and our passion for hospitality, we thought [it] would be fun to create something like this. People love the hands-on experience: They want to do something different, enjoy one another and create a premium product."
A visit to the studio begins with browsing two walls of custom cedar shelves filled with more than 100 different varieties of premade scented candles that range from the usual – vanilla bean, coffee bean, lavender, orange zest – to the novel, such as absinthe, campfire, and mug and brush (reminiscent of a straight-razor shave). "Smell away," Deanna enthusiastically encourages her guests, providing guidance or suggestions only when asked or if she suspects a guest might be overwhelmed. For the time-crunched or less creatively inclined, the shop sells single-fragrance premade candles for $16.
Guests are invited to write down their favorite scents on a provided clipboard and then walk around the corner to select their vessel. Prices range from $9 to $32 for candles or from $12 to $26 for other flame-free products such as scented wax melts, diffusers, sprays and bath salts. A long, industrial-chic countertop is set with an impeccably neat line of double-ended shot glasses and spoons on square black plates, which become your own personal scent-lab space.
Glass shelves behind the counter contain a carefully cataloged army of high-end scent oils made from a blend of premium fragrance oil and essential oils. "We do have some natural, proprietary ingredients within the oil, which gives us a nice, clean burn," Keith explains.
The Candle Fusion Studio's staff then brings guests various oil bottles from their favorite scents, allowing them to swirl the bottles under their noses together to get an idea of what the different scents may smell like in a candle. Once a scent blend is selected, guests fill an individual container with their oils, pour it into the hot wax from the prepared candle and give it a careful stir. The staff takes over from there, spending an hour to an hour and a half curing, glazing and finishing the candle for guests to take home. The curing process is what makes the studio's location – on a bustling stretch of McPherson Avenue, just east of Euclid Avenue – so ideal. While waiting for their candle to cure, guests can walk around the Central West End to dine, drink or shop.
Keith and Deanna are not only proponents of the creative aspect of candle-making but also passionate about candle education. "We're trying to stay environmentally aware, bringing the highest-quality product to our customers," Keith says. Before opening their shop, the couple sought out technical training from candle industry experts to find out how to make the best premium product for customers.
As a result, the studio uses only natural, dye-free, soy-based wax, high-end premium fragrance oil and cotton-paper wicks, which all add up to a cleaner, longer burn. (A tiny 2-ounce candle has a 20-hour burn time, and the best-selling 8-ounce candle has a 60-hour burn time.) "It burns cleaner – less smoke, less soot," Deanna says. "When you burn a candle and you get that black rim – you'll get very little of that with our candles." She also reminds customers to keep their wicks trimmed to a quarter of an inch and make sure the wick stays in the center of the candle.
In addition to individual customers, the studio works with couples or businesses to create a signature, private-label scent for gifts, wedding favors, gala giveaways and more. The studio has an available event space for corporate team-building events or private parties, and it also partners with nonprofits for events that donate a portion of sales back to the organization.
About 10 to 15 limited-time seasonal scents change throughout the year, with springtime scents just recently hitting shelves – including rain, mango, grapefruit, summer lawn and strawberry jam. While no two scent blends are alike, the couple has found that several distinct blends appeal to a wide variety of customers: Campfire, chocolate and whipped cream combine to make a s'mores candle; sparkling wine and orange zest create a mimosa-inspired scent; and French toast, baked bread, cinnamon and maple syrup combine to set the mood for breakfast by candlelight.
"There was a girl, about 5 or 6 years old making a candle for her kindergarten teacher around Christmastime," Keith says. "She was running the place. She made four of the most beautiful candles you could imagine. It's heartwarming and goes back to part of our mission: You're creating a memorable joy."
The Candle Fusion Studio, 4742 McPherson Ave., Central West End, 314-250-2272, thecandlefusionstudio.com